As we all know, photos can quickly eat up limited space on our iPhone or iPad. In order to free up space on iPhone or iPad, we have to delete some photos that we don't need anymore or transfer iPhone photos to Mac or other places. Deleting photos from iPhone or iPad should be as easy as buying a cup of coffee, however, there is no "Select All" option on iPhone or iPad. In this guide, we will show you ways to how to delete photos from iPhone including iPhone 8, iPhone X, iPhone 7, iPhone 5 and more.
Tip: Before you delete photos from iPhone or iPad, it is essential to transfer all photos from iPhone or iPad to Mac for backup.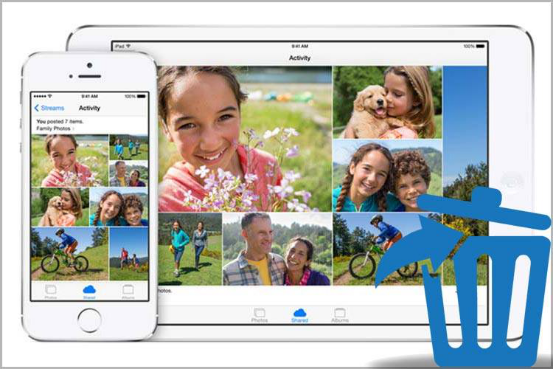 How to Delete Photos from iPhone and iPad on Mac with iPhone Cleaner
To delete all photos from iPhone without error, we highly recommend iPhone Cleaner for mac. It can quickly and safely analyzes your iphone data and delete all kinds of documents(videos, audios,books, apps,user data,etc). Also, it can work as an APP cleaner to deleter hidden temp, cache, and other junk files. Beside,this tool allows you to find large files(more than 2M) and backup iphone data.

Free Download
Launch the program and connect your iPhone to Mac
The program will automatically analyze your iphone data as following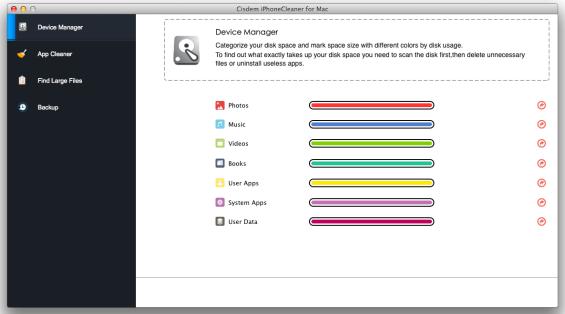 Click the icon right behind the Photos, check details of your photos, click "Remove" to delete photos from iPhone on mac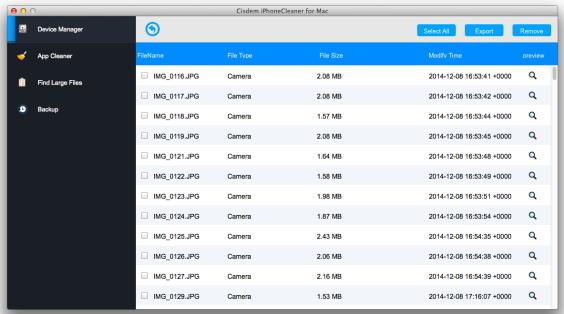 Useful Tips:
If you want to clear App data, go to App Cleaner and scan, then remove those one you want to.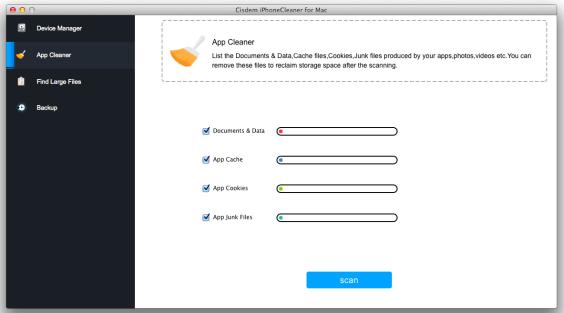 How to Delete Photos from iPhone and iPad in Batch Manually
You can manually delete batches of photos from your iPhone 6, 6s, 7, 7 Plus, iPad Pro, iPad Air 2, etc, but iPhone or iPad won't allow you to remove all photos in just one click. Though this is a tedious work, but is the most direct way. Before deleting something, you should backup iOS device to iTunes or iCloud.
Open Photos app on your iPhone or iPad.
Here you can view your photos by Years, Collections, and Moments. Tap on "Select" on the top right. Then tap the photos you want to delete by one by to select them or tap on "Select" option on the right upper to select multiple photos.
Click on the Trash icon at the bottom right. In the pop-up, it will tell you how many photos are going to be deleted. Confirm that you want to delete the photos.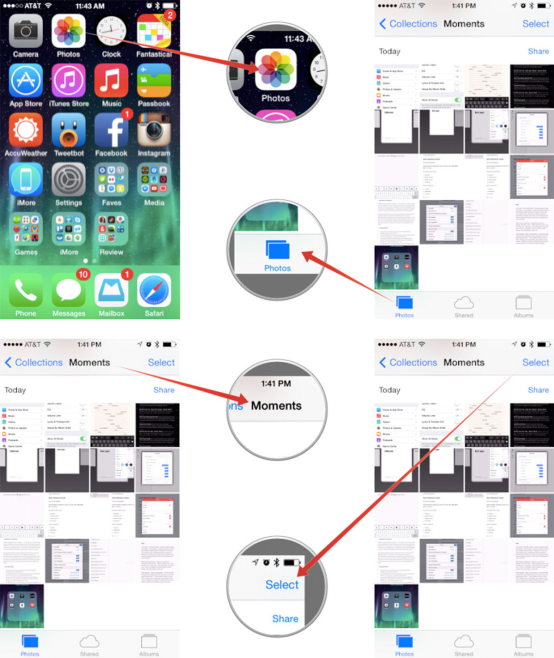 If your iPhone or iPad is running iOS 9 or you're using iPhone 6s/iPhone 6s Plus, to delete photos, you should tap Photos app > open 'Recently Added' > tap 'Select' > select photos and tap the Trash icon at the lower right corner. And your deleted photos are removed to the folder "Recently Deleted" from where the deleted photos will be kept for 30 days. If you want to delete them permanently, just go to 'Recently Deleted' > tap 'Select' > choose photos > tap 'Delete'.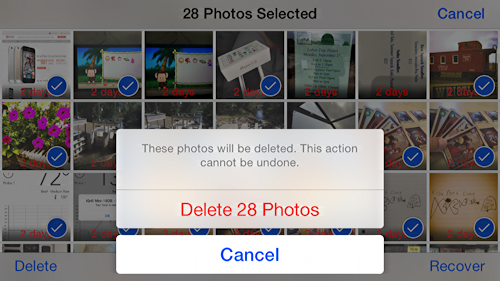 How to Delete All Photos from iPhone and iPad on Mac
You can delete all photos from iPhone or iPad Camera Roll on Mac by using Image Capture. Image Capture is an application program from Apple that enables users to transfer images, video clips, and MP3 sounds to your Mac from many cameras and devices that contain a camera, such as your iPhone. Once you back up iPhone or iPad photos by transferring them to Mac, you can delete them from the device after import.
Connect your device to Mac using the appropriate cable, close iPhoto if it launches automatically and open up Image Capture (which should be located in your Applications folder).
Select the device in the Devices list. And Image Capture will list all photos captured by your device on the right side.
Click "Import All" to backup your iPhone or iPad photos to Mac if necessary. Then select all photos and click the delete icon to delete all photos from your iPhone Camera Roll.
Note: Always transferring your photos from your device to Mac before deleting them directly from your device may lead to many duplicate photos on Mac, but you can remove duplicate photos from Mac by using a duplicate photo cleaner like Cisdem DuplicateFinder.
How to Delete Photos from iPhone and iPad Photo Library using iTunes
Photos saved in your iPhone or iPad Photo Library are synced from your iTunes other than taken with your iPhone/iPad Camera. When you open the Photo Library album on your device and open a photo from there, you will find there is no trash can or any delete icon. Instead of removing these photos from the Photo Library on iPhone, you need to delete them from your Mac by iTunes sync.
Create an empty folder on your Mac and rename it, such as "Empty".
Launch iTunes on your Mac, go to Edit > Preferences > Devices > select "Prevent iPods, iPhones and iPads from syncing automatically". Then connect your iPhone or iPad to Mac with the USB cable. Then your device will show up in iTunes.
Click the name of your device in the left sidebar, and then the summary panel appears in the right part. Click "Photos" in the upper right corner, and choose "Sync Photos from "Empty" folder which you created in step 1.
Click "Apply" or "Sync" button on the lower right corner to remove photos from your iPhone or iPad Photo Library.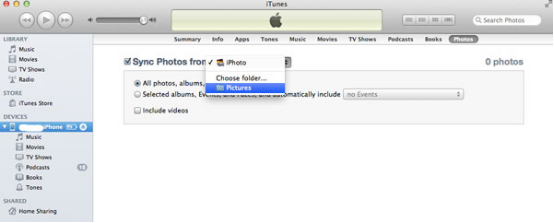 tips: This will only remove all photos and albums you have previously synced from your computer to iPhone or iPad through iTunes. It will not delete other photos or albums in your Camera Roll. But once you import pictures from Mac to iPhone or iPad, the Photo Library will show up again.
Final Words
All above ways allow you to delete multiple or all photos from iPhone and iPad. If you mistakenly delete iPhone or iPad photos, don't worry, a powerful iPhone data recovery software like Cisdem iPhoneRecovery can recover all deleted photos from iPhone or iPad.

Rosa has worked in Mac software industry for more than eight years. She believes that the purpose of software is to make life better and work more productively. In addition to writing, Rosa is also an avid runner.