iOS 11, Apple's new announced version of iPhone, iPad and iPod Touch operating system this WWDC, its general public version will be available this fall, now the beta version is available for developers. If you want to upgrade to iOS 11 on your iPhone, iPad and iPod touch, enjoy its amazing new features like peer-to-peer Apple Pay, new control center and Siri translations, follow this full preparation guide on how to upgrade to iOS 11 on your iPhone, iPad and iPod Touch.
Part 1. iOS 11 New Features
iOS 11 brings a bunch of interesting features in the WWDC keynote, and here we show you the tempting features for you to keep your iPhone or iPad efficient, and more intelligent.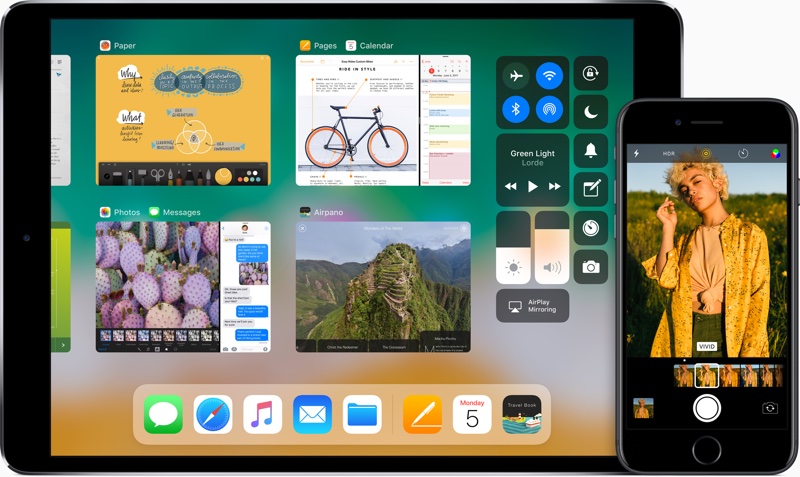 1. Completely Redesigned Control Center
In iOS 11, now offers many new customization options for Control Center, like add Low Power Mode, Text Size, and even could add an Apple TV Remote. And Control Center is no longer restricted to half of the screen in bottom, but it now takes over the entire iPhone screen. What's more, it also has expanded 3D Touch access.
2. Improved Siri
The most exciting two improvements, I think is Cross-device Siri syncing and Translations. Siri can be syncing that information across all of iOS and Mac devices, so the Siri experience is the same regardless of what product you're using.
3. Peer-to-peer Apple Pay
You can pay friends through Messages with Apple Pay directly now, which is similar to apps like Square Cash or Venmo.
4. iPad Multitasking and Redesigned Dock
This is welcome news for those who might be using iPad at work. With iOS 11, we are able to customize our docks with apps used frequently on iPad, the Dock is able to hold up to 13 apps. We can multitask with up to three apps running at once, side by side.
5. Apple Pencil and Instant Markup
Apple Pencial support expanded with new features and functionality let iPad Pro users to work anywhere now. And it is easier to mark up the things you screenshot on your iOS 11 devices.
6. Maps
iOS 11 Maps now is introducing indoor maps for shopping malls and airports in selected cities.
7. Camera
iOS 11 introduced two important improved formats - HEVC and HEIF. HEVC (H.265) is the high efficiency video encoding, which results in 2x better compression. Apple now implements HEIF (High Efficiency Image Format), a replace of the JPEG image format, which will save up to 50% on storage and without any loss in image quality.
8. Apple Music
The new feature allows you to share playlists with friends and see your friends' playlists.
9. Automatic App Deletion
iOS 11 introduced a new feature called Offload Unused Apps, it can help iPhone users to address the storage problem, especially for those saddled with just 16GB of storage. iOS 11 covers a few new tools for managing user data, including the option to automatically delete the apps you never use.
10. QuickType One-hand Keybord
As described, you are able to type one handed with just a thumb on iPhone.
Part 2. Check iOS 11 Compatible Devices
Before you upgrade to iOS 11, you should check iOS 11 supported devices first. Below is a list of iOS 11 compatible iPhone, iPad and iPod models.
Since iOS 11 can be run on 64-bit device only, that means the iPhone 5 and earlier iPhones, iPad 4 and earlier ones can't upgrade to iOS 11.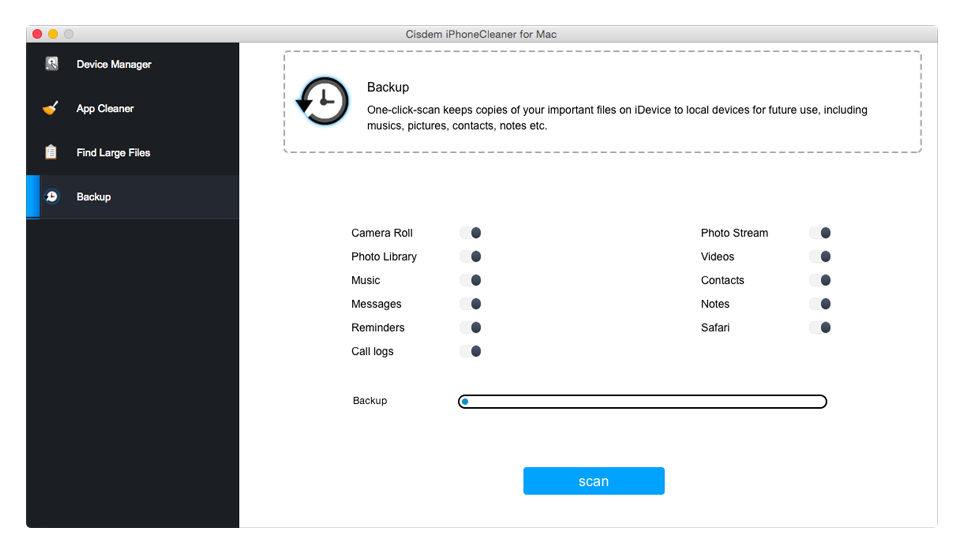 Tip 3. Back up iPhone and iPad using iCloud. Go to iPhone/iPad Settings > [your name], and tap iCloud. Choose iCloud backup and click back up now. Make sure your Wi-Fi network stay connected until the back up process completed.
If your device can't be recognized by iTunes, or you don't have Wi-Fi network stay connected, you won't back up your iPhone iPad successfully, but by using iPhone Cleaner, it is quite easy to back up iPad iPhone without iTunes and iCloud.
Part 4. Make Enough Space for iOS 11 Upgrade
Even though iOS 11 takes up less of allocated storage space than iOS 10, as it increases the amount of available storage for iPhone/iPad. It is expected to need about 1.9GB for upgrading to iOS 11, which is still quite a lot for 16GB or 32GB iPhone. So before you are planning to update to iOS 11, it's time for you to free up space on iPhone and iPad for keeping a smooth iOS 11 download and install.
It is quite easy to free up your iPhone/iPad space and make more storage with Cisdem iPhone Cleaner.
Step 1. Connect your iDevice to Mac computer, install and launch iPhone Cleaner.
Step 2. In the opened app interface, select App Cleaner, you can check Document & Data, App Cache, App Cookies and Junk Files to scan.
Step 3. After scanning, you are able to remove or delete the cache, cookies, junk files produced by apps once and for all, and you also could delete multiple duplicate or similar photos, videos to get more storage.

Free Download
Download the freetrial of Cisdem iPhone Cleaner Mac Now!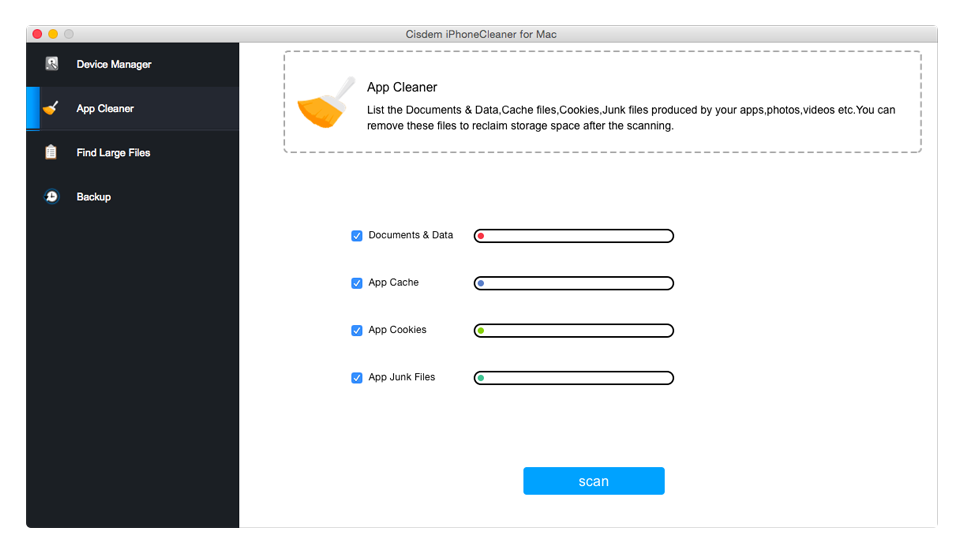 Part 5. Apps Preparation for iOS 11 Upgrade
Before you upgrade to iOS 11, you'd better update the iTunes to latest version on your iPhone iPad and Mac computer first. As with every iOS update, there are users complaining errors like "Unable to Install Update", iOS 11 download stuck or the like. So to avoid any iOS 11 upgrade issues with iTunes, make iTunes compatible with the new features of iOS 11 and macOS Sierra is really necessary.
iOS 11 only supports 64-bit apps, 32-bit apps are now completely unsupported. You should check all your apps before upgrading to iOS 11. Go to "General" Settings > "About" > "Applications" to check for 32-bit apps and upgrade them to the latest version if there are 64-bit version available.
Part 6. Keep iPhone, iPad Charged and Start iOS Update
The last thing you need to do is, making sure your iPhone, iPad and iPod is charged, let your device have 100% battery to ensure a smooth iOS 11 update. Don't let your device drains out during the iOS 11 upgrade process but you have took times in downloading and installing.
After you have done all of the preparation, you can download iOS 11 and starting upgrade to the new operating system on your iPhone and iPad.