Exposure to online pornography is almost inevitable. Porn content may unexpectedly appear after one clicks certain links or ads. Premature exposure to indecent and adult content can damage kids' psyche in more ways than you can imagine. Fortunately, you can block access to inappropriate websites and applications. This article will show you how to block porn on Mac using the best porn blocker for Mac.
The Best Porn Blocker for Mac

Free Download
#1 Cisdem AppCrypt
Compatibility: macOS 10.12 or later, including macOS 13 Ventura
Cisdem AppCrypt, one of the best porn blockers for Mac, stands out for being useful and easy to use. It lets you block specific adult websites. It also allows you to effortlessly block all popular adult websites with a single click.
In addition, it can lock apps. You can use it to block your child's access to apps (such as games) with age rating 17+ and other potentially unsuitable apps (such as social media apps where porn content can be found).
How to block porn on Mac with AppCrypt
1. Download and install AppCrypt on your Mac.

Free Download
2. When you first open it, set a password.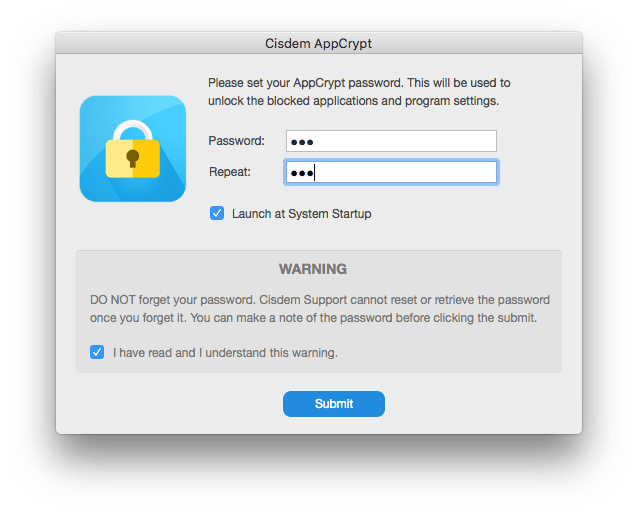 3. In the menu bar, click its icon and choose Open Main Window.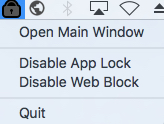 4. Enter the password and click OK.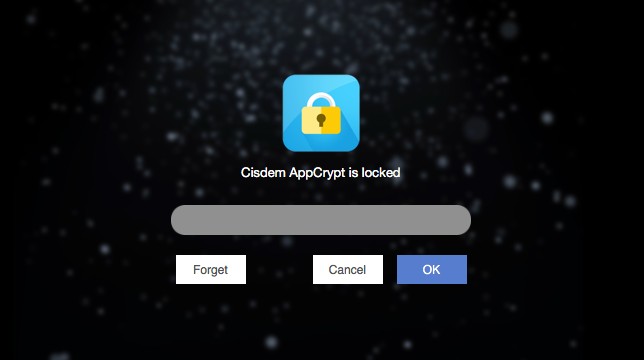 5. Now you are in the main window. Choose the Web Block tab.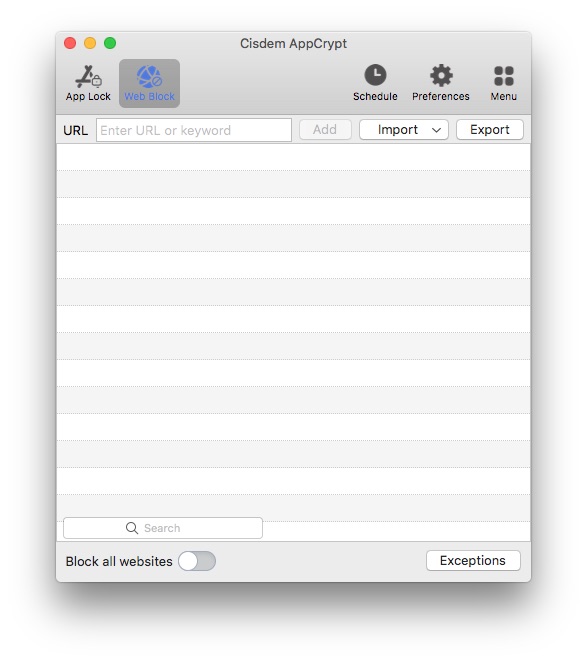 6. Under the Web Block tab, manually add porn site URLs such as pornhub.com, xvideos.com and xnxx.com to the block list.
Also, you can click Import and choose Porn Sites, which will add all popular porn sites to the Block list.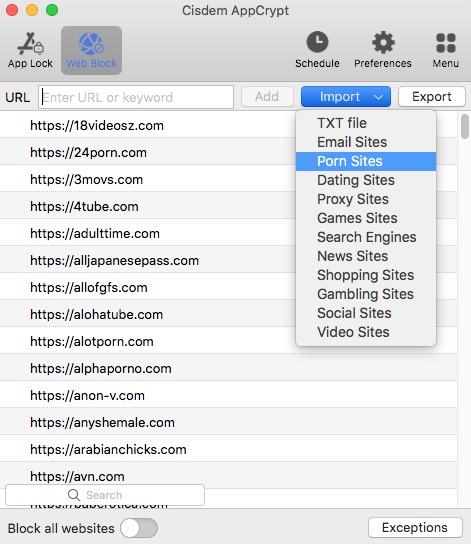 7. This step is optional. Click Enable Web Block if it's not enabled.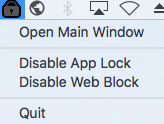 Now all the websites on the Block list are blocked on Safari, Google Chrome and other browsers on your Mac by the password you set. They are inaccessible.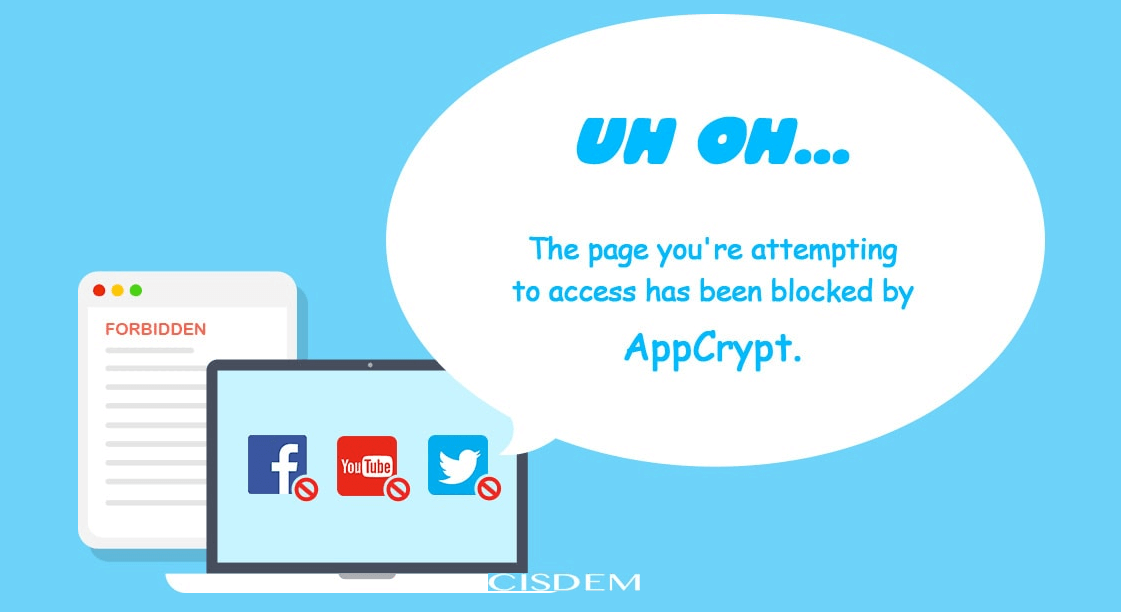 To unblock them, one needs to disable Web Block or remove them from the block list. Both approaches require the password. If your kid or someone else tries to access the blocked porn sites with an incorrect password, AppCrypt will record the failed attempt with date and time and capture a photo.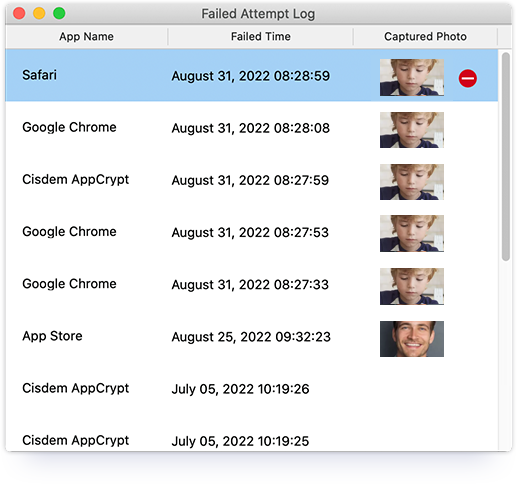 Tips
Block access to porn and other inappropriate apps on Mac
Games and apps that contain sexual content or nudity or other inappropriate content are unsuitable for children. If there are such apps on your Mac and you don't want your kid to access them, just lock them with password. Choose the App Lock tab, select the apps and click Open.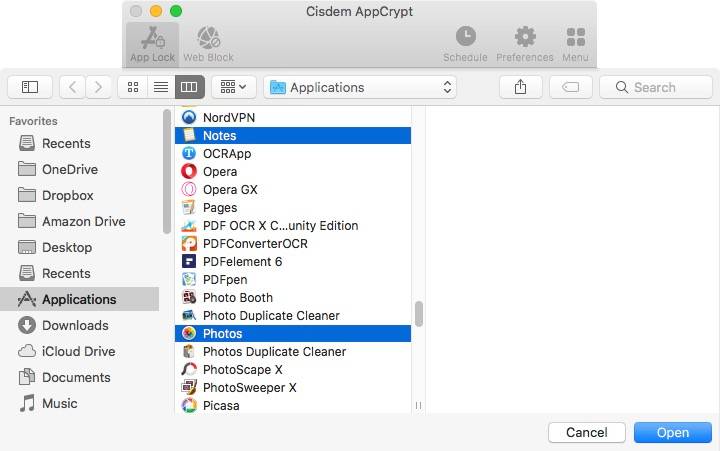 Block all websites except a few
To keep porn away completely, you can use this tool to block all websites, except those in the Always Allow list. To do that, enable the Block all websites button on the bottom corner. Tap Exceptions. Add the URLs that you approved to the Always Allow list. This way, your child can only access the websites approved by you.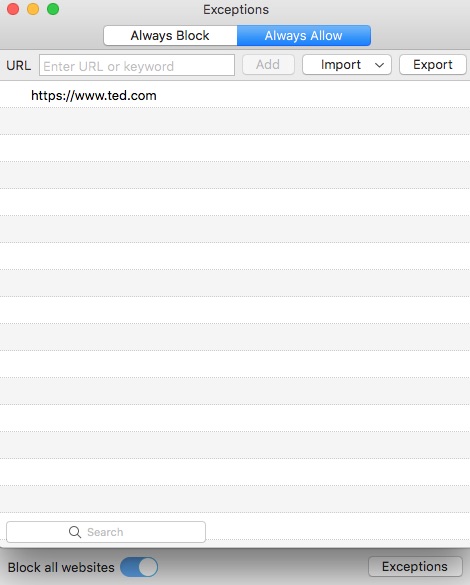 Block access to websites and apps only during certain hours
Besides blocking porn on Mac permanently, you can schedule specific times. Click the Schedule icon

and set one or more general schedules (which apply to all blocked sites). Or, you can set the custom schedule for individual blocked sites.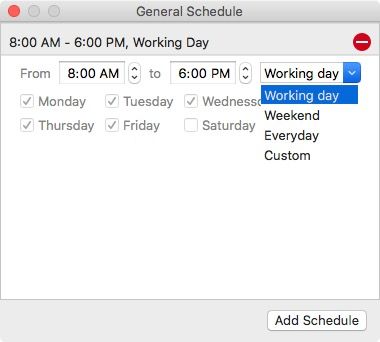 Pros:
Block any specific porn sites and other inappropriate content.

Let you block websites by categories with 1 click.

Also let you block URLs that contains certain keywords.

Enables you to block all websites except a few.

Lock any apps with password.

Offer a schedule feature to block websites and lock apps at certain times.

Easy to use and hard to bypass.
Cons:
Not available for macOS 10.11 and earlier.
#2 Screen Time
Compatibility: macOS 10.15 Catalina or later
With Apple's Screen Time, you can easily set limits on Mac, iPhone and iPad. It allows you to block porn on Mac by limiting the use of websites and apps or by only allowing certain websites. You can set age-appropriate restrictions and use a password to help enforce the restrictions. Also, this porn blocker for Mac tracks how much time children spend on applications, from social networking apps to gaming apps.
How to block porn on Mac with Screen Time
1. Open System Preferences and choose Screen Time.
2. In Options, turn on Screen Time.
3. Create a passcode, which is used to prevent the porn blocking from being removed.
4. In the sidebar, click Content & Privacy. Click Turn On in the top right corner.
5. Under the Content tab, disable Explicit language in Siri & Dictionary.
6. Under the same tab, enable Limit Adult Websites, which will automatically limit access to websites considered inappropriate by Apple on your Mac.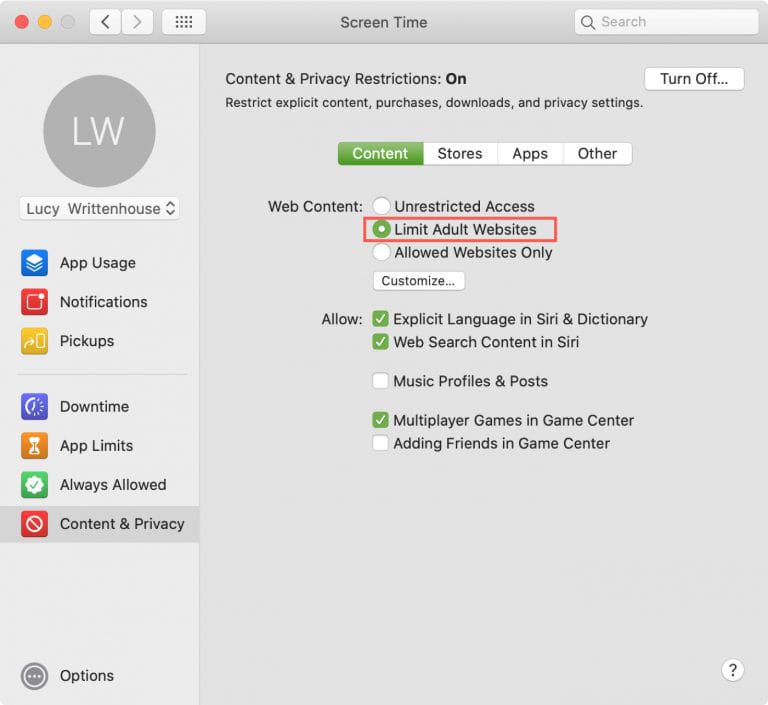 If it's not enough, you can click Customize and manually add porn websites to the Restricted list.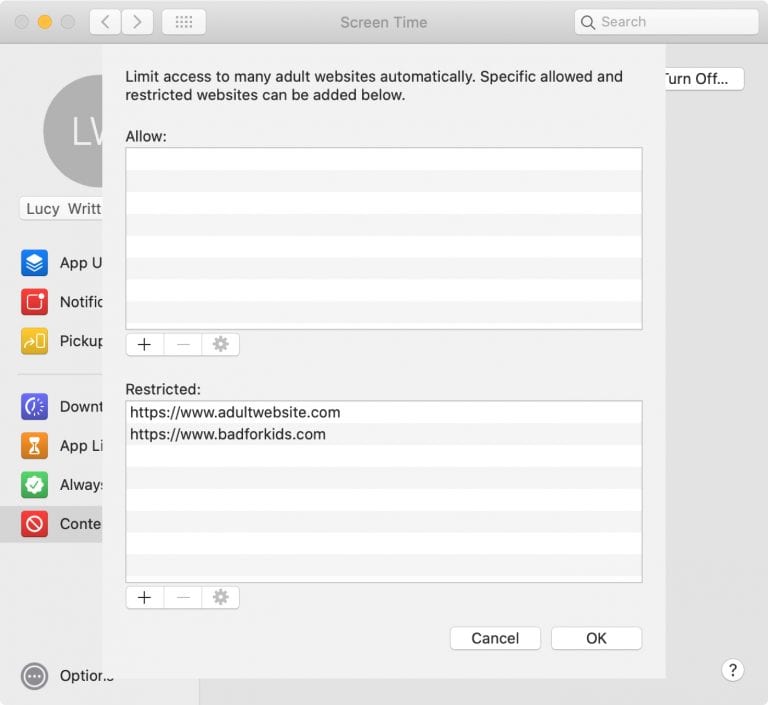 With Screen Time, you can also limit apps on Mac. Choose App Limits in the sidebar and turn it on. Add app categories such as Games and Social Networking (which may potentially contain porn content). Set limits on the apps.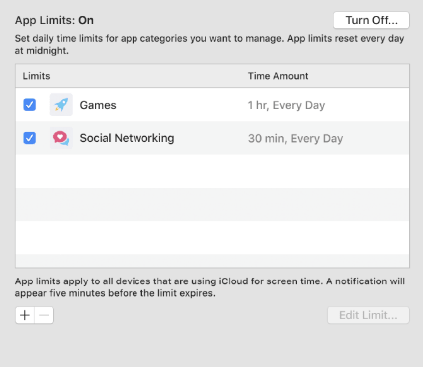 Pros:
Limit adult websites.

Let you block specific URLs and applications.

Enables you to create a password.

Built-in macOS.
Cons:
Sometimes it goes too far and blocks normal websites.
#3 Parental Controls
Compatibility: macOS 10.7 Lion - macOS 10.14 Mojave
If your MacBook Air, MacBook Pro or iMac etc. is running macOS 10.14 or earlier, then Screen Time is not available. But don't worry. You have Parent Controls, a built-in feature similar to Screen Time. You can use this free built-in porn blocker for Mac to make sure inappropriate applications and websites (porn, pay-to-play games, drugs, etc.) are blocked.
Note that Parental Controls doesn't apply to an administrator user account. If you want to block yourself from porn, consider the first method.
How to block porn on Mac via Parental Controls
1. In System Preferences, choose Users & Groups.
2. Click the lock icon at bottom-left corner and type in your admin password to make changes.
3. Click the plus icon on the bottom left. Select Managed with Parental Controls in the New Account dropdown.
4. Fill in the age, account name, etc. Click Create User.
5. Select the new account in the left side column. Check the box next to Enable parental controls.
6. Go back to System Preferences window and choose Parental Controls.
7. Click the lock icon at bottom-left corner and unlock Parental Controls preferences.
8. Select your child's account from the left column.
9. Under the Apps tab, check the box for Limit Applications on this Mac. Only allow apps that you think are porn-free and appropriate for your child.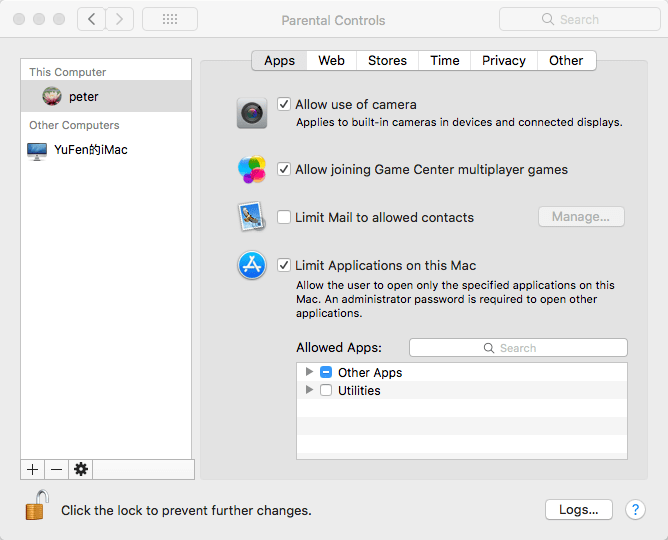 10. Switch to the Web tab. Click Try to limit access to adult websites.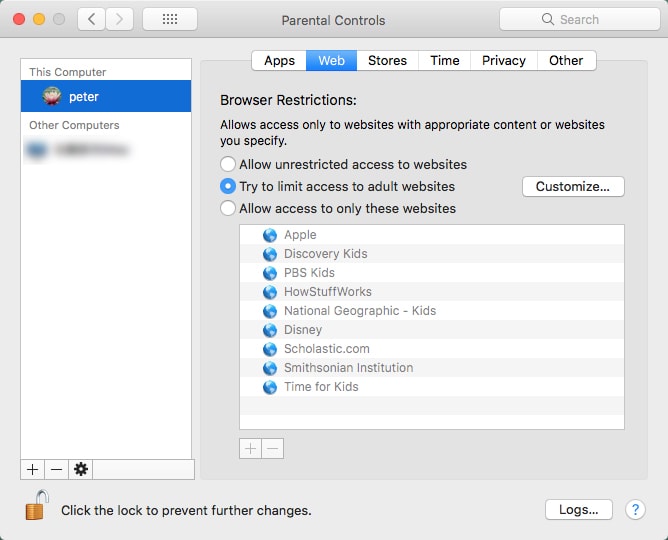 11. Click Customize to customize porn blocking if needed.
You can customize by adding porn site addresses to the Never allow these websites list. Don't forget to click OK to save your settings.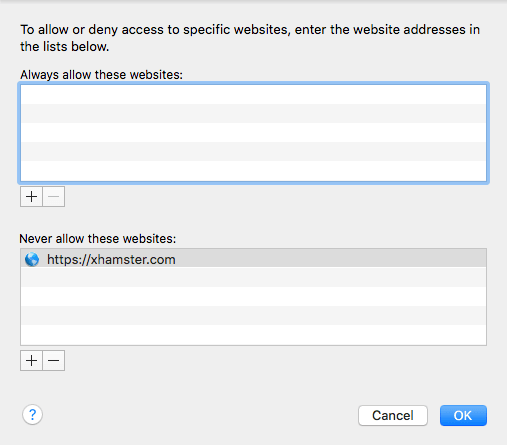 Pros:
Limit access to adult websites.
Enables you to allow only certain websites.
Let the users to open only the specific applications.
Built-in macOS.
Cons:
Only works on non-administrator accounts.
#4 BlockSite
Compatibility: All Mac computers with Chrome, Firefox or Microsoft Edge installed
If you don't like to use apps, there are some extensions with blocking porn function that can be added to Mac browser. I recommend this porn blocker to you according to my using experience. BlockSite does well in blocking porn on Mac without taxing your system in the process. Not only can you block porn sites by typing the web address or select categories to block, but also can block URLs containing specific words or phrases. Plus, this porn blocker for Mac allow you to set a password to protect your settings, helping you better control porn access on Mac.
How to block porn on Mac with BlockSite
1. On your Mac, install this extension to Chrome, Firefox or Microsoft Edge.
2. Once you add the porn blocker for Mac, click its icon on the toolbar.
3. From the pop-up dialog, choose Edit block lists. You can also click Block this site to block current websites directly, but you have to open all the porn sites that you intend to block.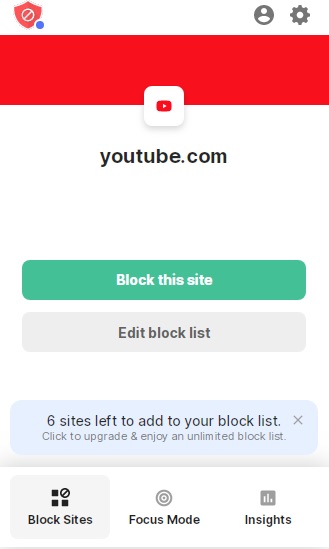 4. In the Block sites tab, define a list of porn sites. You can block sites permanently or by schedule.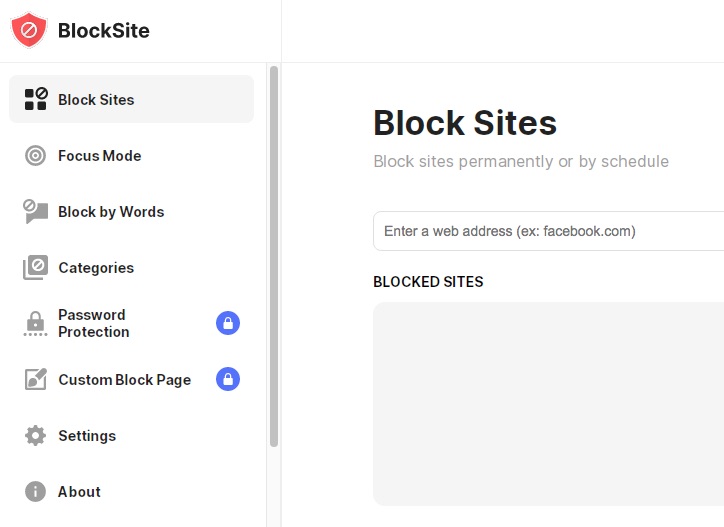 5. There are 3 modes to strengthen the block:
Go to the Categories tab on the left menu bar to select Adults and enable it.
Go to Block by words to input the keyword like "porn" "adult" "18" "sex".
Go to Custom Block Page to create your own blocked page. I think this step is necessary because the original page will appear a prompt: "This site is blocked by BlockSite". This would allow kids to disable it more easily.
Pros:
Offer Blacklist mode and Whitelist mode.
Let you block porn sites by URLs/categories/words.
It provides the password protection feature.
Enables you to custom the block page.
Cons:
Kids can disable the porn blocker Mac with ease even if you have set the password
Adding more than 6 sites to the block list requires purchasing the upgraded version
Most advanced feature such as password protection and custom block page also charges.
It fails to block websites such as twitter.com (where porn is available).
It uses too much CPU power.
#5 Router URL Filtering
If you would like to block pornography and inappropriate content from all your home devices, the easiest way is to find your router's built-in filtering services. Some routers are able to restrict access to porn sites simply by one-step setting. All depends on what router you have. For example, if you own an ASUS router, its AiProtection might be of help to you.
How to block porn on Mac from router
1. Login your router on a web browser.
2. Find AiProtection from the left sidebar. AiProtection is a tool added to ASUS router that provides home network security. You can restrict unwanted websites and apps on it.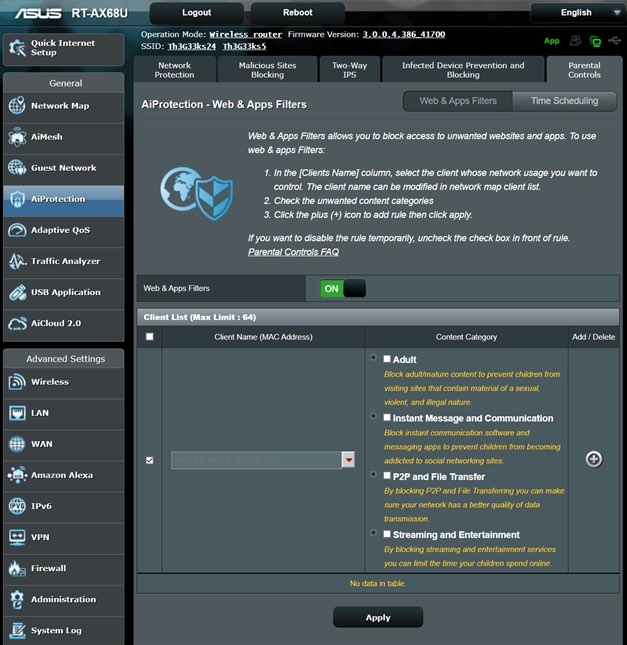 3. Go to Parental Controls. Enable the Web & Apps Filters switch.
4. Click the Client Name drop-down box. Select the device you want to set restriction. If your family has multiple devices need blocking porn, repeat these steps to set up restrictions on all devices. But you should make sure the devices are connected to the Wi-Fi router.
5. Go to Content Category tab. Check the box next to Adult. Tap the plus icon then click Apply.
This method not only can block porn on Mac, but also works on all other devices that are connected to the router. Many other home routers such as TP-Link, NETGEAR also have porn blocker. The settings may be little different.
Pros:
Let you block access to unwanted websites/apps.

Enables you to block adult/mature content.

The blocking will work on all devices that are connected to the router.
Cons:
It's a bit troublesome to set up.

Not all routers have built-in filtering service.
Bonus tip: Enable Google SafeSearch Filters
Google is one of our frequently used browser. You may worry about your child seeing adult content, explicit images unintentionally while surf on Internet. Open Google's SafeSearch filters on, it will help hide explicit content like pornography from search result. Note that it only works on Google search results. This means if the user visits the porn sites on Chrome directly, Safe Search will not stop him.
To turn on it, go to Google SafeSearch page. Enable the Explicit results filter switch.

Final thought
We've looked at how to block porn on Mac. Whether you are going to prevent your children or yourself from seeing porn content, distracting videos, games, or social networking sites etc., a content blocker is needed all the time.
It's possible to remove bad websites by editing your hosts file in Terminal, which is not a good idea because it involves editing system files. This article recommends 5 porn blockers for Mac. The best one is Cisdem AppCrypt. It's more flexible, professional and feature-rich when compared to free and online porn blockers.