Porn is all over the Internet. We often accidentally access some porn sites when surf on Internet and there will be some uncomfortable content in them. Maybe for most adult people, these pages will be ignored, but for young children, it may cause some bad effects. Whether you want to block porn on Windows for your child to protect his mental health, or prevent yourself from accidentally seeing inappropriate content on computer, a porn blocker can ensure your family a safe Internet environment. Here is list of porn blocker for Windows.
Top 5 Porn Blockers for Windows to Block Porn on Computer
#1 Cold Turkey
Cold Turkey is an easy to use porn blocker for Windows. It supports to block porn on computer with password, also allow you to set schedule for each block list.
This tool blocks porn websites by installing extension to all of your browsers first. Then you need to type in the URL of porn site to block list. If you don't want to type every porn site out manually, there are 2 efficient options for you. You are able to import porn websites from file to block. In addition, there are present porn site list in this tool, you can choose it and block all porn site in this list with 1 click.
The porn applications filter only reserved for pro users. Fortunately, this tool provides 7-days free trial. You'll be given access to all pro features for 7 days once starting trial, then decide whether to upgrade to paid version or not. Let's look at how to block porn sites on Windows using Cold Turkey Blocker.
1. Download and install Cold Turkey.
2. Open it and install extensions to all of your browsers as guild.
3. Go to Blocks tab on the main window. Click Add a new block.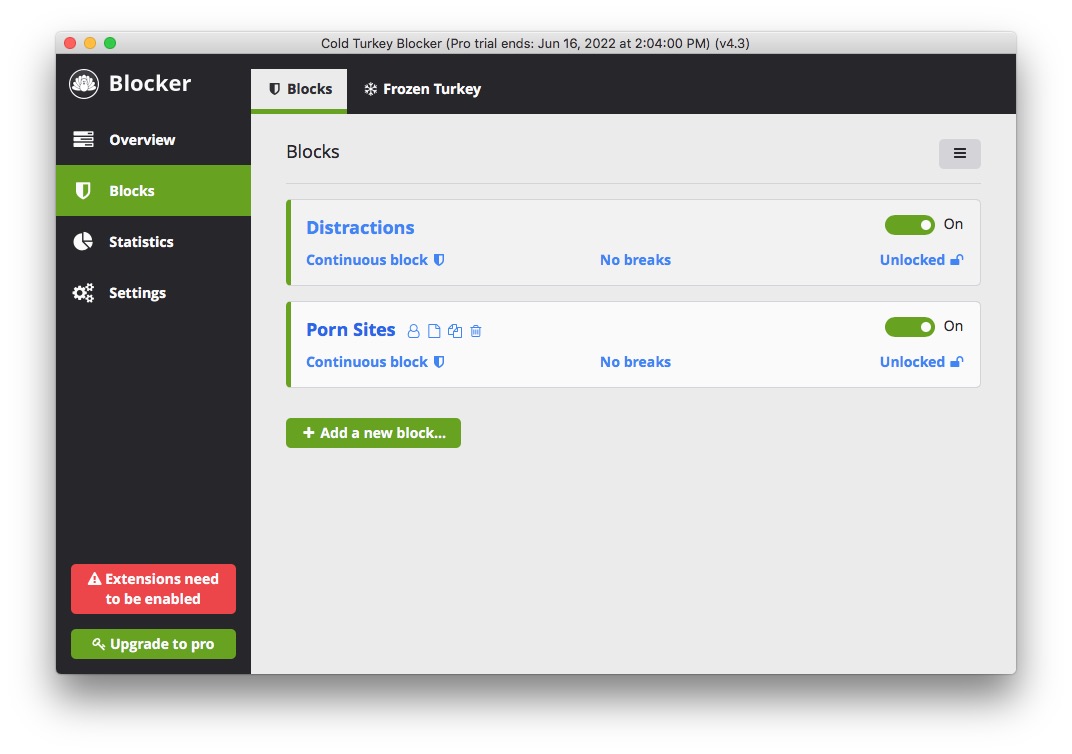 4. There are 3 options for blocking porn websites:
Enter the URL of porn websites to the box. Then click Add.
Click Import then Websites from file. Select the adult websites list file that you prepared to block.
Click on Import then Website categories. Choose Porn to import present porn sites list to block.
5. If there are porn applications on the computer you want to block, go to the Applications section. Click Add application then choose the app from the application folder. Click Open.
After above steps, you can lock the block with password to prevent others from changing your settings.
#2 DNS Angle
This utility is designed for family protection. No need to add porn sites to block list manually, it'll protect your child from inappropriate content on Internet including pornographic automatically. If you want, you can also take advantage of this tool to help you overcome pornography addition.
It's easy and fast to set up. Just installing DNS Anger and open it. You'll see the main window below. This porn blocker for Windows blocks porn by changing your default DNS server with other family-safe DNS server. Here I recommend you to choose the first OpenDNS Family, and then most pornographic content will be immediately blocked on computer.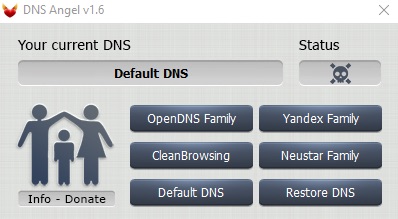 If you think the automatic porn filter of family-safe DNS server is not enough, you can look for others below.
#3 Qustodio
Qustodio is a reliable parental control app to reduce the risks child faces online. It is designed around controlling children's online behavior including setting screen time, stopping gaming addition, and filtering inappropriate content etc. In addition, you can hide this tool from computer so that no one could find the porn blocker and change your settings.
With Qustodio, you are able to set screen time on your child's device to prevent him from addicting to his screens first. Then, turn on the filter feature to block adult content on child's device. If you found your child frequently access a harmful websites via his browsing history, or you want to stop watching porn for yourself, this porn blocker for Windows also supports to block certain apps and websites. Below are steps on how to block porn sites on Windows via this porn blocker:
1. Go to Qustodio website and create a parent account.
2. Add your child so that you can set rules and monitor his online activities.
3. Then Qustodio will give you a link after you entering your child's information. Head to your child's device then open the link in a browser. Download the porn blocker on his computer following the instruction.
4. Go back to the Qustodio website when the installation is finished. Go to your child's Web Browsing Rules tab. Disable Pornography category and other harmful categories. Then this blocker tool will restrict your child's access to these website categories. You can also set to receive alert when he tries to access porn sites.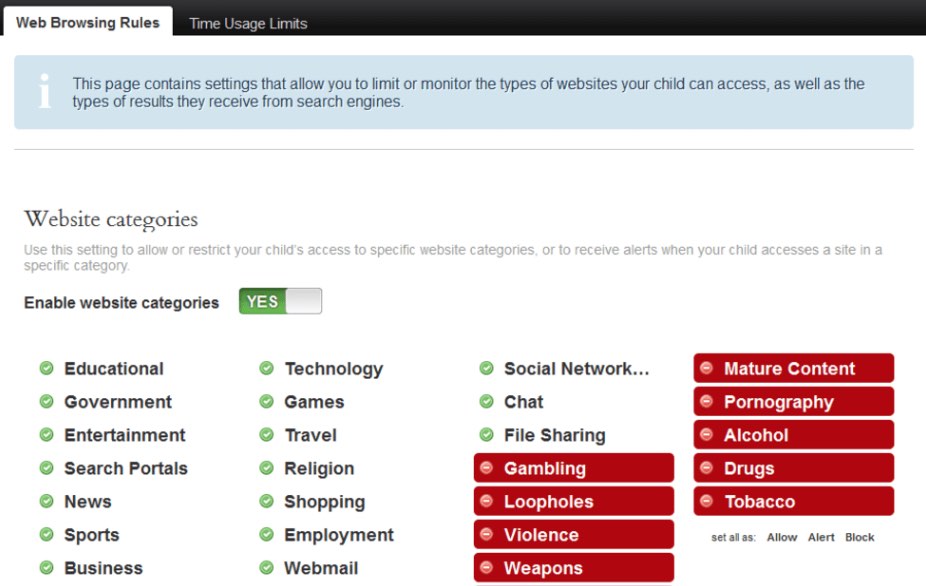 #4 BlockSmart
BlockSmart is a simple and free porn blocker for Windows. What it different to other blockers is that when users try to visit the blocked websites, it will pop up a window that allows you to enter username and password to gain access to the URL. This can help you block porn and other inappropriate sites while kids are using computer. However not affect yourself.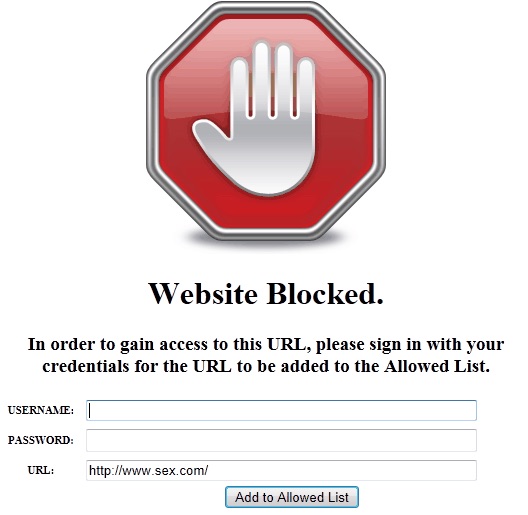 Except for blocking specific porn sites, this tool can also select to block sites by adult category. Then most adult content including nudity, pornography, sexuality and suggestive images will be blocked. A drawback of this porn blocker is that it only works on Internet Explorer web browser.
#5 BlockerX
There are some extensions can be added to web browser to block porn on Windows. You can find them on browser's web store. Now take Google Chrome as an example.
1. Go to Google chrome web store.
2. Search BlockerX. Click the first link from the result: BlockerX-Block Distracting Website.
3. Tap Add to Chrome then Add extension.
4. Choose Allow in incognito from the new window. Then go to Home of BlockerX. Now you can start to block porn sites on Chrome.
Block porn sites with domain name: Go to Websites tab. Type in the URL of adult websites to the box then click Add. You can also block a specific porn webpage.
Block porn sites with keywords: Go to Keywords tab. Add words/phrases to the box then click Add. To prevent unintended blocking of several pages, you'd better adding phrases instead of word.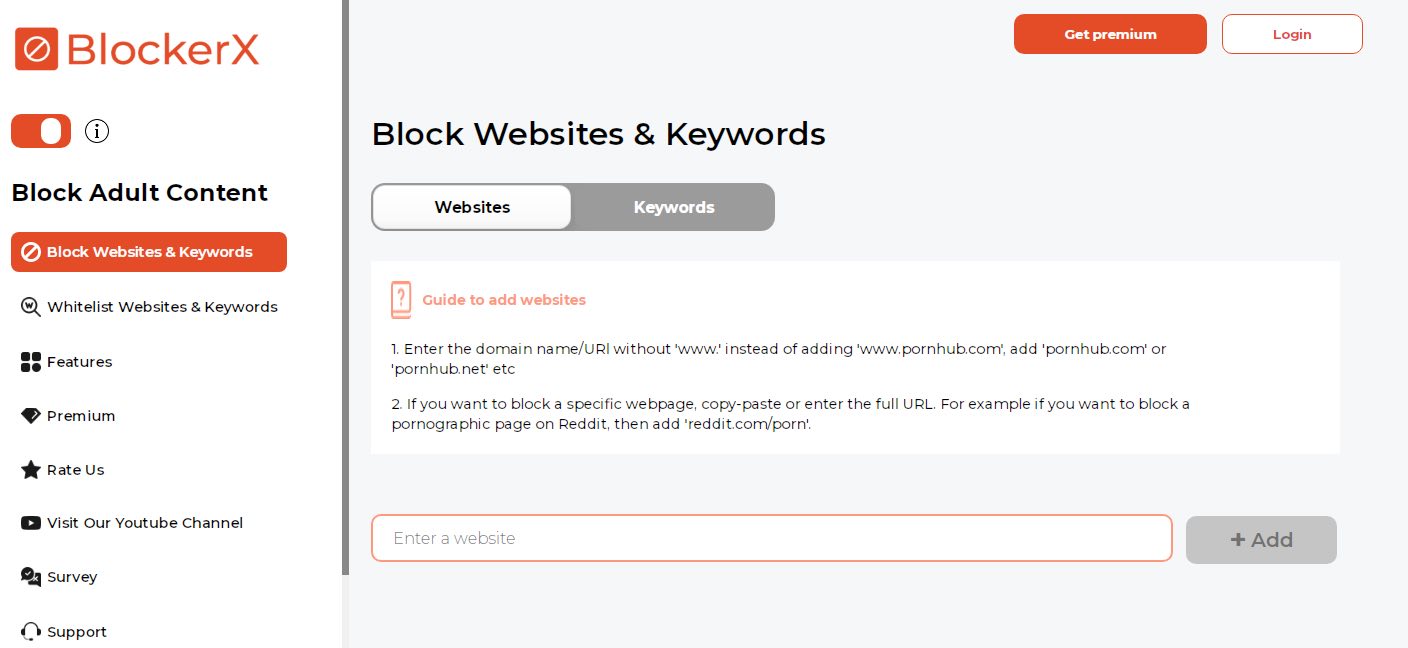 Other Ways to Block Porn on Computer
Above I introduced how to block porn on computer using professional porn blocker tools. Most of them need to upgrade to pro version to achieve full features. If you don't willing to pay for this, there are some other free ways on how to block porn sites on Windows 10 at a lower level.
Using Safe Search
Google Safe Search:
Google Chrome is one of the browsers we frequently use. It has a safe search function. Once turning on the safe mode, Google will automatically filter out pornographic and other explicit content from your search result. Here is how to enable Google Safe Search to block porn on Windows:
1. Go to Safe Search settings on your Google browser.
2. Turn on Explicit result filter.

Note: Google Safe Search filter will not catch all adult content, and it only works on the search result. If users go to a porn website directly, the filter won't block them.
Bing Safe Search:
Bing also has a safe search feature that filter out adult text, images and videos from your search results. But this filter is also not 100% accurate.
1. Go to Bing website on a web browser. You have to log in to the user's Microsoft account first.
2. Tap the 3-line icon on the top right. Click SafeSearch.
3. Enable the Strict mode on the SafeSearch section.

Using Windows Parental Control
As its name, Parental Control is a built-in app of Windows computer to help parents to ensure a safe and healthy online environment for child and manage his online behavior. It's free to use and has some useful functions including web filtering and app restriction. Let's learn on how to block porn on computer via Parental Control settings.
1. The first step is to create an account for your child or other family member. If he has already have an account, you can directly add his account in: Go to Windows Start > Settings > Account > Family and other people > Add a family member.
2. Sign in your account as administrator then you'll find the Manage family settings online option. Click on it and begin to block porn websites and apps on your child's account.
3. Go to Web browsing tab. Add the URL of porn sites to the block list.
4. Go to Apps, games & media tab. Enable Block inappropriate apps and games. Scroll down then add porn apps that you want to block to the block list.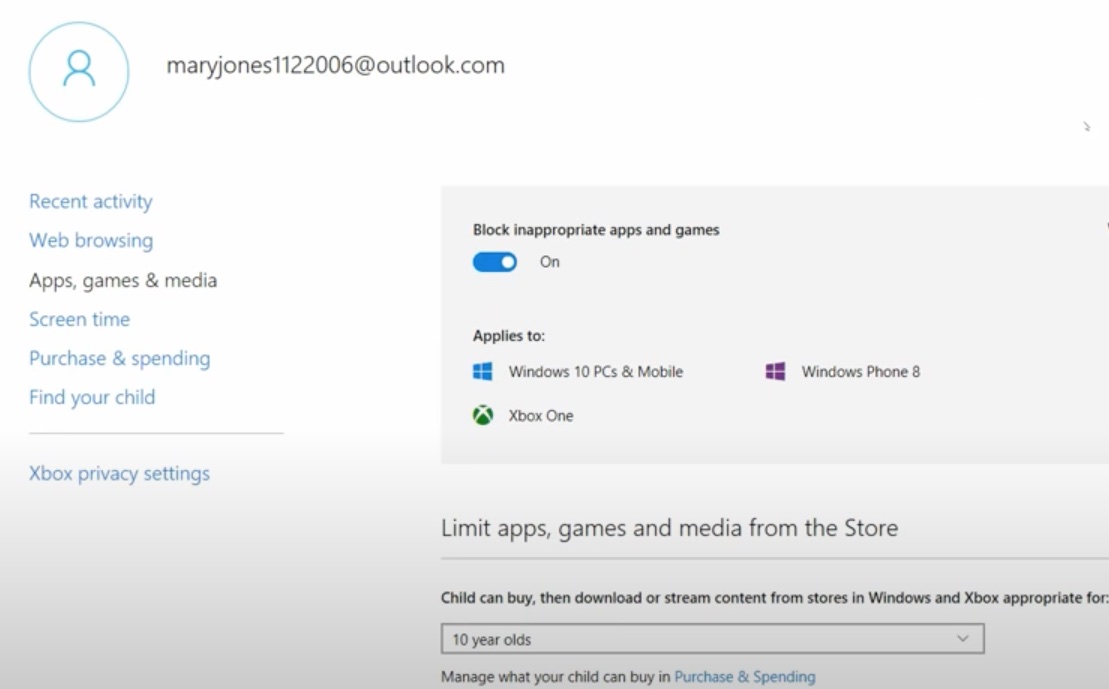 Note: Make sure your child can only sign in his own account on computer. Otherwise the filtering will not working. In addition, Windows Parental Control only has effect on Microsoft Edge and Internet Explorer web browser.
Conclusion
After following above guide, I believe you have known how to block porn on computer. Now our child is getting more into adult content on the Internet. Installing a reliable porn blocker for Windows on computer is necessary. But only a technical blocking solution is not enough. It is also important to talk with child about safe and healthy online behavior.