Auslogics Duplicate File Finder, as its name indicates, is a product of Auslogics which is a certified Microsoft® Gold Application Developer in developing powerful software that meets the demands of PC users. This Duplicate File Finder is totally free for PC users and it sorts through images, music, videos, archives and other personal files to remove duplicate files and free up disk space on PC. Sounds useful? Let's see how useful it is when dealing with duplicates.
The Best Duplicate File Finder
Find duplicate photos, videos, music files, documents and other duplicate files
Find similar photos too
Help Mac users remove duplicates from Photos, iPhoto, Music and iTunes
Let you scan one or multiple folders/drives for duplicates
Let you exclude files and folders from scan
Display the found duplicate files with preview and file info
Automatically select duplicates for you to mass delete with a click
Also offer selection rules to help you select
Offer 3 ways to delete: Move to Trash/Recycle Bin, Move to Folder and Remove Permanently
Easy to use and customize
Available for both Mac and Windows

Free Download

Free Download
Auslogics Duplicate File Finder Review
Platforms: Windows XP, Windows Vista (32 bit), Windows 7 (32 bit), Windows Vista (64 bit), Windows 7 (64 bit), Windows 8, Windows Server, Windows 10
Version: 6.1.1.0
Licence: Freeware
Download Link: Download Auslogics Duplicate File Finder for Windows
Bundle with Other Apps
When I install Auslogics Duplicate File Finder on my PC, it will also install the Auslogics BoostSpeed and try to change your default browser homepage. It is fast and easy to install but the application is bundled with other software such as Auslogics BoostSpeed and Auslogics Driver Updater which you may not need. Uncheck these options when installing if you don't want them.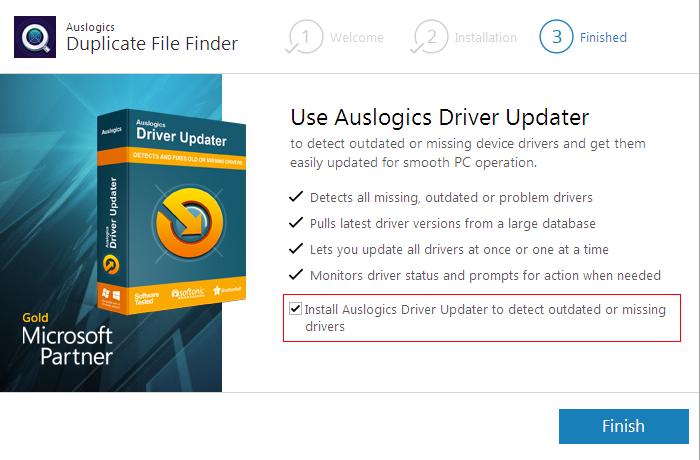 Different Criteria Options to Choose before Scanning
After installing, you can select one or multiple folders or drives. The folder selection is inconvenient because it doesn't offer drag-and-drop abilities. And there are different criteria options including File Type Criteria, Search Criteria, and Delete Criteria. for us to filter the scan by file type and file size, decide whether this duplicate file finder takes note of file dates and file names, and determine the default action for duplicate files. You can navigate to scanning directly by clicking "Search >", then this app will scan duplicates with default settings.
In File Type Criteria, you can select which types of duplicate files should be searched. Here I will choose "Look for these file types only" with all options selected. Then click "Next >" to continue.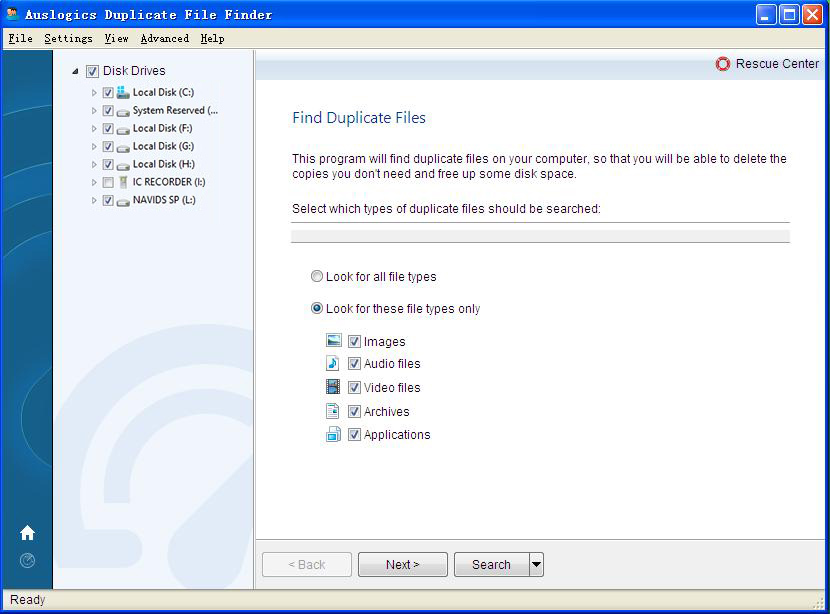 Search Criteria options allow you to ignore files that are smaller or larger than the specified size value. And you can choose to ignore hidden files from scanning and ignore file names matches or file creation/modification data matches. In this test, I unchecked all search Criteria options.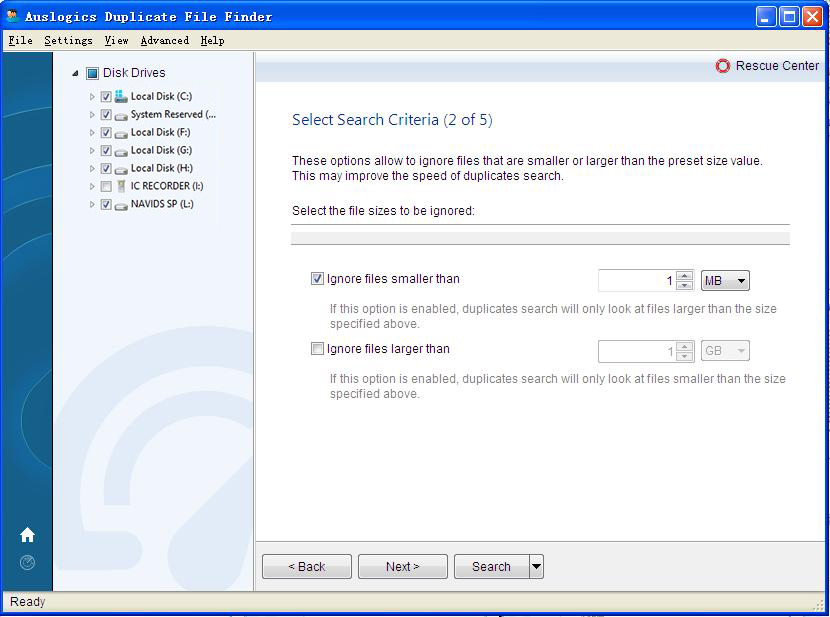 Delete Criteria allows you to select the method of duplicate file removal. And you can delete the found duplicates to Recycle Bin, Rescue Center or remove them permanently. Here I selected "To Recycle Bin".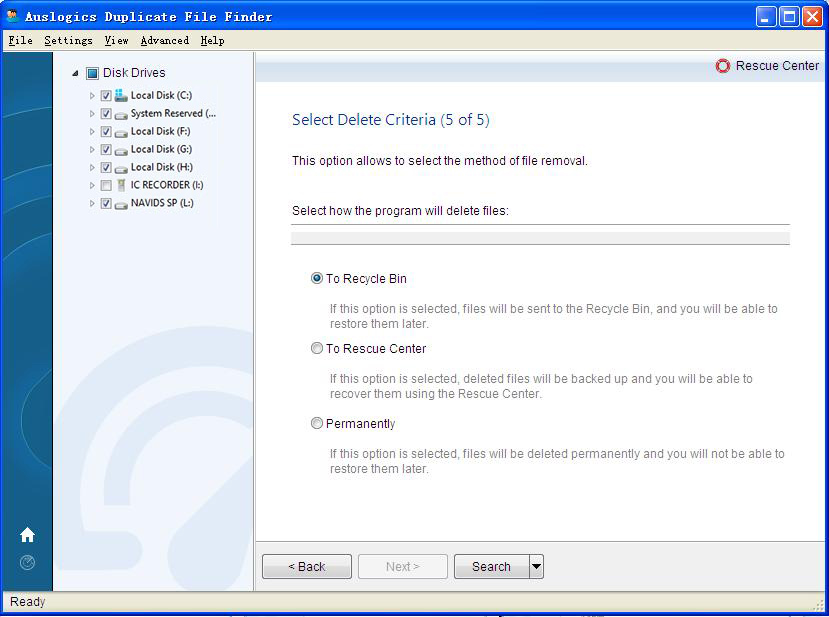 These Criteria options should be reasonably used. I used to check some options but only to find no duplicates. And this app recommended me to check my system status and induced me to install Auslogics BoostSpeed again.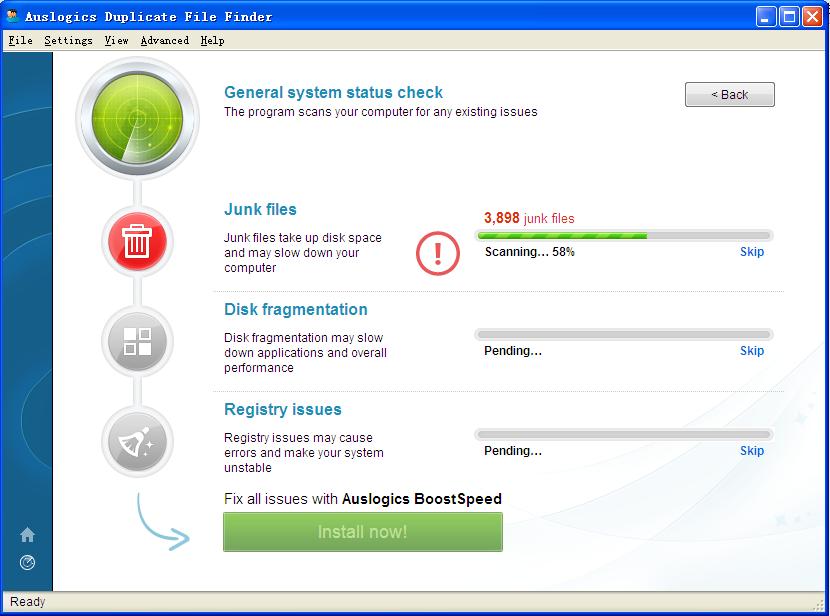 Scan duplicates fast and no Preview
Then I clicked "Search" to start scanning. It is fast. The program scanned my entire hard drive in less than five minutes, finding over 9000 duplicates. This app also allows filtering results by date, size and type. Based on my experiences, many duplicate file finders like Easy Duplicate Finder has built-in preview feature that allows users to decide which one to delete. But Auslogics Duplicate File Finder is not excelling at this aspect. Many duplicates can't be previewed and the details are unknown.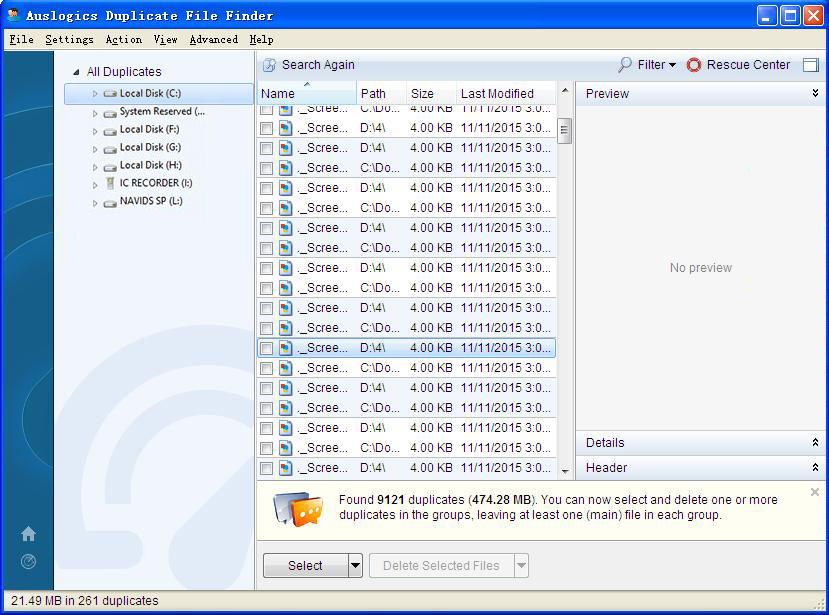 One Click to Select and to Delete
You can select one or all duplicates in each group for you, and even invert this selection with just one click. You can also select duplicates by modification data including latest and earliest or by file extension like .png and .jpg. I selected duplicates by earliest and hit "Delete Selected Files" button. As I chose to Recycle Bin in Delete criteria, so here it will remove them to recycle bin after I confirmed.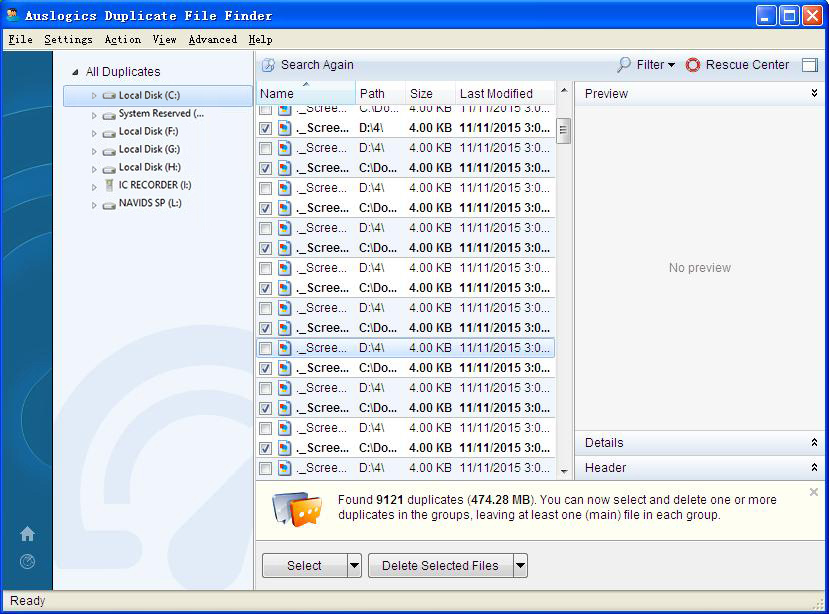 And you can click the inverted triangle icon beside the delete button to change your option to Rescue Center or Permanently. Once permanently deleted, the duplicates can't be restored when you discover the files are needed, so think twice before act.
The best Auslogics Duplicate File Finder alternative for Mac and Windows
Auslogics Duplicate File Finder is well worth checking out if your PC hard drives are running out of space. But for Mac users, can you find a good Auslogics Duplicate File Finder alternative which helps you speed up your Mac?
Absolutely YES! There are many duplicate file finders for Mac out there. Here I will recommend you Cisdem Duplicate Finder which is a popular option. It offers an accurate and quick way to find and delete duplicate photos, videos, audios, documents, archives, etc. on Mac and PC.
Unlike Auslogics Duplicate File Finder, Cisdem Duplicate Finder is completely clean with no adware. Compared to ADFF, it also has other much powerful features:
1. Support multiple folders and locations. You can add individual or multiple folders in one go. And it also allows you to drag and drop the folders to the app. External storage devices are also supported.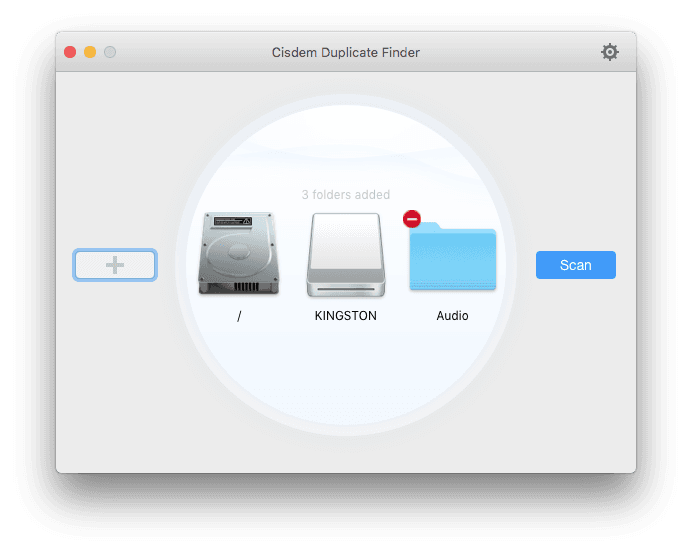 2. MD5 value checksum algorithm. It uses the powerful MD5 value checksum algorithm that scans the actual content of the files irrespective of the type of file.
3. Filter files before scanning. Before scanning, you can click the gear like icon at the top right to filter files by size and choose your desired Scan and Removal Method.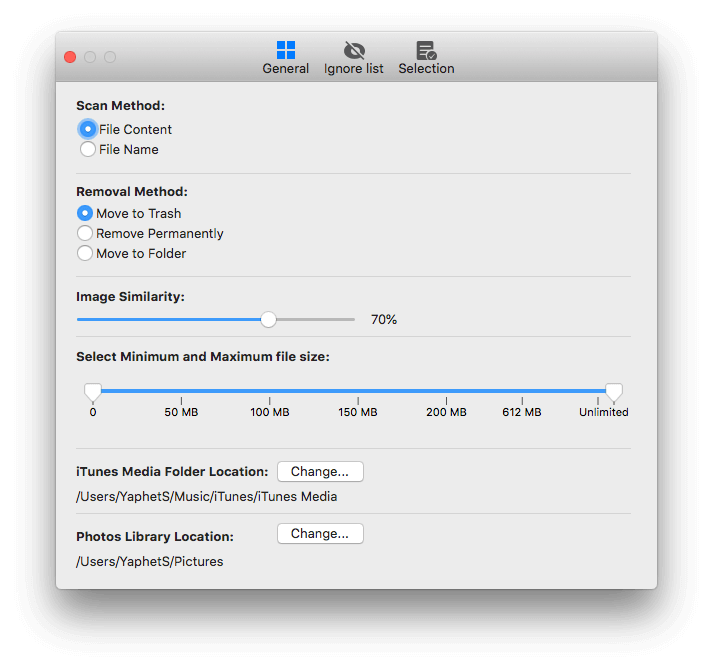 4. High scanning speed. Cisdem DuplicateFinder scans duplicates very fast.
5. Display scanning results in pie chart and table view. All found duplicate files are categorized on the basis of file types such as documents, images, packages, videos, music, archives, and others. And you can click each file to preview.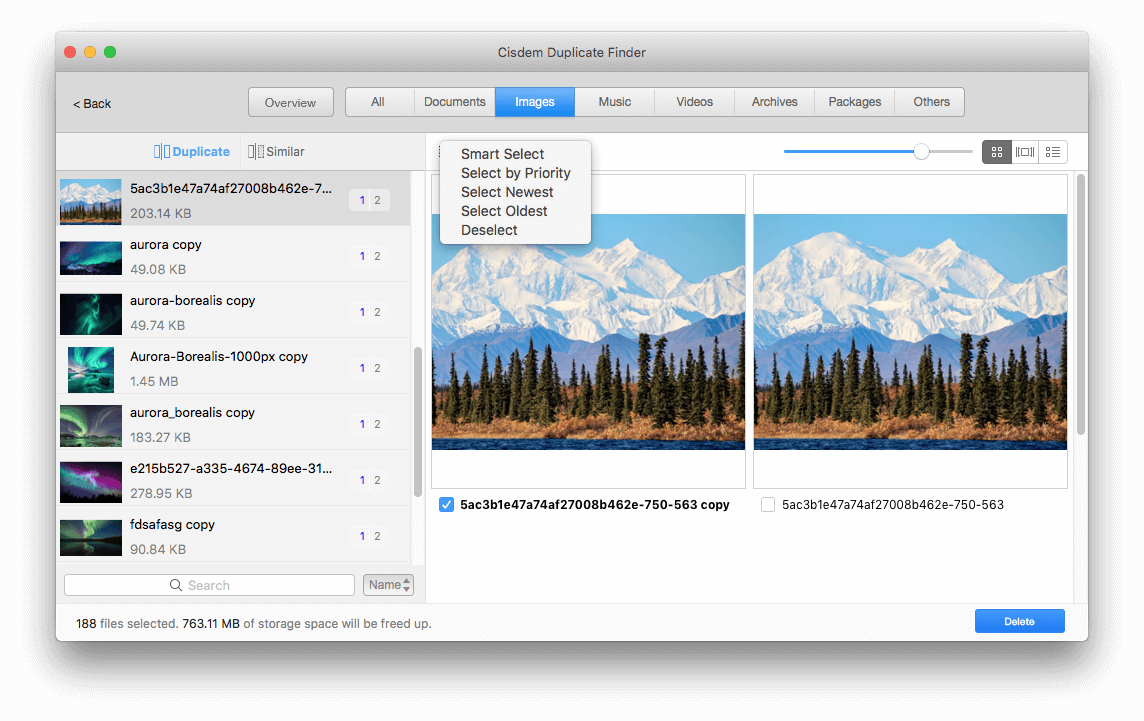 6. Hide files from scanning again. If you don't want to remove the duplicates, you can hide them from scanning again. Of course, you can remove them from the hidden list whenever you want.
7. Remove duplicates with one click. Many users especially appreciate the auto selection feature. All duplicates are auto-checked and it keeps one instance of every file, all you need to do is hit the "Delete" button to get rid of them.
After I introduce these features of this app, I guess you can't wait to try it. You can download the free trial of it below and try it to see how many duplicates it can find on your Mac. It supports Mac and Windows.