There are many duplicate file finders. Auslogics Duplicate File Finder is one of them. What features does it offer? Does it do a good job of helping you get rid of duplicate files? Is it easy to use? Here is a detailed review of Auslogics Duplicate File Finder. I hope it's helpful.
The Best Duplicate File Finder
Find duplicate photos, videos, audios and all other duplicate files
Identify similar images too, letting you set the similarity level
Find duplicate files on computer, external hard drive, SD card, etc.
Can scan 1 folder/drive or multiple locations for duplicates at a time
Let you exclude folders and files from the scan
Let you preview the found duplicates side by side or in detail
Automatically select duplicates for you to mass delete with a click
Also offer 8 selection rules to help you mass select
Offer 3 deletion options: Move to Recycle Bin, Remove Permanently and Move to Folder
Easy to use and powerful
Customizable, letting you take control
Available for Windows PC and Mac

Free Download

Free Download
Auslogics Duplicate File Finder review
This app is developed by Auslogics to help users find and delete duplicate files on Windows PC. It is available in eight languages, including English, German, Spanish, French, Italian, Japanese, Portuguese and Russian. The latest version is version 9.2.0.1, which was released in January 2022.
Is Auslogics Duplicate File Finder safe?
Yes. It's safe to download and install. It doesn't bundle malware or adware in its installer. But it is bundled with potentially unwanted apps. The apps are from the same developer and are safe.
It's safe to use. There is a deletion confirmation dialog box to help prevent users from accidentally deleting files. What's more, there is a Rescue Center feature, making it possible to easily undo a deletion.
Cost: Is Auslogics Duplicate File Finder free?
Yes. It's free to download and use.
Download and install
The latest version of Auslogics Duplicate File Finder is available for download on the official website. It's compatible with Windows 10, Windows 8.1 and Windows 7.
Please be aware of the bundled apps during the installation. You can click the Decline button to decline the offer to install a bundled app.
Auslogics Duplicate File Finder features
Search for duplicate files
To get started, you need to add the folder in which you want to find duplicate files. Many other duplicate file finders allow you to add a folder by dragging and dropping, but Auslogics Duplicate File Finder doesn't.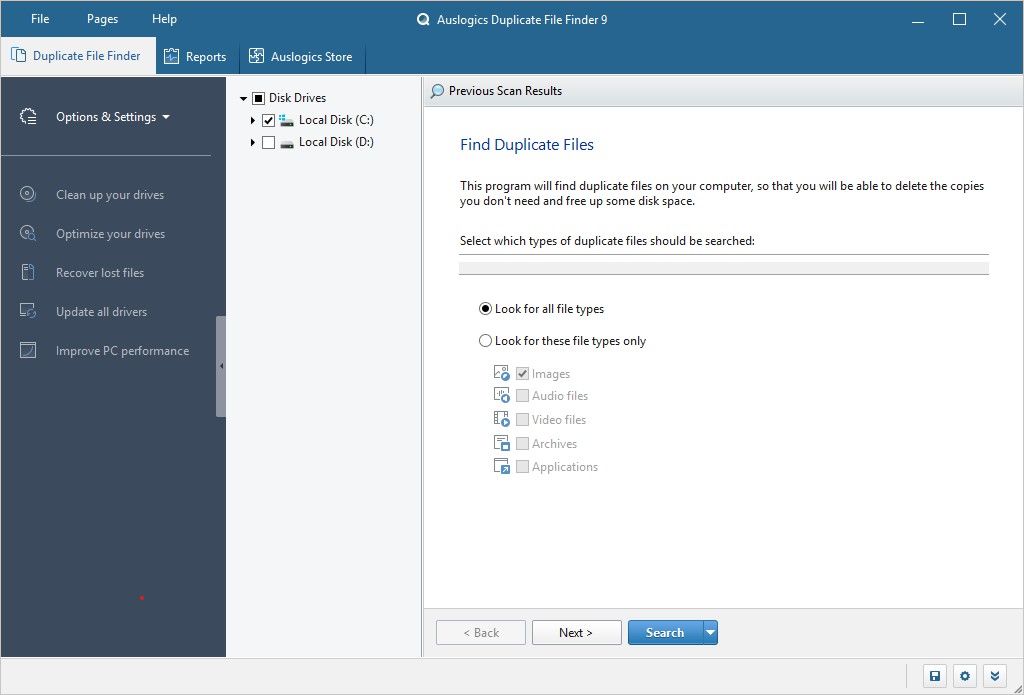 You can customize the search by doing the following:
Choose to find all duplicate files or certain types of duplicates (such as duplicate images).
Exclude small files and large files from the search. You can specify the size.
Exclude hidden files.
Exclude subfolders.
Ask the app to consider or ignore filename and creation/modification date when scanning for duplicate files.
Choose to scan all files or only files with certain names for duplicates.
The customization and configuration may be a bit confusing for beginners. You can familiarize yourself with the settings and options.
View duplicate files
When Auslogics Duplicate File Finder finishes searching, it will display all the duplicate files that it has found for you to sort, filter and preview. Also, it will generate a report that lists the found duplicates. You can print the report if needed.
This app lets you preview image and video files and also displays basic file information.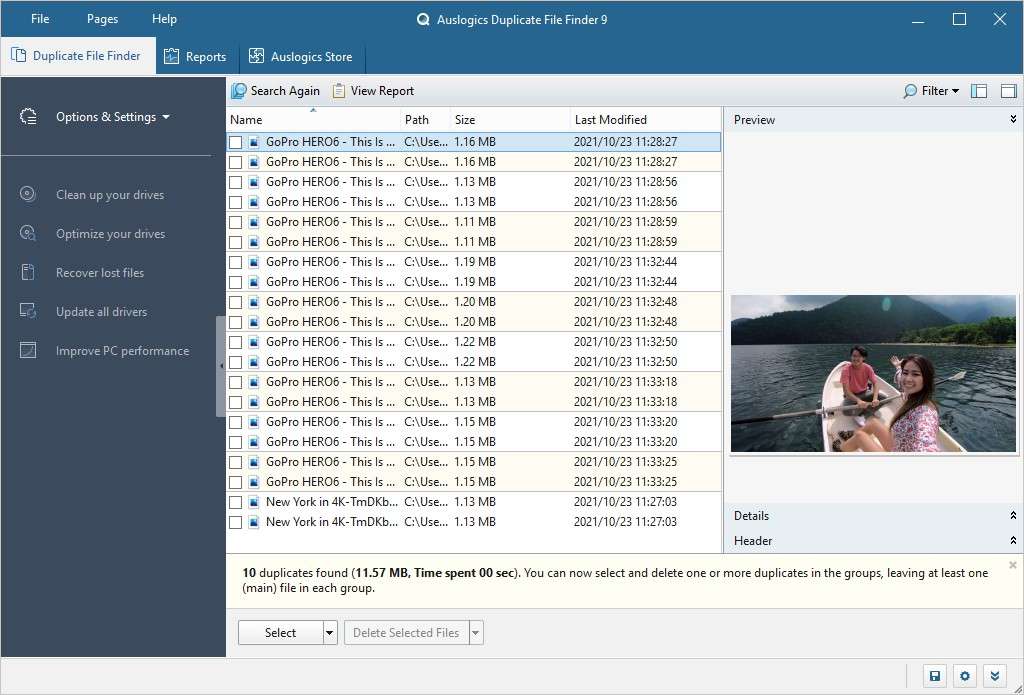 Delete duplicate files
You can manually select unwanted file duplicates for removal. Or, you can let the app do it for you. If you click the Select pop-up menu, you will see multiple selection rules.
There are three deletion options: To Recycle Bin, To Rescue Center and Permanently. You can find the options by clicking the Delete Selected Files pop-up menu. Choose the option that you need.
Auslogics Duplicate File Finder's Rescue Center feature is worth mentioning. Thanks to Rescue Center, you can easily get back deleted duplicate files when needed. Note that Rescue Center can't help if you have deleted them permanently. You can set up Rescue Center in Settings.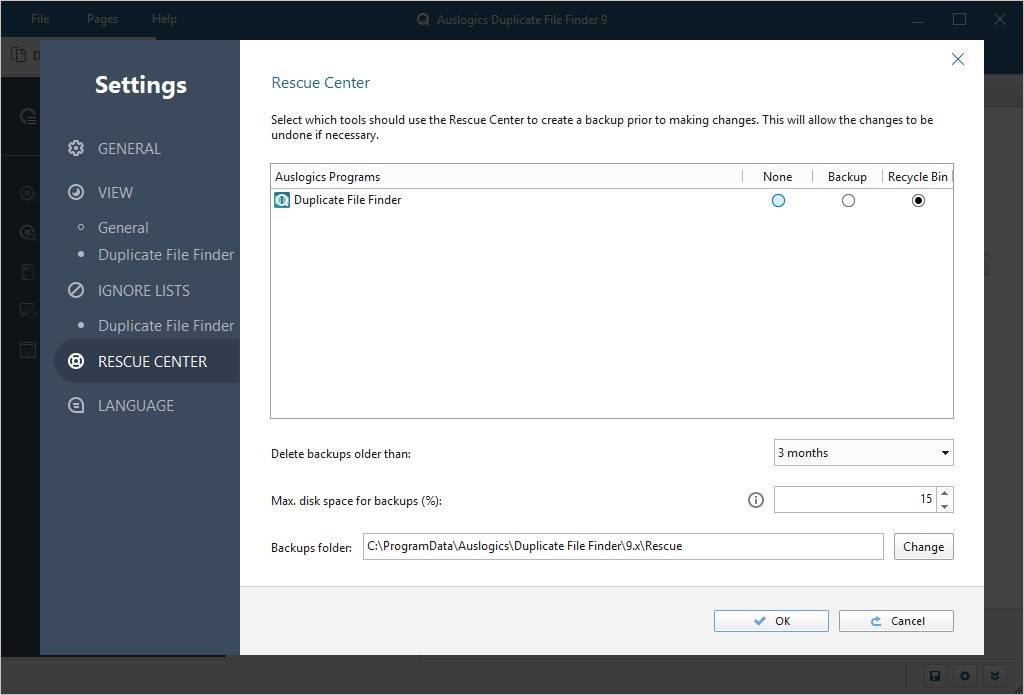 Summary
Pros
Search PC for various types of duplicate files
Let you preview and view duplicate files
Offer multiple ways for you to remove duplicates
Offer a Rescue Center feature, which can be useful
Cons
A bit slow when searching
Take a long time to scan a large number of files
Fail to display duplicates in an easy-to-view way
How to use Auslogics Duplicate File Finder
1. Open the app.
2. In the middle pane, add a folder to scan for duplicate files by selecting the checkbox next to it.
3. This step is optional. Customize the search according to your needs.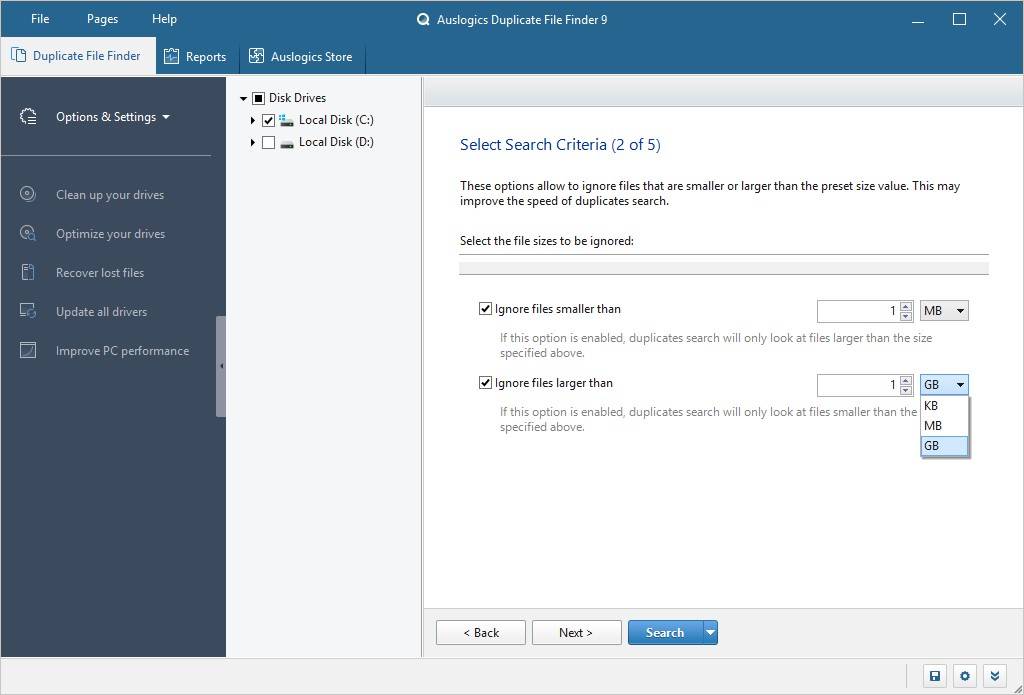 4. Click Search.
5. When the search is done, you will see the found duplicate files. You can view and examine them.
6. Select unwanted duplicates by hand or by choosing a selection rule.
7. Click the Delete Selected Files pop-up menu and choose a removal option.
The best Auslogics Duplicate File Finder alternative
Auslogics Duplicate File Finder does a fair job of finding and removing duplicate files. If you are looking for an excellent duplicate file finder to get rid of duplicate files on your computer, you may want to check out Cisdem Duplicate Finder. It has better performance, faster speed, more features and higher ease of use than Auslogics Duplicate File Finder does.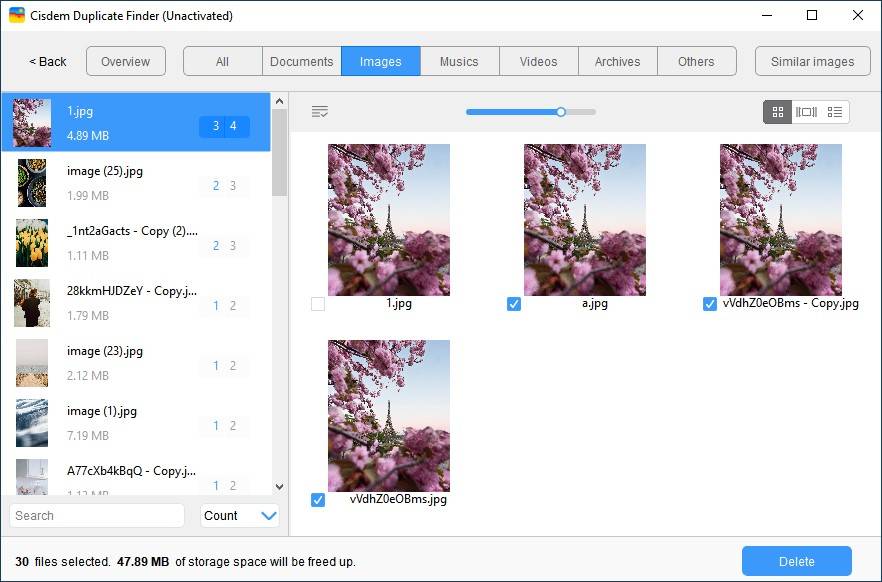 Cisdem Duplicate Finder main features:
Find duplicate images, videos, documents and all other types of duplicate files
Identify duplicate files by content, regardless of filename
Can also identify by filename
Also find similar images
Scan computer and external storage devices for duplicates
Also help you scan cloud storage (such as OneDrive) for duplicates
Find duplicate files in a folder/drive or in and across multiple locations
Display duplicate files for you to sort, view and preview side by side
Automatically and smartly select duplicates for mass removal
Also offer 8 rules to help you mass select duplicates
Offer 3 removal options, such as Move to Recycle Bin (default)
Easy and safe to use
Compatible with Windows 10 and Windows 11
Also available for Mac

Free Download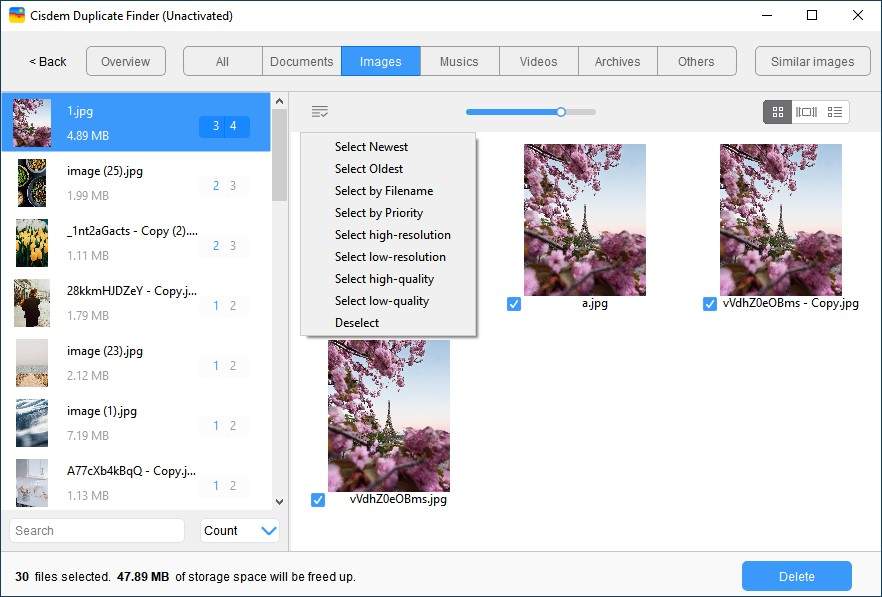 Like Auslogics Duplicate File Finder, this alternative is designed to help users look for and eliminate unwanted duplicate files. But it's more powerful and easier to use. It offers more features and options (including some advanced ones) and more flexibility.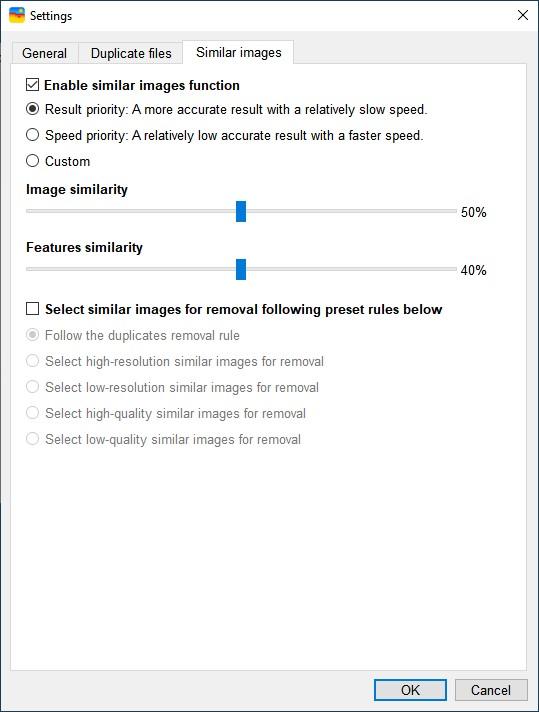 Conclusion
Auslogics Duplicate File Finder has been around for over a decade. It has all the basic features and options that basic duplicate file finder software should have. If you are not happy with it or if you are looking for a better way to get rid of duplicate files, you can consider the alternative described above.