With more than one billion users, Google Photos is one of the most popular photo storage services in the world. Google Photos is great. But as with any service, it's not perfect. For example, many users complain about the duplicate photos in Google Photos.
Duplicates in Google Photos take up space and make it less enjoyable to view photos. Now Google Photos no longer provides unlimited free storage, so your storage space becomes valuable.
After much testing and searching, I've found several methods on how to find and remove Google Photos duplicates. One method is not necessarily better than another, and they all work. In this article, I talk about all these methods and provide detailed steps.
The Best Duplicate Photo Finder & Cleaner
Identify exact duplicate photos, videos, audios, documents and all other exact duplicates
Identify photos that look the same but different in sizes or formats
Also identify similar photos
Find duplicate files on PC, Mac, external storage devices, Google Photos, Google Drive, OneDrive, etc.
Let you find duplicate files in 1 folder/drive or in and across multiple locations
Display the found duplicate photos for you to view and preview
Automatically select all duplicates for you to remove with a click
Also offer selection rules to help mass select files for removal
Easy to use and powerful
Help you get rid of duplicates in Google Photos

Free Download

Free Download
4 facts to know about the duplicates in Google Photos
Knowing these facts can help you get rid of duplicates more effectively.
Google Photos has a duplicate detection feature, which automatically not only detects exact duplicates (files that are exactly identical, regardless of name) during upload but also prevents exact duplicates from being uploaded. But this feature doesn't detect duplicates that already exit in your Google Photos account.

You may still find some duplicates in your Google Photos. Why? This is because sometimes Google Photos doesn't identify duplicate photos that you think are the same. For example, if you sync your Google Photos with multiple devices, the same photo in your different devices can be slightly different in metadata. Google Photos will upload the file twice. And some photos existed in your device are slightly different in resolutions, formats or file sizes. Or, they just look almost the same. They are not considered to be duplicates.
Google Photos itself doesn't have a feature to find and delete these near-duplicates in your account. Luckily, the methods in this article can help you get this task done.
So far, there isn't a perfect way to very quickly get rid of a large number of duplicates.
Before you get started: Check if the duplicate files really exist
In some cases, you may see duplicates in the Google Photos app on your phone, but they don't really exist. To check out if photos are really duplicated in Google Photos, go to https://photos.google.com/, sign in with the same account used in the app and see if duplicates show up there.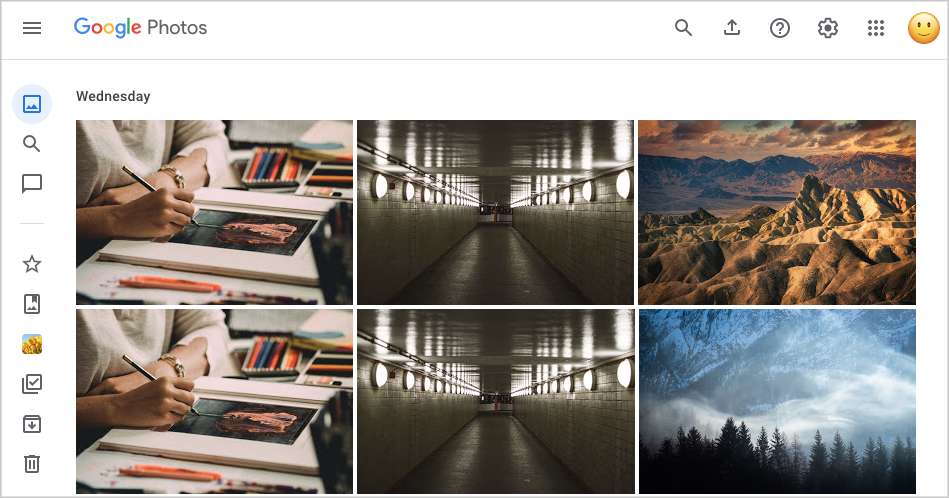 In some cases, you may see duplicates after you update the Google Photos app, update your Android or iOS version, or switch to a new phone. If so, wait for a period of time (for example, a couple of days) and see if the duplicates still show up.
How to find and remove duplicates in Google Photos using duplicate photo cleaner
Applies to: Windows and Mac
This method uses duplicate photo finder and cleaner software to automatically find the duplicates in your Google Photos account and display groups of duplicate photos for you to easily preview and examine, and helps you remove all redundant duplicates from Google Photos at once. And some manual work is also required.
Note that this method requires you to first download your photos to your computer using Google Takeout, a data download feature of Google. Let's first do the download and then start handling the duplicates.
1. On your computer, sign in to Google.
2. Go to https://takeout.google.com/settings/takeout.
3. Click Deselect all.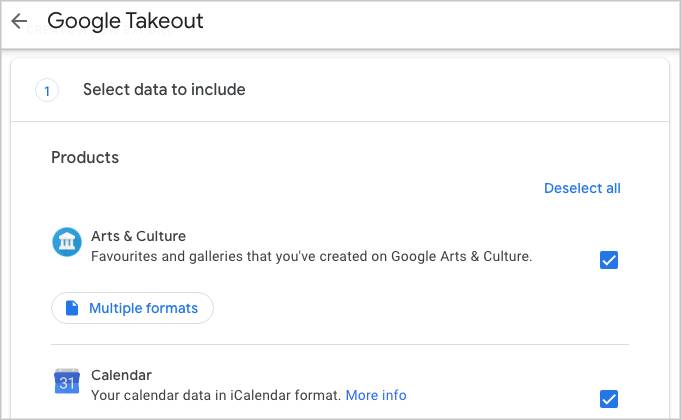 4. Scroll down to find Google Photos. Select the checkbox next to it.

5. Click All photo albums included and deselect Bin and all the albums created by you. Click OK.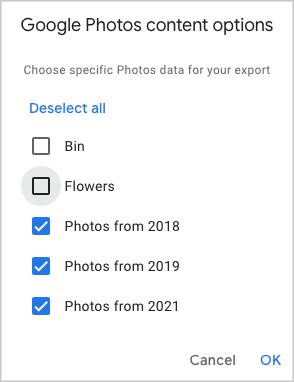 6. Scroll down and click Next step.
7. Click Delivery method and choose Send download link via email.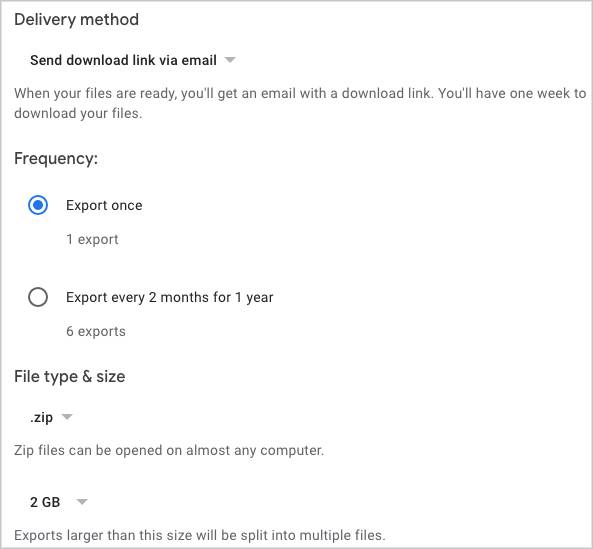 8. Configure settings. It's recommended to download all your Google Photos files to a single ZIP file. So select .zip and 50GB here.
9. Click Create export.
10. Enter your email. Find and open the message from Google Takeout. Click Download your files.
Now unzip the ZIP file on your computer. The unzipped folder will be automatically named Takeout. In the Takeout folder, you will find a folder called Google Photos. There, all your Google Photos files are automatically organized into "Photos from [year]"subfolders.

(If you have so many photos in your Google Photos account that the file size is larger than 50GB, you will get multiple ZIP files. In such a case, after unzipping, please merge all the "Photos from [year]" subfolders into one Google Photos folder.)
Steps: Find and delete duplicates in Google Photos
Now, all your Google Photo files are on your computer. You can start removing the duplicates in them.
1. Download Cisdem Duplicate Finder and install the software on your PC or Mac.
2. Drag the above-mentioned Google Photos folder into the software.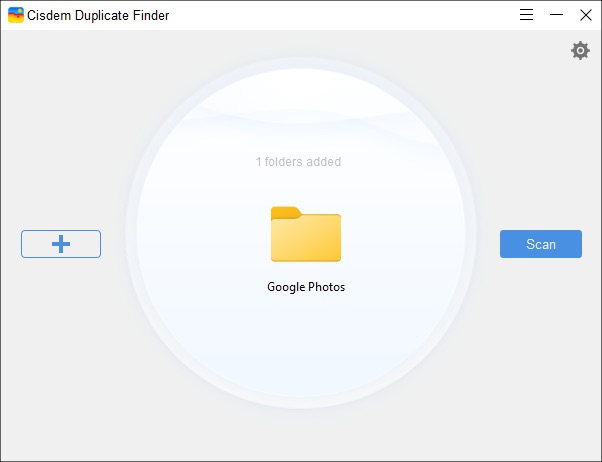 3. Create a folder on your desktop and name it as Duplicates.
4. Click the settings icon

. Under the General tab, select Move to Folder and then select the folder named Duplicates. Under the Similar images tab, select the Enable similar images function checkbox.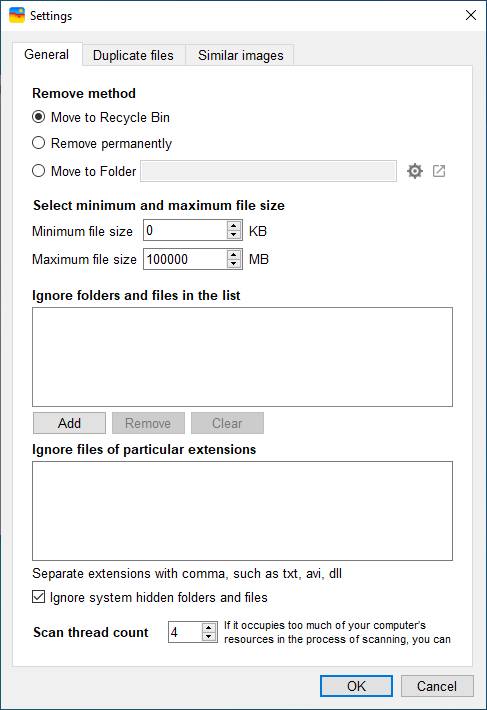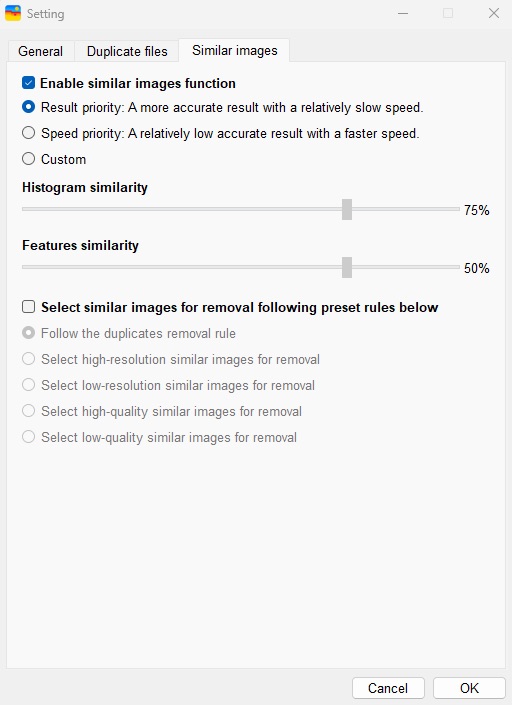 5. Click Scan.
6. When the scan is done, the Similar Image tab will display the duplicates (and similar photos) found in Google Photos. In each group of duplicate (or similar) photos, manually select the redundant photo(s).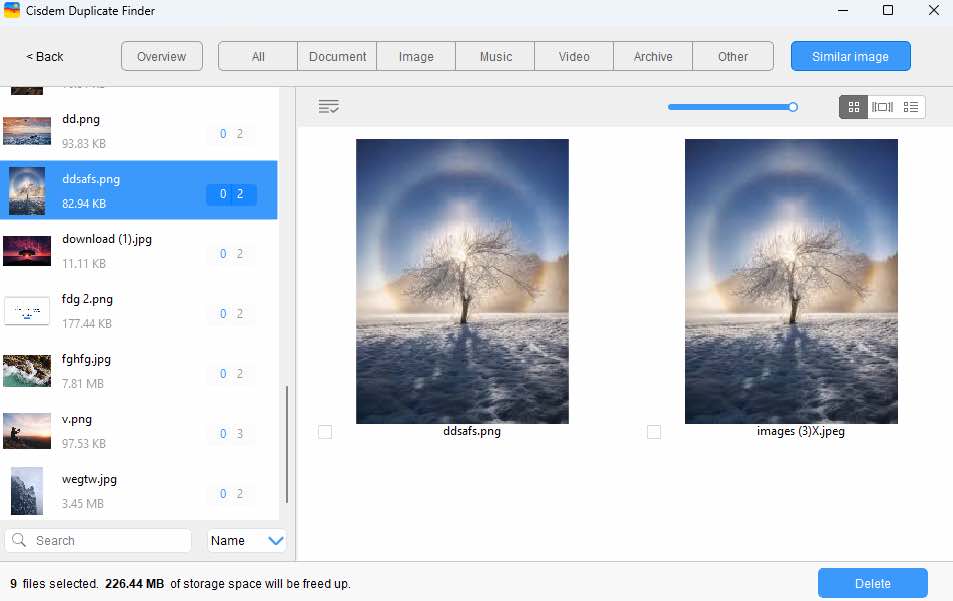 7. Click Delete in the bottom right corner to delete all selected files. Confirm the deletion.
8. Go to https://photos.google.com/. Create a new album and name it as New Album. Open New Album and drag the Duplicates folder on your computer's desktop into the album.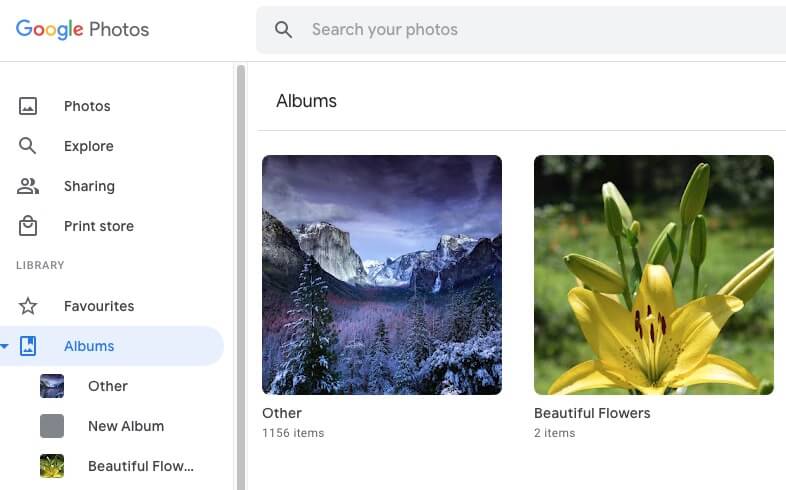 9. In New Album, select all photos in the album, click the 3-dot icon and choose Move to bin.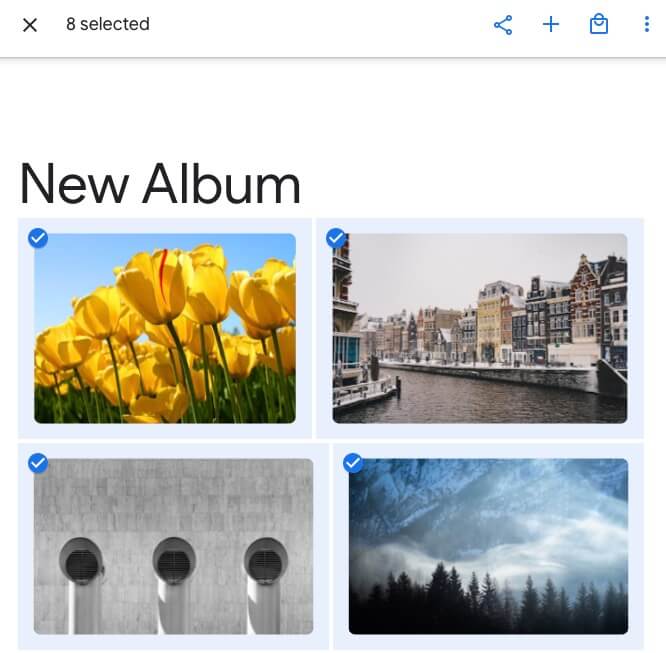 Now the duplicates in Google Photos are deleted.
You can find the deleted duplicates in Google Photos' Bin. Note that items in the Bin will be permanently deleted after 60 days.
Tip
This tip is for step 6. There are three preview modes. When you are selecting redundant duplicates, you can use the third preview mode to effortlessly view photo information, such as resolutions and file size. Normally, you will want to keep the highest-quality shots and remove the redundant duplicates. If you want, you can use selection rules to mass select. To do so, highlight certain or all groups on the left, click the list icon and choose a selection rule.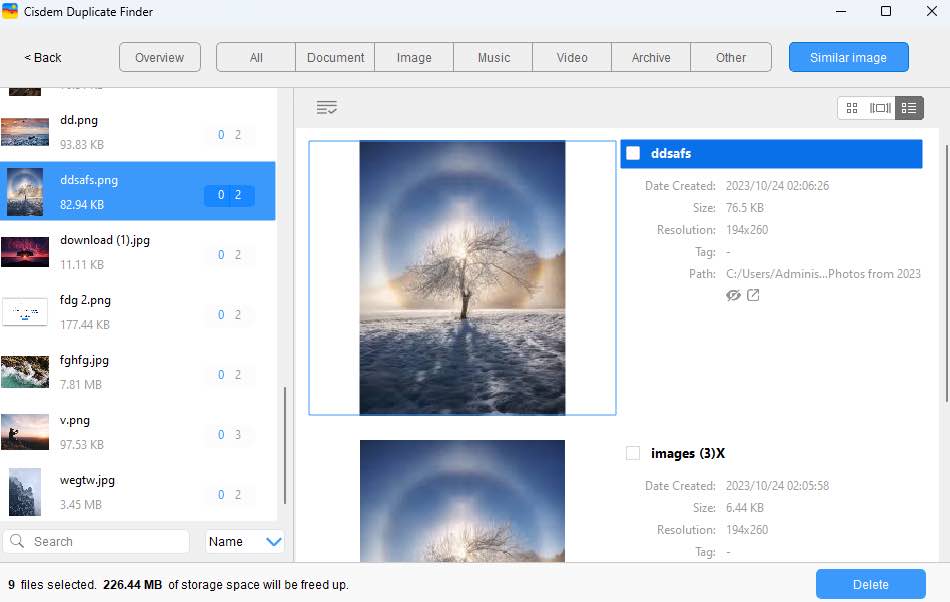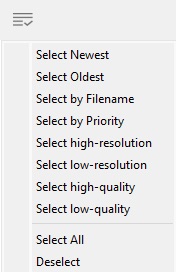 If exact duplicate photos are found in your Google Photos account, they will be displayed under the Image tab. And, in each group of duplicate photos, all but one will be automatically selected for removal.
Completely manually find duplicates in Google Photos and remove them
Applies to: Computer, Android, iPhone and iPad
If there aren't many files in your Google Photos account, you can browse through them and manually identify the duplicates.
1. On your computer, go to Google and sign in.
2. Visit https://photos.google.com/.
3. Scroll through your photo gallery. When you find a duplicate that you want to get rid of, hover your mouse over it and click the check mark icon to select the picture.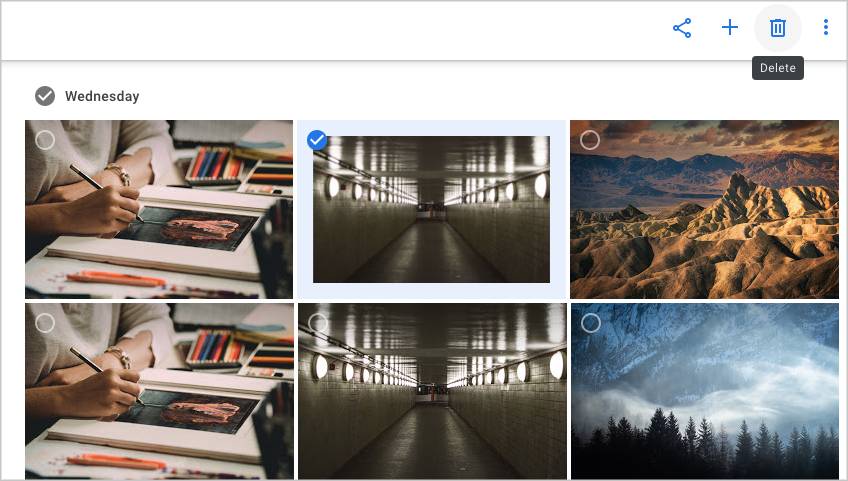 Viewing photo information can help you decide which duplicates to delete. To view photo information, double-click a photo and click the Info icon.
4. When you finish selecting, go to click the Delete icon in the top right corner.
5. Read the message that pops up and click Move to bin.
The deleted files will be kept in Bin for 60 days. You can also choose to permanently delete them right away.
Tip 1: Using the Explore tool in Google Photos to make the search easier
Google Photo has a powerful Explore feature. Although this feature can't help you directly search for existing duplicates in Google Photos, it can help make the search easier. Go to https://photos.google.com/. Choose Explore in the left sidebar. There can be several sections, such as People and Things. Click View all next to a section. Then you can easily spot duplicate photos of a certain subject. In addition, you can directly search for a term such as "cat" using the Search your photos box at the top, and Google Photos will display all the photos that match. This can also help you easily spot duplicate photos in Google Photos. You can use the Explore tool on photos.google.com or in the Google Photos app.

Tip 2: Does Google Photos supports sorting photos by size?
Some users are looking for ways to sort photos in Google Photos by size. This helps find duplicates faster. And some users want to prioritize deleting duplicates with larger file sizes to recover more space. Unfortunately, Google Photos doesn't provide this feature currently. If needed, you can use the Google Photos duplicate finder that I covered in method 1. Let it sort all found duplicates by size, or automatically select the largest files in each group of duplicates for you to remove.
How to avoid duplicates in Google Photos?
Below are several tips to help you avoid duplicates in Google Photos and keep you photos library clean and organized.
1. Disable the Backup & Sync feature
If the Sync & Backup feature is enabled, there may be instances that photos get synced multiple times. Sometimes, you edited a photo and Google Photos automatically upload it again. Multi-device syncing of Google Photos can also cause this issue. The best way to handle this is to manually upload photos every time.
2. Check your local device photo library before uploading
Before uploading photos to Google Photos, check your local device photo library. Delete your unwanted, or duplicate photos to ensure only valuable files are uploaded. If you edited a photo, remember to delete the original.
3. Use Google Photos duplicate finder
Browse your Google Photos regularly to identify and manually delete duplicate photos. Or using professional Google Photos duplicate remover like Cisdem Duplicate Finder to scan and automatically delete duplicates from Google Photos.
Conclusion
Why is Google Photos duplicating my pictures? There can be several reasons, such as backing up photos from different devices. Google Photos does a good job of detecting duplicates during upload, but it doesn't offer a built-in solution to easily deal with the existing duplicates. You can remove the unwanted duplicates manually or with the help of software. The methods described in this article are different, and you can choose the method that suits you best. After you remove duplicates in Google Photos, precious storage space will be freed up, and photo browsing will be more enjoyable.