Hundreds of millions of people use Google Photos to store their photos and videos. But it is easy to have duplicates of the same photos and videos in this storage service over time. It can take hours and even days to check and delete duplicates in Google Photos one by one by hand.
Right now, Google Photos doesn't provide an official way to help you efficiently handle existing duplicates. Luckily, there are two workable methods that can help you safely remove duplicates from Google Photos, and here I'd like to show you each method with detailed steps.
Note: When looking for the available guides online, I find that some take Google Photos the same as Google Drive. But in fact, these two are totally different. Google Drive is a file storage service also developed by Google. And if what you want is to delete duplicate photos in Google Drive, please see this guide instead.
Help with Google Photos Duplicates Removal
Find duplicate images, videos, audios, documents and more
Identify true duplicate files based on content
Let you preview images side by side within the app
Automatically mass select duplicates for you to eliminate with 1 click
Help you weed out the duplicates in your Google Photos
Easy to use
Available for Mac and Windows

Free Download

Free Download
Before getting started: Check if the duplicate files really exist
In some cases, you may see duplicates in the Google Photos app on your phone, but they don't really exist. To check out if photos are really duplicated in Google Photos, go to https://photos.google.com/, sign in with the same account used in the app and see if duplicates show up there.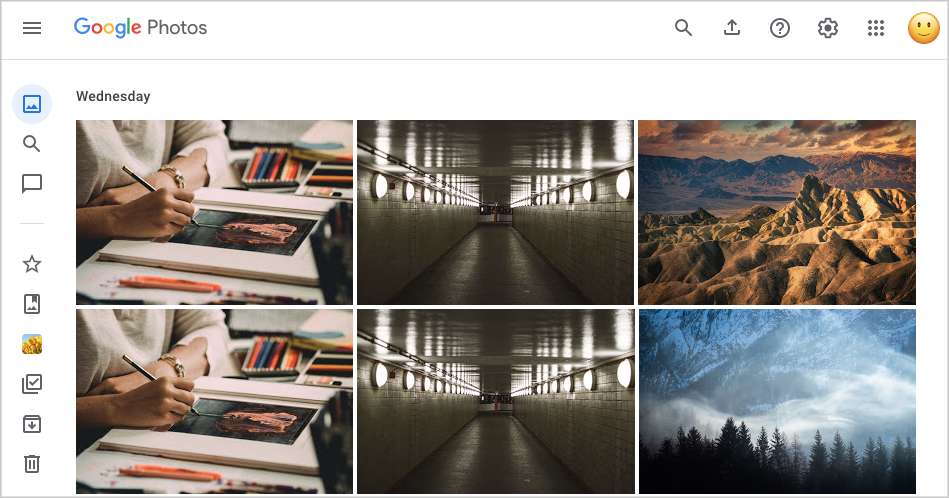 Method 1. How to bulk find and delete duplicates in Google Photos with software
Thanks to its duplicate detection feature, Google Photos doesn't allow exact duplicates. Exact duplicates are photos that are identical in every way regardless of filename.
The duplicates in Google Photos should be different (even very slightly) in file size or resolution or metadata.
There are a few online articles on easy ways to remove duplicates from Google Photos, but they are of little help. Being no expert on these matters, I finally figure out a non-manual method to do this.
Here's how it works. Download all the files in your Google Photos to your computer, delete all the files from your account, use duplicate file finder software to find and delete duplicates, and then upload the duplicate-free photos and videos to Google Photos.
Note: But with this method, there are two disadvantages. You will lose the information (if any) you have added to your photos on Google Photos. Also, you will lose the albums (not the photos in it). In other words, you will need to manually recreate albums later.
If the photo information and albums don't matter to you, then you can consider this method. The instructions below are broken into 2 parts. You can read through the instructions first and then decide if you want to use this method.
Tip: If needed, you can create a test Google account and test the method first.
Part 1. Download all files from Google Photos to computer
1. On your computer, sign in to Google.
2. Go to https://takeout.google.com/settings/takeout.
3. Click Deselect all.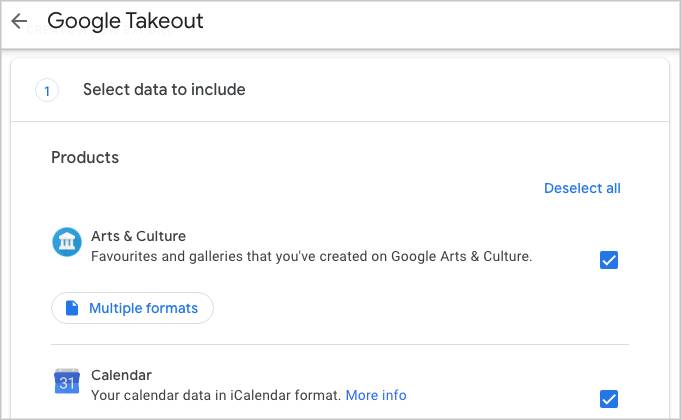 4. Scroll down to find Google Photos. Check the box next to it.

5. Click All photo albums included and deselect Bin and your album(s). Click OK.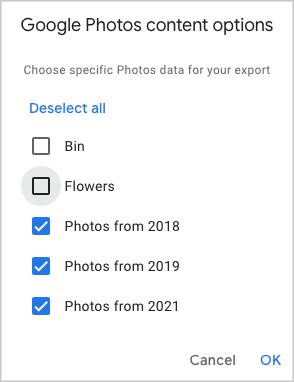 6. Scroll down and click Next step.
7. Click Delivery method and choose Send download link via email.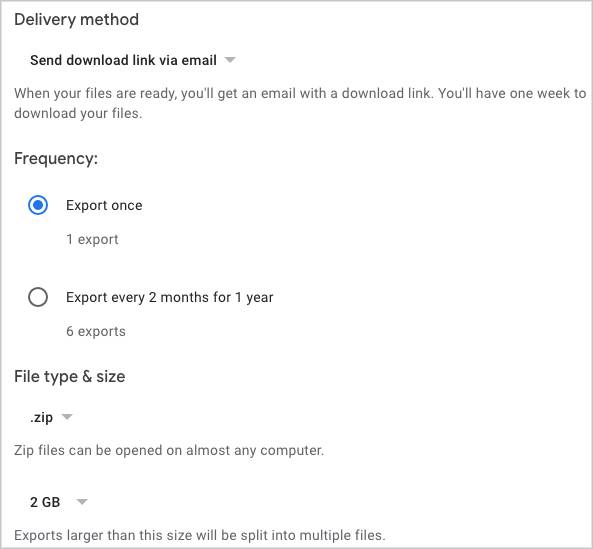 8. Configure settings. Here I set it to download all my Google Photos items to a single ZIP file.
9. Click Create export.
When the data is ready to download, you will receive an email. Click Download your files. If there are gigabytes of files, it may take a while.
Now unzip the ZIP file. The unzipped folder will be automatically named Takeout. In the Takeout folder, you will find a folder called Google Photos. There, your Google Photos files are automatically organized into folders by year.

It's recommended to keep the unzipped ZIP file as the backup of your Google Photos.
Now, delete all your photos and videos from your Google Photos account.
Part 2. Find and remove the duplicates in Google Photos
Now, all your Google Photo files are on your computer. Here I will use Cisdem Duplicate Finder to show you how to quickly use software to get rid of the duplicates.
Cisdem Duplicate Finder is a powerful and easy to use app to identify and eliminate duplicate photos, videos, audios, documents, archives and more.
Find all types of duplicate files such as duplicate pictures
Identify true duplicates by content with high accuracy and efficiency
Remove duplicates from folders and drives
Remove duplicates from Mac's Photos, iPhoto, Music and iTunes
Offer 3 preview modes, allowing side-by-side image preview
Help delete unwanted Google Photos duplicate files with 1 click
Help free up space
Delete by moving files to Trash/Recycle Bin so that you can easily restore
Available for Mac and Windows
1. Download Cisdem Duplicate Finder and install it.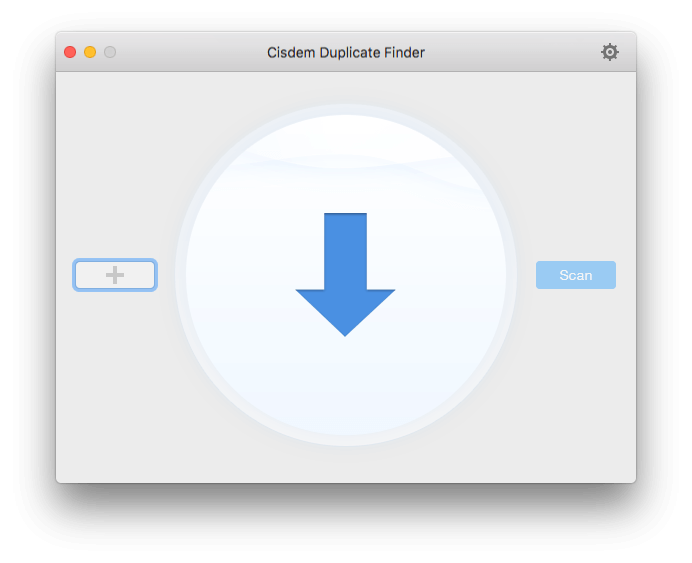 2. In the app, click the plus icon +, select the above-mentioned Google Photos folder and click Open.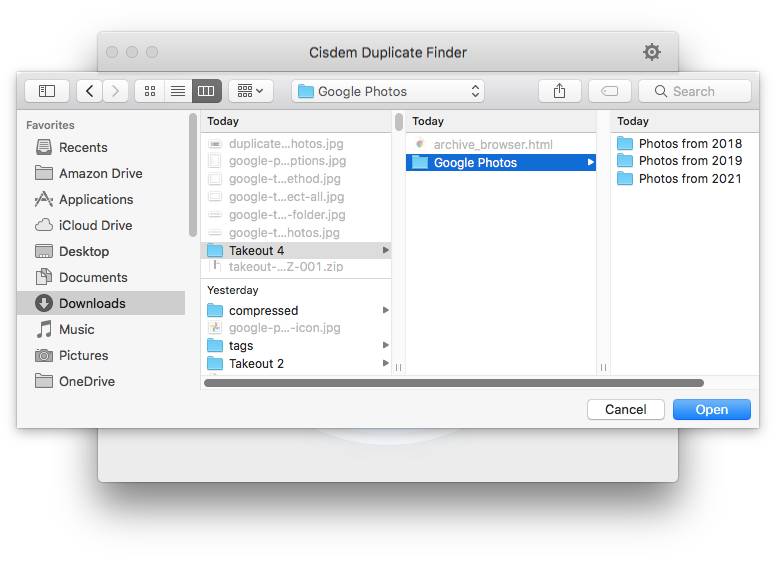 3. Click Scan.
4. Once the scan is done, go to the Images tab. Choose the Similar sub-tab.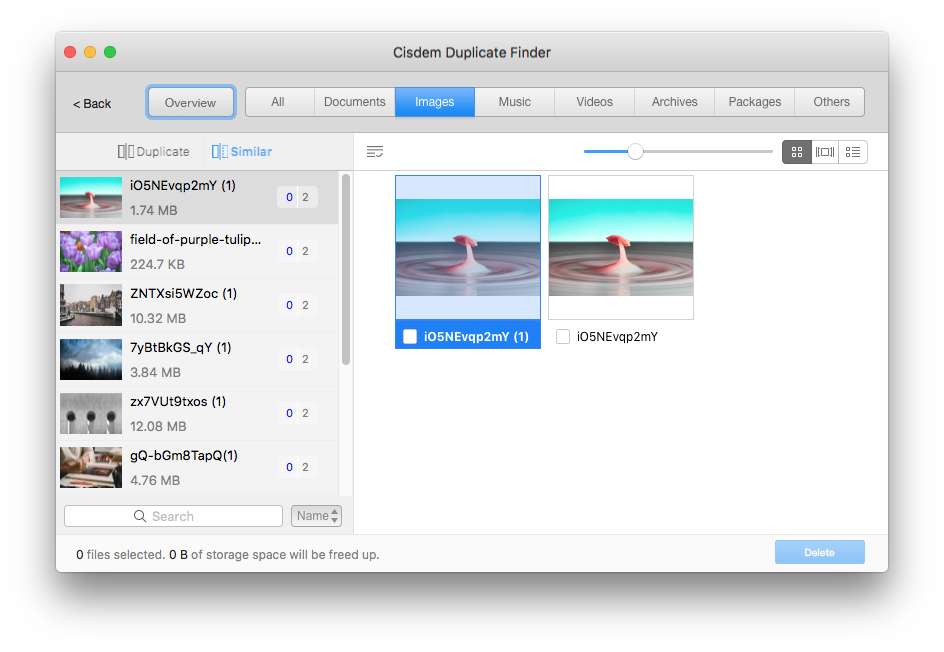 5. Mass highlight all items with Command-A.
6. Click the list icon

and choose a desired selection rule, say, Select Smallest. Note that selected items are unwanted and will be deleted.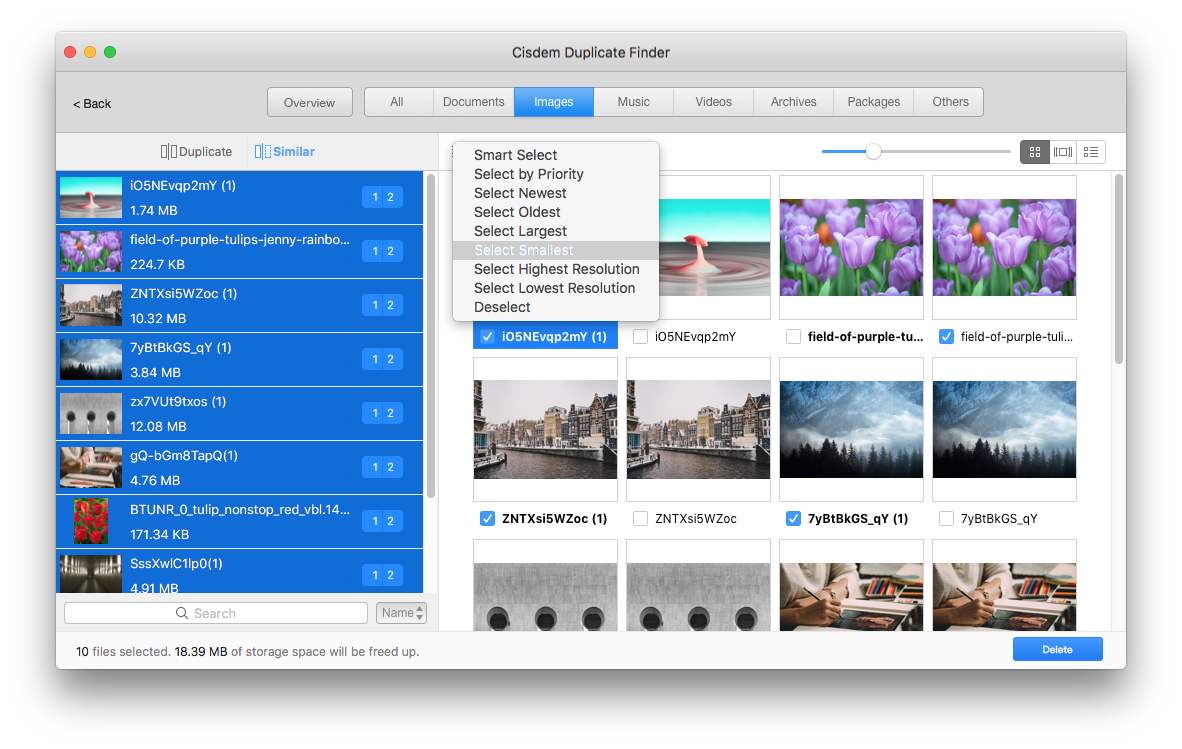 You can switch to the third preview mode to see details.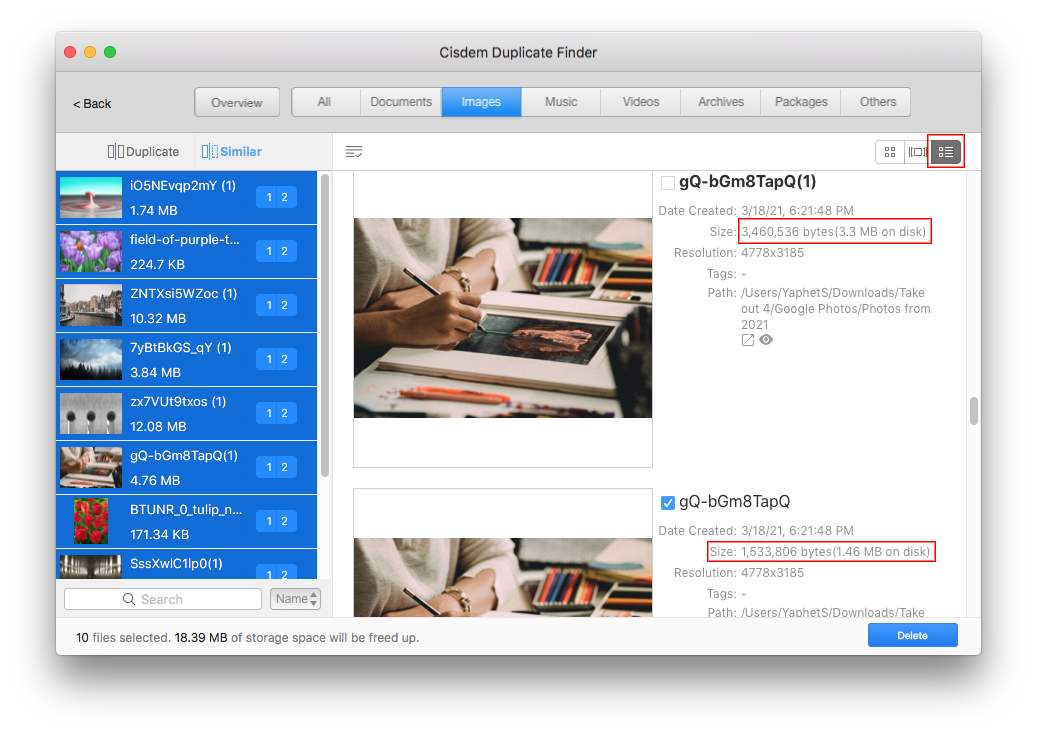 The app can also find certain similar images. If there are similar ones and you want to ignore them, manually deselect them.
7. Click Delete.
8. Click Yes.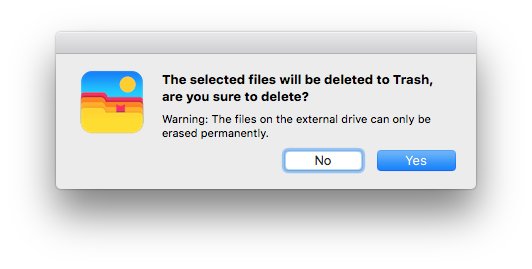 Now your Google Photos files are unique. You can upload the duplicate-free files in Google Photos folder to https://photos.google.com/. You can do it subfolder by subfolder (e.g. Photos from 2021). The .json files in the subfolders won't be uploaded.
Method 2. How to find and delete duplicates in Google Photos manually
If there aren't many files in your Google Photos account, you can browse through them and manually identify the duplicates.
1. On your computer, go to Google and sign in.
2. Visit https://photos.google.com/.
3. Scroll through your photo gallery. When you find a duplicate that you want to get rid of, hover your mouse over it and click the check mark icon to select the picture.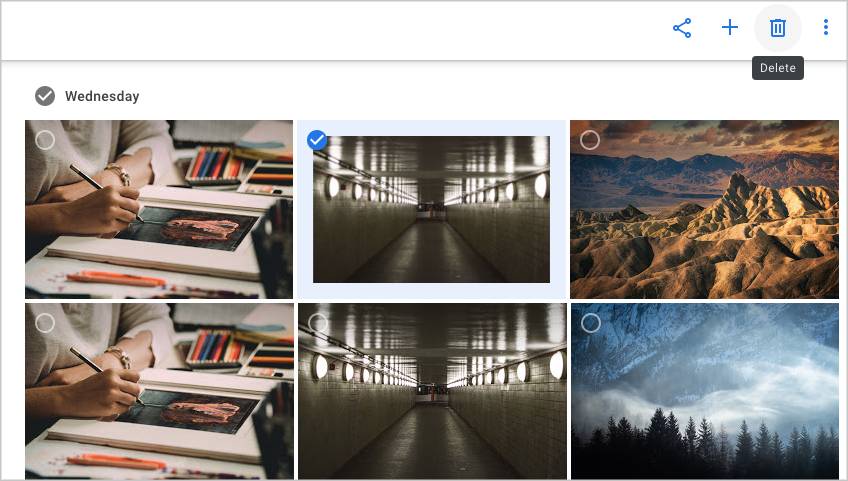 4. When you finish selecting, go to click the Delete icon in the top right corner.
5. Read the message that pops up and click Move to bin.
The deleted files will be kept in Bin for 60 days. You can also choose to permanently delete them right away.
Google Photos duplicates FAQ
Does Google Photos upload duplicates?
Google Photos' duplicate detection feature does a good job of preventing exact duplicates from being uploaded.
Exact duplicates are photos that are identical in every way (such as file size, resolution and metadata) regardless of filename. Metadata is the descriptive information attached to a photo and can include a description, a location, keywords, etc.
Supposed that photo "A.jpg" already exists in your Google Photos account. If you try to upload the same photo again to https://photos.google.com/, the upload will actually be ignored. But you won't get a duplicate warning. If you copy photo "A.jpg" on your device and upload "A copy.jpg", it will be ignored too.
If you edit the metadata of "A.jpg" on your device and then upload it, Google Photos will recognize it as a different photo and upload it. As a result, there will be duplicates of photo "A.jpg" in your account. Google Photos will also upload compressed versions of photos despite them being visually the same.
Why is Google Photos duplicating my pictures?
You can access Google Photos by going to https://photos.google.com/. In addition, it has a dedicated app for Android and iOS. Google's Backup and Sync desktop app also supports working with Google Photos.
You are allowed to set the Google Photos mobile app and the Backup and Sync desktop app to automatically back up photos from the selected folders/photo libraries on your device to the Google Photos service.
If Google Photos is duplicating all or some of your photos, it's very likely related to the backup settings in one of the apps or both and multiple backups.
Conclusion
Google Photos doesn't offer a built-in solution to easily deal with the existing duplicates. You can remove the unwanted duplicates manually or with the help of software. The two methods described above have their pros and cons. You can choose one based on your need. If you are not familiar with the type of software talked about above, you can get yourself familiar with the software by trying it with a test folder of photos.