On September 13, 2016, the system iOS 10 finally came. Did you decide to update your iPhone, iPad, iPod to iOS 10? Do you need to view some reviews before update? No matter what, we round up some reviews for you, and hope they are useful.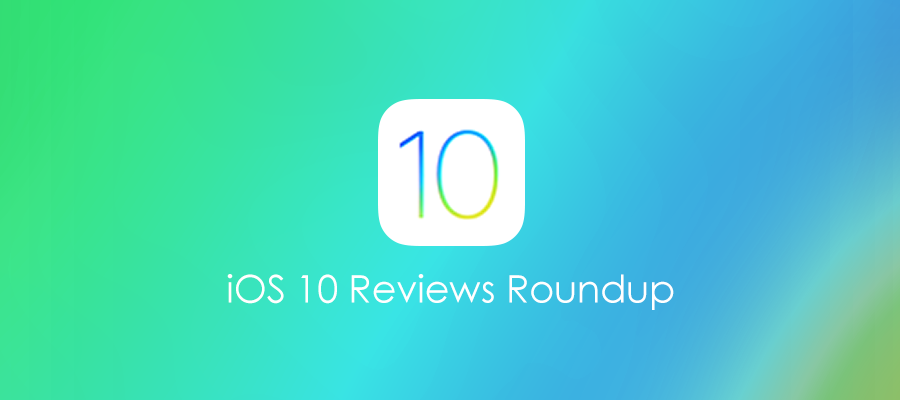 iOS 10 Review From Cultofmac.com
Apple's iOS 10 update for iPhones and iPads is the biggest software refresh the iPhone-maker has launched in years, adding a host of major and minor new features that completely change the iOS experience.

I've been using beta versions of iOS 10 on my iPhone 6s and iPad Pro since June. While some of the high-profile additions to Messages, Photos, Apple Music and Apple News aren't totally mind-blowing, the smaller tweaks make all the difference. With iOS 10, using Apple's devices is easier, faster and far more enjoyable than ever. This is the big iOS update you've been waiting for, but not for all the reasons Apple thinks.
iOS 10 Review From Trustedreviews.com
Every year, Apple claims its iOS update is the biggest and best yet. With iOS 10, however, that claim actually rings true. This year's tweaks to the iOS formula breathe new life into Apple's own apps and make things ever so slightly more open.
iOS 10 Review From Macrumors.com
Apple today released iOS 10, the next major operating system designed for the iPhone, iPad, and iPod touch. iOS 10 has been described as the biggest iOS update ever, with features ranging from an overhauled Lock screen interface to half a dozen new capabilities for the Messages app. In addition to all the major changes, there are dozens of more minor but still significant tweaks that have been made to the operating system to make it feel entirely new, including individualized read receipts, the ability to hide stock apps, a new Wake Alarm in the Clock app, and more.
iOS 10 Review From Techcrunch.com
Techcrunch.com said it is the coming of age of apps : I've installed iOS 10 on my main iPhone back in June and I've been using iOS 10 all summer. It's a free update, it's available now, and it features a ton of new emojis. Every time I hear "new emojis," I picture millions of people rushing to the Settings app to update iOS to the latest version. It's probably Apple's best trick to get people to update to new iOS versions.
iOS 10 Review From Pcadvisor.co.uk
Pcadvisor said it has lots of new features make iOS 10 more fun than ever: It's easy to dismiss Apple's marketing because the new version of iOS is always "the biggest ever" update, but with iOS 10 there are significant changes and improvements which will make you want to upgrade today. iOS 10 is a free update on most iPhones and iPads. Overall, the updates are relatively subtle: this isn't like the seismic shift from iOS 6 to iOS 7 when the whole look was revamped. But several key apps have had big updates, including Messages, Maps, Photos and News.
iOS 10 Review From Pocket-lint.com
Pocket-lint.com said it is bringing more complexity and features to our iPhone and iPad: The notion that iOS is a simple operating system is now a long and distant memory. In iOS 10 Apple has focused on layering the experience with even more complexity and depth than ever before.

iOS 10 isn't about redefining or dumbing down, more about adding functionality on top of what, for many, is an incredibly functional experience already. It's a bold move, given that some of that complexity might be overwhelming to a brand new iPhone or iPad user.
iOS 10 Review From Digitaltrends.com
Once Apple hits its groove with an operating system, it riffs on the same melody for a couple iterations. So Apple's iOS 8 and 9 came and went without really changing the song. In iOS 10, Apple is singing a new tune.
After viewed all these reviews, if you decide to update your iPhone or iPad. We give you following advice.
1. Check for device compatibility - the compatibility iOS 10 can support iPhone 5 and newer, iPad mini 2 and newer, and iPod touch 6 the gen.
2. Clean house and Dich the Dusty Apps- It is always a good idea to clean house and trash any long lingering ancient apps before installing a new iOS software onto any iPhone or iPad.
3. Install Available App Updates - To be sure, all your Apps support iOS 10 and whether you should Update.
4. Insure Adequate Device Storage - The iOS 10 download is around 2GB and requires some additional space to install, so aim to have about 2.5 GB or more free when downloading and installing the update.
5. Back Up! Backup, Backup - This is arguably the most important thing to do.
6. Install iOS 10! - download it in the Setting> General> Software Update section of iOS, and you can also install iOS 10 through iTunes by connecting an iPhone or iPad to a computer.
More Related Article:
Jailbreak iOS 9.3.3, iOS 9.3.4, iOS 9.3.5 or iOS 10
Update Your iPhone or iPad to iOS 10
Delete Multiple or All Photos from iPhone or iPad to Free up Storage
iPhone Rescue to Rescue Deleted Files from Your iPhone
Guide on Using iPhone 7 or iPhone 7 Plus

Peter has always had great enthusiasm for writing, programming and web development. He likes writing about software and technology, his works are featured on some tech blogs or forums like Tom's Hardware, CNET, etc.