Jailbreaking is described as the method of eliminating restrictions imposed by iOS on hardware through running the device on software exploits. Many iOS users are still expecting hacker groups like Team Odyssey, Pangu or TaiG, to work out powerful jailbreak apps.
This article will show you how to jailbreak your device running on iOS 14 - iOS 14.6 and the latest state of iOS 15 jailbreak.
Before jailbreaking your iPhone, iPad or iPod, several important things should be kept in mind. First, the jailbreak introduced in this article is a risk-free and reversible process. Second, backup your iOS devices using iTunes or iCloud before jailbreak. Third, disable your Apple ID or passcode and turn off "Find My iPhone" on your device for the greatest chance of jailbreak success.
Data Lost After iOS Jailbreak? Restore!
Recover data lost due to jailbreak, device broken/lost/damaged, system problem, factory reset, etc.
Restore messages, contacts, calendar, reminders, voice memos, call history, videos, photos, etc.
3 professional recovery modes: recover data from iOS device, iTunes and iCloud backup
Only 3 steps to retrieve file successfully
Straightforward operation and easy-to-use intuitive
Effective scanning process

Free Download

Free Download
Is iOS 15 Jailbreak Possible on iphone 13?
Yes, iOS 15 jailbreak is possible, but cannot be truly realized so far.
According to Odyssey Team's claim on Twitter, they are developing a new jailbreak tool for devices running iOS 15 - iOS 15.1.1 including latest iPhone 13. This will be the first possible iOS jailbreak without root. It is codenamed Cheyote and would come to jailbreak community in a very near future.
The latest updates concerning the upcoming Cheyote have been shared at Odyssey Discord channel. Relevant developers have published its details and commented the jailbreak is "making good progress".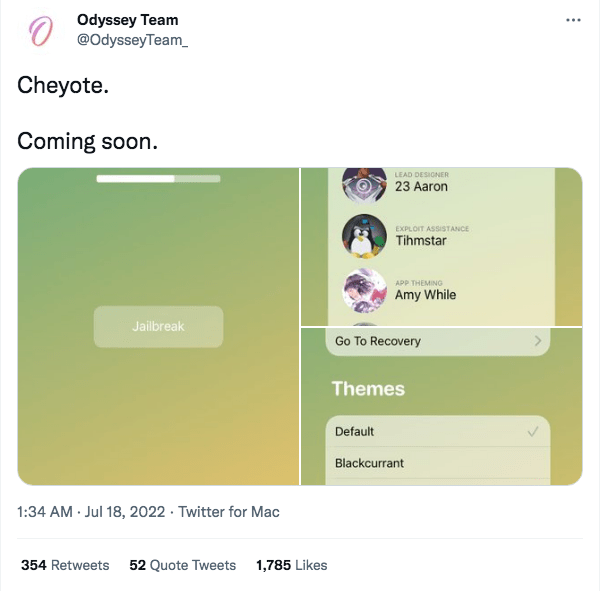 Potential jailbreak enthusiasts might be pretty excited about the above reports. However, no specific release date for Cheyote jailbreak has been confirmed yet. Just wait for the Odyssey Team's good news.
We will keep you updated with the latest details of iOS 15 jailbreaks. Bookmark this article to keep in touch with us.
How Can iOS 14-14.6 Be Jailbroken on Your iPhone, iPad, iPod?
Although iOS 15 jailbreak tools have not come to the scene by this time, mature jailbreaks for iOS 14 - iOS 14.6(surely including iOS 14.2, 14.3, 14.4, 14.5) do exist, supporting you in getting your Apple devices out of restrictions. The next two parts will successively introduce how to jailbreak iOS 14-14.6 with and without computer using jailbreak utilities.
Jailbreak iOS 14-14.6 with Computer
Here we will focus on one solution to do iOS 14-14.6 jailbreak --- applying the well-known Checkra1n jailbreak software. A computer or laptop is required in this case. Let's get started to learn the tutorial within several minutes.
Visit checkra.in page and download the latest version of this application on your Mac.
Click on the DMG file to download and install it into the Applications folder.
If your computer doesn't allow you to open Checkra1n, follow the steps below to solve this problem. Otherwise, just skip and turn to step 4 directly.
a. Go to System Preferences and open Security & Privacy tab.
b. Select "Open Anyway" > "Open". Then enter your Admin password.
c. Run Chekra1n again. There should be no more barriers.
Open Checkra1n and click "Options". Check "Allow untested iOS/iPadOS/tvOS versions" > click "Back".
Connect your iOS 14-14.6 device to the computer with Lightning cable > select "Start" button.
Choose "Next" and go through the guide prompted by Checkra1n. Your iOS device will be put into DFU mode and jailbroken after restarting.
Jailbreak iOS 14-14.6 with No Computer
Suppose you would like to jailbreak iOS 14-14.6 from your device directly without using computer, another useful jailbreak tool --- unc0ver can be of great help. Better yet, besides jailbreaking iOS 14, iOS 14.2, iOS 14.3, iOS 14.4, iOS 14.5, iOS 14.6, unc0ver is also available for later iOS versions like iOS 14.7.1, iOS 14.8 or iOS 14.8.1 jailbreak. Here's the instructions.
Connect your iOS device to a Wi-Fi network.
Go to Settings > General > Background App Refresh > select Wi-Fi & Mobile Data.
Search for "uncover.to" on safari browser.
Click Install > Allow.
After profile downloaded, hit Close.
Go to Settings > Profile Downloaded > unc0ver.
Hit Install at the top right corner > enter your passcode.
Select Install button to get unc0ver on your iOS device.
Open unc0ver > hit Jailbreak to start the iOS jailbreak process.
Wait for a while. Cydia app will be installed on your device. Until now the device running on 14-14.8 has been jailbroken.
Jailbreaking your iPhone, iPad, iPod running on iOS 9.3.3, iOS 9.3.4, iOS 9.3.5
Actually, one jailbreak method can often deal with iOS devices in various versions. While the jailbreak of iOS 9.3.3, iOS 9.3.4 and iOS 9.3.5 is slightly different from that of other versions, this section will separately explore the details.
It's a hassle-free Jailbreak. Before you start to jailbreak your device running on iOS 9.3.3, you should backup your iOS device to iTunes or iCloud first and download the following files. Cydia Impactor is a GUI based tool used to sign the .iPA file of Pangu jailbreak to install and execute it on iOS devices.
The Pangu jailbreak works with the iPhone, iPad, and iPod touch running iOS 9.3.3, 9.3.2, 9.3.1, 9.3, 9.2.1, and 9.2. 64-bit devices are also required. Download the following files for Mac, Windows, or Linux. Then follow below guidance to jailbreak your device on Mac. The jailbreak process on Windows or Linux is the same as below.
Backup your device data and plug your iOS 9.3.3 device to your Mac. Open Cydia Impactor software and locate the .iPA file of Pangu jailbreak (NvwaStone_1.0.ipa) downloaded before and drag and drop it on Cydia Impactor.
Ignore the Apple developer warning message and login with your Apple ID which will be used to create a free Apple developer certificate for signing the .iPA file of Pangu jailbreak. And Cydia Impactor will start to install the Pangu jailbreak app onto your device and will take a few minutes to complete. Now you can see the Pangu jailbreak app on your device springboard. Don't open it at this time.
Open Settings, General and Profile management, then open the Pangu app and make it as "Trust".
Open the Pangu app and allow to all messages, then tap Start button to continue and lock your device.
Pangu will now start the jailbreak process. After it's completed, your device will restart. Then you can see Cydia on your iOS 9.3.3 device which means that the jailbreak completed successfully. Also, make sure to check out the list of top tweaks that are compatible with iOS 9.3.3: Top Jailbreak and Cydia Tweaks or Apps for iOS 9.
Since this is not an untethered jailbreak, you'll have to run the Pangu app again on your iOS device to re-enable the jailbreak after every reboot. There is currently no other tool available to jailbreak iOS 9.3.5 or iOS 9.3.4 with computer. However, you can jailbreak iOS 9.3.3 or lower. So if you want to jailbreak iOS 9.3.4 or iOS 9.3.5, please downgrade your device to iOS 9.3.3 first.
How to Recover Lost Data after iOS Jailbreak?
We known that iOS jailbreak is beneficial to make use of apps restricted by Apple Inc. On the other hand, it also increases the data loss risk on your Apple device since the jailbreak process removes security protection and guarding. That's why it is necessary to back up your iOS data before involving in a jailbreak.
But what if you forgot to create a backup beforehand and lost your data on the iOS device? No worries. Still there are chances to recover them.
As a high-class data recovery program, Cisdem iPhone Data Recovery must be the wisest option. This tool is capable of retrieving various types of data from all iPhone, iPad, iPod touch models in a safe and efficient manner. See below for the guide on how to recover lost data after jailbreak.
Download, install and launch Cisdem iPhone Recovery on your PC.
Choose a recovery mode.
Here we will select "Recover from iOS Device" accordingly.
Connect and scan.
Connect your iOS device to the computer via USB cable and then click "Start Scan".
Preview and recover.
After scan finished, preview recoverable items selectively to specify your wanted data. Select out them and click "Recover" to restore the lost data to a safe location.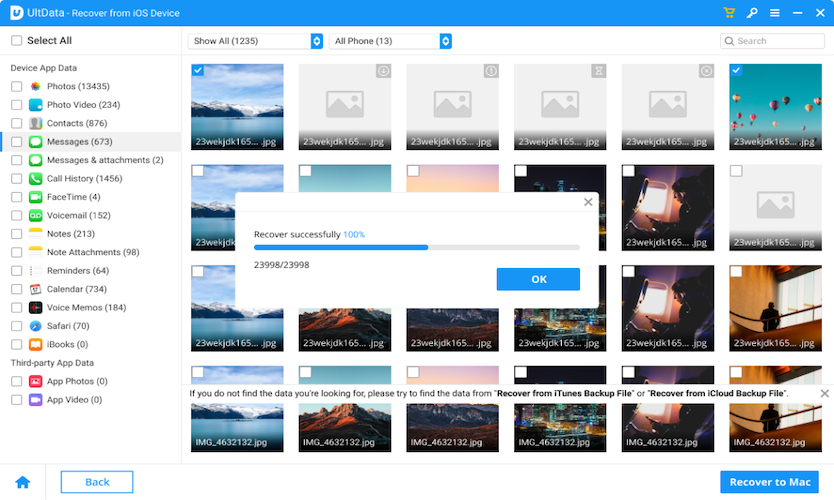 That's it. Hope you have a smooth recovery trip!
Final words
Jailbreaking your iOS devices has tons of benefits, but sometimes you may get a message saying that the jailbreak failed to complete or you just come across some common problems after jailbreak. One of the problems might be data loss.
If you lose data during or after iOS 15 or iOS14-14.6 jailbreak, what can you do? There are third-party iPhone data recovery software like Cisdem iPhone Recovery to rescue your lost data. Don't hesitate to have a try!