Last week, Apple unveiled iOS 10, the next-generation operating system for the iPhone, iPad, and iPod touch. Although it has't been published into public, it has available to developer and the Apple CEO Time Cook said this is the biggest released for iOS users. What has been updated of iOS 10? As we all know the update including a wide variety of apps, service, and features, like Messages, Siri, Photos, Maps, Apple Music, News, Apple Pay, Control Center.
iOS 10 Release Date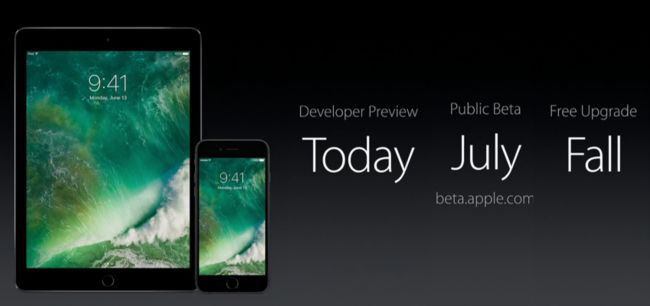 Apple is once again planning a staggered iOS 10 release date among app developers, public beta testers and then everyone else who wants to wait for the final version. As we know, iOS 10 is out right nowm launching the same day at WWDC in beta form to developers. And they are planning an iOS 10 public beta in July, and it'll help squash bugs two months before the official release date. So the final beta will come to public in September.
iOS 10 Compatibility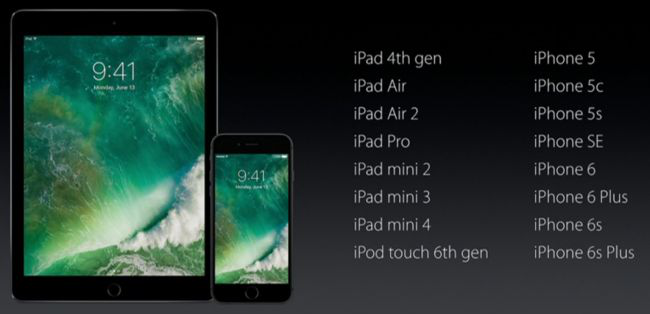 Amazingly, iOS 9 didn't let any Apple device out of the mix when it was come out in September last year. However, that won't happen again because iOS 10 requires more than 512MB of RAM. That means iPhone 4s, iPad2 and iPod touch 5th gen will out of this update. From the following picture, you can see it clearly.
iOS 10 Raise to Wake
Since the first iPhone released nine years ago, this is the biggest revision for apple to redesigned the iPhone and iPads lockscreen. Slide to open is gone and replaced with simple instructions: "Press Home to open." what's been added is the ability to raise your iPhone to wake it, fixing the all-too-common issue of blowing past lockscreen notifications when you hit the fast touch ID home button. This is a great solution that we have seen on a select number of Android phones, like the Google Nexus 6P and Nexus 5X, and it almost reminds me of flicking my wrist to light up the Apple Watch.
Rich lockscreen notifications
You'll see that notifications are broken up now and use 3D Touch to show hidden menu actions - just hard press on a calendar invite alert and you'll be able to accept or decline it. Besides, 3D Touch-enabled iOS 10 makes notifications work better for Messages. You can immediately respond to messages as soon as you pick up your phone, without ever leaving the lockscreen. What is more, this "peeking at apps" capability via the lockscreen isn't limited to Apple's first-party apps, like Uber-third party apps it also supports.
Clear all notifications button
Maybe the best change of iOS 10 notification is the ability to clear all your old notification with 3D Touch if you like. Just hard press little "X" icon within the redesigned notifications pulldown menu and tap the "clear all" box that pops up. Tap it once to just dismiss the group of notifications. It is super easy to clear away expired alerts with iOS 10 and it will please everyone inflicted with phone notification-clearing OCD.
Decluttered Control Center
Control Center With 3D Touch would go nicely, which would be clever to have the entire menu overlay. All of us love Control Centre. It is one of the most underrated features of iOS, enabling easy access to various toggles and controls without having to open the Settings app. With smarter Control Center, we are quickly set a time, boot up the torch, and deactivate Wi-Fi and other apps. We hope to extend its usefulness according to our needs.
Lockscreen camera and 'widgets'
It is easier than ever to flip on the camera with iOS 10 because sliding the lockscreen right (when Control Center isn't open) automatically transitions to the camera app. This is a camera app shortcut we've seen on several Android phones and it beats reaching for the bottom right corner, where the camera shortcut remain in iOS 9. You use the camera app everyday, why not make it easier to access? What happens when you swipe to the left on the lockscreen? It reveals a new spot for Apple's Today menu "widgets." It's not as customizable as Android widgets, but it's new location a big improvement.
Graphical 3D Touch shortcuts
With the home screen, 3D Touching app tiles like Activity gives you a more graphical account of your fitness goals. You'll know faster than ever that you have to close those daily activity rings. ESPN had even richer shortcut information within its 3D Touch menu. It runs scores and there's a button to easily add a widget. It's even more graphical, throwing up a drawn out play-by-play interface and video of in-progress games you're following. All of this peeking at apps can be done without leaving the home screen, and it means that 3D Touch is becoming a little more relevant in iOS 10.
Talk to Siri normally
With iOS 10, Apple announced that Siri will be more smarter thanks to "intense API". That means you can ask Siri thing like "Send a WebChat to Lily saying I'll be five minutes late" or "Tell Lily I'll be five minutes late with WebChat", or even "Siri, can you shoot a message on WebChat and say I'll be five minutes late?" Siri all will help you do it.
Siri third-party apps
Besides WeChat, Siri is ready for other chat apps, like WhatsApps and Slack, and ride hailing services like Uber, Lyft and Didi in China. What is more, you can search photos through apps like Shutterfly and Pinterest through Siri. And you can start, pause and stop fitness workouts with MapMyRun, Runtastic and RunKeeper. Siri can also help you send money to friends with Number26, Square and Alipay, or start a VoIP call to tell your friend why you're not paying them on time via Cisco Spark, Vonage and Skype.
Photos with advanced computer vision
iOS 10 is going to make use of deep learning so that it'll be easier to organize photos with what it calls "advanced computer vision." Apple makes the Photos app can create albums based on face recognition, and it also can recognize the object and scene.
Phone
Hate listening to voicemails? Never actually check them? Now iOS 10 will help you solve this problem with voicemail transcription idea. It will let you know what a voicemail message says via more convenient text right within the visual voicemail. What is more, VoIP is no longer going to take a backseat, as a whatsApp call, for example, can be answered right from the lockscreen, just like a normal incoming call.
Apple HomeKit
HomeKit is Apple's take on the Internet of Things concept: a platform that will allow you to control home appliances and other non-traditional connected devices like smart bulbs, door locks, thermostats, door bells and so on for your iPhone or Mac. Although the developer-focused HomeKit is a year-and-a-half old, iOS 10 is expected to make it into a front-facing feature for users with a new Apple Home app.
Apple Music redesign
Apple Music celebrates its one-year anniversary at WWDC 2016 with a sudden aging-rockstar facelift. With the new system iOS 10, the new streaming service is already in for a retooling of its user interface. Beside to see black-and-white menus and bigger artwork that stands out among the muted colors, what is more, song lyrics becoming a new iOS 10 feature.
Change position of Apple News
The Apple News is very useful in iOS9 and the publications that are available on it are very good. But, there is one which should be change - the position. The Apple News is in the right most menu of the screen and thus most users do not even know that this valuable app is present in their phone. For the iOS 10 coming, Apple may change the position like Samsung did to put Apple News to the left menu. We believe it would be properly used by the users.