If you couldn't wait to test drive iOS 10 before its official version released, you probably have the beta software on your iDevices right now. Updating system may bring new features and apps to us and we may gain more convenience and efficiency in new iOS system. Regardless of the diverse reasons for updating iOS system, to update iOS 10 is a must-be action. There are some tips that you should be aware of before you update your iDevices to iOS 10. Follow us and we will give you a detailed introduction about these useful tips to update iOS 10.
Part 2. Recommended solution to backup data
Part 3. How to update your iPhone or iPad to iOS 10?
Part 4. How to Downgrade iOS 10 to iOS 9.3?
About iOS 10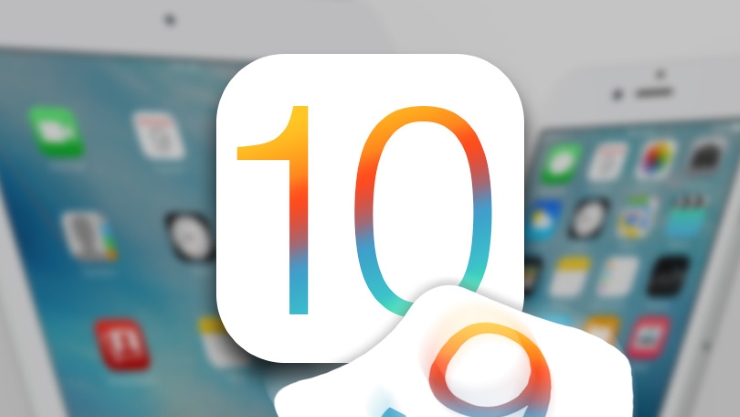 iOS 10 is the newest iOS mobile operating system designed by Apple Inc, as the successor to iOS 9. iOS 10 is full of enhancements and efficiency. Its powerful built-in apps on your iPhone and iPad are designed for the essential things you use them for every day—mail, messages, web browsing, maps, making notes, and so much more. Siri, Music, Maps, and other more great apps in iOS 10 will offer an easier but more enjoyable life for all iDevice users. iOS 10 is available for the following devices:
iPhone 6s
iPhone 6s Plus
iPhone 6
iPhone 6 Plus
iPhone SE
iPhone 5s
iPhone 5c
iPhone 5
iPad Pro 12.9-inch
iPad Pro 9.7-inch
iPad Air 2
iPad Air
iPad 4th gen
iPad mini 4
iPad mini 3
iPad mini 2
iPod Touch 6th gen
You can register your account for the iOS 10 beta here before you upgrade your device to iOS 10 beta. When you update your devices to iOS 10, you may meet the following problems: low running speed , fast battery drain, inconvenient apple map, Bluetooth problem in cars, WiFi problems and so on. But the biggest problem might be important data loss due. So data backup is a very indispensable part to prevent data loss.
Recommended solution to backup data before updating to iOS 10
Before you update to iOS 10, one thing that you have to keep in mind is to backup your important data in your iDevices including contacts, photos, SMS etc to iTunes or iCloud. When you lose your important data after you updating your device to newer iOS system, an outstanding and professional iOS data recovery software-Cisdem iPhone Recovery can help you to recover all the contents and make backups for you to export to your Mac. It supports to restore lost contacts, reminders, important SMS and other important data in iDevices with different iOS systems including iOS 10. Click the download button below and use it to restore lost data due to iOS upgrade, jailbreak, accidental deletion, virus attack, restoring to factory settings, etc. You can also follow the how-to-use tutorial and use this software to recover data when data loss happens.
How to update your iPhone or iPad to iOS 10?
After you backup your data, you can follow the below steps to update your iDevices to iOS 10. And the required storage space for updating will be 2GB, the updating operation is very simple but will cost you some time to update your device to iOS 10.
Go to "Settings" and scroll down to "General".
Tap Software Update and there will be an update offer for you. Once the update appears, tap on "Download and Install".
Enter your Passcode. Tap "Agree" to the Terms and Conditions.Tap "Agree" again to confirm. Then your device will upgrade to iOS 10.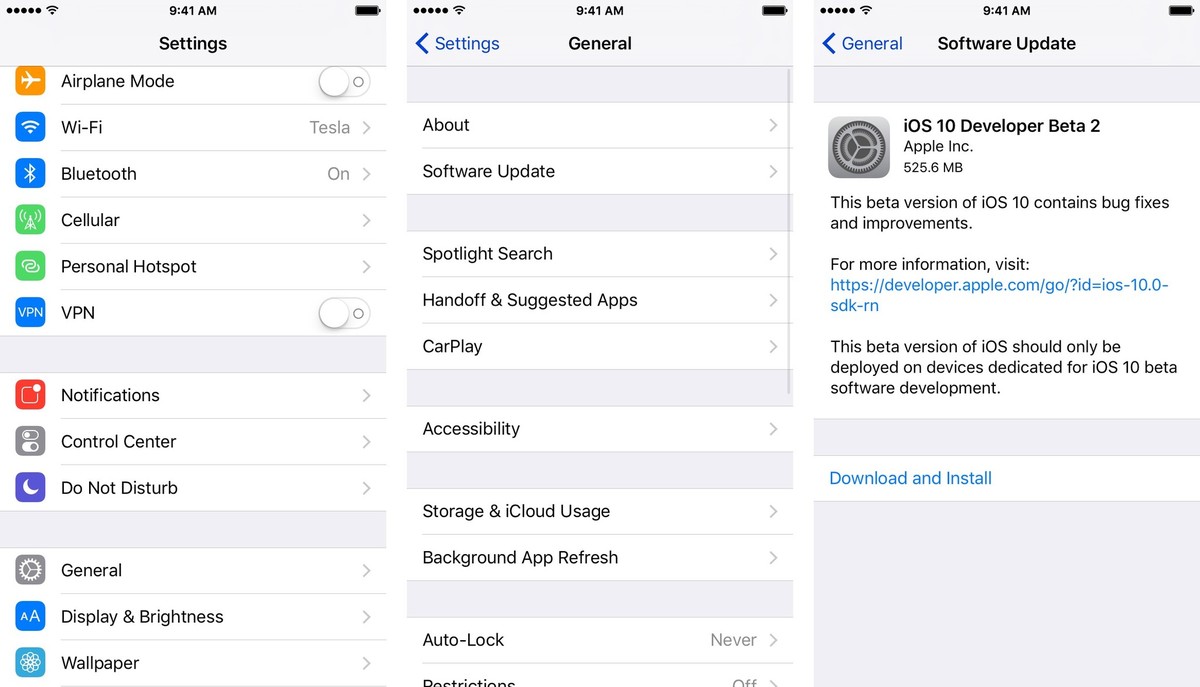 How to Downgrade iOS 10 to iOS 9.3
Sometimes you find that iOS 10 beta is not good enough, you can downgrade from the iOS 10 beta to iOS 9 easily. You will need your computer, iTunes and a lightning cable so that you can connect to the computer. Backup your device before downgrading.
Enter DFU Mode - In order to revert back to iOS 9, you'll need to place your device in recovery mode before connecting it to iTunes. Turn off your device and wait for it to completely shut down. Plug the USB-end of the Lightning cable into your computer, but don't plug the other end into your iPhone just yet. Hold down the home button while connecting the cord to your iPhone, and keep holding it down until you see the recovery mode image.
Download iOS 9.3.5 or lower as an ipsw file. Click "Restore" of the Pop-Up Window - iTunes should immediately recognize your device and present you with options to "Restore" or "Update". In this case, we're clicking "Restore". And then you know that you are ready to downgrade to iOS 9.3.
Click Next on the iOS 9.3 Software Updater. Click Agree to accept the Terms and Conditions and start downloading iOS 9.3.

Connie has been writing for Mac productivity and utility apps since 2009. Each review and solution is based on her practical tests, she is aways energetic and trustworthy in this field.