The Internet has some positive affect to kids. They are able to access information to education themselves easily and get problem-solving skills on Internet. On the other hand, Internet has brought lots of negative effects to our children. We all know that various bad or unhealthy websites will always appear during we use computer and phone. And there're also some website that are not suitable for kids. Sometimes parents go out to work and leave children at home alone. They are worried that the kids will access inappropriate websites that may affect their mental health. Many parents are looking for the websites that loved by kids but not suitable for them. And want to block these sites on kid's device. Following are the list of websites to block for kids. Also I'll recommend several parental control apps. Providing kids a safe Internet environment.
The Best Parental Control App for Computer
Block specific website with password on Chrome, Safari, Opera, Edge, etc.
Also let you block websites by categories such as porn site, social site with 1 click
Offer 2 modes: Block list and Allow list
Offer a schedule feature to block websites and lock apps during certain hours
Can be used for parental control, privacy protection, boost productivity etc.
Require password to enter/quit/uninstall AppCrypt
Easy to use and hard to bypass
Use little or no CPU
Note: Website-blocking feature not available for Windows now and coming soon

Free Download macOS 10.12 or later

Free Download Windows 11/10/8/7
List of websites to block for kids
Twitter
Twitter is a social media popular among all over the world. In 2022, Twitter's audience counted approximately 329 million monthly active users worldwide. In this site, users can see news and events from various countries. Also they can speak freely in this platform. Although Twitter gives warming about some inappropriate content, the effect is not obvious. Twitter has more adult、violent and other harmful content than other social media sites. Twitter prohibits users under 13, but in fact, kids can create the Twitter account by entering a fake date of birth or sign in parents' account. It's better to block this site for kids directly.
YikYak
YikYak is an anonymous social media platform popular among young teenagers. Users can make anonymous post within 200 words in chat room and view anonymous post published within 2.5 kilometers. Without registration and real name required, everyone can share everything freely. However, some people will maliciously post some negative content in this platform. It also caused a large number of cyber bully incidents. In fact, this platform is not suitable for children.
Kik
Kik Messenger is one of the most popular instant messenger apps in North America with over 300 million users. The reason why I think it is one of the websites to block for kids is its anonymous. Users can send messengers to strangers anonymously and share photos, videos and games on this platform. It brings much security risk to young children and teenagers. Some people use Kik to commit crimes against juveniles. Due to the anonymous nature of Kik, it is difficult for legal personnel to investigate. So it is dangerous for children.
Omegle
Omegle is an anonymous and random chatting platform. The difference of this video and text chat website is that it randomly push a stranger to communicate. And build a two-person chat room for you. This site lacks the monitoring mechanism. Some chats in this platform involve adult content. If teens or young children engage in such chats, they can be severely affected. Thieves, hackers, and scammers will also lure kids to giving them credit card codes, address, or other private information. This brings lots of danger for children and other family members.
Chatroulette
Similar to Omegle, Chattroulette is also a widespread video chat website. It randomly pairs users and generates a pair of video connections. Users can also choose to add strangers as friends. Once becoming friends in this platform, they can chat, share photos, and play games together. But the site often featured sexual content, nudity, and vulgar humor etc. Children may receive sex photos, violent videos or harmful links provided by strangers.
4Chan
4Chan is a completely anonymous real-time messaging forum that is considered one of the most creative sites on Internet. 4chan was originally a forum for discussing anime. With more and more users joined, it finally evolved into a comprehensive discussion area. Because of it is anonymous, there are a lot of harmful content on this site. The section with the most traffic is full of adult content now. So I think it's also one of the websites to block for kids.
Ask.FM
Ask.fm is a hot question-and-answer platform popular among young teenagers. Their mainstream users are between the ages of 13 and 25, and 50% of their registered users are under 18. Now Ask.fm has grown into a freewheeling platform where teens are free from parental constraints. Anyone can view, ask and answer questions anonymously. It's full of porn content, cyber bullying and violence in this site. And even a lot of teen suicides are related to this platform.
Tinder
Tinder is a dating site. It recommends users to meet new people within a certain distance based on the user's geographic location. If the person you are interest to happens to like you, you can message each other, follow each other on Facebook, and go on a date. It is very dangerous for kids to have a date with strangers alone.
TikTok
TikTok, a video-sharing platform popular among all aged users, offers us types of interesting, creative and exciting short videos every day. It's especially loved by young teens. Is TikTok safe for kids? It depends. There are kinds of subjects in this platform: dance, art, fashion, pranks etc. If your child often imitates the bad behavior in videos, or addicted to it, this is an inappropriate sites for him.
Roblox
Roblox is an online game platform, which has over 54 million daily active users worldwide. This is a game compatible with virtual world, casual games and self-built content. It is especially loved by early-teens. However, there are some risks. Users themselves in Roblox are allowed to build games. This means children may see countless inappropriate games related to adult content, violence etc. Roblox is the ultimate virtual universe where players are free to create any anything or be anything. If you found you kid immersed in the virtual world of Roblox, you must limit him.
How to block these inappropriate websites on kid's devices
Above is the list of inappropriate websites to block for kids. You should check you kid's devices whether he/she uses these websites. To ensure your kids do not access inappropriate websites and affected by the harmful content, you should block them. Installing parental control app on kid's device is useful and necessary. It can help you monitor and control your kid's online behavior. So below I'll introducing you several parental control tools for kid's computer and mobile phone.
For computer
Cisdem AppCrypt is a reliable parental control app for Mac and Windows users. Using this tool can help you provide your kid from inappropriate websites and apps easily. It also allows you to set time limits on blocked websites and apps. There are many other useful functions in this tool. Choosing AppCrypt to keep your kid safe online is a good choice. Below are steps on how to make the unwanted websites to block for kids via AppCrypt.
1. Download and install AppCrypt.

Free Download macOS 10.12 or later

Free Download Windows 11/10/8/7
2. Open it and set a password. This will be used to lock websites and apps. Click Submit.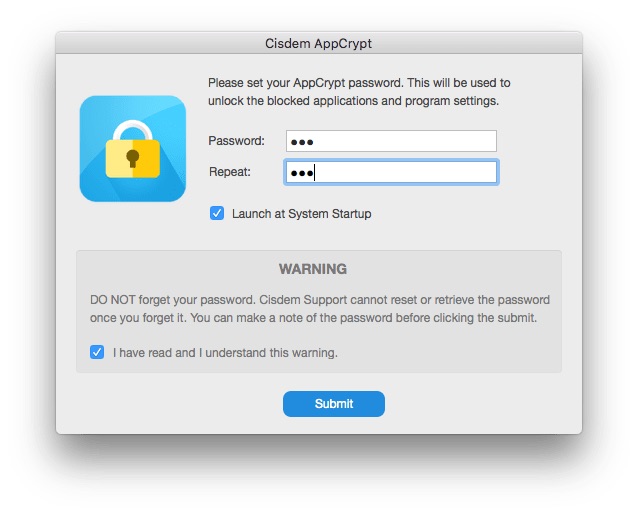 3. Click the tool's icon on the menu bar and tap on Open Main Window.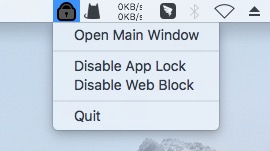 4. Enter the password you set in step 2 and click OK.
5. Now you are in the main window. Click Web Block on the tool bar. Enter the URLs of those inappropriate websites I mentioned above. Then click the Add button.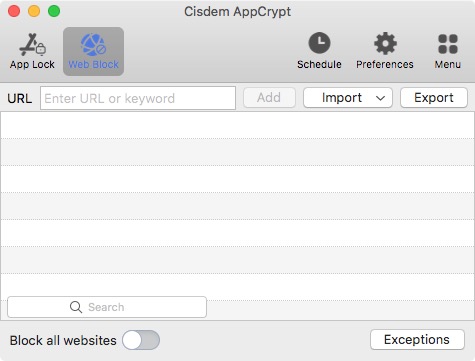 Except for the list of websites to block for kids I mentioned above, you can also block websites by categories. For example, if you found you child always be addicted to games, or spend too much time on social media sites every day, you can import the present list Games Sites, Social Sites to block.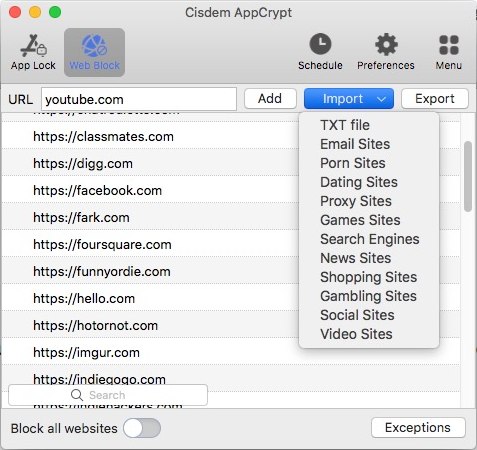 After finishing these steps, you kid will not be able to access these blocked websites on any browsers without password. If you want to unblock websites, you need to enter AppCrypt main window with password. Right click the websites then click Remove.
Tip 1: How to block inappropriate apps on kid's Mac
There are also many apps that are not suitable for kids. Block some apps that are not suitable for kids can further keep them safe online. AppCrypt also supports to lock specific apps with password. Choose the App Lock tab on the tool bar. Click the plus icon and choose the application you want to block. Then click Open.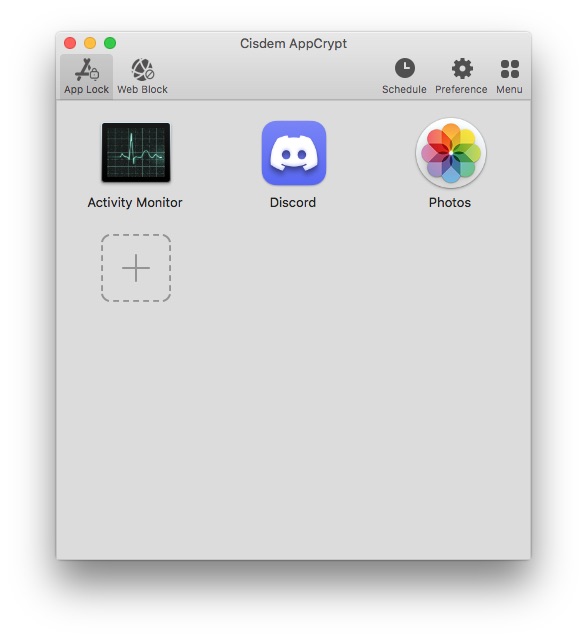 Tip 2: Put time limit on certain websites on child's device
Sometimes you don't need to block those websites for kids completely. Such as Roblox or other computer games. Playing computer games appropriately can improve children's creativity and imagination. It is also a good way to relax. The problem is that kids may addicted to it and spend much time on it everyday. We can use the Schedule feature of AppCrypt to manage kid's time spent in certain websites. Go to Web Block window then choose the website you want to set time limit. Click the clock icon at the left of it. Enable Custom Schedule. Tap on Add Schedule then set the blocking time you like.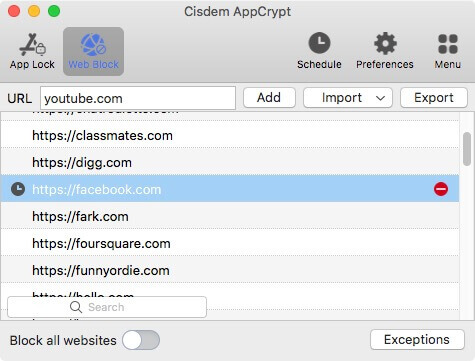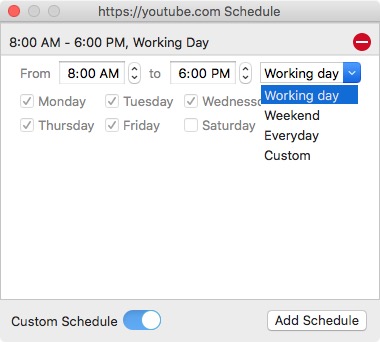 Tip 3: How to block all websites except a few on kid's computer
The Allow list mode is a useful function to make all websites to block for kids except a few, which are frequently used by parents. If your kid likes studying on Internet, you can take advantage of this mode. Go to Web Block window. Choose Allow list on the bottom right. Type in the websites that you kid needs. Click Add. Then all websites will be blocked on computer except those you put into Allow list.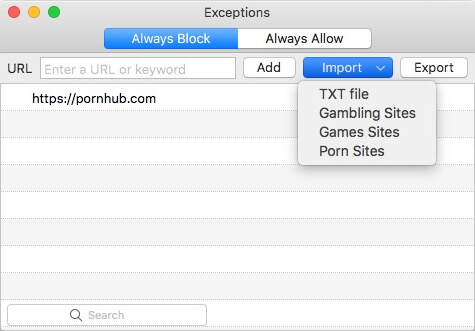 For mobile phone
Many kids now have their own smartphones. So it's also necessary to limit access to inappropriate websites on child's phone. For iPhone, there is a built-in parental controls app called Screen Time. To block certain websites on kid's iPhone, follow the steps below:
1. Go to Settings > Screen Time on your child's iPhone. Tap Turn on Screen Time. Choose it's your child's phone.
2. Tap Use Screen Time Passcode and set a password.
3. Tap Content & Privacy Restrictions. Enable it.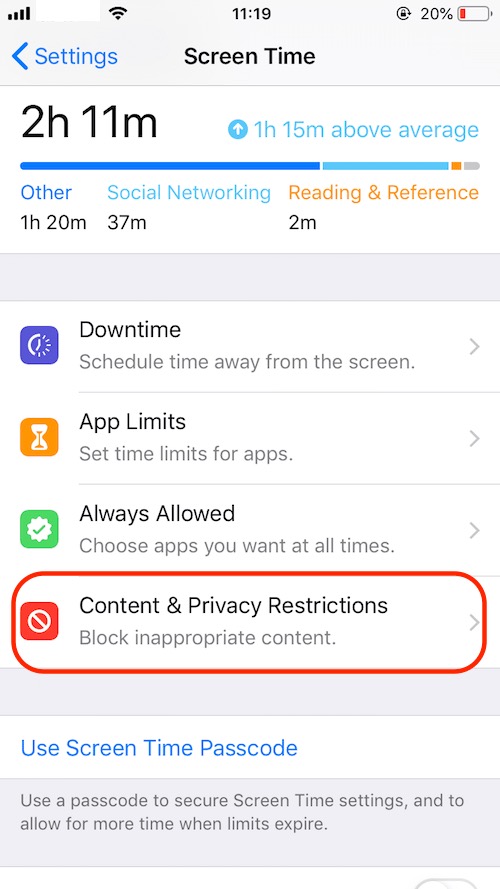 4. Scroll down and go to Content Restrictions > Web Content.
5. Choose Limit Adult Websites then go to Never Allow section. Click on Add Website then type in the URL of inappropriate websites you want to block.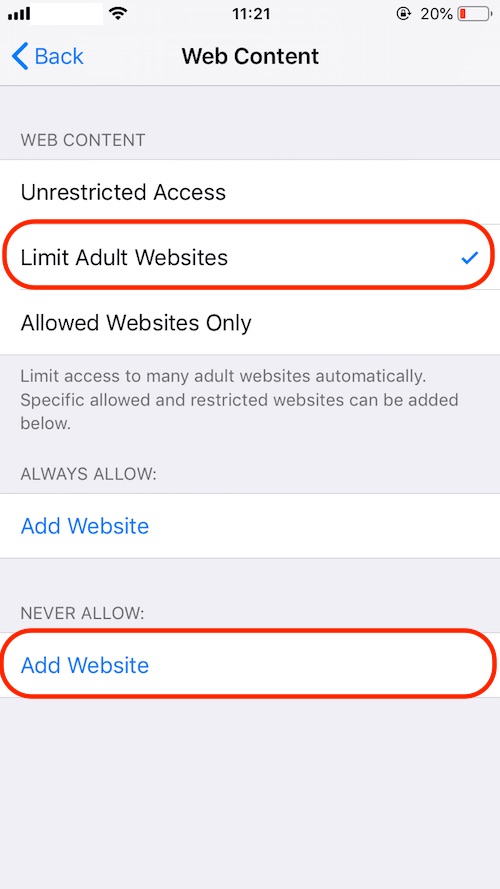 Now you child can't access the blocked websites on his iPhone without passcode. You can also go to the App Limits section to block inappropriate apps on kid's iPhone.
5 tips for parents-ensure a safe online environment for kids
Pay attention to child's favorite apps and websites
Some parents prohibit their children from surfing on Internet in order to prevent their children from affected by harmful content, which is inappropriate. Internet is an important way for children to get knowledge. But we must supervise kid's online behavior. Pay attention to their favorite apps and websites. Ensure that these apps or websites do not have potential harmful content.
Participate in kid's online activities
Parents can participate in child's online activities sometimes. This can help you know child's interest and guild them to avoid online risks. Tell them do not expose their personal information, access dangerous sites etc.
Install antivirus program on child's devices
Child with limited recognition ability may be attracted by some strange links and enter his information. Antivirus program will scan the files and other data on computer or phone. If it detects a harmful link, it will warn you not to click on it.
It can also detect harmful content in opened web pages and force close it. Parents can install antivirus program to protect child's device from threat.
Creating an Internet use plan with your child
Parents and children can jointly create a set of Internet use plan, including when children can surf on Internet; what content they can browse and what activities they can participate in on Internet. Both parent and child should implement the plan.
Protect your kids with parental control apps
Installing a reliable parental control app on child's device is necessary. It can filter harmful content online and manage kid's online behavior. The first thing you need to do is adding the list of inappropriate websites to block for kids. Then set a schedule on certain webs and apps for your kid. If you need, there are some other useful functions you can take advantage.