Posts on Reddit are organized into boards called communities or more commonly subreddits. If unwanted subreddits keep showing up in your feed, you may wonder how to block a subreddit from feed. Or, if you are too addicted to some subreddits, blocking access to these subreddits can help improve the situation. This article will show you different ways to do both types of blocking.
Easily Make Subreddits Inaccessible on Mac
Block any websites with password
Block webpages as well
Provide 2 modes: Block list and Allow list
Also password lock apps
Offer a useful schedule feature
Help stop Reddit addiction
Help block addictive, distracting or other unwanted content
Can be used for productivity or parental control etc. purpose
Easy to use

Free Download
Method 1. How to block a subreddit from appearing on front page by unsubscribing
Applies to: Reddit website, Reddit mobile app
There are three Reddit feeds: the Home feed (also known as the front page), the Popular feed (r/popular) and the All feed (r/all).
When you are logged in, you can view your Home feed by going to https://www.reddit.com/. Posts showing up there are based on your subscriptions. To stop seeing a subreddit on your front page, just unsubscribe from it.
Open your web browser. Log in to Reddit.
Go to the subreddit.
Hover your mouse over the Joined button, and it will become a Leave button. Click the Leave button.
You can do the same in the native Reddit mobile app.
Method 2. How to remove subreddits from r/all feed by using old Reddit
Applies to: Reddit website
Reddit used to allow all logged-in users to easily remove a subreddit from the All feed. However, with the redesign, which was rolled out in 2018, the option is no longer available for free. Luckily, old Reddit is still around.
On your browser, log in to Reddit.
Click the triangle next to your name and choose User Settings.
Under Account, enable Opt out of the redesign.
Click OPT OUT.
Go to https://www.reddit.com/r/all/.
In the upper right part, in the filter subreddit box, enter the name of the subreddit (e.g. r/news) that you want to block.
Click the plus icon next to the box.
According to my tests, once you have blocked a subreddit in old Reddit, it will remain blocked on new Reddit. Posts from a blocked subreddit won't appear in your r/all feed anymore.
To unblock a subreddit, go to old Reddit, click show below the filter subreddit box and remove the subreddit.
Method 3. How to block subreddits from /r/all with Reddit Premium
Applies to: Reddit website, Reddit mobile app
The above-mentioned option of filtering subreddit is still available on new Reddit for Reddit Premium users. Costing $5.99 per month or $49.99 per year, the Reddit Premium subscription also offers other benefits.
Go to https://www.reddit.com/premium.
Choose between a monthly or yearly subscription.
Choose a payment method and complete purchase.
Now you can directly block subreddits from /r/all with ease on mobile and desktop.
Method 4. How to hide subreddits from Popular and All with RES
Applies to: Reddit website (old only)
Reddit Enhancement Suite or RES is a browser extension designed to enhance your Reddit experience. It provides many useful features. filteReddit is one of them. filteReddit can help you hide specific subreddits from the All feed and the Popular feed.
Note that most RES features including filteReddit don't work with new Reddit.
This subreddit blocker extension is available for popular browsers such as Chrome, Edge and Firefox. Here I will use Chrome to show you how to use it.
Install Reddit Enhancement Suite from the Chrome Web Store.
Go to a Reddit page. In the top right corner, click the RES settings icon.
Choose RES settings console.
In the left sidebar, choose Subreddits > filteReddit.
Scroll down until you reach the Subreddits section.
Click the add filter button. Enter the name of the subreddit that you'd like to remove from feed. You can repeat this step to block more unwanted subreddits.
This step is optional. If blocking certain subreddits from r/all and r/popular is not enough, you can choose to block them everywhere on Reddit.
Click the save options button in the top right corner.
In addition to hiding posts from certain subreddits from feed, this extension can hide posts with certain keywords in the title. Also, it can do many other cool things.
Method 5. How to block access to certain subreddits with AppCrypt
Applies to: Reddit website; Mac computers
How do I filter/block myself from certain subreddit? Some subreddit are just too toxic and unproductive. I really enjoy the self-improvement type. But the front page keeps on displaying clickbait-ish that's just irresistible.
Reddit can be additive. If you find yourself spending too much time on some subreddits, you can make these subreddits inaccessible so as to spend your time more productively.
If you are a Mac user, you can effortlessly block access to specific subreddits with Cisdem AppCrypt, the best website blocker and app locker for Mac. Once AppCrypt blocks a subreddit, the subreddit and the posts from it are not accessible. When you try to open a blocked subreddit or a post from it, the page won't open, and you will see this image.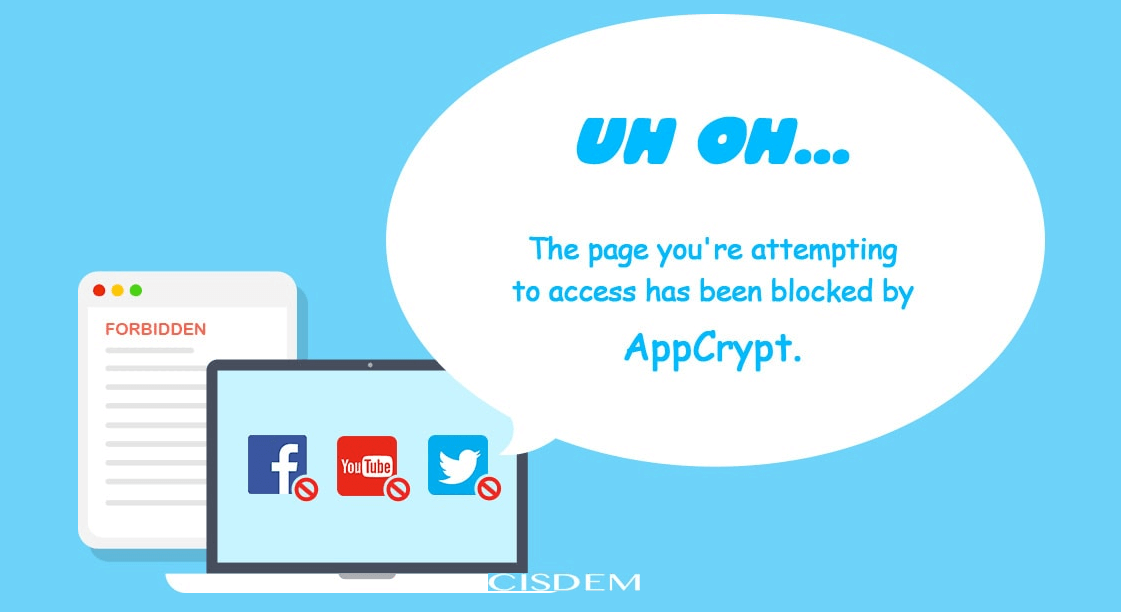 Below are AppCrypt's main features. Note that it currently only works on Mac computers.
Block access to websites and webpages with password
Allow you to prevent yourself from accessing certain subreddits
Can block the entire Reddit.com
Provide 2 modes: Block list and Allow list
Also lock apps with password
Offer Schedule feature to block websites/webpages and lock apps
Support macOS 10.12 or later

Free Download
Steps to block specific subreddits from being accessed
Download AppCrypt and install it on your Mac.
The first time you open it, set a password.
Click its icon in the menu bar and click Open Main Window.
Click Web Block.
Enter the the URL of an unwanted subreddit and click Add. (It also allows you to import a category of sites to block.)​

Method 6. How to block yourself from accessing a subreddit with BlockSite
Applies to: Reddit website; Mac and Windows computers
Do you spend too much time on Reddit? Are you looking for a way to block access to your favorite subreddits for the sake of productivity? BlockSite can help. It's a browser extension designed to block online content and improve productivity.
Install the extension on your Chrome or Firefox.
Click its icon in the toolbar of your browser and click Edit block list.
Enter the subreddit's name in the Enter a web address box. Click the plus icon.
Now the subreddits and its posts are blocked from your access.
Conclusion
There are native and third party ways on how to block a subreddit from appearing in your Home, All or Popular feed. Doing so can help you more quickly find the posts you are interested in when browsing your feed. This article also recommends methods to make certain communities on Reddit inaccessible.