This article will show you how to block porn on Google's search engine and Google's web browser. Exposure to pornography (often abbreviated as porn) is harmful to children and teenagers. The addiction to porn is bad even when it comes to adults. On the one hand, thanks to Internet search engines like Google, we can easily have access to almost any information we need. On the other hand, however, porn is only one or two clicks away. Blocking porn on Google can be necessary sometimes.
Block Porn Websites Effortlessly
Block adults websites and any other websites on Google Chrome, Safari, etc.
Allow you to block websites by blacklisting or whitelisting
Also password lock apps
Let you use Schedule feature to block websites and lock apps at certain times
Help quit porn addiction
Help block distracting websites during work or study
Help protect important or private apps
Available for Mac and Windows PC

Free Download
macOS 10.12 or later

Free Download
Windows 11/10/8/7
Part 1. How to block porn on Google Search
Google Search, or simply Google, is available as website and mobile app. There is more than one method to block porn on Google. Let's talk about them.
#1 Turn on Google Safe Search
Applies to: Windows, macOS, iOS, Android
Google provides a built-in solution to help users limit access to porn on its search engine. It's called SafeSearch. Once it's enabled, the content and websites that Google considers to be sexually explicit will be excluded from search results.
At the website level
Step 1. Go to https://www.google.com/. Click Settings in the bottom right corner and choose Search settings.
Step 2. In the SafeSearch filters section, select the box next to Turn on SafeSearch.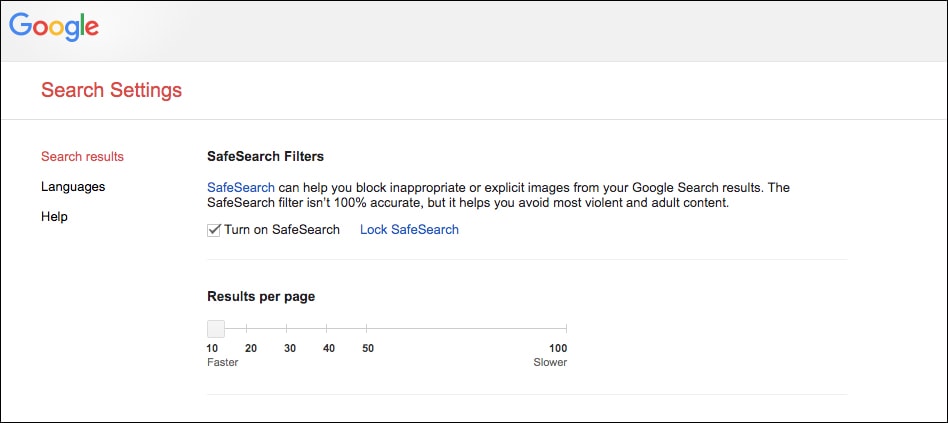 Step 3. Scroll down and click Save. A message box will pop up. Click OK.
Now let's verify it. Try to use Google to search words like porn or Pornhub and click Google Search. You can hardly find any adult websites in the search results.
Tip
To turn off SafeSearch, just unselect the said box and save the change. There is also an option for you to lock it. To enable the locking, you need to login to Google, which is also required for unlocking. Click Lock SafeSearch. The locking and SafeSearch will continue to work even if you logout of Google. Parents may find this useful. However, one can easily bypass this whole SafeSearch thing by opening an incognito window in browser.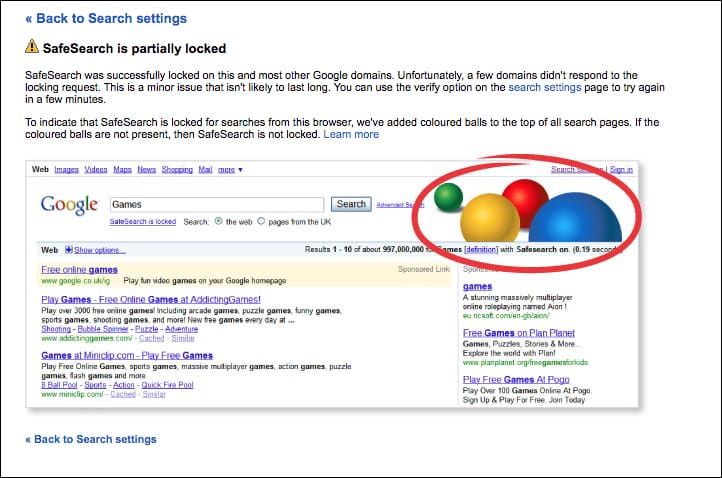 At the app level
How to block porn on Google with SafeSearch in the Google app on an iPhone or Android phone? Check out the following steps.
Step 1. Open the Google app on your iPhone or Android phone.
Step 2. Tap the More icon in the corner and choose Settings > General.
Step 3. Tap Search settings if it's an iPhone. Android users can ignore this step.
Step 4. It's different depending on the devices.
iOS devices: Enable Filter explicit results.
Android devices: Enable SafeSearch.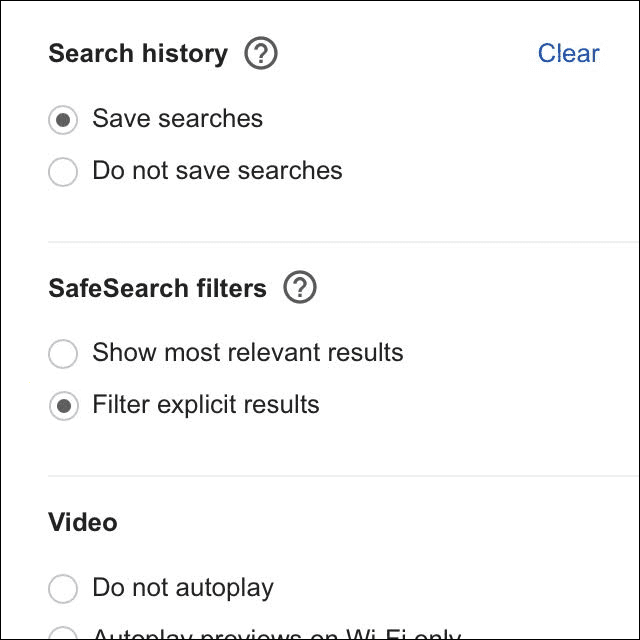 #2 Block porn websites from search results with extension
Applies to: Windows, macOS
How to block searches on Google? Browser extensions like Personal Blocklist can help you manually block porn and other inappropriate websites from Google search results.
Step 1. Go to the Chrome Web Store and get the extension Personal Blocklist installed. Once successfully installed, you can find its icon

in the browser toolbar.
Step 2. To block porn on Google, you can follow this example. Search the word porn on Google. With the search result Pornhub, you will find an option Block pornhub.com. Click the option, and this domain will be blocked. This way, one won't be able to access the porn videos and other porn content in this domain through Google. Likewise, you can quickly block a lot of adults websites on Google.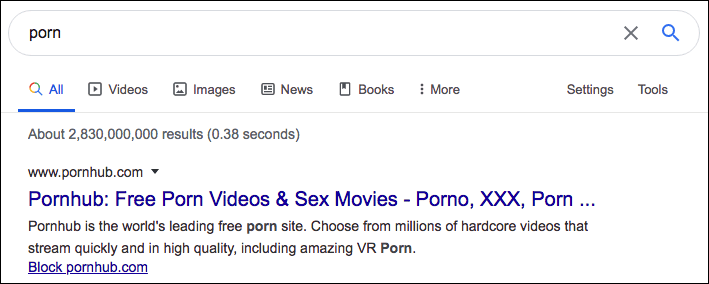 Tips
When you use such a browser extension to block mature and porn websites on Google Search, one can easily bypass by using the incognito mode (aka private browsing mode). The good news is that you can prevent this from happening. Right-click the icon

in the toolbar and choose Manage Extensions. Scroll down and turn on Allow in incognito. It is not necessary, but highly recommended.
Click the icon in the toolbar, and you can easily remove websites from the Block List. It also allows you to import and export your custom Block List.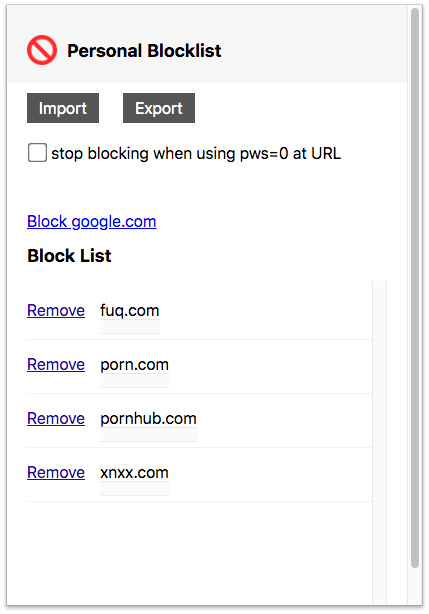 Summary
How to block porn on Google the search engine? The two methods above can help. They are easy to follow. You can use both methods at the same time to get a more powerful blocking.
Blocking porn on a search engine like Google can prevent one from discovering and exploring new porn websites by searching. It can also be helpful in some other scenarios. A young teenager is searching something on Google. When browsing through the search results, he finds an explicit image, which is unexpected and inappropriate. SafeSearch can prevent this from happening. Here's another scenario. When using Google, small kids may accidentally mistype search terms that lead to explicit results. This type of things can also be prevented.
However, the porn websites themselves are not blocked. In other words, one can still easily visit them by typing URLs in browser or through bookmarks. Don't worry. There's a solution to it.
Part 2. How to block porn on Google Chrome
You can choose to also block adult websites on Google Chrome and other web browsers. By doing this, you can make such website inaccessible. How to block explicate, inappropriate websites on Google's browser? There are a couple of options.
#1 At the device level
For Mac & Windows computers
The easiest way to block porn on Google's web browser is to use Cisdem AppCrypt, the best website blocker and app locker.
As a porn blocker, it can:
Block porn websites and any other websites with password on Google Chrome, Safari, etc.
Offer 2 blocking modes: Block Websites and Allow Websites
Also, AppCrypt provides users with other benefits.
Block distracting and other unwanted websites
Help you eliminate distractions and improve productivity
Lock apps with password
Help protect your apps and privacy
Can block websites and lock apps during certain times
Help you limit time spent on apps and websites
One can't quit and uninstall it without knowing the password
Easy to use

Free Download macOS 10.12 or later

Free Download Windows 11/10/8/7
Follow the steps below to easily and quickly block porn on Google's browser.
Step 1. Download and install AppCrypt. It will ask you to set a password, when you first use it. The password is important. Don't forget it.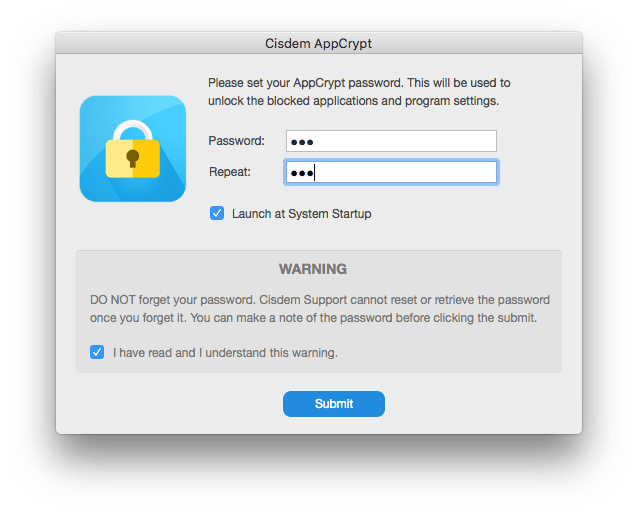 If you are a parent who wants to prevent porn from being accessible, don't tell your children the password.
For adults who want to quit porn addiction, it's a good idea to ask a trusted one to set the password.
Step 2. On a Mac, click its icon in the menu bar and choose Open Main Window. If it is a PC, right-click its icon in the taskbar.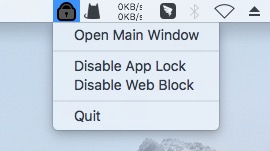 Choose the Web Block tab in the main window.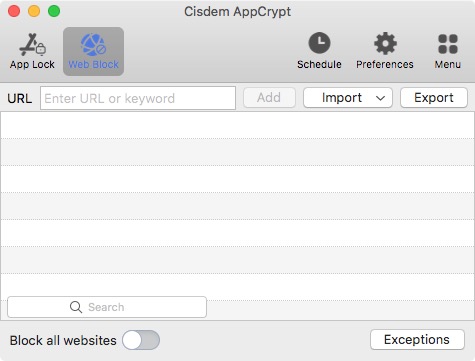 Step 3. Under the Web Block tab, type the URL of the adult website that you need to block and click the Add button. Likewise, you can add porn websites one by one.
Or, you can directly import a category of website to block.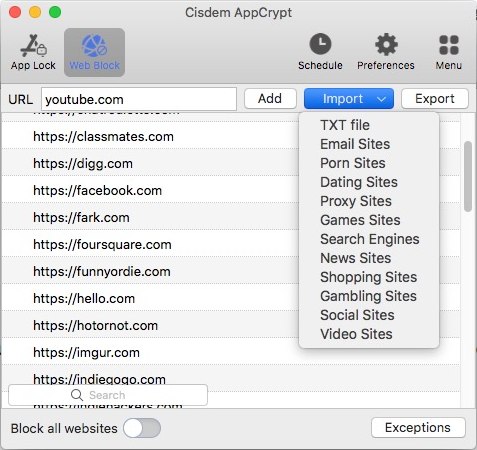 If you want, you can turn on the Block all website option and click Exceptions to add allowed website. It allows you to block all websites except the few that you consider are useful, needed and appropriate.
To remove a website from the list, just select it and click the minus icon.
When one tries to visit a blocked porn website, it won't open. Instead, one will be presented with the image below.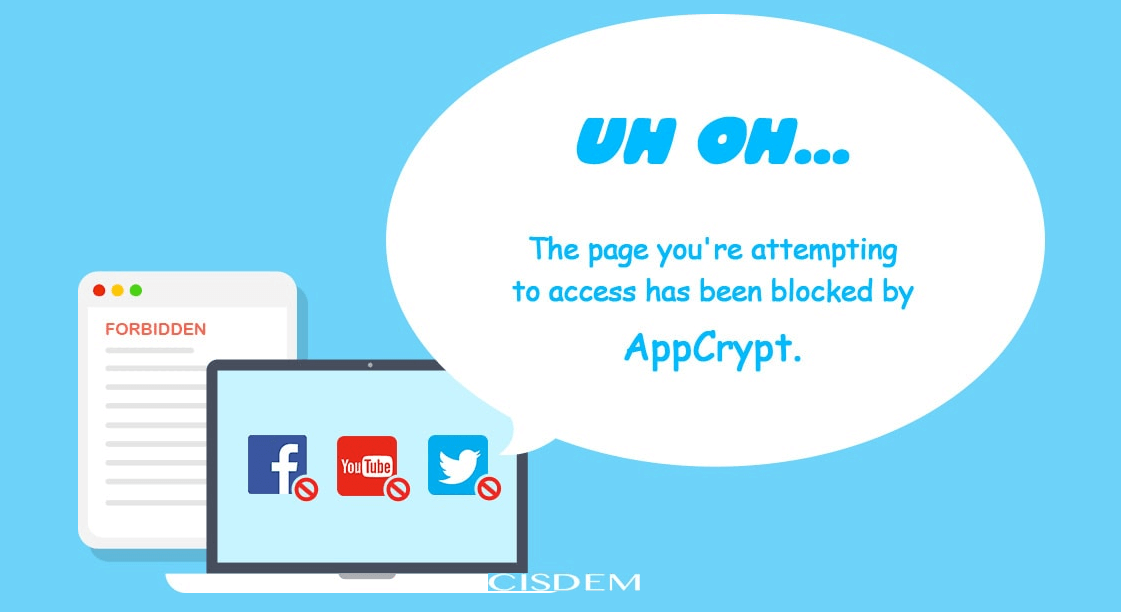 The password is required to:
remove/add websites in the blocking list.
enable/disable the whole website blocking feature.
quit/uninstall AppCrypt.
access the app's main window.
access and change any settings.
unlock locked apps.
AppCrypt can effectively block access to porn and other unwanted websites. Get it on your device and start blocking.
For iOS and Android devices
Google web browser is also available as a mobile app. How to block inappropriate websites on Google Chrome Android or iOS? BlockSite can be very helpful in such a case. It is available from the App Store by Apple and Google Play.
One of the solutions to quit porn addiction is to prevent porn videos and porn website from being available on your phone. As you can tell from its name, BlockSite is primarily designed to block websites. You can create your blocking lists and take control of them. It also provides a feature to block adult websites with a click.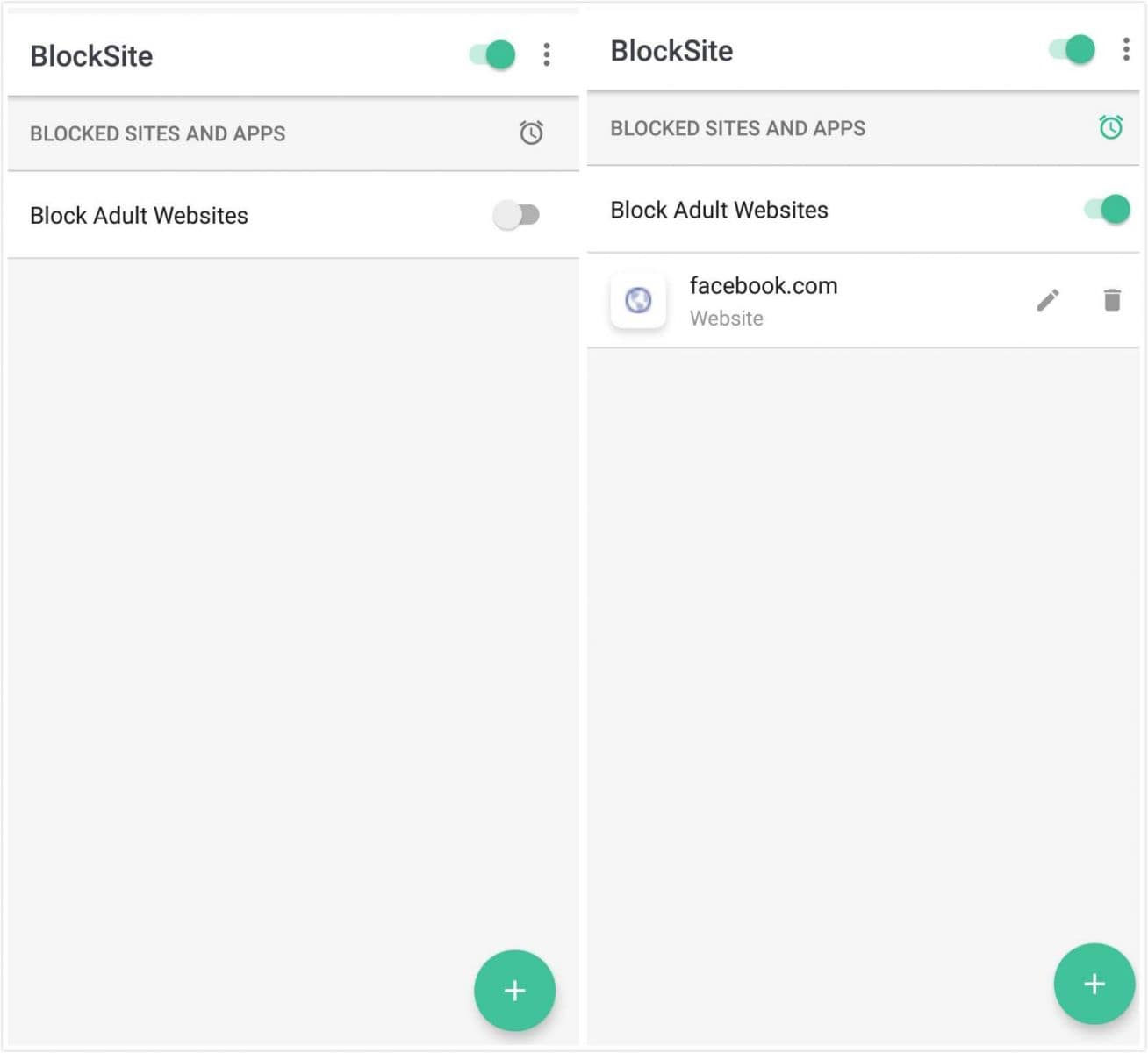 There are also other apps available for blocking porn on mobile. A few of them can do a really good job of keeping adult content sites.
#2 At the browser level
If you are looking for a way to block porn on Google browser at the browser level, then you can use extensions.
There are many Chrome extensions that allow you to block access to porn websites. Here is a list of some of them.
Adult Website Blocker | Porn Blocker
Adult Blocker - Porn Adult Filter
Parental Control - Adult Content Blocker
Block Site - Website Blocker for Chrome
Parental Control - Adult Blocker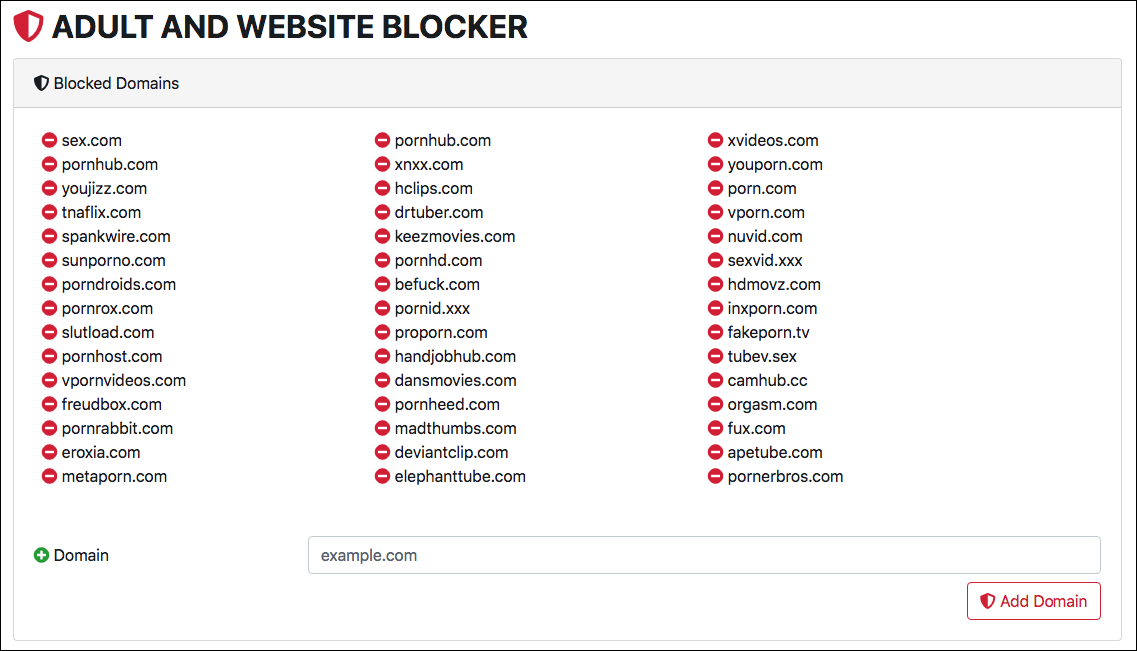 You can find them at Chrome Web Store. There, you can also find some other tools that can be used for the purpose of blocking porn.
Such extensions can be helpful, but some children know the fast that they can easily bypass them by opening an incognito window. Here's a fix. Chrome allows you to enable an extension in incognito mode. However, it's still possible to get around the blocking by removing the extension from Google browser.
Conclusion
How to block porn on Google? This question is frequently asked by parents and by many people who want to quit the bad habit. In some cases, it's not enough to just block inappropriate website on Google Search. If so, it's a good idea to block the porn websites themselves. This article provides some methods and tools. I hope they will help.