What's the first thing you do when you wake up? We all know the answer. You pick your phone and check messages and maybe check Instagram notifications. Nowadays, social media plays a very important role in our lives. According to some research reports, we spend an average of two hours a day on these platforms sharing, tweeting, and updating posts. We are sacrificing our mental health, our physical health, and wasting our time for social media.
Are you looking for ways to block social media on computer? This article will tell you how to block social media on computer.
The Best App to Block Social Media on Computer
Block websites and pages on Safari, Chrome and other browsers with password
Let you block specific sites, URLs with certain words, and categories of sites
Also let you block all websites except the ones you allow
Lock apps with password
Let you block website and lock apps permanently or at certain times
Easy to use
Hard to bypass
Help limit access to social media websites and apps
Help with productivity, parental controls, privacy protection, etc.
Available for Mac and Windows PC

Free Download
macOS 10.12 or later

Free Download
Windows 11/10/8/7
Reasons for blocking social media on computer
Top 10 popular social media:
1. Facebook
2. YouTube
3. WhatsApp
4. Messenger
5. Instagram
6. WeChat
7. Kuaishou
8. TikTok
9. Telegram
10. Qzone
I believe you should have heard of or used these social media apps or websites. These social media bring much benefit to our lives. We can share the beauty of life with others, keep in touch with our friends, and our talents can be appreciated and recognized on social media. But on the other hand, social media also has a negative impact on our lives:
1. Our kids have poor self-control and always addicted to social media for a long time, which seriously affects their interest in learning. In addition, the information on social media is mixed, which may have a negative impact on the mental health of kids.
2. Not just kids, we often spend too much time on social media. When you pick up your phone and prepare to swipe some videos for a while, two hours have passed before you realize it. Being addicted to the virtual online world will also make us ignore our loved ones around us.
3. Some companies also need to block social media during working hours to ensure work efficiency.
#1. How to block social media apps on Mac computer
Cisdem AppCrypt is an easy-to-use app to block access to websites and apps on Mac. If you are easily tempted by social media when using your Mac and are looking for a way to stop it, AppCrypt can help. It can:
Block access to entire social media websites and apps
Block certain pages on a social media website
Protect the blocking with a password
Block all the time or at certain times
Below are the steps.
1. Download and install AppCrypt. It's compatible with macOS 10.12 or later.

Free Download macOS 10.12 or later
2. The first time you open it, set a password.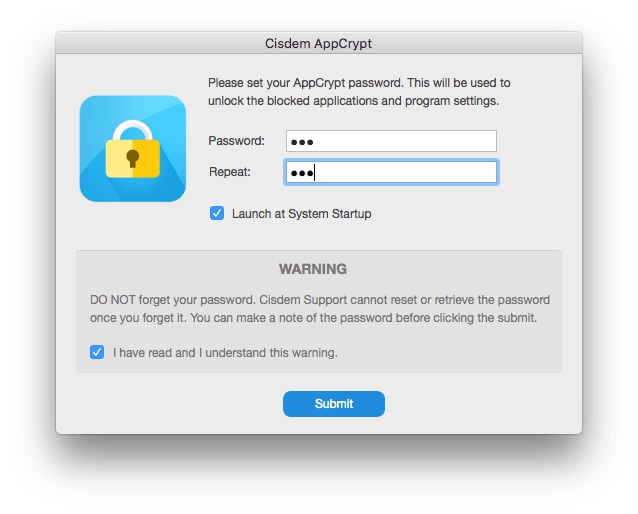 3. Click the lock icon and choose Open Main Windows, from the menu bar at the top of your screen.
4. Enter the password to access the main window.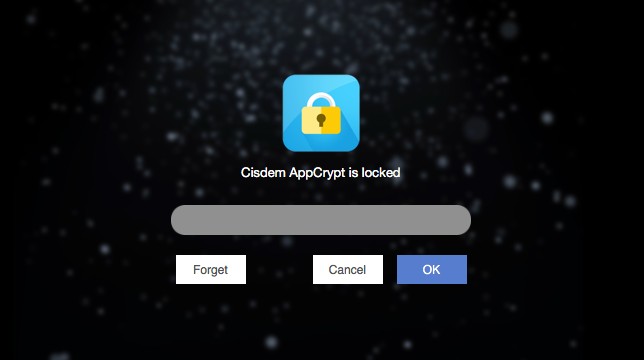 5. Under the App Lock tab, click the Add button. Select the social media apps you want to block and click Open.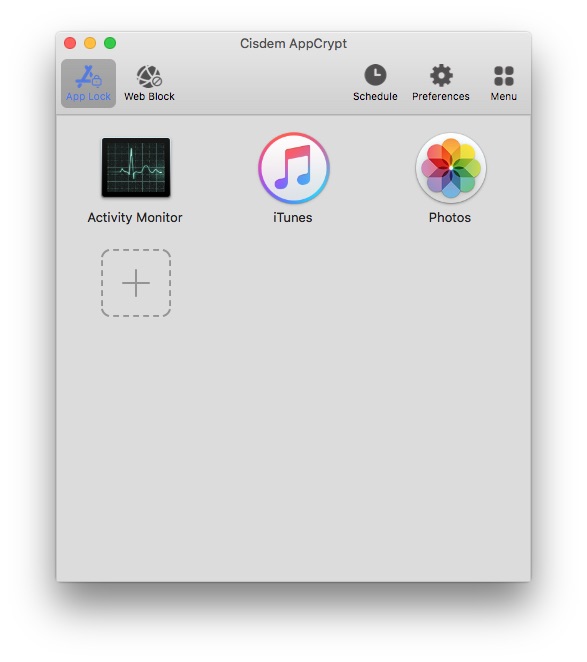 Now these social media apps are blocked. To unblock an app, one needs to enter the password.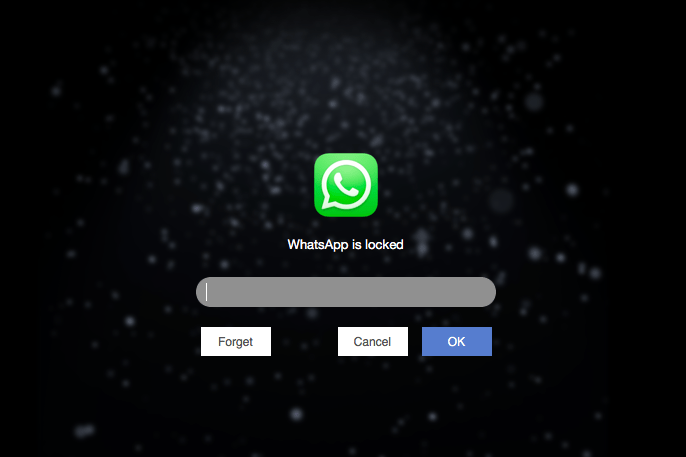 If a person enters the wrong password, the app will stay blocked. In addition, this failed attempt will be recorded, with the date and time and a picture of the person.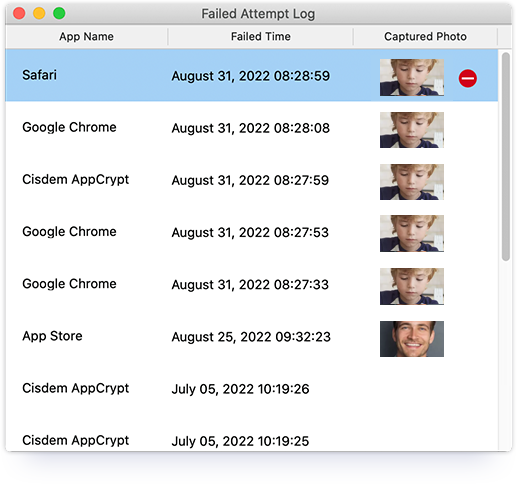 To remove the blocking, just go to the App Lock tab (which requires the password), select the app, and press the Delete key.
Note: If you want to block yourself from social media, please ask someone else to set the password in step 2, such as a family member or friend.
Tip: If you only need to set time limits for social media use instead of permanently blocking social media, you can use the Schedule feature and add one or more schedules. For example, you can only block social media at work hours or on school days.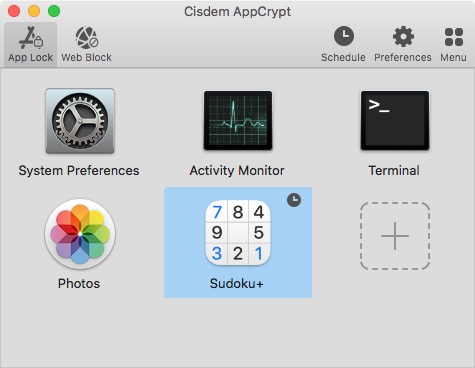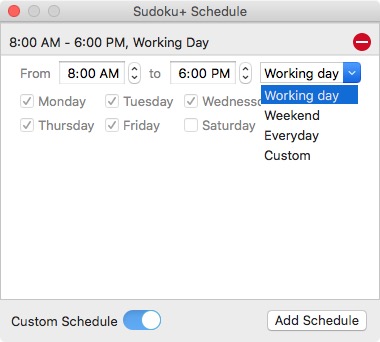 #2. How to block social media apps on Windows computer
Facebook, Twitter, Discord and some other social media apps are popular on Windows PC. Here's a scenario. You are using your PC for work but can't help browsing Twitter. To avoid such distractions, you can make your favorite social media apps inaccessible forever or during certain times. Below are the steps.
1. On your Windows PC, download and install Cisdem AppCrypt.

Free Download Windows 11/10/8/7
2. Set a password when you open it for the first time.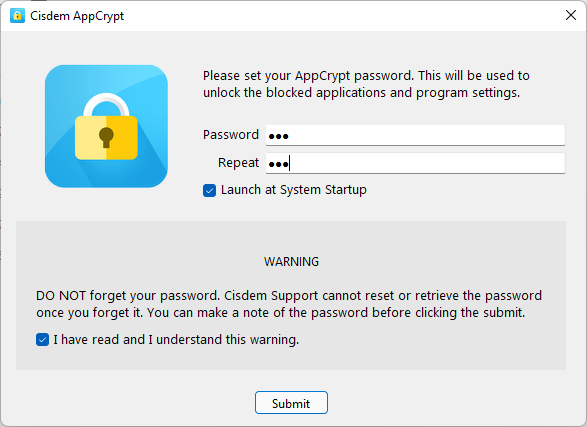 3. Go to the taskbar, right-click its icon and choose Open Main Window.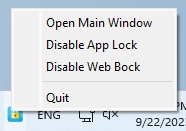 4. Enter the password when prompted in order to access the main window.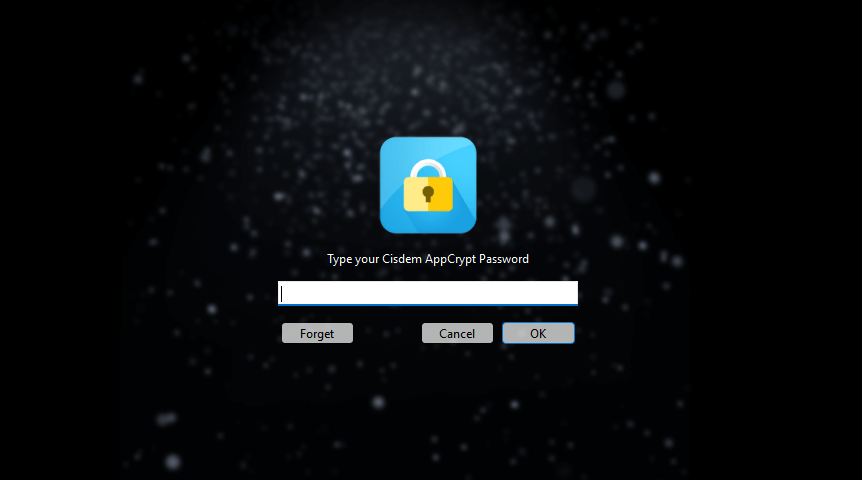 5. Go to App Lock tab. To block a social media app, please drag its desktop shortcut into the main window. To block multiple apps, just drag the shortcuts.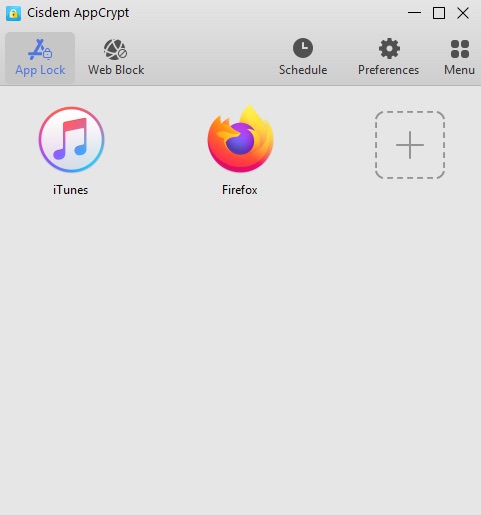 Note: In step 5, if there isn't a desktop shortcut, open File Explorer > C:\Program Files or C:\Program Files (x86) to find the app (such as WhatsApp.exe) and drag the EXE file into the main window.
One needs to enter the password to unblock social media apps, remove the blocking or quitting AppCrypt. There are some useful details.
This method can be used for yourself or your children. You can install AppCrypt on your or your child's device. If it's a shared computer, once AppCrypt is installed, you can set it up for different accounts. For example, you can set different passwords.
#3. How to block social media sites on Mac and Windows computer
1. Install AppCrypt and set it up. It's compatible with Windows 10 and 11.

Free Download macOS 10.12 or later

Free Download Windows 11/10/8/7
2. Go the Web Block tab. On Windows computer, you'll need to follow the prompts to install the extensions for Chrome and Edge browsers.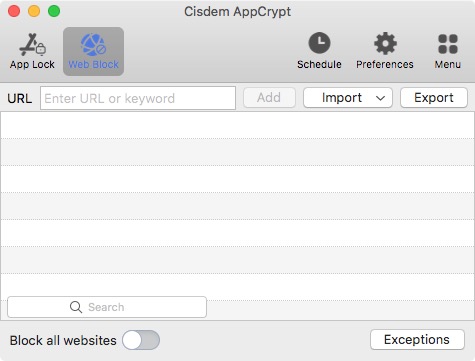 3. To block social media websites, you can do the following:
In the URL field, add social media URLs, such as youtube.com, one by one.
Click the Import dropdown list and choose Social Sites. This will add all popular social media sites.
Also, you can add certain words, such as youtube and facebook, in the URL field one by one. This will block all URLs containing the word.
Now these social media websites get blocked. If you try to visit one of the sites, you will see the following message. Password is required if one wants to unblock them or remove the blocking.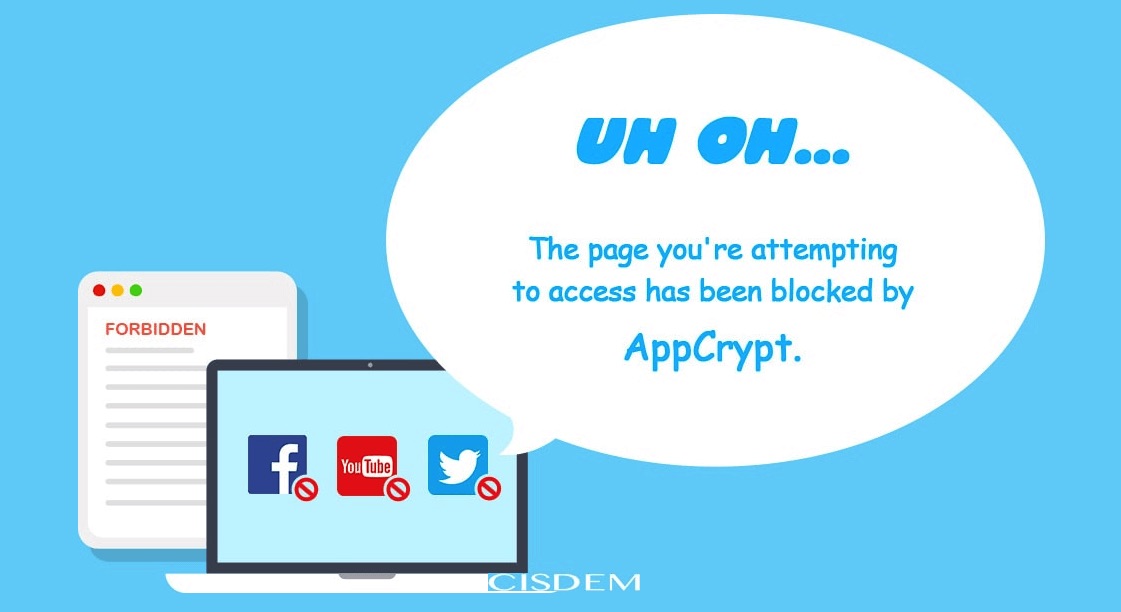 #4. How to block social media sites on Windows computer
The hosts file is a text file on your PC that maps hostnames to IP addresses. The original name is HOSTS.TXT. The hosts file can be opened and edited with tools such as Notepad. We often use the hosts file to map the domain name of some websites to a wrong IP address, to achieve the purpose of prohibiting access, which is how this method works.
1. Click the Windows icon and search for Notepad.
2. Click Notepad and select Run as administrator.
3. Choose File > Open.
Choose Local Disk (C:) > Windows > System32 > drivers > etc. If you don't see anything after open the folder, you need to right-click Text Documents in the bottom right corner and select All Files from the dropdown list.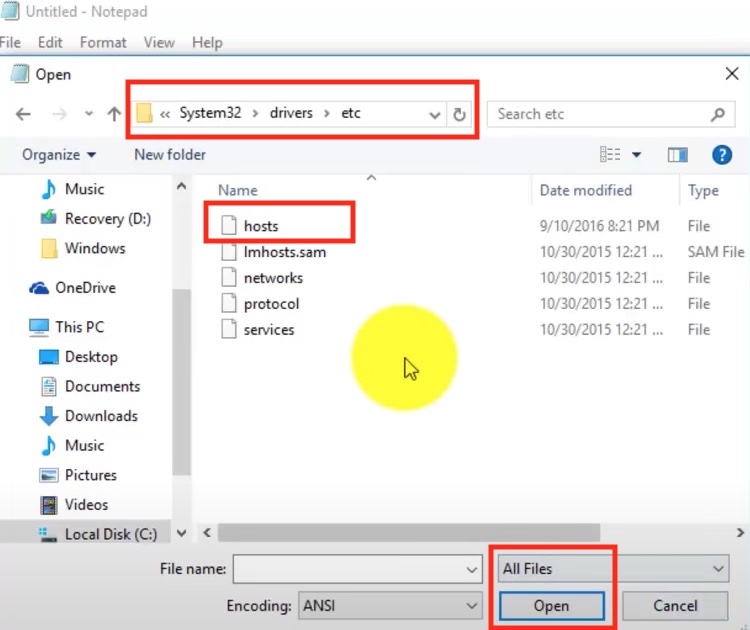 4. Double-click the hosts file. On the very bottom of the text, create a space.
5. Enter 127.0.0.1, then input the social media websites URL. For example, if you want to block Facebook on your computer, input 127.0.0.1 www.facebook.com.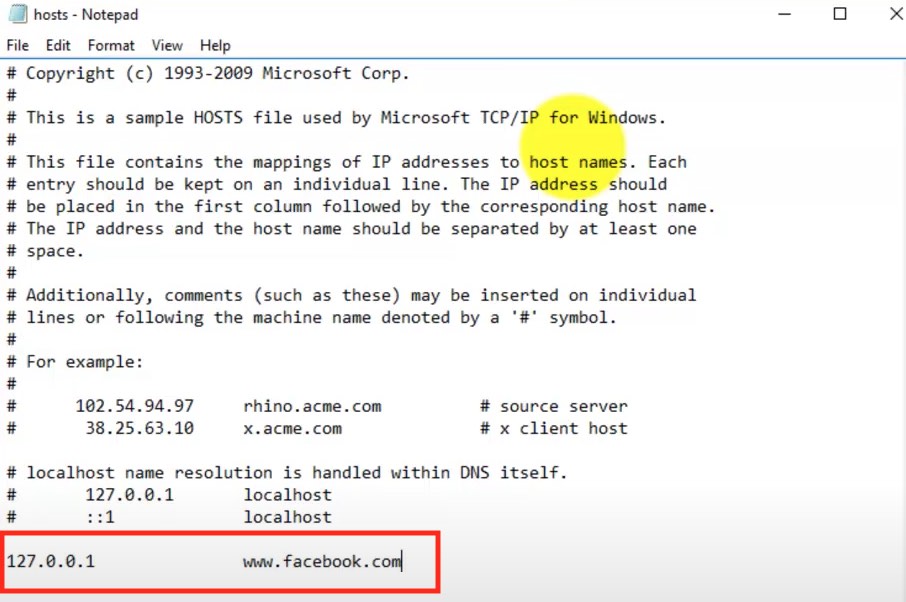 6. Click File, then select Save. Now Facebook is blocked.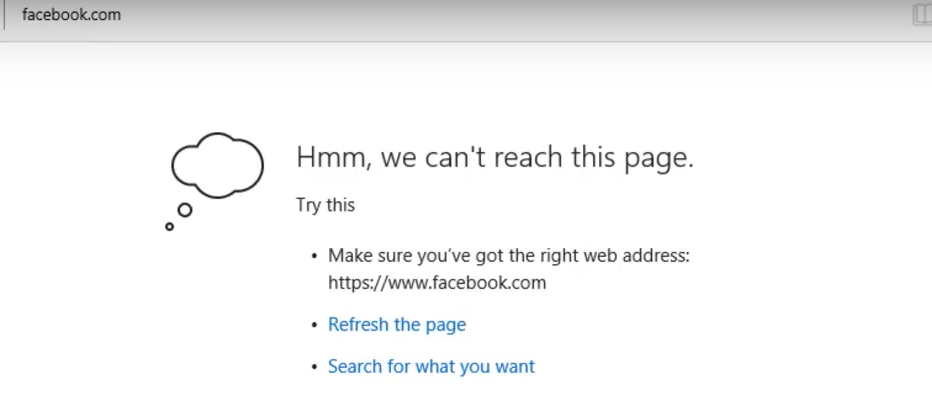 This method is a bit complicated, but the advantage is that you can't find the software that caused the inaccessible websites. The pop-up window only shows that you can't reach this page. So it is hard to bypass. If you want to change the settings, just go back to the hosts file and delete the text you added.
#5. How to Block Social Media Sites on Computer Browser with Extensions
We can also use extension to block social media sites on computer browser. Here I will show you how to install BlockSite on Google Chrome. BlockSite is an extension, which can easily block any inappropriate website on your computer browser.
1. Open Google Chrome. Navigate to web store.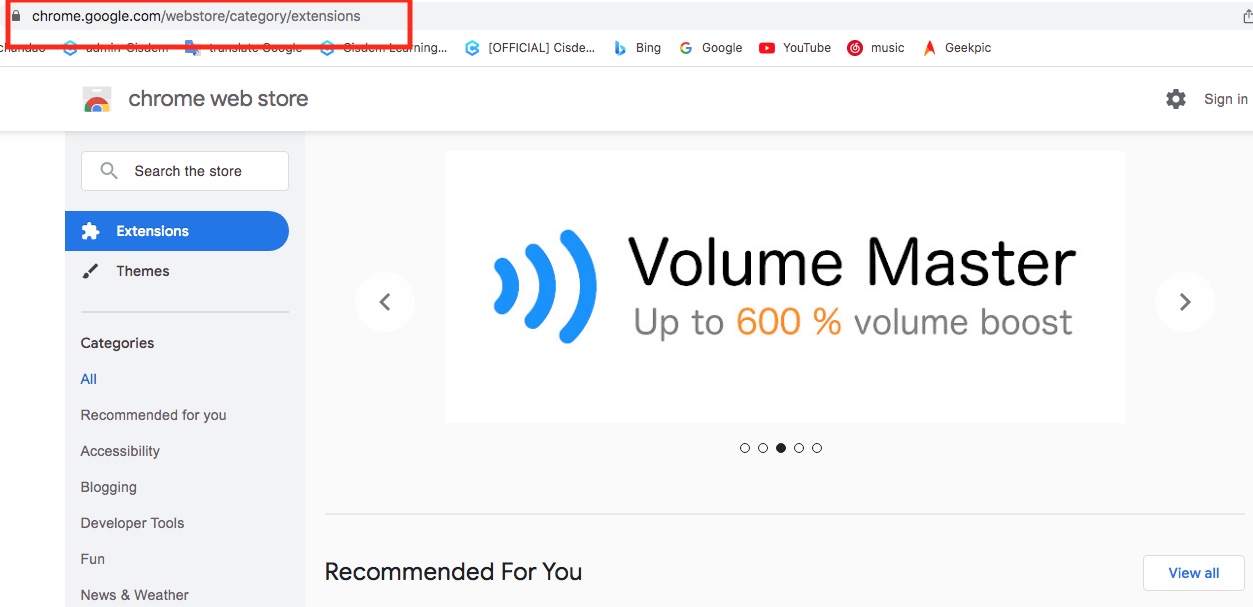 2. Type BlockSite in the search box. At the very top of the search results, click the extension called BlockSite-Block Websites & Stay Focused.

3. Left click on Add to Chrome. A little notification window will pop up that says "Add BlockSite: Block Websites & Stay Focused?" Hit Add extension.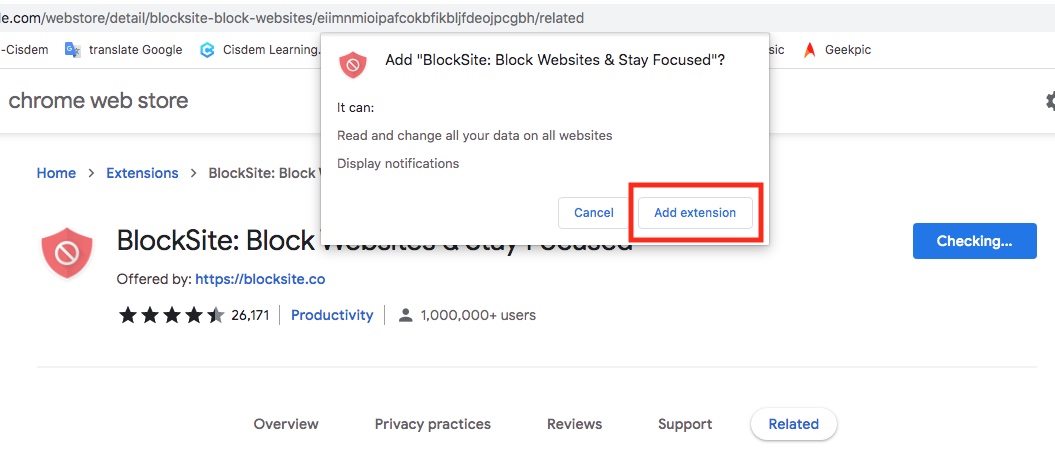 4. Open YouTube or any other social media websites you want to block. Right click anywhere of the website page. Choose BlockSite and select Block this site.

5. Now YouTube is blocked on Google Chrome. A window will pop up next time you access to this website.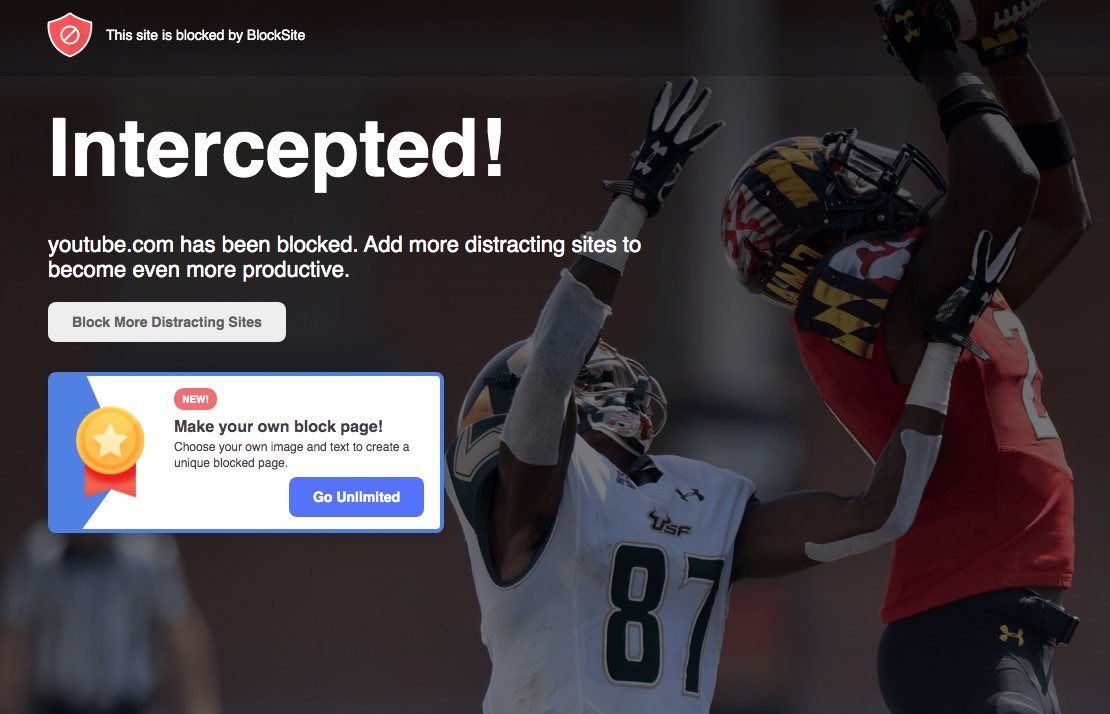 Tips 1: You can choose 3 days free trial at the first time you add this extension. But you can only block up to a maximum of 6 sites without paying.
Tips 2: You can also add this extension to other browsers such as Firefox, but the installation way maybe a little different.
#6. How to block social media sites on computer browser with router
Some routers' built-in firewall or parental control settings can also be used to block access to social media sites. The operation is not complicated, but it requires you to know the administrator's account, password, as well as the IP address of the router.
1. Identify the router URL. You can check the backside of the router to find the URL like http://192.168.1.1 or http://router.asus.com.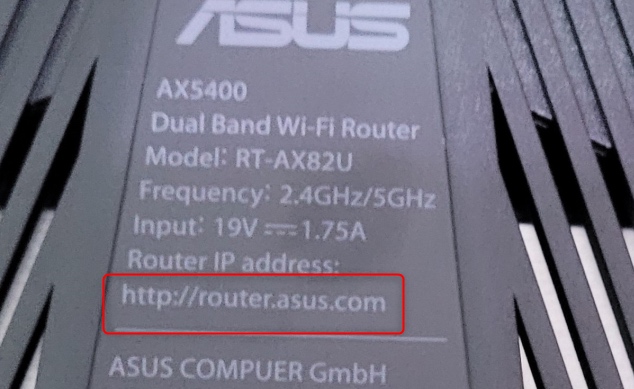 2. Access the router and login.
3. Choose Firewall, Parental Controls or something similar, then find the URL filter. Enter a social media URL like www.twitter.com in the box.
4. Save the settings.
This method doesn't work if your router lacks such settings. It also doesn't work with websites that are encrypted.
Conclusion
By blocking social media sites or apps on computer, you can control your child's online behavior and make sure he doesn't get distracted while doing his homework. You can also prevent yourself from indulging in social media and reducing productivity. Hope these 6 methods can help you.