Launched in 2009, online chat website Omegle has regained popularity during the coronavirus pandemic due to social isolation. However, the website is just as dangerous as it is entertaining. Omegle is potentially filled with explicit content and predators, and everyone including kids and teens can easily access it. The website doesn't require any age verification. Many parents want to know how to block Omegle.
Omegle doesn't have an official app. The only way to use it is through its website on a computer or phone. So blocking Omegle is basically blocking accessing to https://www.omegle.com/. And this article will show you how to do the blocking on the following platforms.
How to block Omegle on Mac
If you are a Mac user, you can block your child or yourself from using Omegle with the help of Cisdem AppCrypt, the best website blocker and app locker for Mac. Below are the main features of AppCrypt.
Block any websites on Chrome and Safari with password
Block webpages as well
Also lock apps with password
Offer a schedule feature to block websites and lock apps at certain times
Help stop using Omegle
Hard to bypass
Can be used for parental control, productivity, etc.
Support macOS 10.12 or later, including macOS 13 Ventura
How to block Omegle on Google Chrome and Safari on a Mac
1. Download AppCrypt and install it.

Free Download
2. The first time you open it, set a password.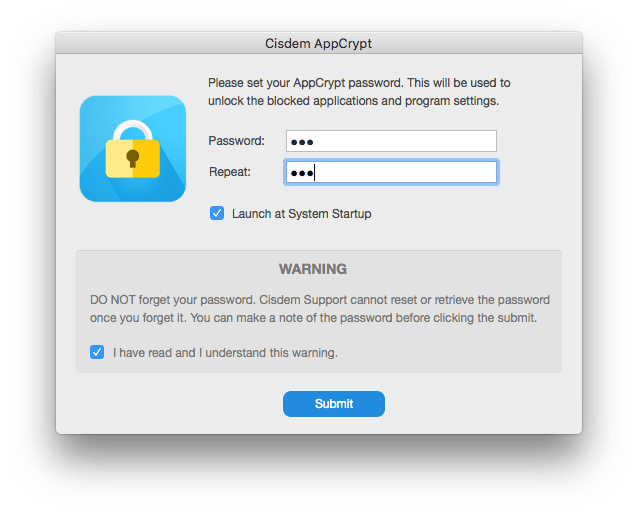 3. Click its icon in the menu bar and choose Open Main Window.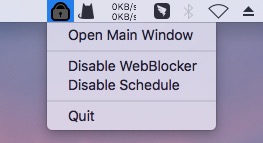 4. Enter the password set in Step 2 and click OK.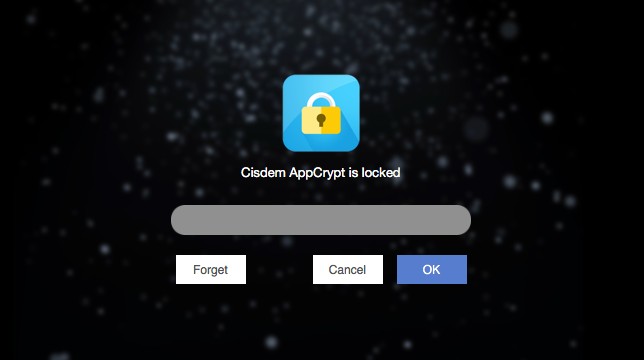 5. Now you are in the main window. Click Web Block.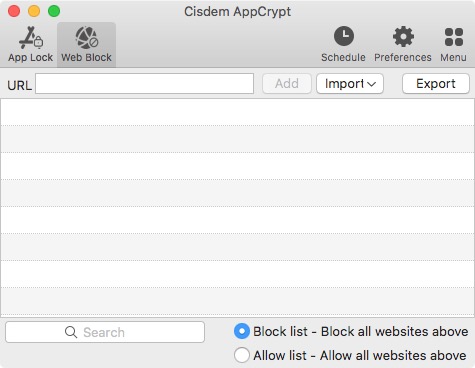 6. Under the Web Block tab, add the URL https://www.omegle.com/. (Also, you can import a category of sites to block.)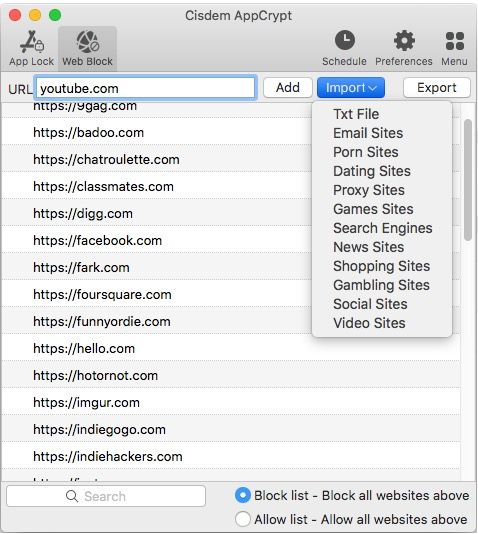 Now Omegle is blocked and inaccessible on your MacBook Pro, MacBook Air or iMac etc. When one tries to visit the website, it won't open, and one will see the image below.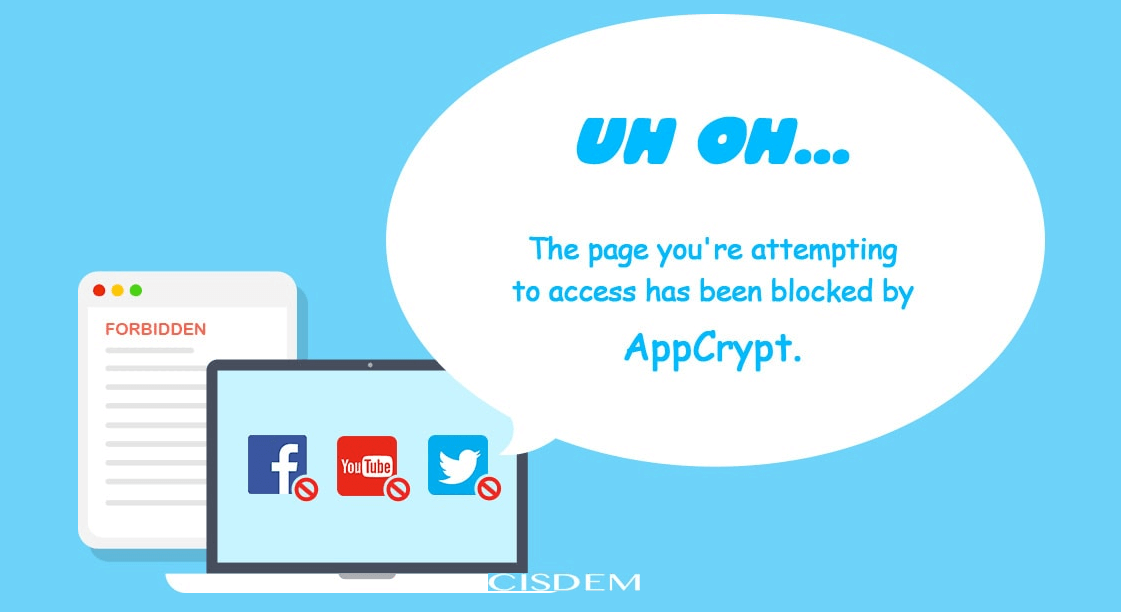 To unblock the website, under the Web Block tab as in step 5 (which requires the password), select omegle.com, control-click and choose Remove.
To make the blocking more effective, you can set AppCrypt to automatically launch at startup. In the toolbar at the top of the main window, click Preferences. Enable Launch at system startup. This way, Omegle will be blocked all the time.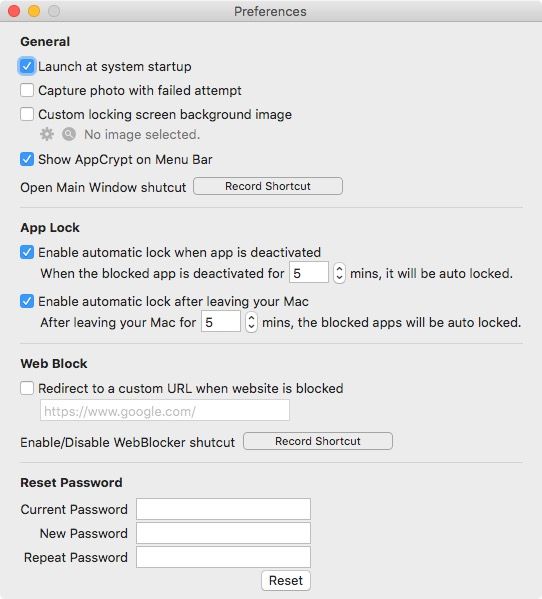 Block Access to Omegle and Other Unwanted Websites
Offer 2 blocking modes: Block list and Allow list
Also lock apps
Record failed attempts to open locked apps with date, time and photos of intruders
Offer a schedule feature
Easy to use and versatile

Free Download
How to block access to Omegle on Windows
To prevent access to omegle.com on a computer running Windows 10, Windows 8 or Windows 7, you can use an app called URL Blocker.
1. Download URL Blocker and open it. No installation is required.
2. In the field at the bottom, enter https://www.omegle.com/.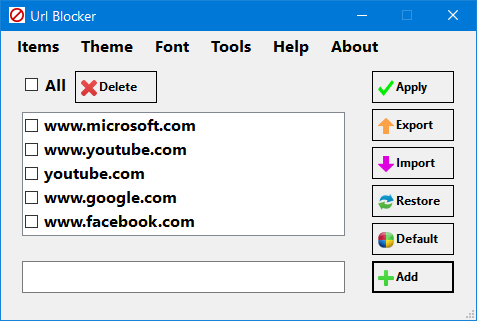 3. Click the Add button next to the field.
4. Click the Apply button in the upper right corner.
5. Click OK to apply the blocking.
From now on when someone tries to open Omegle on this computer using Microsoft Edge or Google Chrome, he or she will get "Can't reach this page" or a similar message.
It's also easy to remove the blocking. In the app, check the box next to omegle.com and click the Delete button.
As you can see, it doesn't require a password or a PIN to unblock. If your child finds the app and figures out how to do the unblocking, he or she can chat on Omegle again. Don't want this to happen? Here's a trick. Run URL Blocker from your USB drive instead of the computer and unplug your drive from the computer once you finish setting up the blocker.
How to stop using Omegle on iPhone
You don't need an app to use Omegle on your phone or tablet! The web site works great on mobile.
Omegle doesn't offer a mobile app. And what it says on its website is true. The website works great on an iPhone or Android phone. But how do we block Omegle on iPhone? Below are the instructions.
1. On an iPhone (or iPad), go to Settings.
2. Tap Screen Time.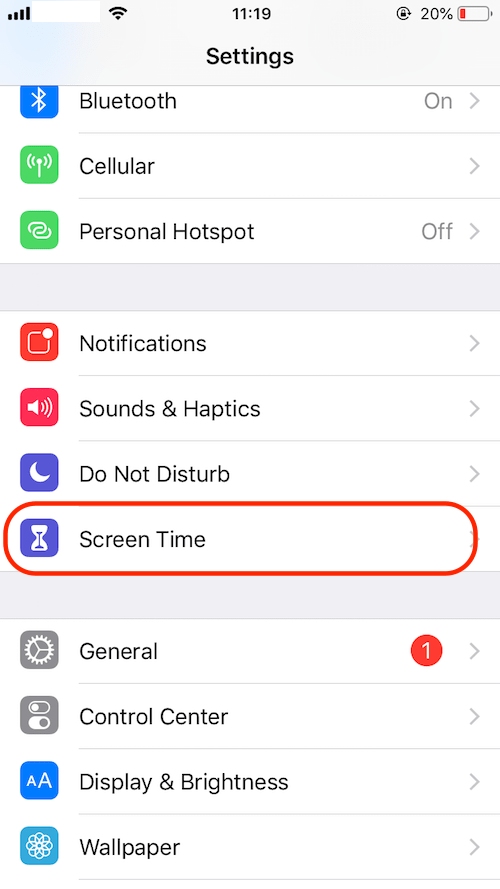 3. Tap Turn on Screen Time to turn it on.
4. Let it know whether it's your or your child's iPhone.
5. Tap Use Screen Time Passcode and set a passcode.
6. Tap Content & Privacy Restrictions.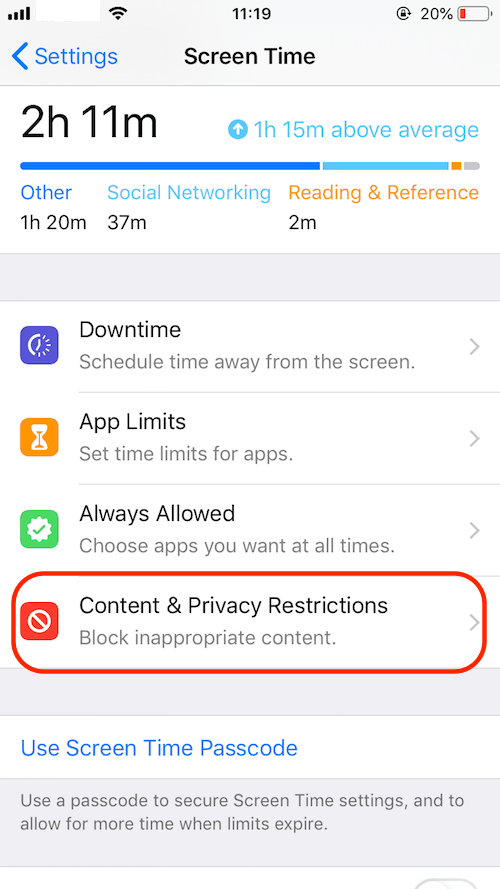 7. Toggle the switch on. Enter the passcode set in Step 5 when asked.
8. Tap Content Restrictions > Web Content.
9. By default, iPhone allows a user to have unrestricted access to web content, which means unlimited access to Omegle and the potential risks on Omegle.
Here you need to switch from Unrestricted Access to Limit Adult Websites.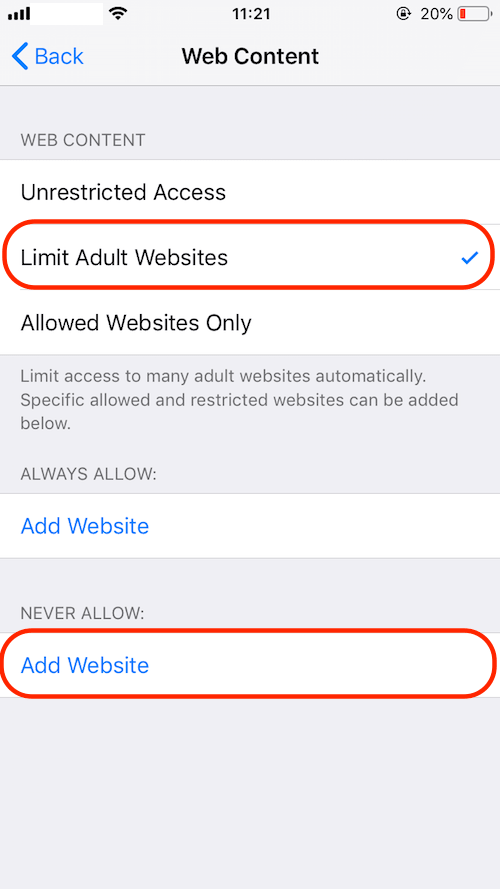 10. To block Omegle, tap Add Website under Never Allow, enter the Omegle website and tap Done.
Now Omegle is blocked on the Safari browser on this iPhone. When one tries to open the website, one will receive the "You cannot browse this page..." message.
If the iPhone is running iOS 11 or earlier, you won't find Screen Time on it. Luckily, there is an alternative to Content & Privacy Restrictions. It's called Restrictions and is available from Settings > General.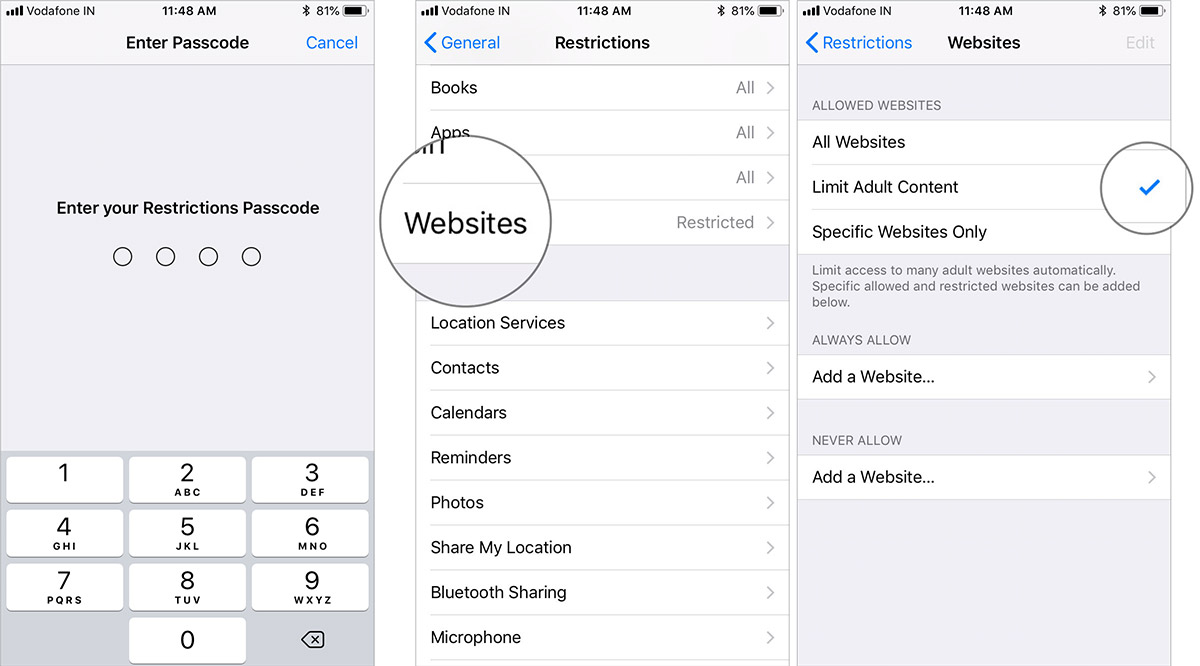 How to prevent access to Omegle on Android phones
If your child (or yourself) spends a lot of time on Omegle on an Android phone and you want to stop it, you can block the Omegle website on the phone. Unlike iOS, Android doesn't provide a built-in way to do this, so you will need a third-party solution like Block Site.
1. On Android, install Block Site from Play Store. Open it.
2. Go to Settings > Accessibility and turn on Block Site.
3. In Block Site, tap the plus icon + in the lower right part of the screen.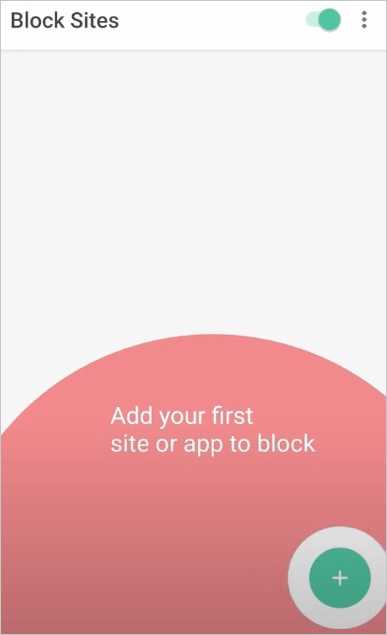 4. Under the Website tab, enter https://www.omegle.com/ and tap the check mark icon.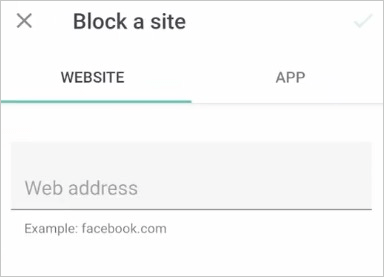 Now Omegle is added to your block list and is not available for use. When you try to use it in Google Chrome, your browser will display a message saying "This site is blocked by Block Site".
To remove Omegle from the block list, tap the trash bin icon next to it. Note that doing so will make Omegle instantly available again.
Conclusion
This article talks about how to block Omegle on Mac and other platforms. Blocking access to Omegle is an effective way to keep children, teens and young adults away from it. In addition to this, parents can talk to their children about online safety and the importance of staying away from potentially dangerous websites.