Chrome is the most widely used and popular Internet browser in the world. Everyone can play videos on Chrome, but not download them directly. So are you looking for a free online video downloader for Chrome? In this guide, we will bring you the top 10 best Google Chrome video downloaders.
Note: There are no YouTube video downloader Chrome extensions, as YouTube is an important part of Google services. Starting from 2014, Google has strengthened its control of YouTube video downloader for Chrome. If you wish to download YouTube videos, you can install a third-party application.
The Best Video Downloader App
Catch videos from Chrome, Firefox, Safari, etc.
Download any free and public videos from YouTube, Facebook, etc.
Support 1000+ video & audio download sites
Download high-quality videos up to 8k
Download videos from multiple websites at the same time
Convert videos to more than 350 formats, not just to MP4 and MP3
Extract DVD movie clips and VOB files
Edit videos and reduce their size via xh265 compression
Faster, safer, and better than online video downloader chrome extensions
Available for Windows computer and macOS

Free Download

Free Download
Top 10 Free Video Downloader Chrome Extensions Review
Except for YouTube, Google Web Store covers a substantial collection of Chrome video downloader extensions for Facebook, Vimeo, Twitter, VK, Tumblr, Instagram, and other video streaming platforms. After many tests, we finally selected 10 that can help you.
#1 Video Downloader professional
Powered by: www.startpage24.com
Users: 300 millions +
Rating: 4.5/5.0
Video Downloader professional is one of the best video downloader plugins for Chrome. Its icon is similar to a video players', once the video is detected, it will turn into a green arrow.
This free Google Chrome video downloader supports video download from Vimeo, Facebook, Dailymotion, GoMovies, FMovies, TikTok, etc. It's good at saving Vimeo video to MP4. Various resolutions (including 240p, 360p, 540p, 720p, 1080p) and sizes will be provided for download. When it comes to Facebook, there are no resolutions to choose from, but different sizes. In addition, you can download Dailymotion to M3U8 (merely one output option).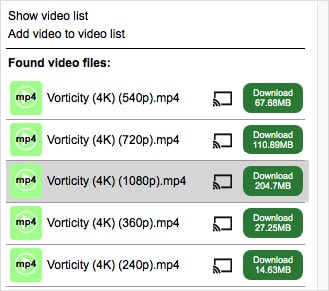 Pros:
Download Vimeo video online between different resolutions (best for Vimeo)
Capture a video and stream on Chromecast
Cons:
Add ads to your Google search results
Can't download 2k or higher-quality Vimeo video
#2 The Flash Video Downloader
Powered by: Flashvideosaver.net
Users: 20 millions +
Rating: 4.6/5.0
The Flash Video Downloader is a well-known video downloader chrome extension to download Flash video online. It supports 50+ languages like English, Indonesian, German, English, French, Dutch, Norwegian, Portuguese, etc. The free Google Chrome video downloader is not as flexible as Video Downloader professional. It needs to refresh the webpage to detect the video, whereas Video Downloader professional does not.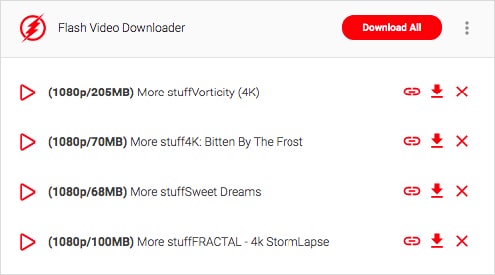 Pros:
Remain all videos it has found, and remove easily
Download Vimeo to 1080p
Cons:
Fail to identify videos from Wistia, Facebook, etc.
Just catch all small flash banners instead of the video
#3 Video Downloader Plus
Powered by: vidow.io
Users: 90 millions +
Rating: 4.5/5.0
Users gave Video Downloader Plus a high evaluation, saying it is the best video downloader Google Chrome extension. Not perfect, but an excellent effort! It can grab videos from most websites. You should pay attention to the file size, as there may be multiple videos on the page with the same exact name. Moreover, this online Chrome video downloader extension offers a premium service, which requires 19.99$/month to download videos.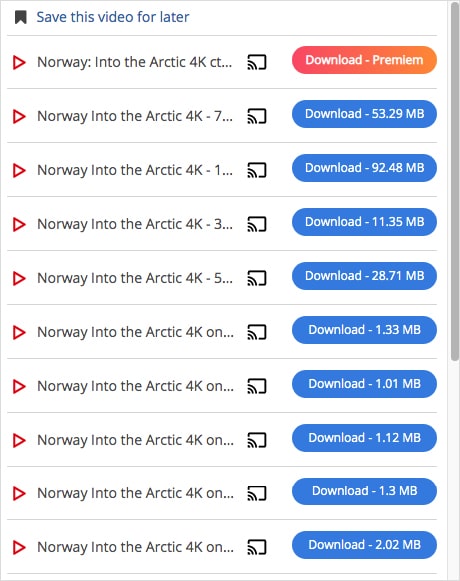 Pros:
Work well with most viewable radio on the web
Very intuitive
Cons:
A monthly subscription is asked to download any high-definition videos
The video files they cache can't be named correctly
#4 Video Downloader by Skyload
Powered by: Skyload
Users: 12 millions +
Rating: 4.2/5.0
Video Downloader by Skyload is a decent Google Chrome online video downloader, making it easy to download music or video on the page. It works on tons of websites, and also displays file size and quality. Although this Chrome video downloader plugin does not recommend you to download pornographic videos, in fact, it supports adult websites, such as youporn, xvideos, xhamster, livjasmin, etc.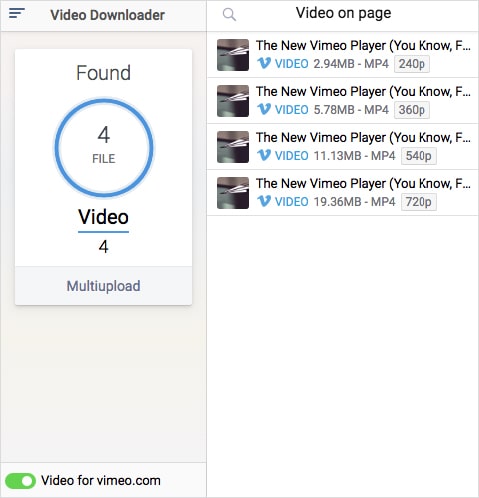 Pros:
Packed with built-in video player
Process multipart and all kinds of things
Cons:
Can't sync video and audio after the pause
Contain pop-ups and affiliate embedding
#5 Video Downloader Pro
Powered by: Video Downloader
Users: 150 millions +
Rating: 4.3/5.0
Video Downloader Pro is a flexible Google Chrome video downloader extension. It also supports more than 50 languages. The best video downloader for chrome claims that it can download videos from any website, and it can save videos as FLV video, mp4, AVI, ASF, MPEG, and so on. I think it's a false advertisement. It's unable to download videos from YouTube, Facebook, Brightcove, etc., and can only save videos to MP4.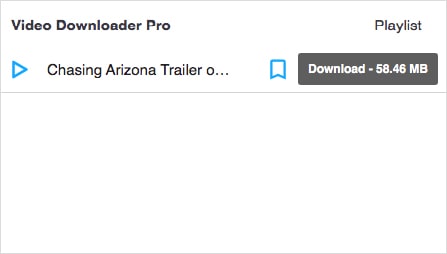 Pros:
Download Vimeo, Instagram, Twitter, etc. video
Recognize supported videos immediately
Cons:
Unable to find embedded videos
Always show you "Video not detected"
#6 Video Downloader Ultimate
Powered by: Peta Sittek
Users: 30 millions +
Rating: 4.6/5.0
As an ideal video downloader plugin for Google Chrome, Video Downloader Ultimate stands out among competitors. It recognizes different resolutions of a video and ensures you to download all in one click. Plus, it lets you adjust the settings by choosing Popup Mode or Sidebar Mode, Hide Controls Buttons or Show Control Buttons, Light Theme, or Dark Theme.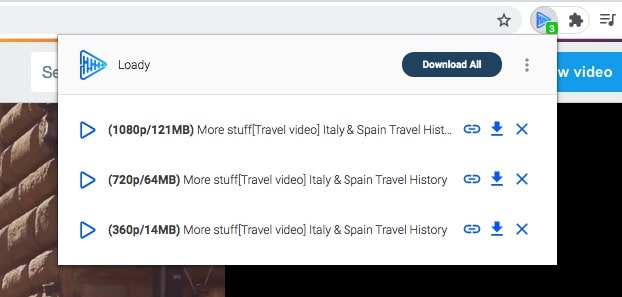 Pros:
Simple to use
Various resolutions could be chosen
Cons:
Redirect to unrelated sites like kibergoil.com
Not always work (can refresh a few times)
#7 Video Downloader for Web
Powered by: webdownloader.net
Users: 30 millions +
Rating: 3.9/5.0
Video Downloader for Web has attracted a large number of users to install. There are two ways to download videos. The first way is to directly click the "DOWNLOAD" button. The other way is to click "POPUP" to call up the built-in video player and click the download button in the lower right corner of the player. But this video downloader Chrome add-on is not compatible with many online streaming websites. You may always see that "Video not detected on this website".

Pros:
Support inbuilt video player
Cons:
Don't work on Reddit, Twitter, Instagram, Pinterest, Vlive, embedded videos, etc.
When downloading the big video, the download speed goes down (e.g. from 2mb, to 50kb)
#8 Easy Video Downloader
Powered by: Yubi
Users: 16 millions +
Rating: 3.6/5.0
Easy Video Downloader, a Chrome video downloader plugin to download video, audio, and image resources from web pages, is not as easy as its name implies.
Compare to other video downloaders for Chrome, Easy Video Downloader is quite special. It has to work with both internal and external download managers. When you click download, a built-in download manager pops up, letting you select detected videos to download.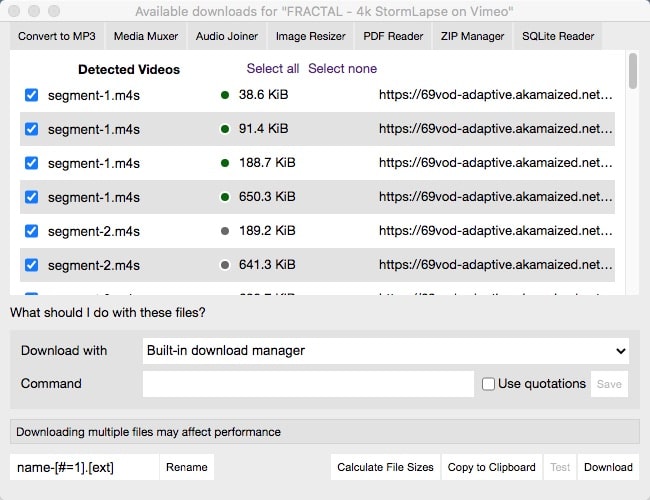 Pros:
Speed up the video download process
Cons:
Download a video to many segments
Not good to download multiple videos from the same page
#9 Video Download Center
Powered by: Silvestrs Kronvalds
Users: 80 millions +
Rating: 4.4/5.0
Video Download Center is a free video downloader Chrome extension that keeps updated frequently. Despite of many 5 stars reviews, they may be fake comments. Some people said it could download video files from almost any Internet resource without hassle. I tried the two mainstream websites - Dailymotion and Facebook, both of them failed to detect the video.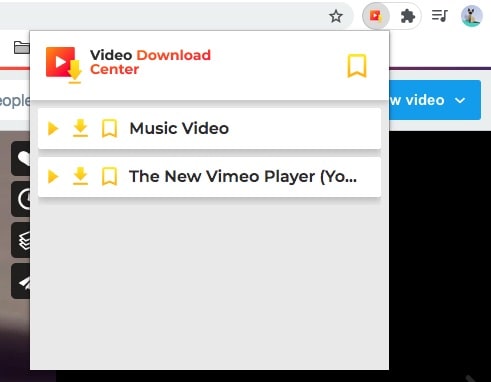 Pros:
No harmless to your device
Amazingly fast download speed
Cons:
Sometimes, nothing happens after clicking the download icon
The downloaded mp4 file was 0 KB
#10 Top Video Downloader
Powered by: Theresa Jackson
Users: 20 millions +
Rating: 2.0/5.0
Although the score is not very high, Top Video Downloader is still worth a try. It is a hit online video downloader for Chrome that's used to download generic HTML5 videos and other video sources. It won't prompt you whether the video has been identified or not. You need to click on the icon to view it. But sometimes there will be no response when you click its icon.
Pros:
Awesome interface and design
Cons:
Not compatible with many sites
Might fetch videos unsuccessfully
Quick Summary
Video downloader Chrome extensions are not the most perfect tool for grabbing videos. There are a lot of critical features that they can't do:
Download from YouTube
Download from other popular video-sharing platforms (most of them can only download Vimeo videos)
Can't download 2k, 4k, 5k, and 8k videos
Merely save downloaded video to MP4
Unable to extract audio files from videos
Not video editing tool
Download Any Video from 1000+ Websites on Chrome with the Dedicated Video Downloader
Cisdem Video Converter is the most professional and powerful video downloader application. It has the ability to download all kinds of videos from Chrome, Safari, Firefox, etc. Thanks to Cisdem third-party video downloader for Chrome, everyone can download videos from YouTube, Vimeo, Kaltura, Instagram, Twitch, and any website you can imagine.
The software supports video download up to 8k and batch download ten or more videos without losing quality. Apart from unlimited video download, you can convert videos to MP4, MKV, MPEG, MP3, M4V, Apple devices, Android phones, game consoles, etc.
Below are the simple steps to download & convert videos from Chrome. To know more details, see its full guide.
Step 1. Download and install Cisdem 3-rd party video downloader for Google Chrome.
Step 2. Search for a video you would like to download from Chrome and copy its URL.

Step 3. Launch Cisdem Video Converter. Paste the video URL to the "download" interface of the software. Click the download icon.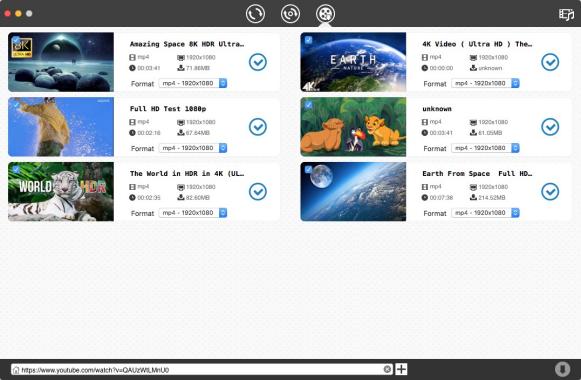 Step 4. Drag the downloaded Chrome video to the "convert" interface. Choose an output format and start the conversion.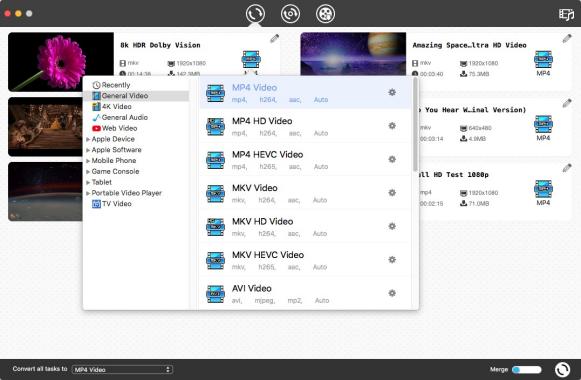 Conclusion
Choosing the satisfying video downloader for Chrome will no longer be a challenge once you read the review above. Use a Chrome extension or application to download video? It depends on your priority. To download 1080p Vimeo, Chrome add-ons will work great. But to save YouTube video or 4k video, a Chrome video downloader application is needed.