With the rapid rise of streaming services, it's time to use a DVD ripper to digitalize your DVD collections.
The good news is that there are many free DVD ripper for Mac on the market. and some even have almost all the features of a paid one, just without the cost.
But we know, ripping DVD is a time consuming task. you don't want to use dodgier free apps which bombard you with unwanted ads. and we're surely don't need apps that rip DVD with poor quality like output video in 480p or worse. and it's frustrating to find out the so called free Mac DVD Ripper adds a watermark on the output video.
Below is the best free Mac DVD rippers we found that is safe without watermark or other limit. We've used all of these programs and our favorites are Cisdem DVD Ripper for Mac, MakeMKV, and HandBrake.
Best DVD Ripper for Mac (Support DRM-ed DVD)
Rip movie DVD to MP4/HD MP4/HEVC MP4, MOV, AVI MKV, M4V, etc.
Extract audio from DVD to MP3, AAC, AC3, WMA, WAV, FLAC, etc.
Convert DVDs to optimized presets for iPhone, iPad, HUAWEI, MI, PS4, etc.
Rip DVD/DVD folder/ISO to digital formats
Remove DVD copy protection like Region Code, CSS, etc.
Convert video & audio files between 300+ digital formats
Download videos from 1000+ websites, YouTube.com included
Trim or extract any part of video or audio from the DVDs.
Add external subtitles, apply effects, and merge DVD videos.
Rip DVD to with high quality and optimal file size.
Advanced settings to change the output file codec, quality, bitrate, etc.
Preview DVD movies via built-in video player
30X faster speed

Free Download
8 Tips to Choose the Best Free DVD Ripper for Mac
There is a vast variety of free Mac DVD ripper software on the market. Each of them has a common advantage, which is to help you rip DVD for free. But it's not enough, and more aspects you should take into consideration while choosing a free DVD ripper for Mac. I've sorted out several tips below for your reference.
1. Rip Copy Protected DVD - Now Many DVDs are copy protected, the ability to defeat copy protection is a key factor to consider.
2. Support for Blu-ray - Ideally, you want a program that can also rip digital files from Blu-ray Disk. As of the end of December 2019, revenue of Blu-ray disk has $43.15 million.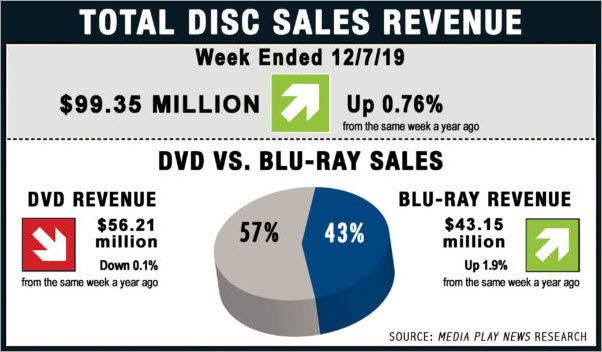 3. DVD Ripping Speed - DVD videos are usually in large sizes and need to spend some time to convert. Using a super-fast free Mac DVD ripper will save you a lot of time.
4. The Output Quality - To enjoy the high-definition video is of great pleasure. Or else, not only your eyes may get hurt, but also the annoying jumpy and mosaics will also bother you.
5. Supported Format - The output format compatible with your digital player device is another point you should take in. The more output options, the better the DVD ripper.
6. Additional Customization Features - It will be the icing on the cake if a free DVD ripper lets you configure the output parameters and edit DVD videos before ripping them out.
7. Easy to Use - A good free DVD ripper for Macintosh should also be simple to set-up and use and doesn't get in the way of your workflow.
8. macOS Compatibility: As we are ripping DVD on Mac, support for the new macOS Ventura and M1/2 Macs is also very important.
The List: Top 6 Free DVD Rippers for Mac (Updated in January 2023)
#1 HandBrake
OS Platform: Current version 1.6.0 supports macOS 10.13 or later. macOS Ventura included.
Supported DVD Type: Homemade DVD,VIDEO_TS Folder, Blu-ray
Watermark: No
Free Features: Rip DVD, Convert between video and audio files.
HandBrake is an open-source video transcoder. It's the most welcomed free DVD ripper for Mac and Windows. The app was produced by Eric Petit and originally designed for ripping movies from DVD.
Today, Handbrake allows you to rip non-protected DVDs, Blu-ray to MP4, MKV, and universal device presets like iPhone, iPod, Apple TV (2/3), Android Tablet, etc. But this free Mac DVD ripper can only output MP4 or MKV video files. If you wish to make the ripped video compatible with other formats such as AVI, MOV, MPEG, MP3, etc., HandBrake can't help.
Its ripping speed depends on the files upload. For a small file, it won't take too long. For a large one, it maybe takes a long time. The final quality is not bad. If you are not hurrying to get your converted video, you could take it.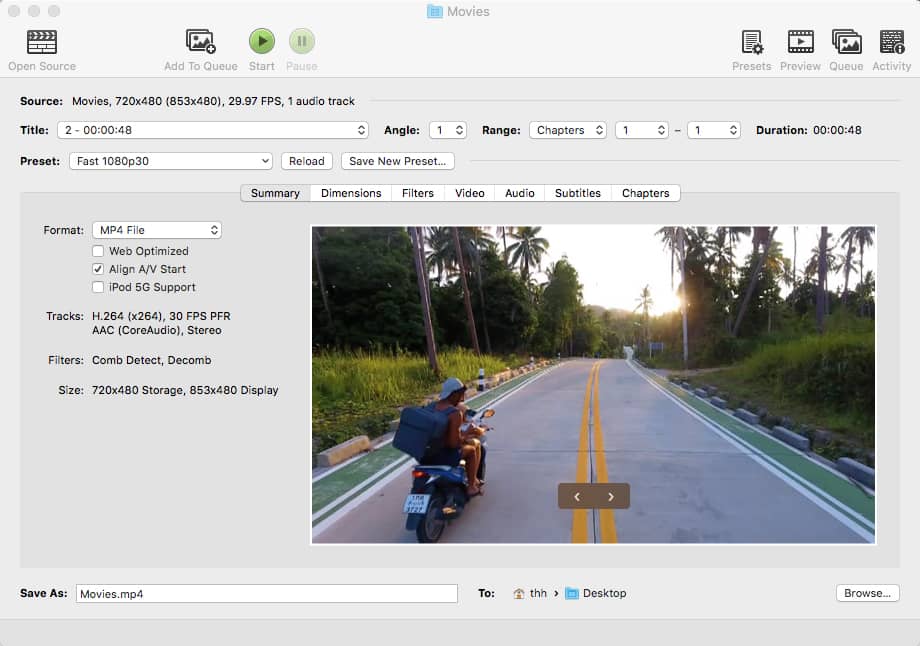 The Features that makes Handbrake as the best free DVD Ripper on the list
1. Free and open source DVD ripper and video converter.
2. Supports multiple platform (Windows, Mac and Linux)
3. Supports converting DVD and Bluray sources.
4. With the help of libdvdcss handbrake can also rip copy protected DVDs.
5. Tough it is totally free, it get free update at a relatively high frequency.

What to expect when using Handbrake to ripping DVD
When ripping DVD movies, handbrake will re-encodes the video into AVC, this will output the video in smaller size, but this also means there will be quality loss. So if you want to get the exact 1:1 copy of the DVD, then handbrake is not what you need.
If you get error messages like "no valid source or titles found" using Handbrake, it means that is DVD is encoded with CSS or region code, please go and download libdvdcss.
Even pared with libdvdcss, handbrake can only handle basic DVD encryptions, for complex DVD copyright, you may found it will failed to rip or the converted video and audio are often out of sync.
On DVD ripping speed, we find that on a normal machine ripping a 3h DVD disc on Mac it needs about 45 minutes, output in a 2.2GB around file. But for copy protected DVD it will become very slow sometimes.
How to use HandBrake to free rip DVD:
1. Just download handbrake totally free at https://handbrake.fr/
2. Choose the platform you need, and here we will choose macOS.
3. Follow the detailed guide here to rip DVD with Handbrake.
#2 MakeMKV
OS Platform: Mac OS X 10.7 or later. macOS Ventura included.
DVD Types: Homemade/Copy Protected DVD Discs, Blu-ray
Watermark: No
Free Features: Rip home made or copy protected DVD to MKV.
For users who want to free rip DVD movies for archival and have a very strong demand on original quality, MakeMKV is the best free DVD Ripper for them. it only repackages the DVD contents and changes the container from DVD to MKV. Also, the ripping speed is quite fast.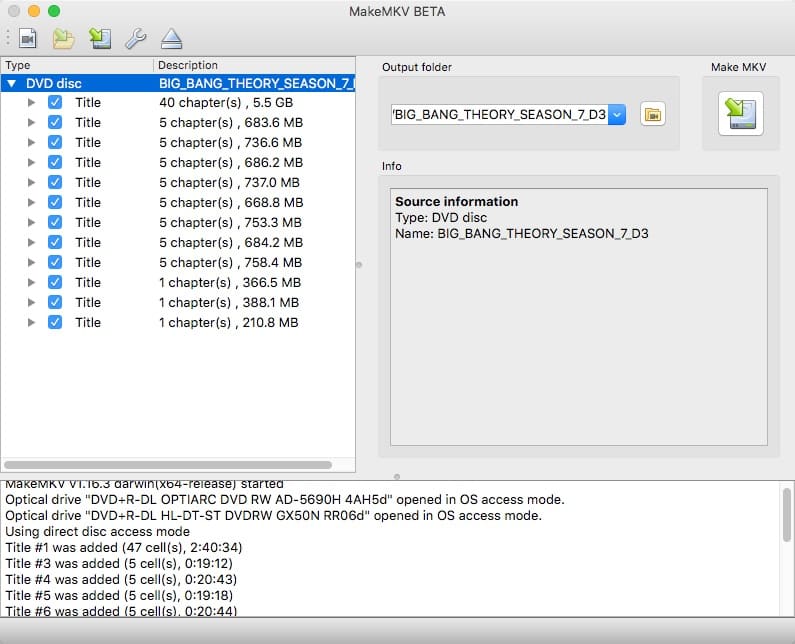 What MakeMKV Excels
1. Supports DVD and Blu-ray discs.
2. Support ripping copy protected DVD.
3. Available on Windows, Mac, and Linux.
What to expect when using MakeMKV to rip DVD
Just as its name suggests, MakeMKV can only rip DVD to MKV. which is not compatible with most of the Mac software like quick, iMovie, etc.
MakeMKV is the best free software that will rip DVD while maintaining 1:1 quality. But at the same time you will get gigantic file, so be prepared to have large space for storing it. in this case we recommend using a cloud storage.
Also MakeMKV don't supports any editing and adjusting
How to use MakeMKV for free:
Download MakeMKV at:https://www.makemkv.com/ it is extremely easy to use. Insert a disc, process it, then save it in MKV format.
#3 MacX DVD Ripper Mac Free Edition
OS Platform: Mac OS X 10.6 or above. macOS Ventura included.
DVD Types: Homemade/Copy Protected DVD Discs
Watermark: No
Free Features: Rip home made DVD.
MacX offers a free DVD ripper for Mac users. The free version can rip DVD movies to MP4, MOV, M4V, MP3, AAC, AC3, Apple TV, and iTunes.
But Compares with its paid version, it's unable to back up & rip the latest copy-protected DVDs for free, and rip DVDs for some hot devices, like iPad Pro, iPhone (11/Pro/Max), Android, Samsung Galaxy S7, HTC, PS4, etc.
If you can bear the limited output formats and unsatisfying speed, this Mac DVD ripper free is a decent option. Anyway, it can meet your basic DVD ripping necessary.
Note: MacX seems to have given up upgrading and promoting DVD Ripper Mac Free Edition. The download link on its official website has been replaced by MacX DVD Ripper Pro (the paid program). To download the free version, you are able to find it on some app download sites like softonic.com, download3k.com, etc.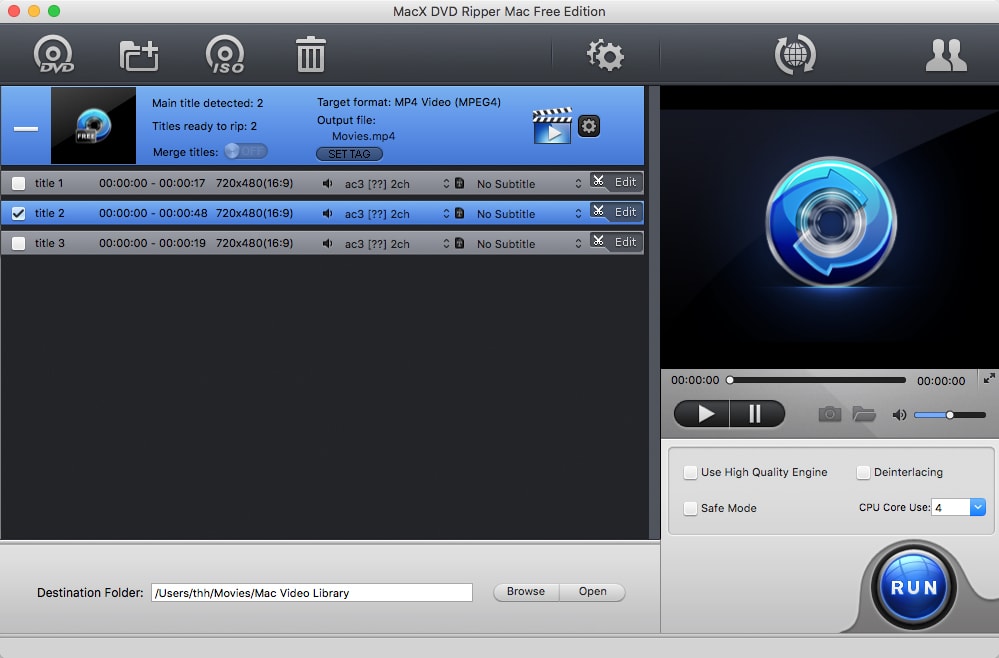 #4 ffmpegX
OS Platform: OS X 10.7 to 10.14 (OS X 10.3 to 10.7 version available on official site)
DVD Types: Homemade
Watermark: No
Free Features: Rip home made DVD.
ffmpegX is an open resource free DVD ripper for Mac. It was first to run on Linux, and later it can be compiled under most operating systems, including Mac OS X, Microsoft Windows, AmigaOS.
ffmpegX is a very experimental and developer-driven project. It supports the most popular formats except HD video. Based on the customers' review, its output quality is not too bad. The components mpeg2enc (mpeg-2 encoder and multiplexer), mencorder (mpeg-4 encoder with subtitles support), myplayer are not distributed with ffmpegX and must be self-installed.
This free DVD ripping software for Mac has not been updated for over 10 years. When you start encoding, it's prone to failure. Meanwhile, ffmpegX doesn't recognize a DVD disk device, just a DVD folder & VOB file, and can't remove any DVD decryption.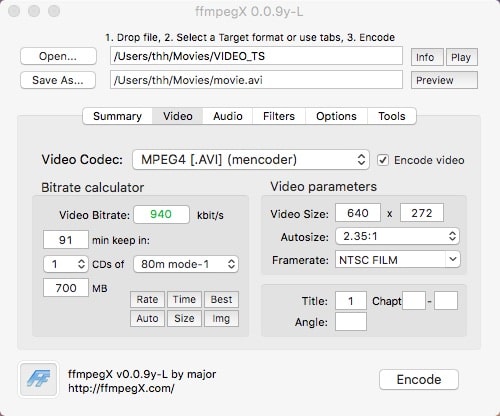 #5 MacTheRipper
OS Platform: Mac OS X 10.8 or higher
DVD Types: Homemade/Copy Protected DVD Discs
Watermark: No
Free Features: Rip home made or copy protected DVD.
MTR (named MacTheRipper) is the Mac's oldest and smartest DVD - backup application, now greater than ever. The speed of the MTR is ok. It merely takes a few minutes to rip a small DVD.
However, this free DVD ripper for Mac is unstable, especially on Sierra, High Sierra version, and later versions. It may be crashing, shut down by itself, or failure to launch. And the output quality will not as good as you think.
Note: MacTheRipper is no longer free currently. For example version 5.0.0.5 is a paid upgrade. Licensed owners of version 4.3 who donated within the last 365 days can upgrade for free. But for those who donated more than 365 days ago should upgrade for $10. The last free version is MacTheRipper 2.6.6, which only supports Mac OS X 10.6 Leopard or older.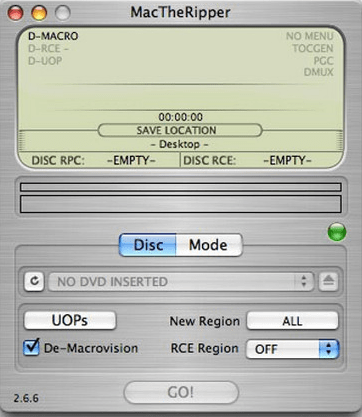 #6 VLC
OS Platform: Mac OS X 10.7.5 or above. macOS Ventura included.
DVD Types: Homemade
Watermark: No
Free Features: Rip home made DVD.
VLC, we mean the popular media player you may already installed on your Mac. It has a hidden feature of ripping DVD. It runs well on Mac, Windows, Android, and Ubuntu. The process of using VLC to rip DVD is a little bit complicated, but you can easily find loads of tutorial on YouTube.
However, it is only a sub-function of VLC, it is not dedicated to rip dvd movies, it can not process videos, DVD folders, or ISO images in batches and won't defeat any kind of DVD DRM. And you have to accept the fact that using VLC to free rip DVD will cause quality degradation.
Note: If you agree with its concept and its effort in developing VLC, don't forget to donate $5.00 on its page.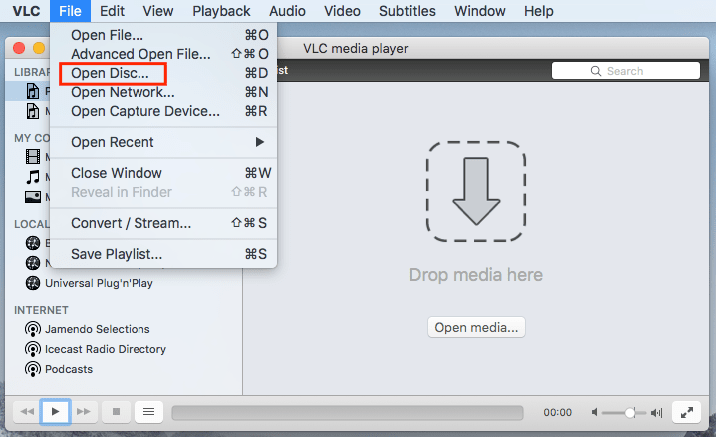 Where Free Mac DVD Riper Software Fall Short?
From the above introductions, we can judge that the free Mac DVD ripper has obvious shortcomings, for example:
Can't retain high-quality output
The speed is not always fast
Limited output formats and profiles
No further video editing feature
Can't rip DRM encrypted DVDs, like Handbrake and VLC
Stop update, like MacX DVD Ripper Mac Free Edition
Not free in the new versions, such as MacTheRipper
Difficult for the novice, such as FFmpeg
It seems that no free Mac DVD ripper meets the criteria mentioned in part 1, but paid one does. Therefore, you are better off using the commercial and effective DVD ripper instead.
Perfect Alternative - The Robust yet Simple DVD Ripper for Mac
Cisdem Video Converter is the best alternative to the free DVD ripper Mac. It's a highly interactive program that delivers lossless ripping of media content at an ultra-fast speed and obtains high-quality possible results. It provides a free trial version for you to test its performance before purchasing. The trial version can rip the first 5 minutes of the DVD. If your DVD video is less than 5 minutes, it will convert half of the content.
Features of the best DVD ripper for Mac:
Rip general or copyrighted DVD to mainstream video/audio formats
Rip movie or music DVD to ready-made presets for all popular devices
Adjust the frame rate, resolution, bit rate, etc. of DVD video
Edit DVD video with trimming, cropping, subtitles, watermarks, and more
Convert digital video from one format to another
Download videos from YouTube, Vimeo, Facebook, and other 1000+ sites
Rip DVDs, convert & download videos in batches
Crisp and easy-to-use interface
Available on OS X 10.12 or higher, including macOS Monterey, Ventura.

Free Download
How to Rip DVD via the Best Alternative to Free DVD Ripper for Mac:
Step 1. Launch Cisdem Video Converter
After installation, run the software. You will see 3 tabs for different functions. The second tab is for DVD ripping.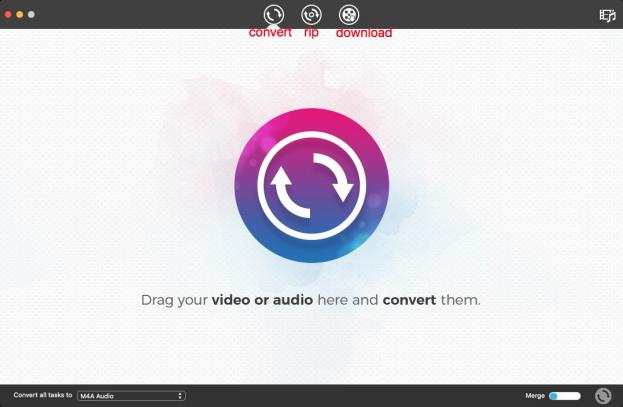 Step 2. Import DVD videos
Insert your DVD into the Mac slot. Its icon will appear in the sidebar of the Finder app. Then you have two ways to add the DVD disc:
Straightly drag the DVD or VIDEO-TS folder to the interface of Cisdem Mac DVD ripper.
Navigate to "File" > "Add DVD" in the menu bar to import your DVD content.
Step 3. Configure output profiles
Click the format icon to open the output file panel. All the output formats have been already divided into various categories. For example, if you desire to play the DVD movie on your iPhone, you can go to "Apple Device" > "iPhone", and choose your phone model. Or select the universal format- MP4, just head over to "General Video" > "MP4 Video".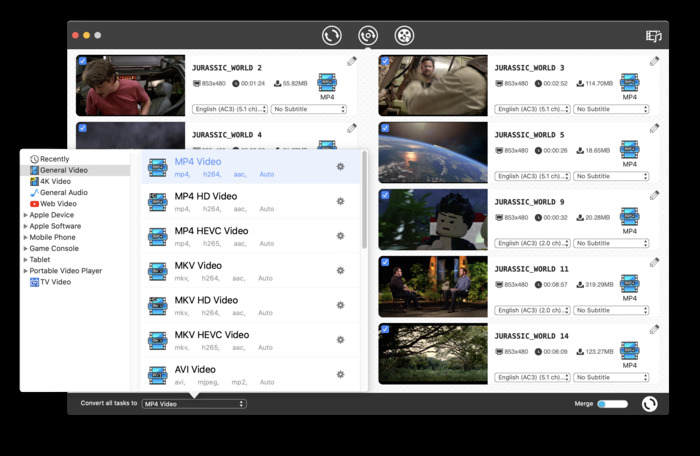 For getting better video/audio quality, click

icon to open a window, and tweak the output parameter settings.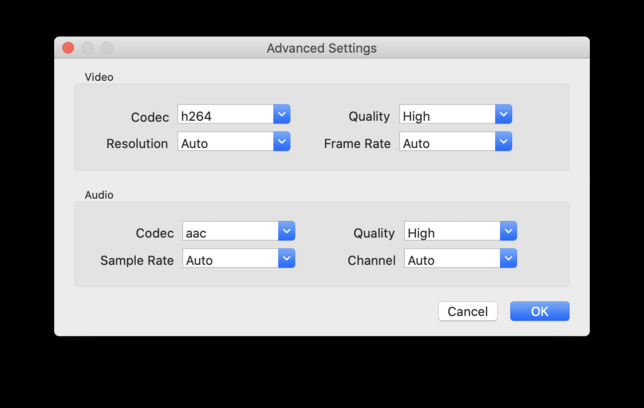 Step 4. Choose titles and languages
A DVD movie may contain multiple titles, audio languages, and subtitle languages. You can manually choose what you want.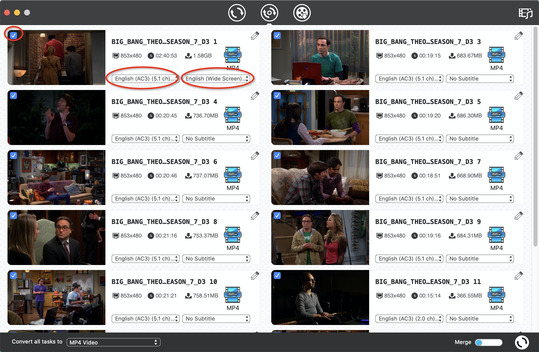 Step 5. Rip DVD to digital files
Hit

button at the lower right corner to begin ripping your DVD to MP4, Apple TV, or other formats.

Free Download
Pro tip: edit your DVD videos
Click

button to find your ripped videos. Drag-n-drop them to the "convert" interface.
Click

button, and you'll able to edit the DVD movies by rotating, adding 3D effects, and external subtitles & audio.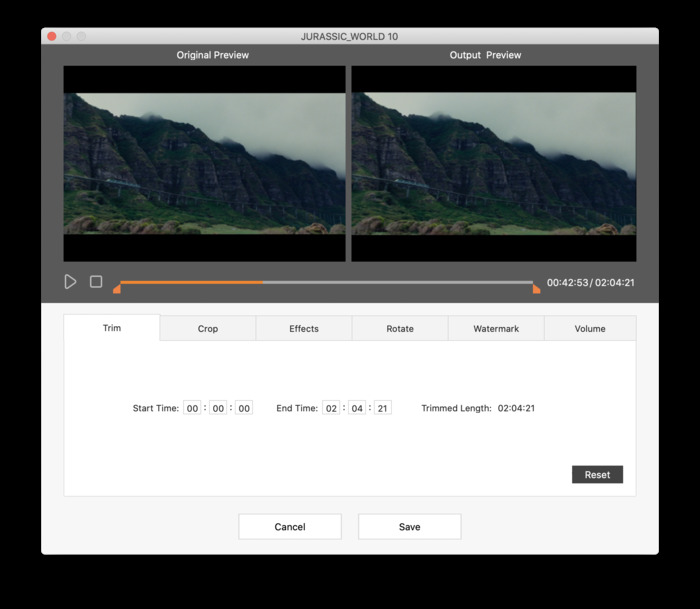 FAQs about Free DVD Ripper for Mac
Will ripping DVD damage the physical DVD?
No, Though it is called ripping a DVD, not infact ripping does not damage the physical DVD and it will not change the content on it. All it does is reading the data from a DVD disk.
How long does it take to rip a DVD?
The time to rip DVD movies varies greatly based on DVD-ROM performance, HDD performance, CPU performance and cleanliness of the disc itself. Typically, it will take 10-30 minutes to rip a standard DVD movie.
What is the Difference between DVD Ripping and DVD Copying
DVD ripping is aimed at ripping DVD movies into video and audio files for playback on media players and devices. While, DVD copying is aimed at back up DVD movies as DVD folder or ISO image file.
Bottom line
These are the 6 free DVD rippers for Mac you should have a try. If you only want to rip DVD to a common-used format without editing feature, I recommend Handbrake, MakeMKV, and VLC for beginners. For users who are using OS X 10.6 or lower, MacTheRipper 2.6.6 and ffmpegX are nice options. To make everything easy and efficient, an all-in-one DVD ripping software for Mac like Cisdem Video Converter is the best choice, which can rip copy-protected DVDs as well.