To prevent video download, some websites like Facebook and Instagram use a blob URL to encrypt the video link. When you try to download video with the blob URL, you may encounter various errors. As the blob URL is not the real video URL. So how to download blob videos? In this post, we will show you how to get the real blob video URL and download blob videos as MP4, MKV, MP3, etc.
This method works for all kinds of blob videos, like Facebook blob videos, Vimeo blob videos, JW Player blob videos, etc.
All-in-one Blob Video Downloader
Download blob videos from over 1000 video sharing sites
Download 720p/1080p/4k blob videos
Convert video to 500+ video/audio/presets (iPhone 12 included)
Edit blob videos: merge, trim, crop, add watermark/subtitles, and more
Compress video into smaller size via HEVC/H.265 codec
Digitize and backup DVDs to any format
Batch download and convert videos
Work on macOS and Windows computer

Free Download

Free Download
Facts You Need to Know about Blob Video
What is Blob Video?
When you use a crawler to crawl some videos or search for "src" of a video tag on Vimeo, Dailymotion, Twitter, YouTube, Facebook, etc., you might find blob video URLs in Inspect Element with URL like this:
blob:https://XXXX.com/f2131345-fac6-4ec4-8038-4dc5ed27b2ff
What is blob, why these URLs can't be opened and return "404", "Your file was not found", or other errors?
Blob: https is not a protocol, but a string of tags generated by the blob object in HTML5. The browser will parse the data contained in the blob object internally. The blob URLs are always short and allow to access the Blob. but it is only valid within the current document, while it's open.
How to Find a Blob URL and Decode the Real Download Link?
Open a blob video.
Right-click the page.
Choose "Inspect".
In the "Element" tab, Ctrl + F and search the keyword "blob".
Copy the src of the blob video, the url may look like https://XXX.com/XXX
Copy the link and edit to with your id ABC like this: https:XXX/XXX/ABC
Replace the url blob:https://XXX/XXXXXXXX-XXXX-XXXX-XXXX-XXXXXXXXXXXX inside the SRC with the URL we created step 6.
Now you can use this new link to dowload blob url video directly.
Can I Still Download Video Blob Free from Inspect?
It depends on website codes. Some websites support blob video download, others may not.
The most common way recommended in the forum: open a blob video > go to "Inspect" > "Network" tab > download video in .m3u8 or .ts format.
However, I don't think it's a good way to download blob videos from "Inspect":
Blob videos on different websites have different codes. You need to spend a lot of time studying them separately.
The codes of blob videos are keeping updating, hence the solution doesn't always work.
A bit complicated for non-programmers.
The blob videos in "Inspect" are broken down into many small clips in .m3u8 or .ts format, which are not easy to play.
How to Download Blob Videos on Mac/Windows via URLs?
Each blob video has both a blob URL and a regular URL. For example:
Blob URL: blob:https://vimeo.com/f2131345-fac6-4ec4-8038-4dc5ed27b2ff
Normal URL: https://vimeo.com/42196073
Blob URL: blob:https://twitter.com/d87042a5-5107-4bee-b796-ca683311fae6
Normal URL: https://twitter.com/MountainButorac/status/844505243538931714
Blob URL: blob:https://www.dailymotion.com/8e6f41ff-830d-4f3d-8562-64f53e3148b3
Normal URL: https://www.dailymotion.com/video/x7b56dr
You can't download video via a blob URL but via a regular URL with the help of video downloader tools.
#1. Cisdem Video Converter (Mac, Windows)
Cisdem Video Converter is a highly praised blob video downloader, capable of downloading blob videos from Facebook, YouTube, Vimeo, JWPlayer, Dailymotion, Livestream, and other 1000+ video sharing websites. It allows you to rip DVD as well as convert downloaded blob videos to an array of popular formats like MP4, MKV, FLV, MP3, WebM, etc. in super good quality.
How to Use Blob Video Downloader:
To get the blob video downloader, click the "Free Download" button above. Once the downloading process is finished, install, and run the software on computer.
It will open to the "convert" tab (the first tab). You should switch to the "download" tab (the third tab).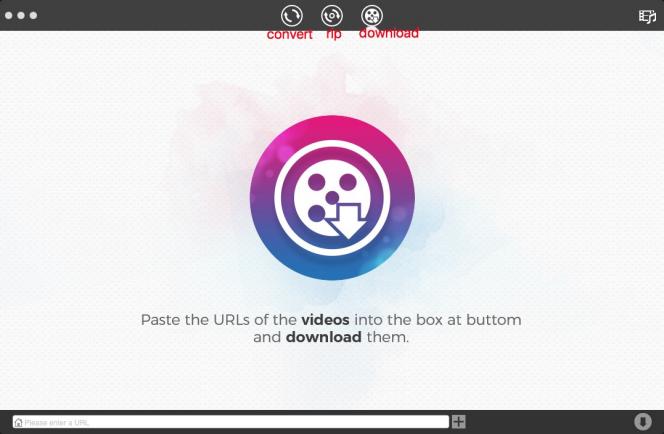 Step 1. Copy & Paste the Video URL in the Software
Locate to a blob video and copy its normal URL (from the address bar or right-click the video to get the URL).

Back to Cisdem Video Converter, and paste the URL of blob video in the white download box at the bottom.
Step 2. Download Blob Video on Mac or Windows
Click the

button to save blob video on your computer. You can download multiple blob videos in batches. Just click

and repeat step 2 to add video links and start to download them.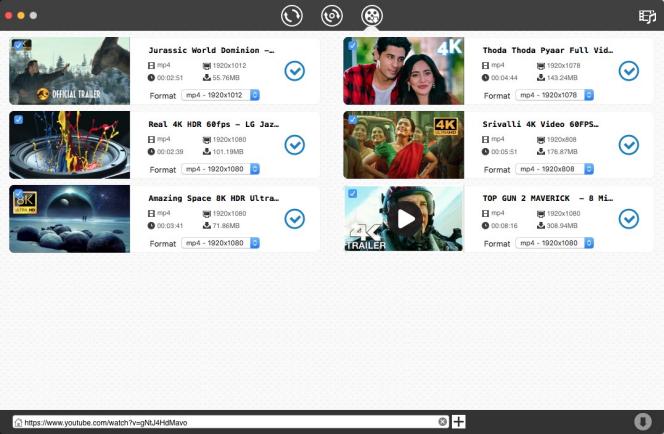 Click the

icon to bring up the folder named Cisdem Video Converter on Mac or Windows, in which you can see the downloaded blob videos.
Step 3. Convert Blob Video to Desired Formats (Optional)
Go to "convert" tab > drag the blob videos to it > open up the format library > select any of the formats > click the

icon to tweak the quality, bitrate resolution, etc. of the output files.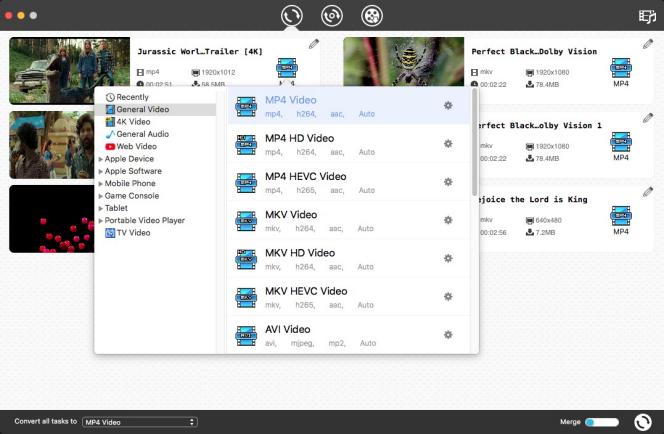 When all are settled, click the

button to convert blob videos to your favorite formats.
#2. Freemake Video Downloader (Windows)
Freemake Video Downloader is an enormously sought-after video downloader software compatible with Windows 10, 8, 8.1, 7, Vista, etc. It delivers what its name promises, enabling blob video download from heaps of sites, including Facebook, Dailymotion, YouTube, and more. But if you don't upgrade to Freemake Premium Pack, you can't download blob videos longer than three minutes.
Step 1. Get Freemake Youtube Downloader on Windows, install and run launch it.
Step 2. Copy the normal URL of a blob video that you would like to download.
Step 3. Return to the software, and click the "Paste URL" button in the top left corner. It will analyze the blob video and add it to the download list.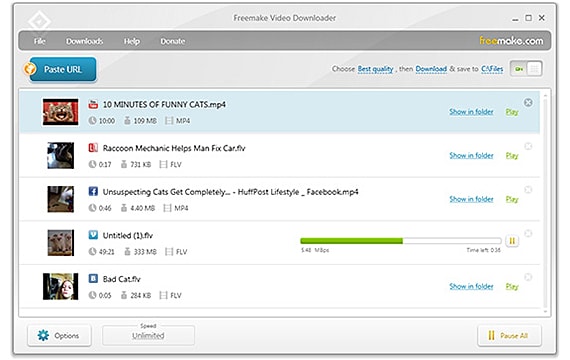 Step 4. From the pop-up window, choose the output quality and action (only download or convert to XXX format).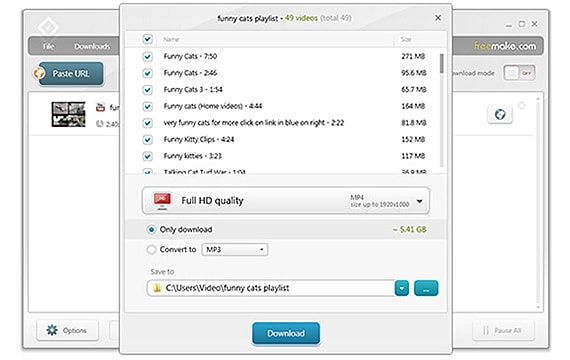 Step 5. At last, specify the output location and start to download video blob on Windows.

#3. Download blob video with VLC Media Player
The most straightforward way to download blob video is VLC, it is easy and free. Here, we'll show you the easy step to download blob video with VLC.
Step 1. Open VLC on your Mac and PC.
Step 2. In the toolbar, click Media > Open Network Stream.
Step 3. A new window will open, please copy and paste the real blob video url to VLC.
Step 4. After adding the URL, VLC will start streaming the video, please click the little triangle arrow next to the Play button, and hit Convert.

Step 5. In the pop-up window, choose MP4 or other video formats you like.
Step 6. Click Start and VLC will begin downloading blob videos.
#4. SaveFrom.net (Blob to MP4 Converter Online)
SaveFrom.net captures blob video from site the moment you enter the video link. It helps you download videos from over 40 media streaming sites, such as YouTube, Break, Hotstar, Bilibili, Streamago, etc., and save them as MP4, FLV, or WEBM. Aside from the online version, this blob video downloader also has an Android app and a browser extension known as SaveFrom.net helper.
Pros:
Download blob videos online free without installation
Can detect M3U8 files, and all videos will be downloaded and merged into MP4.
Cons:
Full of annoying ads
Can't download 4k blob videos
No more selectable output formats and quality
Can't bulk download videos
Step 1. Visit https://en.savefrom.net/1/.
Step 2. Copy the link of blob video and enter your URL in the form box.
Step 3. Choose an output quality.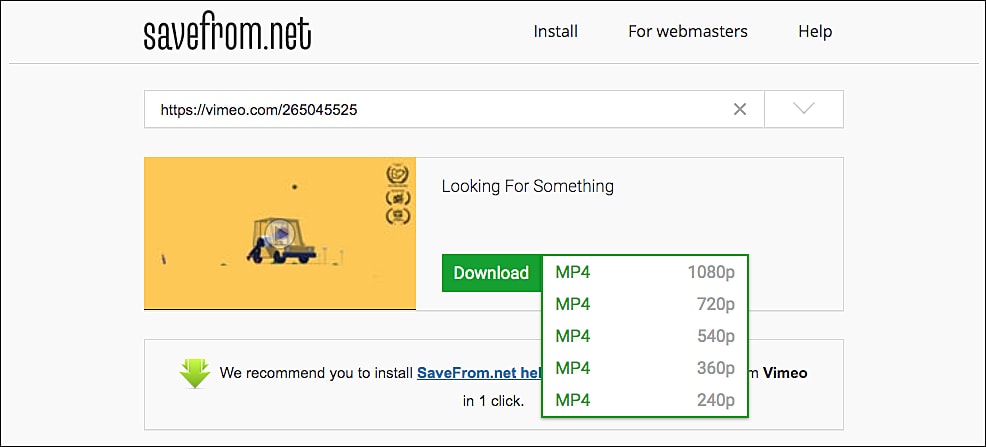 Step 4. Click the green "Download" button, and it will redirect to a new page.
Step 5. Click the three dots button in the bottom right of the video, and then click "Download" again.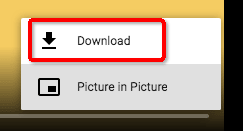 How to Download Blob Videos on Chrome, Firefox, and Safari?
#1. Blob Video Downloader Chorme - Stream Video Downloader
Stream Video Downloader is considered as one of the best blob downloaders extensions for Google Chrome. It works on most mainstream blob video websites except YouTube. On the Chrome web store, you can find an extension with the name you want- Blob Video Downloader (powered by blobvid.com). But actually, it doesn't work at all for me.
Pros:
Easy to use
Support a few websites
Cons:
The download process may stop at 1~99 percent
Might download a white file with nothing in it
Step 1. Install Video Stream Downloader from Chrome web store. Just search its name and add the extension to Chrome.
Step 2. Open a blob video on the website you need to download and play the video to help the extension detect it. You will see the icon of Video Stream Downloader in Chrome's toolbar become green.
Step 3. Click on the extension icon, and the blob video that is playing will be displayed in the pop-up dialog with various quality levels.
Step 4. Choose one of quality and click the "Download" button next to it. It will start to download blob video Chrome.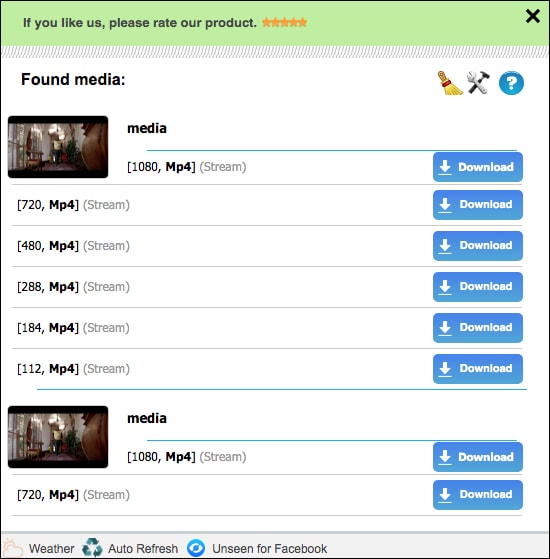 #2. Blob Video Downloader for Firefox - Video Downloader Pro
Video Downloader Pro is a Firefox add on that gives you the ability to download blob videos and embedded video in Firefox for free. It supports several types of streaming like Dailymotion and Bilibili. With this clean blob video downloader, you are able to capture the complete browsing sessions on Firefox and generate videos out of them.
Pros:
No ads
Fast blob video download with a single click
Cons:
May fail to detect blob videos playing on the screen (No videos found)
Do not support Youtube.com, Vimeo.com, etc.
May Divide blob video into too many 100 kb small segments
Step 1. Open Firefox browser and navigate to the Video Downloader Pro addon page, and click "Add to Firefox".
Step 2. Click "Add" to confirm the installation, and the icon of Video Downloader Pro will show up beside the address bar.
Step 3. Visit a blob video and wait for Firefox addon to detect it.
Step 4. Click the add-on icon. From the drop-down menu, select one of the available quality formats and begin to download blob video Firefox.

#3. From Activity Window (Prior to Safari 6)
The older Safari version has a hidden feature that can download a blob video on Safari.
Pros:
No need to install plugins and extensions
Cons:
Only available on older Safari version
Step 1. Launch Safari. From the menu bar, click the "Windows" tab > then "Activity".
Step 2. Head on to a website where the blob video is and play the video.
Step 3. Go back to the "Activity" tab and find the video file from the list.
Step 4. Double-click it to download the video.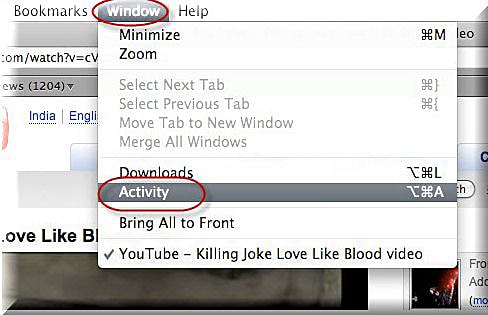 Can I Download Blob Video via Safari Extension?
Yes, you can!
People are able to install a Safari extension: go to menu bar > "Safari" > "Safari Extensions" > get extension from App Store. Unfortunately, there is no blob video downloader tool out there.
Everything you can do is to install Parallels Toolbox (available on macOS and Windows 10 from https://www.parallels.com/products/toolbox/. But it's not as same as Stream Video Downloader and Video Downloader Pro, you have to install the .dmg or .exe file and pay $19.99/per year.
Final Thought
These are our solutions to download blob videos on Mac and Windows. We believe it really helped you in blob video download from YouTube, Facebook, Instagram, JWplayer, Twitter, and other websites. The free online tool and extensions come with limited functionality while third-party software such as Cisdem Video Converter offers more powerful features (batch download, edit, many output options, etc.). So if you need to download videos very often, using a professional tool is your best choice.