"I wish to burn an MP4 movie file to a DVD on my Mac Mini. But iDVD no longer exists in the App Store. What is the best alternative?"
MP4 is a digital multimedia format that most commonly used to store video and audio. To watch MP4 videos on your DVD player, you will need to burn MP4 to DVD disc with a DVD Burner for Mac like iDVD, because the DVD player can't read MP4 files. Starting from OS X 10.7 Lion, however, Apple stopped shipping iDVD pre-installed on Mac. Here we talk about how to burn MP4 to DVD on Mac in three popular ways without iDVD.
The Most Popular Way to Burn MP4 to DVD on Mac
System Requirement: macOS 10.12 or higher
Cisdem DVD Burner makes it convenient to burn a playable DVD on Mac from your MP4 files. The professional software aims squarely at creating DVD without losing quality and working stably with experienced as well as novice users. It's indeed a comprehensive DVD toolkit that comes loaded with formidable packed functionality. Thus I recommend it as the most effective and practical way to burn MP4 to DVD on Mac.
Benefits of the best MP4 to DVD burner for Mac:
Burn MP4, MKV, MOV, and other 150+ video formats
Burn multiple projects to DVD disc/DVD folder/ISO file
Personalize MP4 videos with watermarks, subtitles, effects, etc.
Deliver free DVD menu templates with different themes
Select the menu frame, button style, and title font
Self-define background image and audio track
Capture any scene of the MP4 video as the thumbnail
Preview the video effect and menu style before burning to DVD
Auto match PAL or NTSC based on the country or region you choose
Highly compatible with the newest operating system

Free Download
Steps to Burn MP4 to DVD on Mac with Cisdem DVD Burner:
Step 1

Install the Program
Click the "Free Download" anchor text here to download and install the free trial of the Cisdem DVD Burner. After installation, run it on your Mac.
Insert a blank DVD to the DVD drive. If your Mac doesn't have an internal optical drive, connect a USB DVD drive to the Mac.
There are three ways:
1) Click "+ Add videos" to import files from your local folder.
2) Go to the top menu bar, click "File" > "Add File (s)" to load MP4 from your Mac.
3) Directly drag MP4 video clips to the DVD burner. (Recommended)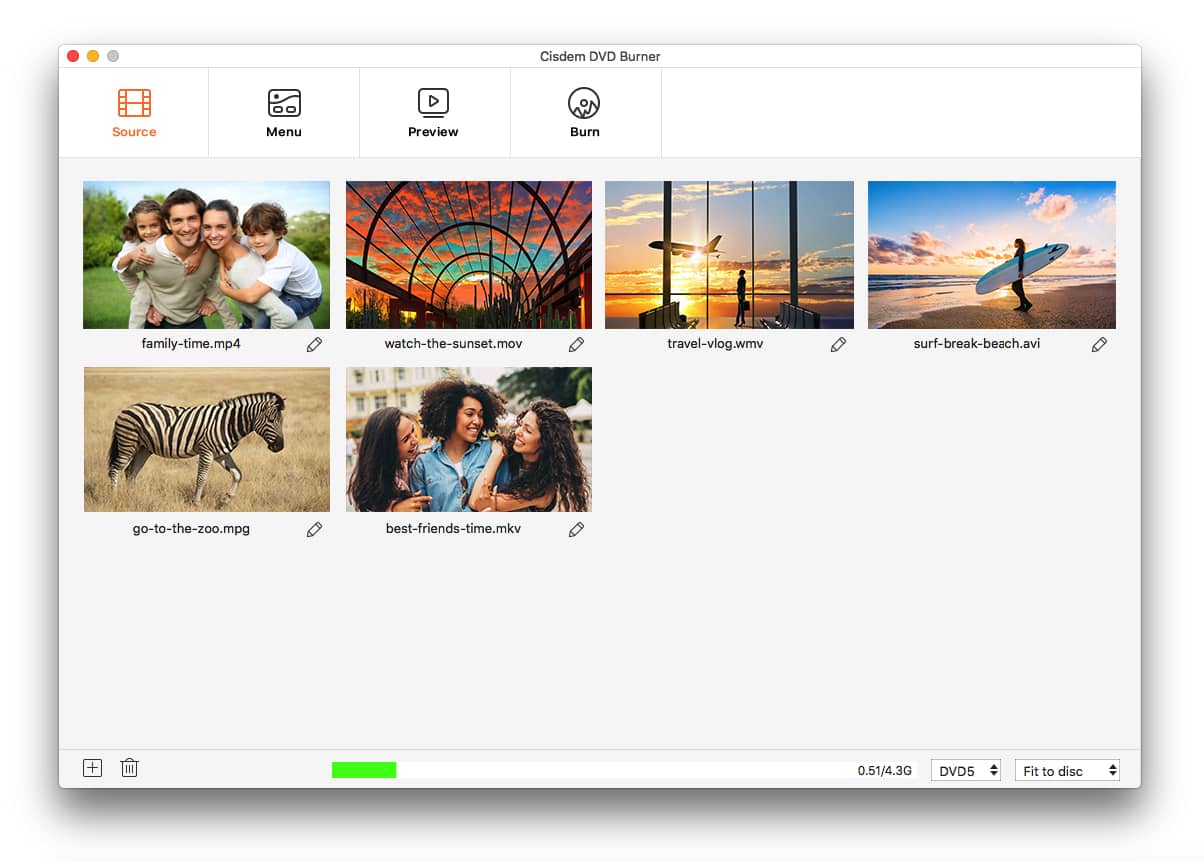 All the videos you added are listed as thumbnails on the "Source" interface. At the bottom, you can also see all used storage of the disc.
Step 3

Edit MP4 Files (Optional)
This Mac MP4 to DVD burner offers a minimal video editor. To open it, just find the video you desire to edit and click

button.
After that, you will see eight tabs:
Trim - Cut the start-point and end-point of the video.
Crop – Crop your video size to fit the screen or get rid of unwanted edge.
Rotate - Rotate a video clockwise, counterclockwise, vertically, or horizontally.
Effects - Tweak video brightness and contrast, create special effects from 10+ effects options like 3D, Halftone, Threshold, etc., and enable deinterlacing.
Subtitle - Embed external ASS or SRT subtitles onto your MP4 video.
Watermark - Add text/image watermarks to video, specify their positions, and adjust the transparency.
Chapter - Separate your title into multiple logical chapters grouped by time intervals.
Volume - Increase or decrease the volume of the DVD file.
Make some changes to them according to your demands.

Step 4

Customize DVD Menu for the Video (Optional)
Click the "Menu" tab, it will switch to the Menu making window. You are able to make a DVD menu with the help of:
Free yet themed menu templates for parent-child, journey, memory, birthday, etc.
Title (optimize the text with font, color, and size)
Video thumbnail frames and menu buttons
Backgrounds (add your favorite image and song)

Step 5

Configure DVD Parameters
Click

to check if the video features are added as what you want. If you confirm it with no problem, click

to navigate to the DVD output setting window. Choose the "Burn to Disc" as the output type, and preset DVD parameters like TV standard (NTSC, PAL) and playback mode (totally 3).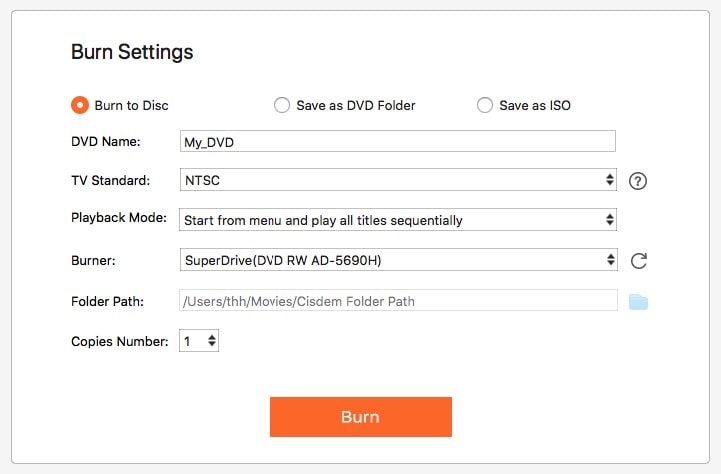 Step 6

Burn MP4 to DVD on Mac
Click the "Burn" button, and start an MP4 to DVD burning trip. It processes faster than you expect.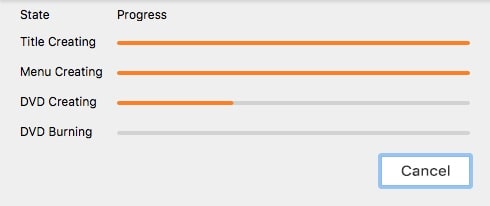 Now it's your turn to have a try!

Free Download
Advantages:
Robust and Easy-to-use
Support virtually any video input
Burn tons of videos to DVD
Create an interactive menu for easier navigation
Built-in video editor
Process 30x faster
How to Burn MP4 to DVD on Mac via iMovie?
System Requirement: OS X 10.6 Snow Leopard and earlier; the Mac that has installed a copy of the iLife 09 bundle
iMovie is Apple Inc.'s software to edit and convert MP4 and videos in other formats to DVD. With a streamlined design and intuitive editing features, iMovie lets you enjoy your videos, tell stories, browse your video library, share favorite moments. Its iCloud even allows you to enjoy videos on all your devices in iMovie Theater.
Run iMovie on your Mac. Go to "File" from iMovie's top menu bar and click "Import" to add your video files to iMovie or click the "Import All" button to import all the videos on your Mac.
Edit or add elements to your videos in iMovie. Use features such as cutting portions of clips, adding transitions to make the movie you want.
Go to "Share" from iMovie's top menu bar and click "iDVD". A progress bar may appear as iMovie prepares your project to open in iDVD. And the interface will show you the remaining time.
Wait for iDVD to open with your movie project in it as a new file. Get an individualistic name for your iMovie DVD.
Choose a DVD theme. This will allow you to customize the look of your DVD's menu. The themes can be seen in the right window pane in iDVD. Different theme means different styles, thus you can choose the theme you want.
Click "Media" in the bottom right area of the iDVD window to add more media to your video. You can add pictures and other videos.
Insert a blank DVD into your Mac's CD-ROM/DVD drive and click the "Burn" button to burn MP4 to DVD on Mac.
Compared with Cisdem DVD Burner:
According to Mac users' review, many kinds of errors occur when they used iMovie to burn DVD on Mac, while this won't happen to Cisdem.
iMovie needs 2GB+ hard drive storage on Mac for installation, but Cisdem DVD burner needs only 70MB for installation.
It is much complicated while use iMovie add subtitle to videos. It asks you to click the "Text" button and type the subtitles text word by word. Cisdem DVD Burner for Mac allows you to download and load SRT subtitles from websites like Moviesubtitles.org to the video.
Burn MP4 to DVD on Mac Using Open-source Software
System Requirement: Mac OS X 10.10 or later; Windows 10, 8, 7, Vista, XP
DVDStyler is a free MP4 to DVD burner that empowers you to convert footage into a DVD-friendly format, even design your video with ready-made DVD menus. It opens up the possibility of cross-platform work, meaning you can burn MP4 to DVD both on Mac, Windows, and Linux. Plus, the software enables you to make photo slideshows, add audio tracks & subtitles for your MP4 videos.
Click the "Add File…" button to import the MP4 videos, or simply drag the videos to the bottom of the software.
Add the menu: click DVD on Mac status bar > choose "Add" > choose "Menu".
Select the background and button.
Drag your videos to the menu and edit the properties by double-clicking them.
Insert a blank DVD disc into your optical drive and create DVD from MP4 Mac.
Compared with Cisdem DVD Burner:
DVDStyler lacks preview technology, while Cisdem DVD Burner lets you preview the finished DVD (menu included), and also comes with a remote control to check each video in it.
No ingenious DVD video editing tool to beautify the contents of input videos. But Cisdem DVD Burner does support the editing abilities.
When you spent numerous attempts to produce a working DVD from MP4 on Mac, it may tell you the data is too big to be written. Even you make some compromises on quality, the result is still the same. What a waste of time!
FAQs about MP4 to DVD Burning
Why Should We Burn MP4 to DVD?
For some precious MP4 videos, you might need to burn them to DVDs so that you can send the DVD copies to families and friends for easy sharing.
As we mentioned in the first point, some MP4 videos may be valuable and worth collecting. In this case, you have to convert MP4 to DVD Mac for permanent preservation and backing up.
You stored a number of MP4 movies on your Mac and they are taking up too much storage space. But you haven't watched these movies or you don't want to delete them. Then you'd better burn these MP4 movies to DVD on Mac.
Can I Use MP4 to DVD Converter Online?
There are masses of MP4 to DVD converters online, such as Zamzar.com and Files-conversion.com. These online services support an array of output formats, including DVD. They also don't need installing and signing up.
However, converting MP4 to DVD Mac online doesn't equal to burning an MP4 video. I tested Zamzar.com and Files-conversion.com. The results are as below:
Zamzar: MP4 video was converted to MPG; the video size is getting smaller.
Files-conversion: reduce the size of the input video.
So, you see, no actual DVD burning process happens.
Can I burn MP4 to DVD Mac via Handbrake or Disk Utility?
Handbrake is an open-source transcoder and DVD ripping program. It can only rip DVDs to MP4 digital files. If someone teaches you how to burn MP4 to DVD on Mac using Handbrake, it must be misleading you.
As for Disk Utility, it was not available since OS X 10.11 EL Capitan. But you can still burn MP4 to disc on OS X El Capitan or later by opening the process either from the command line or from your Finder app. Note: these only burn MP4 videos to data discs or disk images, not to the video discs.
Conclusion
Each MP4 to DVD burner for Mac above can save your hard drive that has been crowded with MP4 videos. Basing on my concerns involved in MP4 to DVD burning, Cisdem DVD Burner is the best program to efficiently burn MP4 to DVD on Mac. It has fabulous compatibility and performance, ensuring you to create DVD with customizable templates and effects.
But it doesn't mean the other two solutions are not worth considering. If you merely have a very basic burning need, you can try out the free DVD burning software.