Burn MKV to DVD is no complex than video converting, but many people still putting off doing it. As most of the MKV to DVD tutorials are either outdated or introduce apps that no longer work or costly.
In fact, some of the best DVD burners are completely free to download. you can even burn MKV to DVD with built-in software on your Mac and Windows.
If you're like me:
you own a collection of MKV movies. (or other videos like AVI, MOV, MP4, FLV, etc.)
you'd like to be able to watch them on your TV and DVD Player.
you need to make a menu of the DVD with or without subtitles that will playback in a standard DVD player or PS2.
This tutorial will show you how to convert and burn MKV to DVD or DVD video without quality loss. You can do this on both Windows and Mac computers using built-in and free software. And you will also find instructions for choosing a good MKV to DVD converter or burning MKV to Blu ray.
Best MKV to DVD Converter
Burn MKV to DVD while preserving all features like subtitles, audio tracks.
Support to burn the majority of video formats to DVD-5 or DVD-9
Create video DVD /ISO files/DVD project files from any standard or HD video
Build-in DVD menu templates that suites every occasion.
Crop, rotate, add subtitles/chapters and apply effects, etc. with a built-in editor
Support real-time preview
Add background audio track and external images
Control the output video volume level

Free Download
Burning MKV to Playable DVD Using Free and Paid ($) Software
If you want to make a backup copy of your MKV or burn a playable DVD from MKV, it's pretty easy—and can be free.
Your basic options are to convert your video file to a DVD-compatible format, then you'll need to burn it to a DVD. There's no shortage of DVD burning software. Most of it allows you to burn videos, movies, audio, slideshows, and other files to a CD, DVD, and Blu-ray disc.
I can not tell you which MKV to DVD Converter is the best. Also, I don't think it's best to rank them strictly 1 through 10. Rather your choice should depend on personal preferences and the features you need.
But:
I can tell you which programs are reliable and workable, which may greatly save your time.
If, you want to do the search yourself. There are some features that should be considered for a decent MKV to DVD converter.
There are many programs and software for burning MKV to DVD. Depending on the number of videos and other requirements. you can pick the best suitable method.
Features That Must Be Present in a Good MKV to DVD Converter
1. Copy full MKV features to DVD
MKV is a file format that can hold a huge variety of different audio, video, and subtitles inside a single file. So when burning MKV to DVD, you still need to maintain the extra feature of the MKV files.
This will make sure the output DVD is the same as the MKV content.
2. Preserve MKV's HD Quality
MKV is an HD video format. When burning MKV to DVD, High-def video quality also needs to be guaranteed. a good DVD Burner will redeem the data loss by advanced decoding and encoding method.
3. MKV to DVD Burning Speed
Good software must allow batch processing and burning files at a fast speed.
4. Easy to Use
Re-encode and burn the video at the same time will be a great plus.
5. Extra Features
A professional MKV to DVD converter will have some more added features. Such as free dvd menu templates, real-time preview, TV Standard setting, Aspect Ratio, Audio support, etc.
6. Burn MKV to DVD Video
Sometimes you may don't have a DVD disk at hand, so burning MKV to other files like DVD folders and ISO files will also help.
7. Support Major Video Formats
An ideal MKV to DVD converter should support popular video formats besides MKV like MP4, AVI, MOV, iTunes, etc.
8. Support Video Editing
The presence of a video editor helps to personalize videos is a good feature to have.
Best MKV to DVD Burner Compared
Talking about MKV to DVD burning software, Nero and Roxio come first on the list. But the two are not free and can be too expensive for some people.
So today, we are going to compare the most popular free and paid MKV to DVD software. Covering everything from basic disc burning to impressive MKV to DVD creation.
In the test, I ran on a 90-minute MKV movie on all the listed apps. In fact, we tried more than 10 apps. But some are too buggy, we wouldn't want to waste your time on those. Below are the workable apps in our test, you can choose the one that suits you.
In our test, we find that Cisdem DVD Burner has all the needed features and functions. Also, it gives a very high-quality output DVD. Multiple files can be processed at a time and the speed is fast.
As most of the DVD Burners work the same, here we'll show you how to burn MKV to DVD Mac with DVD Burner step by step.
Quick summary:
1. Install MKV to DVD Burner
2. Add MKV files
3. Edit DVD videos (Optional)
4. Choose a DVD menu (Optional)
5. Burn MKV to DVD or DVD video.
or Watch the video guide
Step 1. Download MKV to DVD Burner
Download MKV to DVD Burner. Run the downloaded file and follow the on-screen instructions to install the software.

Free Download
Step 2. Add MKV Videos
Add MKV video to the app by drag-n-drop. You may add bunches of clips of any number or quality.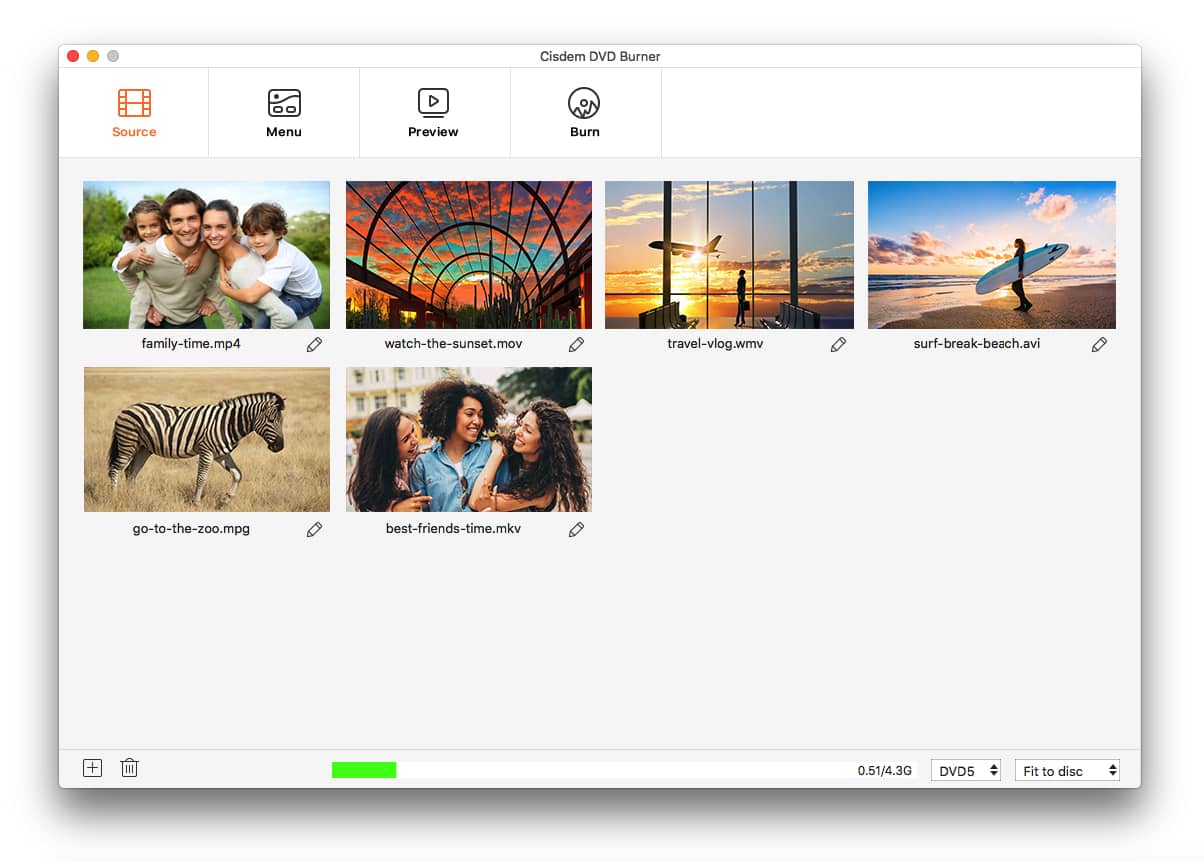 Note: The amount of MKV videos that can burn to a single DVD depends on the length of your videos and the capacity of your disc. The app will show your the used storage of the new disc at the bottom of its interface.
Step 2. Edit MKV
If needed, you can click

and make editing to MKV files to suit the requirements of your projects.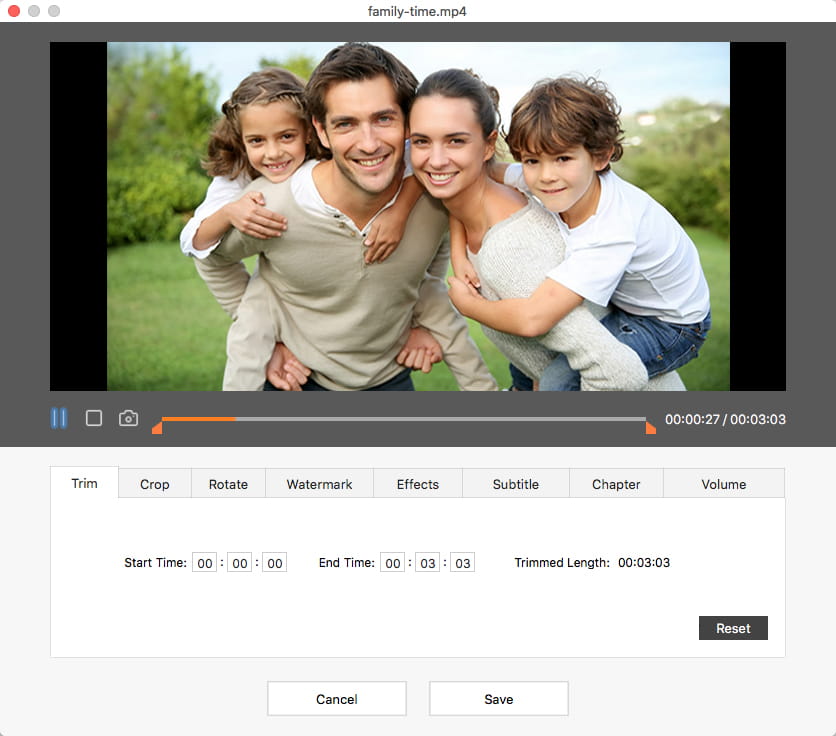 Step 3. Select DVD Template and Customize DVD Settings before MKV to DVD
Select a template that suits your movies from the left panel of the software. Click

to pop out the toolbox on the right, you can also import audio tracks and add texts to your menu there.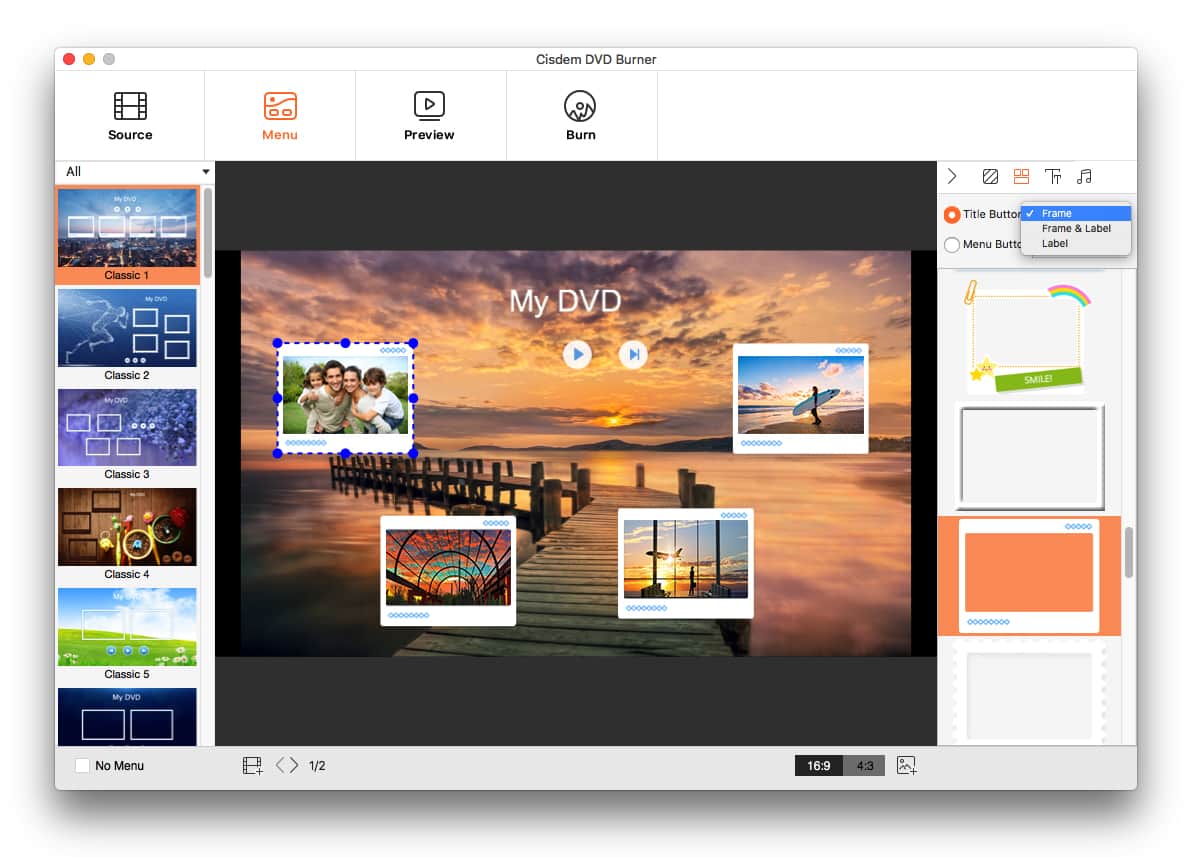 Step 4. Start to Burn MKV to DVD
Insert your blank disc into an optical disc drive when everything is ready. Click "Burn" to start the conversion. Then the program will convert MKV to DVD at a fast speed.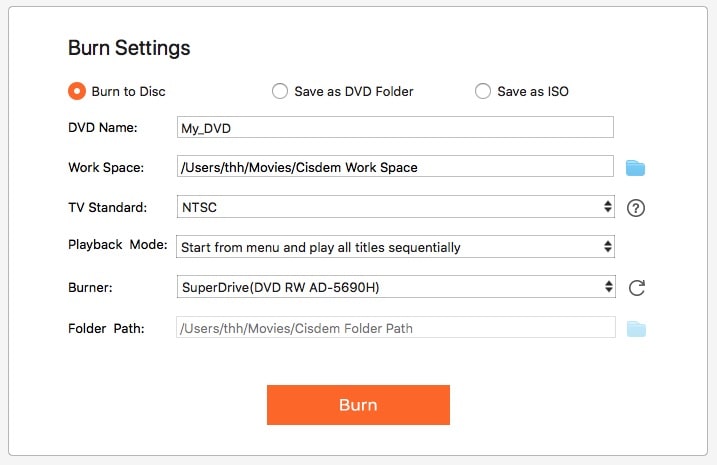 Now it's your turn to try!


Free Download
FAQs on Burning MKV to DVD
After writing this article. Some readers have been asking me about the details on creating DVD from MKV and other video files. Since I happened to be working on the DVD Burning project recently, I thought I'd whip up FAQs for this.
How to Choose a Blank DVD? Are There Any Differences Between DVD+R and DVD-R?
Blank DVDs are pretty cheap. There are two types of blank discs: DVD+R and DVD-R. These two formats are almost the same, and the current drive supports both. For an older DVD burner, it may just support DVD+R or DVD-R so you have to buy the DVDs that are compatible with your old drive.
Is There A limit on DVD Size? My MKV is Very large Can It Burn to A Single DVD
Since MKV can have several videos, many audio and subtitles tracks in one single file. It's always in large size. The total size of all the videos you put on the disc must be no higher than 4.7GB (for single-layer discs) or 8.5GB (for dual-layer discs).
Why The MKV I Burn to DVD Can't Play?
For most people who have this problem, I find that they burn MKV to a data disk instead of a video disc. A DVD data disc can be filled with any kind of date content. Whereas a DVD-Video disc consists of a defined disc format structure that lets you navigate through DVD disc menus and lets you play your files via these disc menus. So, please use the app we recommend above to burn the MKV you have to a DVD video disk that playable on DVD.
I Use Handbrake to Burn MKV to DVD, but the DVD Can't Play on My DVD Player
When using a handbrake to burn a DVD, you could always convert your MKV to DVD-Video, AVCHD, or Blu-ray. Which would allow you to take full advantage of compatibility with your player.
I Use Burn to Burn MKV to DVD on Mac, it's Super Fast, but the DVD Have Some Lags
In theory, you'll save time with a fast DVD Burning speed. But in practice, higher speeds can result in unreliable burns. So, you need to change your setting to burn your DVD at 4x or even 2x. This may cut errors.
What is TV Standard, Which One Should I Choose
If you want to play the burned disc in the USA or Canada, you should choose the "NTSC" option. If you are from Europe, Australia, or New Zealand, "PAL" will be the used option.
Is There Any Online Free MKV to DVD Solution?
No, there are no apps online that can convert and burn MKV to DVD directly. But there are many online sites that can convert MKV to MP4 format. and you can use apps like DVDFlick, Imgburn to burn MKV to DVD. But I don't suggest you do so, as online sites are always not safe and all have limits on file size.
Play MKV Files on Standard DVD Players and TV
Can we play MKV on TV or DVD player directly? NO, you can't play it on your DVD player directly since the DVD player only supports MPEG-2 format.
Yet, for some people, chances are that they may don't need to burn MKV to DVD. If all they want is to play MKV files on TV, things are much simple. Using a standalone media player such as WDTV, Roku, etc. to play MKV on your HD or even SD TV. Here is how to do it.
1. Copy the MKV video files to a flash drive or hard drive.
2. Plug the drive into the WDTV or Roku box.
You Can Also Play MKV files With Streaming
We can also stream MKV to playback on TV, PlayStation 4, Xbox One, and a host of other popular devices. Here is how:
1. First, make sure your PC is connected to the same wifi network as your TV or streaming device.
2. Add your MKV file to your Plex library on your PC. Once you've added the movie, it should show in the Plex app on your streaming device. Then, click play!
Hope you guys found this useful! Please vote or add your favorite way to burn MKV to DVD!