We often need to burn MP4 to DVD for playing the SD/HD movies on a DVD player or permanently saving the memorable videos. But what if you don't have a blank DVD or the DVD did not work due to scratches? No worries, just convert MP4 to ISO!
ISO is an archive file that can contain the entire duplicates of an optical disc, like a CD, DVD, or BD. And you can directly burn the ISO file into a disc, which is equivalent to disc copying.
In this post, we will recommend the 4 best MP4 to ISO converters to help you solve an extreme urgency.
Two Best Ways to Convert MP4 to ISO on Mac
I tested some traditional DVD tools on mac. The first one is Handbrake, as it's the software recommended by Google. But to my disappointment, Handbrake is a DVD ripping program. I can't convert MP4 to ISO with Handbrake. The main follow on are Burn and SimplyBurns, unfortunately, none of them can convert MP4 to ISO also.
As for iDVD, don't even think about it. It's no longer included in the iLife bundle that came with OS 10.7 or later and iLife 11 from the online Apple Store.
1. Cisdem DVD Burner
Want to convert MP4 to ISO on Mac? You will require the best MP4 to ISO converter if you wish to take advantage of this and complete the task without fail. Cisdem DVD Burner for Mac is the software that immediately comes to my mind. It's designed to convert MP4, AVI, VOB, MKV, M2TS, and more formats to ISO images and DVD. It lets you add the custom DVD menu to the ISO and maintain the same structure as the DVD disc.
Staple features Cisdem MP4 to ISO converter for Mac:
Easy-to-master interface for every novice
Burn all commonly used video formats to DVD, DVD folder, or ISO file
Personalize video via menu templates, involved elements, and texts
Edit and customize videos with built-in editing tools
Divide an MP4 video into multiple chapters through time
Preview the video effect and menu style
The output from DVD Burner is of the highest quality
Also available for Windows now
Step 1. Load MP4 files to the program
Drag any number of MP4 videos to the "Source" tab of the software. Alternatively, click the "Add videos" icon to import the files. The uploaded MP4 videos will be shown on the first interface in thumbnails.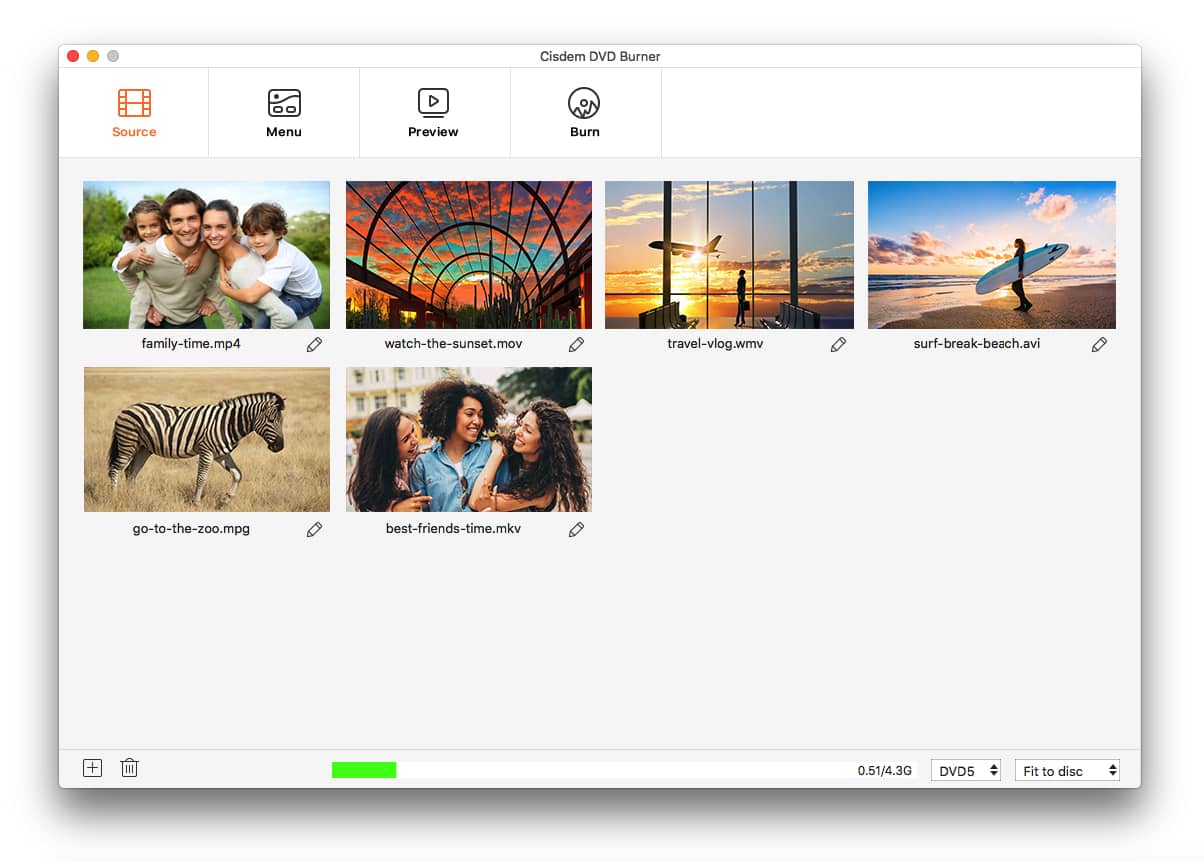 Step 2. Edit the MP4 files (Optional)
The added MP4 videos can be edited for personalization. Click

button, and an editing window will pop out. You can customize the videos by trimming, cropping, adding watermarks & effects & subtitles, etc.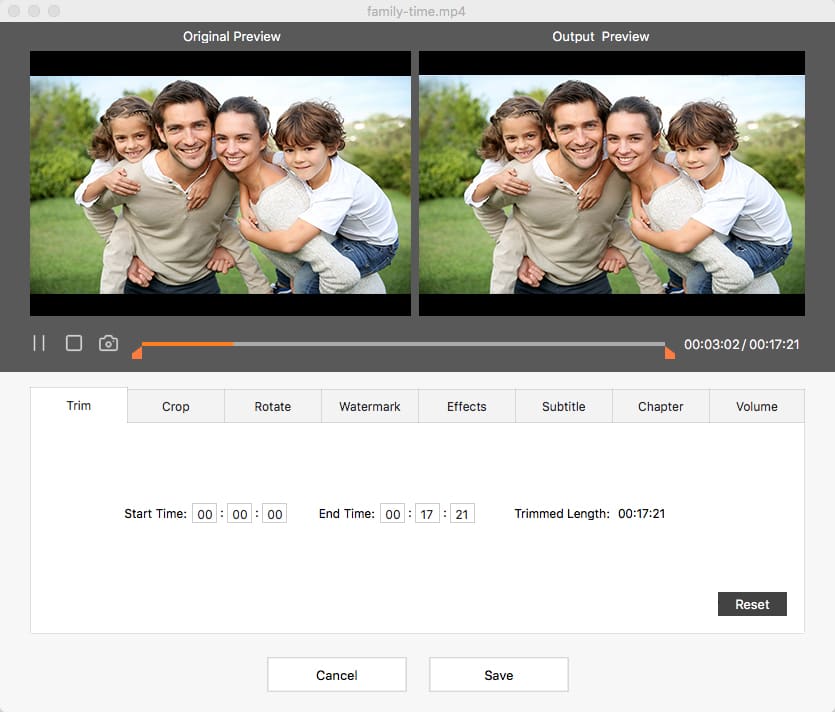 Step 3. Select menu template
Navigate to the "Menu" tab. The templates designs will be displayed on the left column for selection. To regroup background images, frames, page turn and play buttons, click

to pull out the related tools.
Plus, it's able to import the external image and music as background.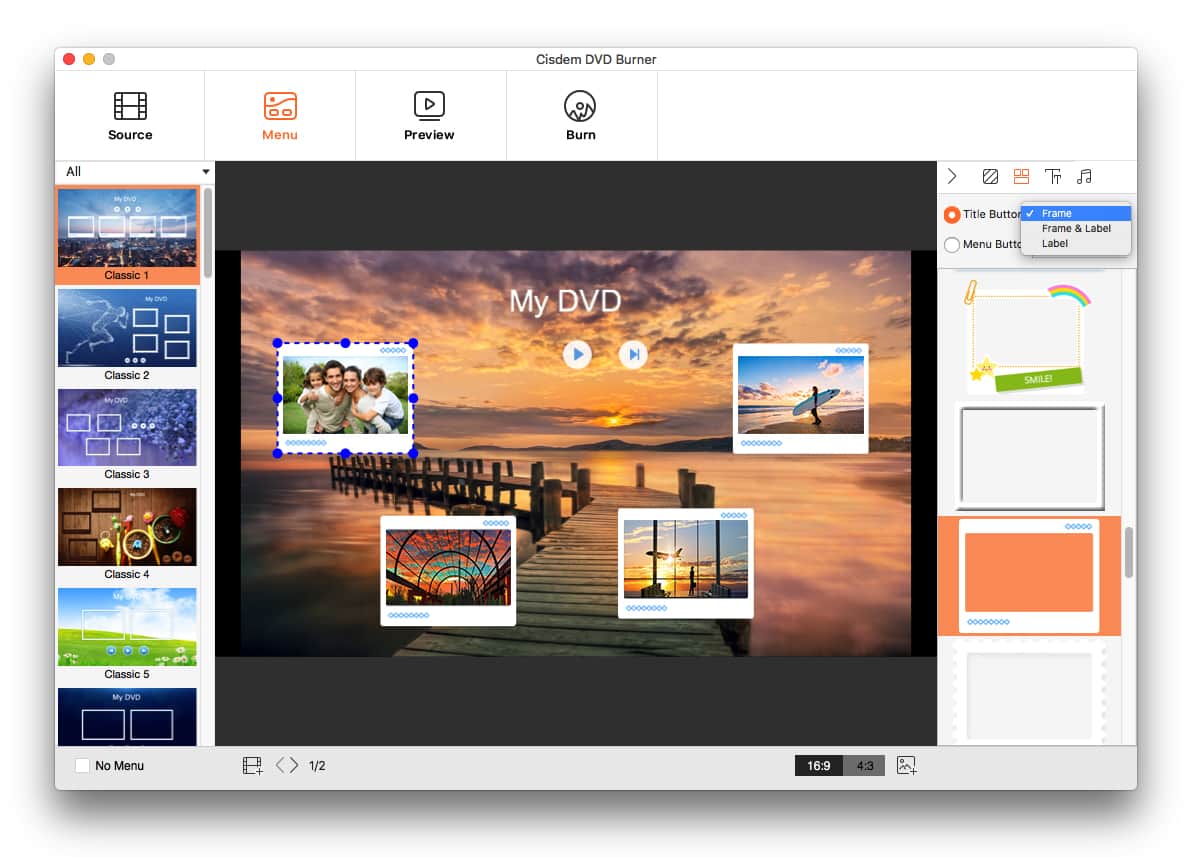 Note: This MP4 to ISO converter for Mac supports previewing your created DVD. Click

to move to the preview window.
Step 4. Convert MP4 to ISO on Mac
Hit

button to switch to a window for configuring output parameters. Choose "Save as ISO" to burn to, customize "ISO Settings" and finally click the "Burn" button to convert MP4 to ISO on Mac.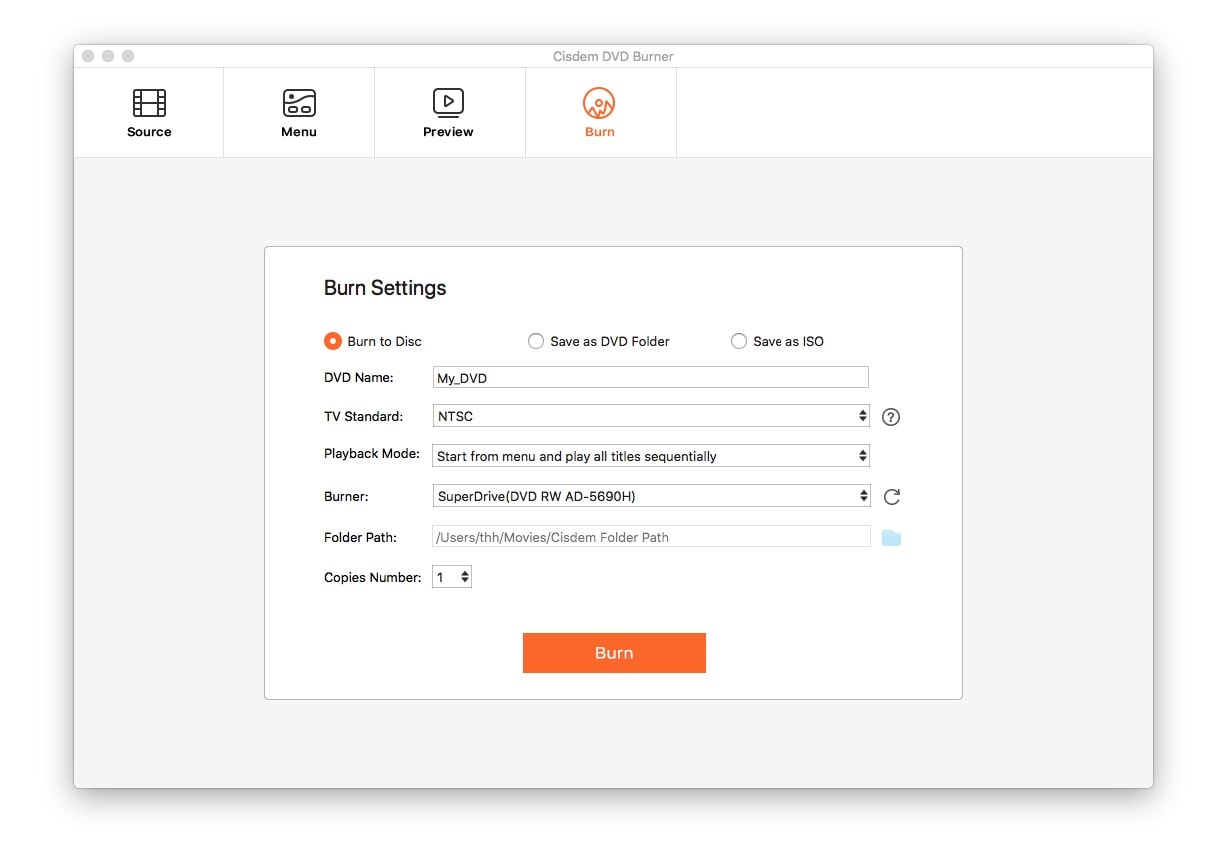 2. DVDStyler
DVDStyler is an open-source MP4 to ISO freeware that is available for cross-platforms. You can burn MP4, AVI, WMV, MPEG, DivX, AC-3, MP3, etc. to DVD. In addition, the application allows you to create individually designed menus and photo slideshows with little time or effort. You can select your own background images and add text & buttons.
Key features of DVDStyler MP4 to ISO converter:
Free to use open source
Compatible with cross-platform- Windows, Mac, and Linux
Multi-language available for you to choose
Support several videos, audio, and image formats
Help to copy any menu object
Step 1. Launch DVDStyler MP4 to ISO converter and choose your default language.
Step 2. Click on the "File Browser" tab on the left side > find your MP4 videos > drag them to the bottom. Or you can click the "+" button to browse the files.
Step 3. Click the "Backgrounds" and "Buttons" tabs to design your DVD menu. You can double click the menu thumbnail to change and choose the corresponding settings in the properties window.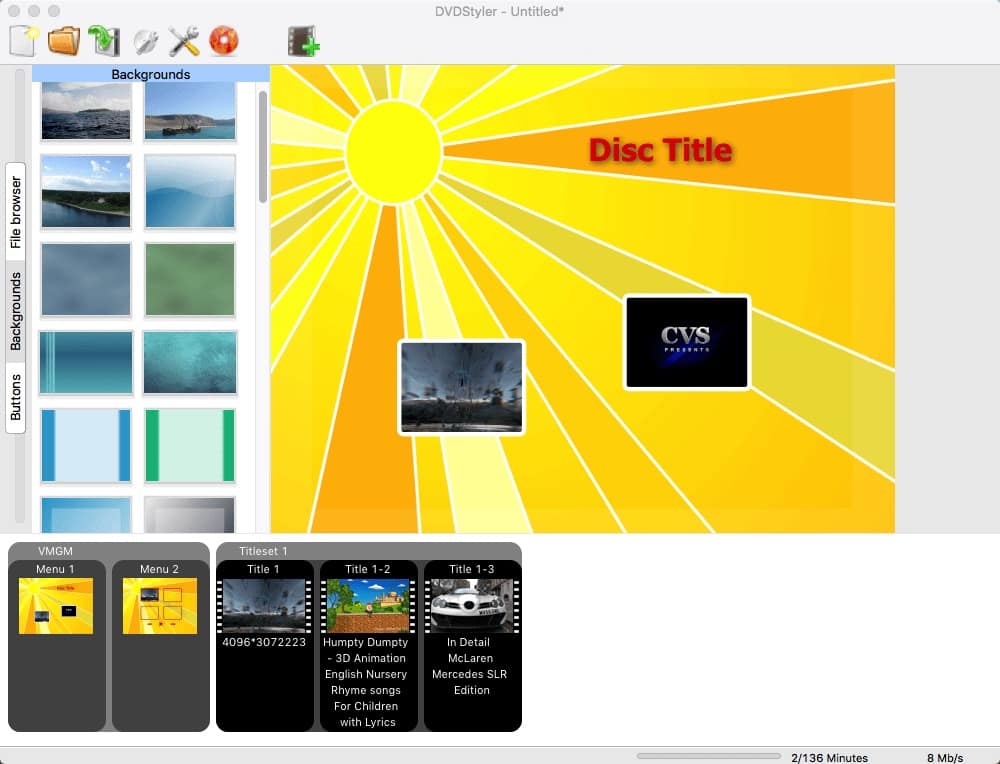 Step 4. Click on the burn icon and choose the "create iso image" option in the burn window. At last, stage, select a video player and start converting MP4 to ISO.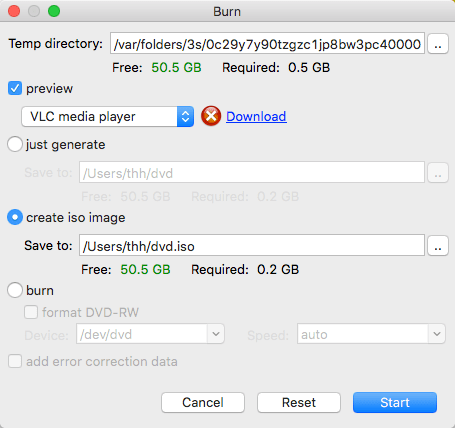 Defects:
Slow to load the files and handle MP4 to ISO conversion
Haven't been updated for a long, the interface and templates are very old-fashioned
The app quits frequently
The three vertical labels are set unreasonably. We need to tilt our head to see the text clearly
Two Common Methods to Convert MP4 to ISO on Windows
1. Freemake Video Converter
Freemake Video Converter is another uncluttered MP4 to ISO converter for Windows. It's capable of dealing with most popular formats such as MP4, MP3, AVI, MKV, Xvid, MTS, etc., burning videos to a blank DVD, ripping videos from an non-protected DVD, and editing videos as well. All in all, it's a very versatile tool for windows users.
Main functions of Freemake MP4 to ISO converter:
Good-looking and intuitive interface
Support converting files to various output types
The workflow of ripping DVD is very simple
Download and alter streaming clips
Modify and edit clips
Step 1. Drag-n-drop MP4 videos to the software or add the files by clicking the "+Video" button.
Step 2. Click the "to DVD" option on the MP4 to ISO converter format bar.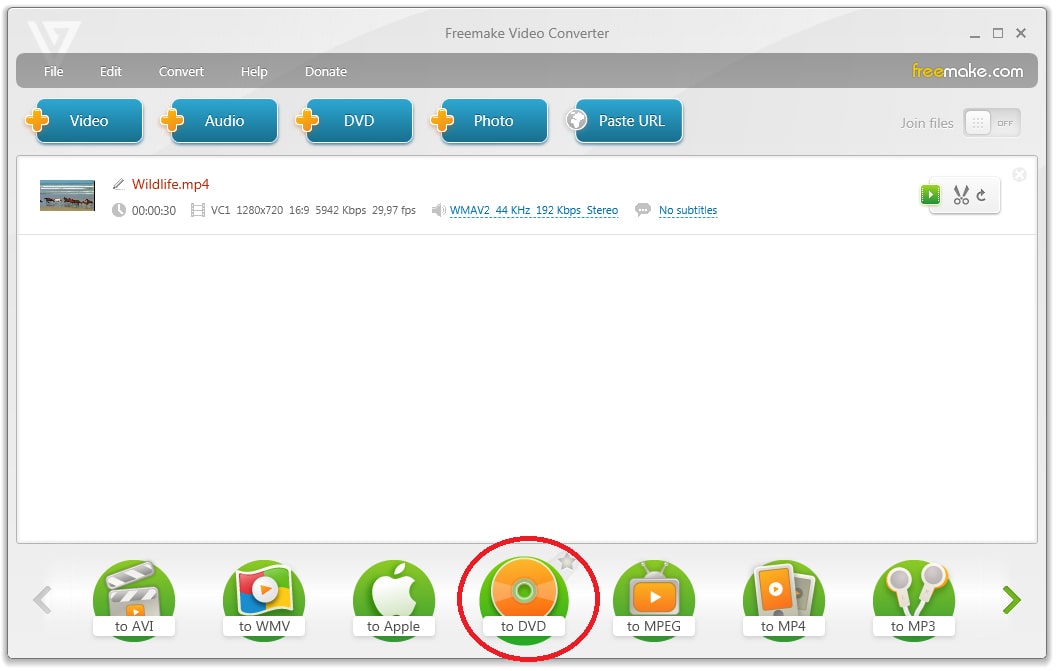 Step 3. Customize your MP4 files before converting: type the title, pick menus, add background image, set volumes and more.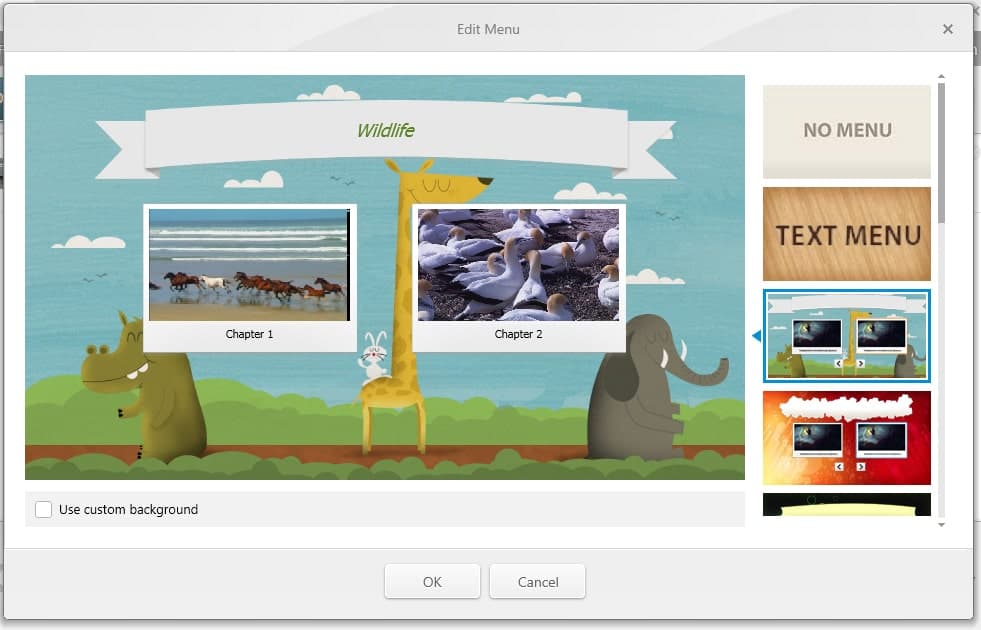 Step 4. Choose "Create ISO" option and the destination > press on "Convert" to create ISO free from MP4 files.
Defects:
Can't convert protected MP4 to ISO
Can't remain HD ISO videos
Upgrade it to the Gold Version is not free
Slow Conversion speed
2. ImgBurn
ImgBurn is a comprehensive MP4 to ISO converter that is available for Windows system. It can get a burning disc from a wide range of image formats and can also convert folders or other optical media to ISO, IMG or BIN images. As a MP4 to ISO freeware, ImgBurn added too many components during the installation.
Important features of this Windows MP4 to ISO converter:
Freeware
Burn image, files, and folders to disc
Create image from disc, files and folders
Support almost every disc format
Full Blu-ray support enables users to burn BD-R media
Step 1. When opening ImgBurn, you will find 6 icons. Just click on the "Create image file from files/folders" icon.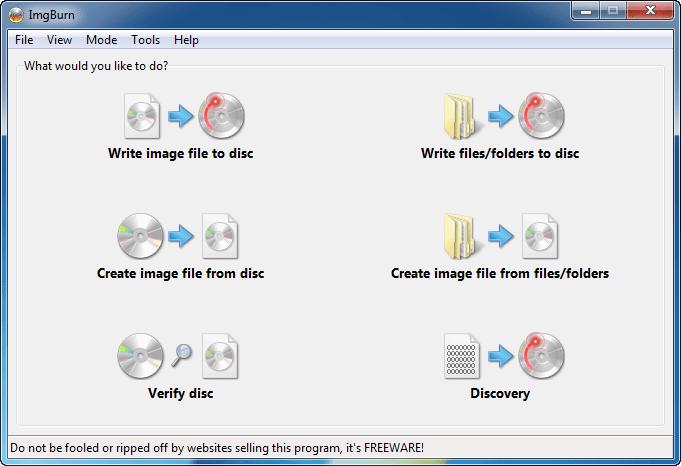 Step 2. Press on the folder icon in the middle of the screen > browser the MP4 files that you need to save as ISO files > click on the "Select Folder" button.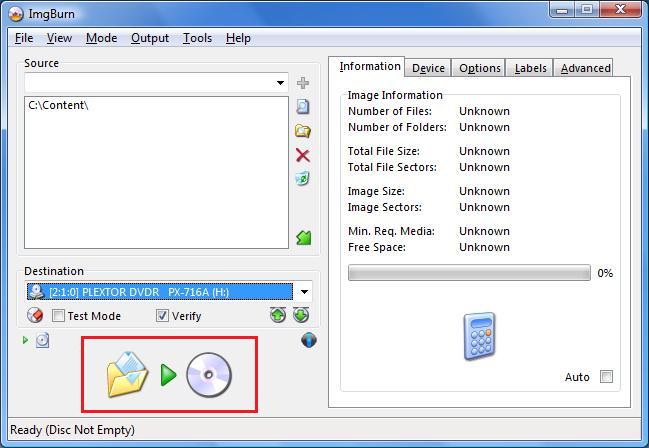 Step 3. Choose the destination and press on "Save" button, your MP4 files will be converted to ISO by ImgBurn.
Defects:
Have to leave some boxes unchecked when downloading the software, otherwise, other programs will be downloaded
Novice users are easily confused by a lot of burning options
Can't remove the CSS encryption
Is It Possible to Convert MP4 to ISO Free Online?
So far, I have not obtained an online tool that supports converting MP4 to ISO. If you have any good suggestions, please tell me in the comments.
When you search for "convert MP4 to ISO online" on Google, Zamzar's ranking will appear in the forefront. It indeed doesn't support to convert MP4 to ISO. I once read it wrong, seeing its output format ICO as ISO.
However, there are plenty of online tools to convert MP4 to DVD. Zamzar is one of them. Unlike the other four MP4 to ISO converters, Zamzar is a mere multi-purpose file conversion site that's unable to burn video. It offers an extensive list of outputs. But this website stipulates that the uploaded file cannot exceed 50MB, which makes it inappropriate for use as a video.
What is an ISO file?
An ISO file or an ISO image, saved in ISO-9660 format, is widely used to store disc contents. You can write it to a blank CD-R or DVD-R, making for an identical copy of the original disc.
In the Windows operating system, special tools are generally required to open the ISO file, such as UltraISO, WinRAR, Daemon Tools, WinISO, WinImage, Gizmo Drive, MagicDisc, and so on. On Mac, you can open the file using Disk Utility or double clicking it.
Advantages of ISO:
Easily share the contents of the disc into the form of a file
Restore the ISO contents to new blank disc via a piece of burning software. (To create a High-Def/BluRay disk, you have to install an advanced program like Toast and its additional plug-in, plus an external BluRay-disk-writer.)
Can be loaded into a virtual drive. So you are capable of installing an application, listening to music and watching videos from the original disc, which brings great convenience to a computer without an optical drive.
A virtual drive can run multiple different ISO files simultaneously
The speed of the ISO file can reach 200X when running it directly on the hard disk
Disadvantages of ISO:
If the ISO file is infected with a virus, or damaged, it will no longer be usable. But the disc is read-only and cannot be written.
The memory occupied by the ISO file is a few hundred MB or even GB.
Conclusion
From review and feature tablet, you can realize that all the DVD burning software is very useful to convert MP4 to ISO. If you are seeking a tool for converting MP4 to ISO on Mac/Windows, look no further than one of these. While any of these options can do the job, our sincere choice is Cisdem DVD Burner and Freemake Video Converter, which perform the largest number of DVD customizing features and supports a host of video and audio input formats.