To burn videos on a Mac or Windows PC, besides the required hardware to process the burning, you will need a DVD Creator, also called as DVD Burner to burn a DVD.
Today, more and more users are talking about iSkysoft DVD Creator, so we are here to write a review about this program, revealing everything you need to know about iSkysoft DVD Creator, be it the iSkysoft DVD Creator for Mac or iSkysoft DVD Creator for Windows.
The Best Alternative to iSkysoft
Support 3 burning modes
Burn various videos to DVD Disc or save as DVD-friendly files
Edit videos
Offer free menu templates
Preserve original quality
Burn videos successfully

Free Download

Free Download
About iSkysoft DVD Creator
Who is iSkysoft?
iSkysoft, the developer of iSkysoft DVD Creator, is a group to offer software solutions since 2004. It covers multimedia tools, office productivity programs, utilities, and even design tools, with high compatibility both on Mac and Windows. Being a dedicated software designer, it develops and updates solutions in an extremely active way to help users with their increasing needs.
What Can iSkysoft DVD Creator Do?
iSkysoft DVD Creator, as iSkysoft proclaims, is the easiest DVD burning software to burn any video to DVD. Also, here is a list to show you its main features:
Burn videos to DVD, DVD Folder, or ISO file
Create DVD from photos
Edit videos for DVD burning
Create Chapters or menus to personalize the DVD
Support to burn UHD videos to Blu-ray disc
Is iSkysoft DVD Creator Safe to Use?
Yes, of course, with a 15-year dedication and expertise in this field, iSkysoft has served numerous users and won universal trust. It is safe to download and purchase any program from iSkysoft. But of course, just use its official website for further actions.
The Review of iSkysoft DVD Creator (Mac & Windows)
Advantages:
Easy to use
Burn videos to DVD Disc, ISO, DVD Folder
Burn photos to DVD
Customization is allowed (Editing tools and menu templates)
Disadvantages:
Not support macOS Ventura
Basic editing feature
Fail sometimes
Bottom Line
iSkysoft DVD Creator works great to burn relatively small size videos to DVD, also it is more suitable to burn DVD on a basic or simple theme, since the editing tools and menu templates are quite ordinary. Also, it doesn't support the newest macOS Ventura.
Free Trial Limitations
iSkysoft DVD Creator offers a free trial for users before they make any commercial decisions, but there are limitations to this free trial:
You cannot use the Video Editor;
You cannot use the Photo Slideshow to burn DVD from photos;
You cannot burn DVD with 1 click;
There will be watermark on the DVD output;
There are 3 menu templates available free;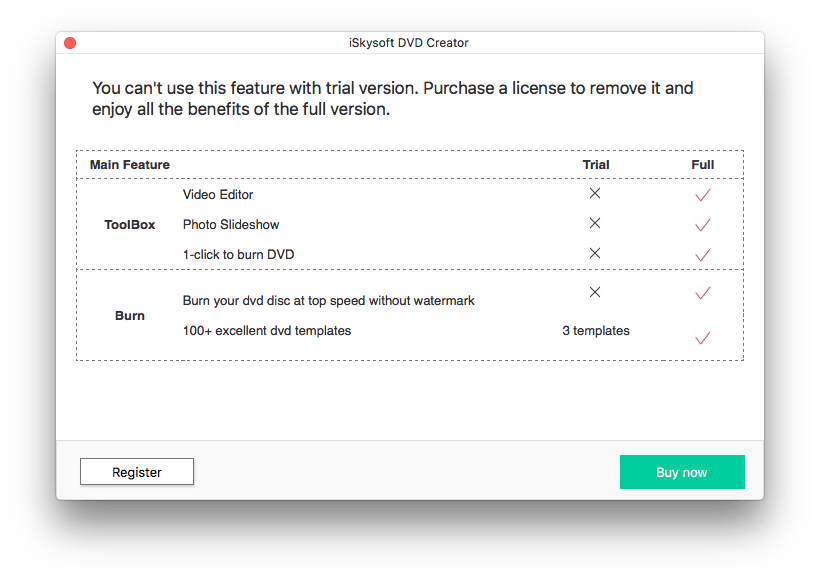 But for users who only need to burn videos to DVD, this free trial is a good tool to utilize.
The Input
According to the tech specification on the iSkysoft website, the supported input includes: MP4, M4V(without DRM), FLV, AVI, VOB, M2TS, MTS, 3GP, 3G2, MOV, F4V, MPG, MPEG, TS, TRP, TP, DAT, WMV, MKV, ASF.
Yet, there is no information about the supported audio formats when adding music to a video, also no mentions about the supported image formats. But as per my tests, it supports all mainstream audio and image formats.
The Output
No limited to burn videos to DVD Disc, iSkysoft DVD Creator also helps to export other DVD-friendly formats as follows:
DVD Disc
DVD Folder
DVD ISO File
.dvdmedia File for Mac
BDMV Folder for Windows
Download and installation
The download is both available for Mac users and Windows users. It will take about 65MB to download the installer.
As for the installation, it is quite easy. After you have agreed on the "Agreement", the installation process starts and will take another 175 MB.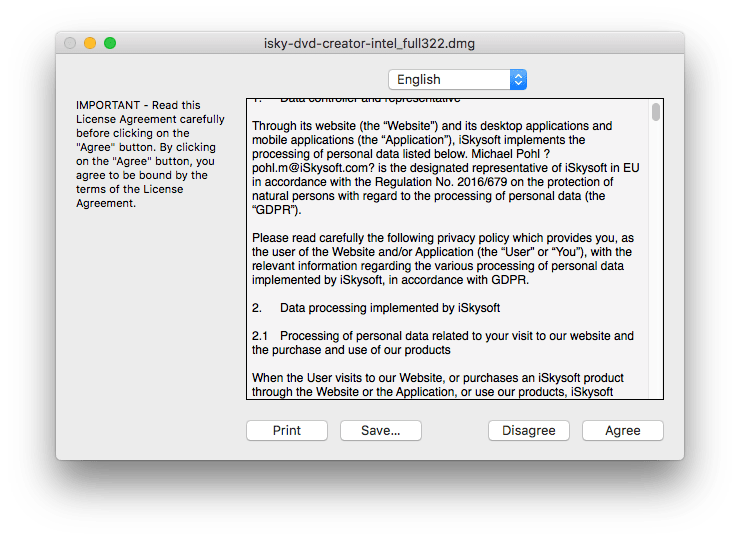 Customization
Before burning a video to DVD, iSkysoft enables users to edit the video and add a menu template, to customize the DVD output. And here we are going to talk about how iSkysoft helps to personalize DVD with these 2 toolbars.
Editing basics
There is a basic set of editing tools, including Crop, Trim, Add Effect, Add Watermark, Add Subtitle. All of these tools are easy to use, you can tweak the settings or parameters under each toolbar.As for the Effect that are used to make a video different, there are 17 effects offered free to work for your videos.
Menu creation
Sometimes, we burn a DVD to memorize a family event, a party, even a great moment in your life, such as a wedding. So, if we can burn a DVD with a themed menu added, that would be cool. And luckily, lots of DVD Creators have built-in this feature, including iSkysoft DVD Creator. For a free trial, there are 3 menu templates offered for free, while for the full version, there will be 123 templates open to users, on the topic of Memory, Holiday, Travel, Wedding, Sports, Movie, or Standard.Of course, you can also download menu templates from its official website, including the themes for Tech, Cartoons, Lifestyle, or Scenery.Still, users are allowed to modify the texts on the menu template, changes can be made on texts, font, size, etc.
Burning
Speed
Maybe the burning speed of iSkysoft DVD Creator doesn't top all other competitors, the speed is satisfactory.
According to my test, it took about 3 minutes to burn a 48-MB MP4 to DVD Disc, also it took similar time to burn the video to other DVD output.
When burning my 348–MB video to DVD, it took approx. 30 minutes to finish the burning. By comparing to other DVD creators, the burning speed of iSkysoft DVD Creator is quite average.
Quality of Copy
The quality of the created DVD is good as long as the burning processes are successfully. But we have to admit, the quality of the DVD copy greatly depends on the quality of original videos. Consequently, if you want desired output, make sure you are importing high quality videos to the program.
Any Burning Failure?
Yes, there is.
There are 2 failures in my tests. A failure happened when I opened too many apps that working in the background, the program just paused there for a long long time and I have to force quit for a new burning. The other failure happened when I imported a 876MB video for burning, the program crashed immediately after I started to burn, I am not sure if it is the problem of the video itself or the program.
iSkysoft DVD Creator VS Wondershare DVD Creator
Both work as a DVD Creator, I expect there will be something in common between these 2 programs, but surprisingly, they basically share everything in common, which makes me to jump such a conclusion: iSkysoft DVD Creator and Wondershare DVD Creator are created by the same developer.
Just days ago, I finished the Wondershare DVD Creator review, I downloaded and tried this program too. Range from installer size, interface, features, to every little word on the interface, everything is the same, except that iSkysoft DVD Creator comes in green UI, while Wondershare DVD Creator comes in red UI.
For more details to find out the similarities between these 2 programs, please refer to my Review on Wondershare DVD Creator.
But still, there is a difference, Wondershare DVD Creator has upgraded to support macOS Ventura, but iSkysoft doesn't support it. So, if you happen to know these 2 DVD burners, you are more recommended to use Wondershare's.
What if iSkysoft DVD Creator Fails?
iSkysoft DVD Creator may fail to do the DVD burning in your case, even you have restarted or reinstalled the program, trying to fix such a failure. Then what to do? No worries, there are other choices, for example, Cisdem DVD Burner.
Cisdem DVD Burner is a DVD burning software to create DVD Disc or DVD files from virtually all kinds of videos, including but not limited to mp4, mov, flv, mkv, m4v, vob, etc, with original video quality retained, no matter you are burning common videos, HD or 4K even 5K.
There is also a video editor built-in Cisdem DVD Burner, allowing users to personalize their videos before the burning. Even, with free menu templates offered, users can burn their videos featured with different themes, such as holiday, wedding, sports, etc.
How to Burn DVD with Cisdem DVD Burner?
Step 1. Download and install Cisdem DVD Burner on your mac.

Free Download
Step 2. Click "+ Add videos" to import videos to the program for burning.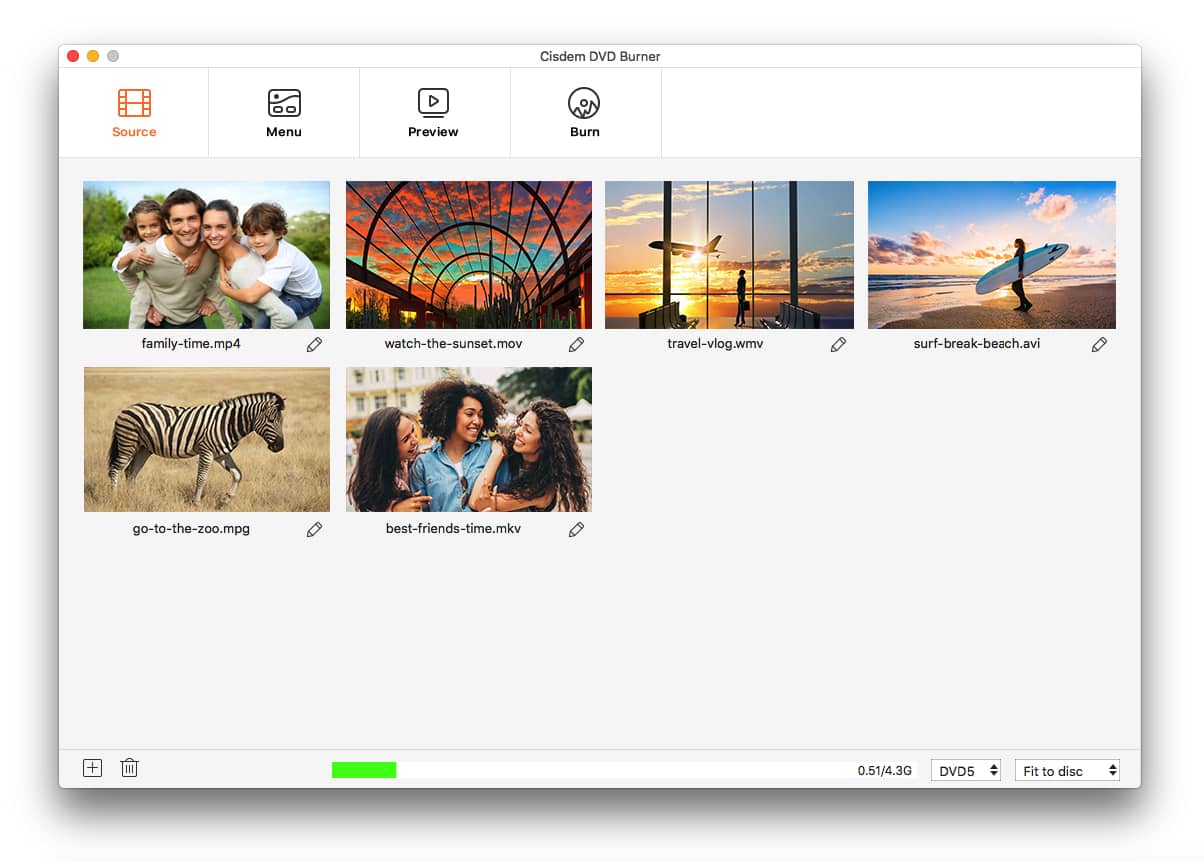 Step 3. (Optional) Edit the video.
Click

under the thumbnail of the imported video, a window will appear and users can utilize those toolbars to crop, add effects/watermark/subtitle/chapters, and rotate the video.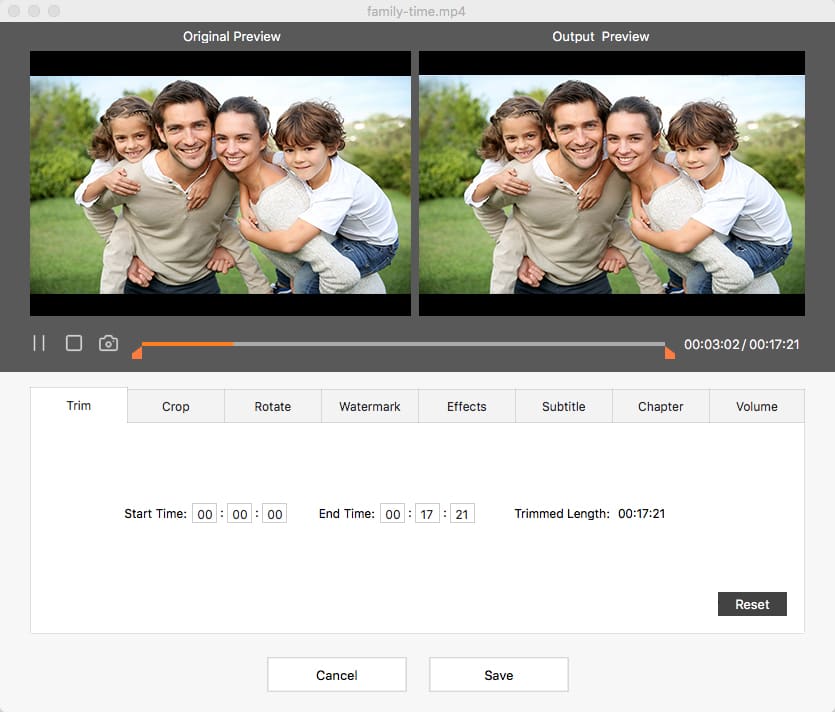 Step 4. (Optional) Choose a menu template.
Choose an appropriate menu template according to the video style and modify the menu texts if necessary.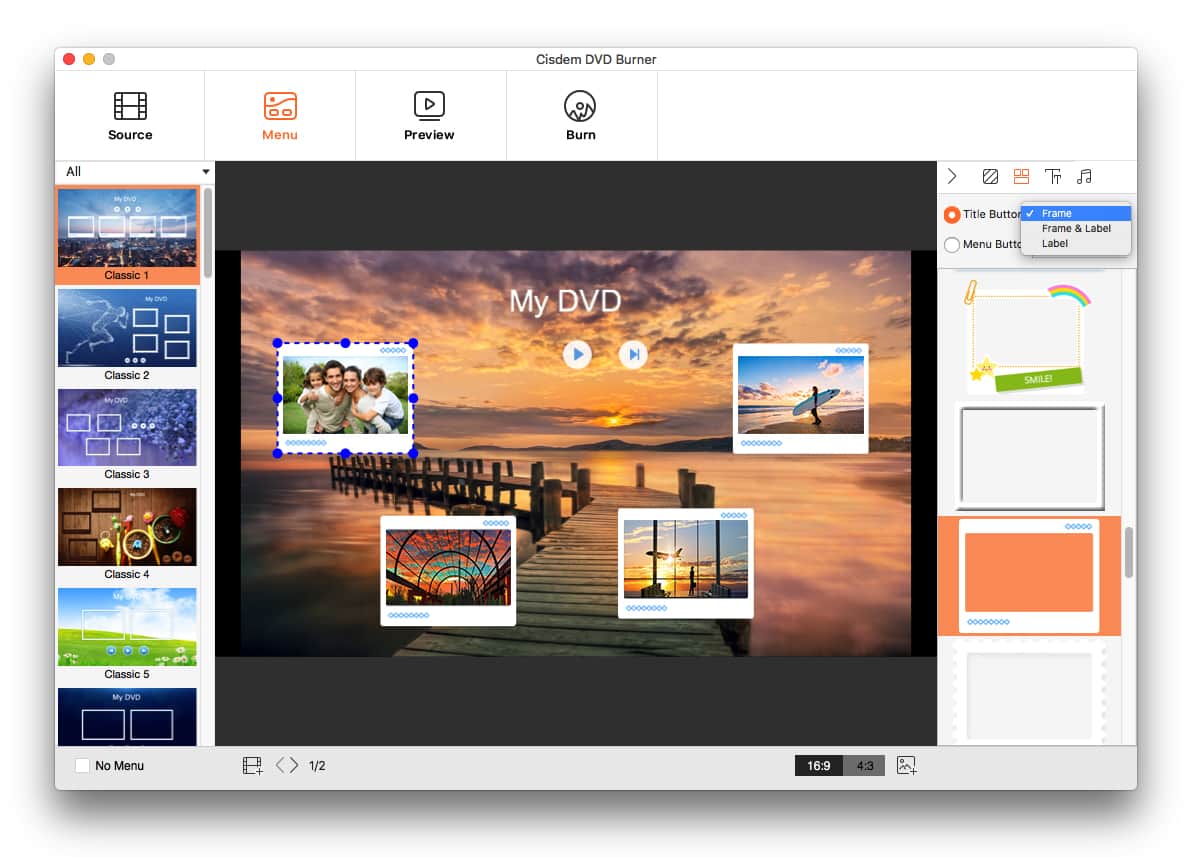 Step 5. Choose the output format for your DVD and click the "Burn" button to start the burning process.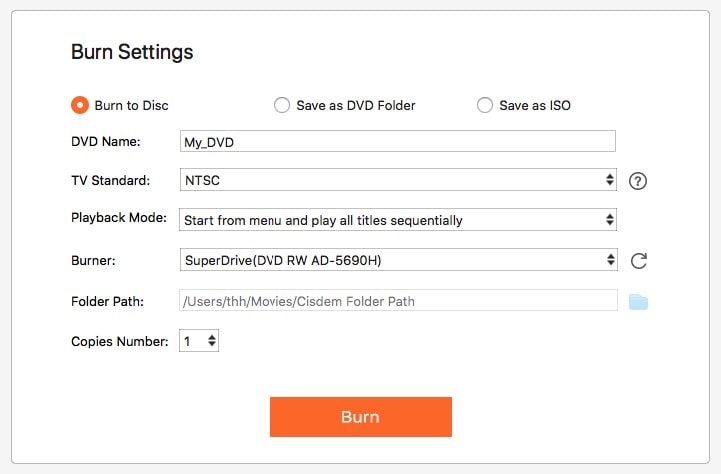 This tool is only for mac users. For Windows users, Winx DVD Author, the free DVD burning software is recommended.
Conclusion
To sum up, iSkysoft DVD Creator is worth a try for users who have basic needs to burn and edit videos. But for users who work on macOS Ventura, or require a stable and high-quality burning, Cisdem and Wondershare are better choices.