I believe that many people have lost a mobile phone, and I ever lost two mobile phones. If you're reading this article, I assume that you just lost your beloved iPhone or iPad or someone stole it. And you must be in despair and want your device and retrieve your iPhone data as soon as possible. Fortunately, there's a way to track your iOS device down, lock it or wipe its data. Using the following steps, you are able to locate a lost or stolen iPhone, iPad or Mac.

How to track, locate and find a lost iPhone or iPad online without app
Find My iPhone is actually a cloud-based service by Apple, you don't have to install Find My iPhone app on your iPhone or any other iOS devices. The app is only another way of accessing this service to locate your iPhone or other Apple devices. Now, all you need is a browser and your Apple ID login details. Before you track your lost or stolen iPhone or iPad using Find My iPhone, please make sure that Find My iPhone has been set up on the device you want to locate.
Go to icloud.com and log in your Apple ID and password from any web browser on your Mac. You will see your iCloud dashboard with different icons. Click on the "Find My iPhone" icon.
Once you click "Find My iPhone" icon. This will open a map interface. The map will load once a device has been located. Click on the "All Devices" on the top bar and select your lost iPhone from the list of devices. The tracking of your lost or stolen device will start. If Find My iPhone is successful and locate your device, you should be able to see its location on the map. You'd better note the location. If your iPhone can not be located because it is turned off or out of network, check the "Notify me when found" box.
When you select your device, there are three basic actions you can take: "Play Sound", "Lost Mode" and "Erase iPhone". Choose the action that best suits your current situation.
If you haven't set a password to lock your iPhone or iPad home screen, you'd better choose "Lost Mode" to lock the screen and add a contact number or message. And someone who get your iPhone may contact you and return it to you. And the Lost Mode has the nifty ability to enable location services on your iPhone or iPad. If your device is nearby according to the location, you can choose "Play Sound" to let your lost device play a notification sound. This will be played at maximum volume, which can help you track it down. This is most useful if you've lost your device somewhere around the house.
If you don't think you'll be able to get your iPhone or iPad back and worry about your personal information will fall into bad guys' hands , you can choose "Erase iPhone" to wipe all your data on your lost or stolen device. This is a last-resort option, and Find My iPhone won't work anymore on your device afterwards. And if you get a new iPhone, you can also transfer the lost iPhone data to the new one via iCloud or iTunes. If fortunately you get your lost iPhone back, you can also recover deleted files directly from it.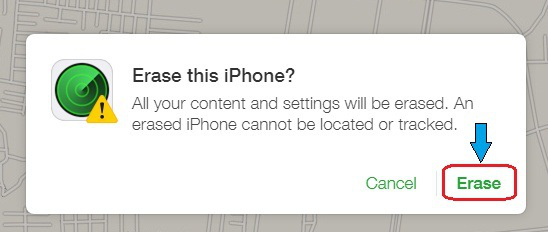 tips: That's all you have to do to track and locate your lost iOS device. Please keep in mind that your lost device needs to be turned on and connected to the internet. If it is in airplane mode or turned off and not connected to WiFi, you won't be able to track it using Find My iPhone.
More tips about finding and locating your iPhone or iPad
1. You can also install Find My iPhone app on your any other iOS device to track and locate the lost or stolen iPhone or iPad. This is a more convenient way.
2. Set up Find My iPhone on every iOS device or Mac in order to use Find My iPhone to find your device when needed. To do this, go to the iCloud tab in Settings, and set the switch for Find My iPhone to On.
3. Always backup your iPhone to iCloud or iTunes to avoid data loss due to restoring to factory settings or other situations.
4. Find My iPhone is more likely designed to improve your iPhone or iPad security and privacy rather than finding your device. So don't hold your breath.
5. If you believe your iPhone or iPad was stolen and are currently tracking it. Do not attempt to get it back yourself. Instead, report it to the police. At last, wish you will find your lost device soon.

Rosa has worked in Mac software industry for more than eight years. She believes that the purpose of software is to make life better and work more productively. In addition to writing, Rosa is also an avid runner.