When you search the keyword duplicate cleaner on your computer, you will find there are many duplicate cleaner out there and it's hard to figure out the duplicate remover you want. Here we will recommend you some best duplicate cleaner software for Windows, Mac, Android, iOS to find and remove duplicate files on all common platforms.
Duplicate Cleaner for Mac
Cisdem Duplicate Finder for Mac is one of the best duplicates file and photo cleaner for Mac users to remove duplicate files including photos, videos, music, documents, archives, etc., with extremely fast scanning speed and high accuracy.

Free Download
Guidance:
1. Click "+" to add the hard drive or folders you want to scan. Click the gear icon on the top right corner to choose your suitable scan and removal method. Then click "Scan" to continue.
2. Then this duplicate cleaner for Mac will scan for duplicates. After scanning, it shows all found duplicates on the left column. Highlight each duplicate to preview.
3. At last, select the duplicates you want to remove and hit "Delete" button to delete them.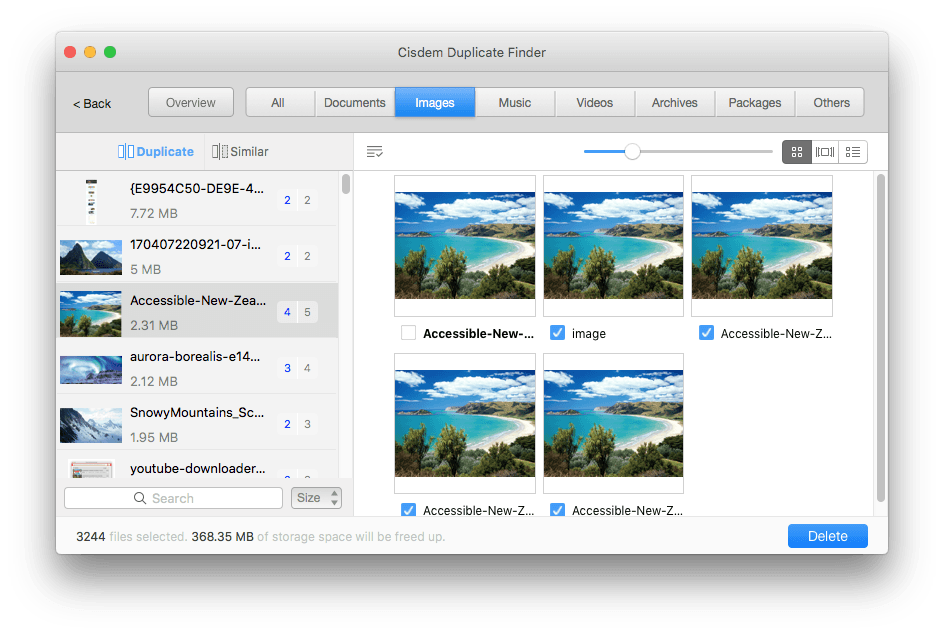 Pros:
1. Find and remove duplicate documents, images, music, videos, archives, packages and others.
2. Support Mac hard drives, Photos or iTunes apps and other storage devices like external hard drive, memory cards, and digital camera.
3. Flexible scan filtering settings and search features for you to find duplicate files at ease.
4. Show duplicate files on Mac in pie chart and tab and classify them into 7 categories.
5. Hide duplicates that you don't want to delete from scanning again.
6. One-click to remove duplicates permanently, move them to Trash or specified folder.
Cons:
1. None
Duplicate Cleaner for Windows
Cisdem Duplicate Finder for Windows is a piece of duplicate file finder software for Windows users to delete duplicate files. It also helps users find similar photos.

Free Download
Guidance:
1. Open this duplicate file finder on your Windows.
2. Add one or more folders to scan.
3. Click Scan.
4. View the duplicate files that have been found.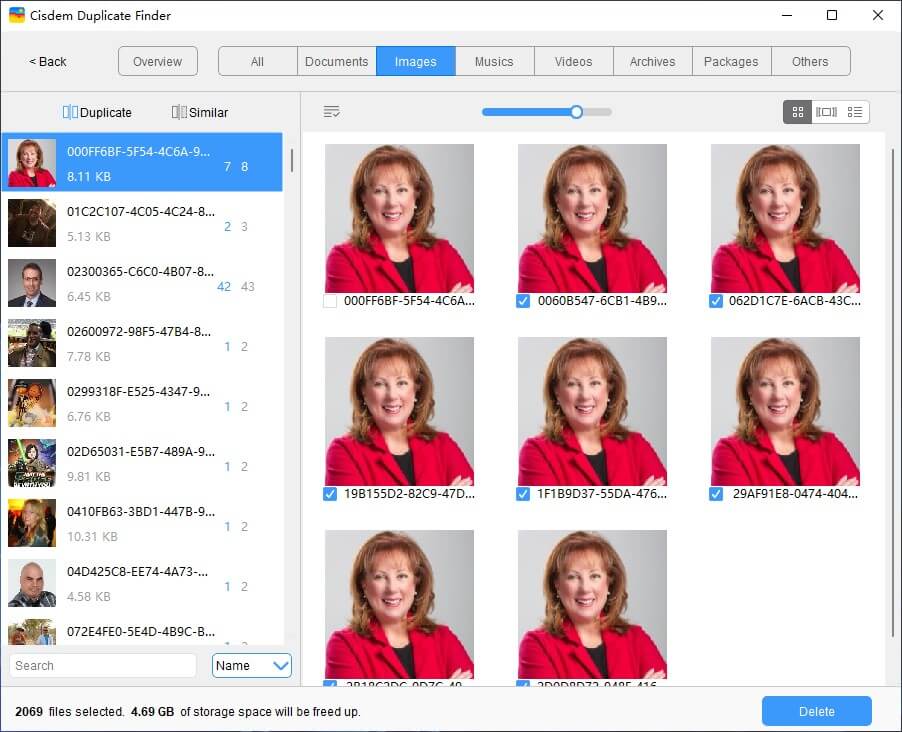 5. Duplicates have already been automatically selected for elimination. Alternatively, you can select them by hand.
6. Click Delete to date the selected duplicate files.
Pros:
1. Find duplicates files by content (by default) or filename.
2. Support finding duplicates from computer and portable storage devices.
3. Let you easily view the found duplicate files.
4. Duplicate files can be deleted to the Recycle Bin, moved elsewhere or be remove permanently.
5. Flexible search settings allow you to find target duplicates quickly.
Cons:
1. Not compatible with 32-bit
Duplicate Cleaner for Android
Duplicate File Finder developed by Sharda Gohil is a free duplicate cleaner for android that scans through your entire phone and finds the duplicate photos, audios and all other types files for you.
Guidance:
1. Open this duplicate cleaner on your phone and select directories or exclude some to scan for duplicate files.
2. After scanning, it will show all found duplicates in four categories including images, videos, audios and others.
3. Select the duplicates you want to remove and hit the trash button to delete them from your phone.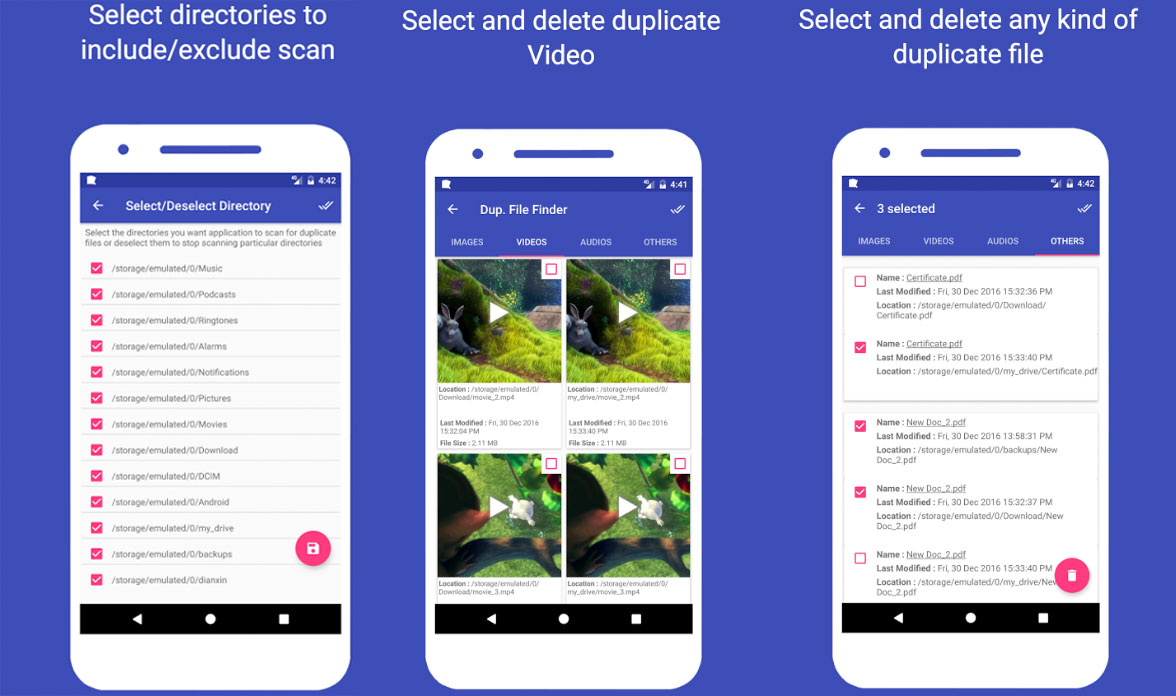 Pros:
1. Search entire phone including external SD card.
2. Exclude phone folder and specify file types for duplicate scanning.
3. Support side by side comparison for photos and videos.
4. Smart selection feature allows you to select all but last or all but latest duplicates.
5. Support all major languages.
Cons:
1. Although this duplicate cleaner for android is totally free, but it contains ads. So be careful when using it.
2. This duplicate cleaner for android will not remove the duplicate files from SD card if your phone running Android 4.2 and Android 4.4 because of the Google's policy.
Duplicate Cleaner for iOS
There is no all-in-one duplicate cleaner for iOS that can help users to remove all duplicate files like photos, music, contacts and other files. But there are some duplicate cleaner software designed for removing one kind of duplicate files. If you do have to clean up duplicate photos, videos, and contacts, check below.
To remove duplicate photos and videos on iOS:
Photo Cleaner is a powerful cleaning tool for organizing your photos and videos on iOS devices. It provides features such as cleaning up duplicate/similar media and media compression. When your iOS devices is running out of space, you can use it to compress photos and videos into smaller file size but with low quality. It is not free and costs you $1.99.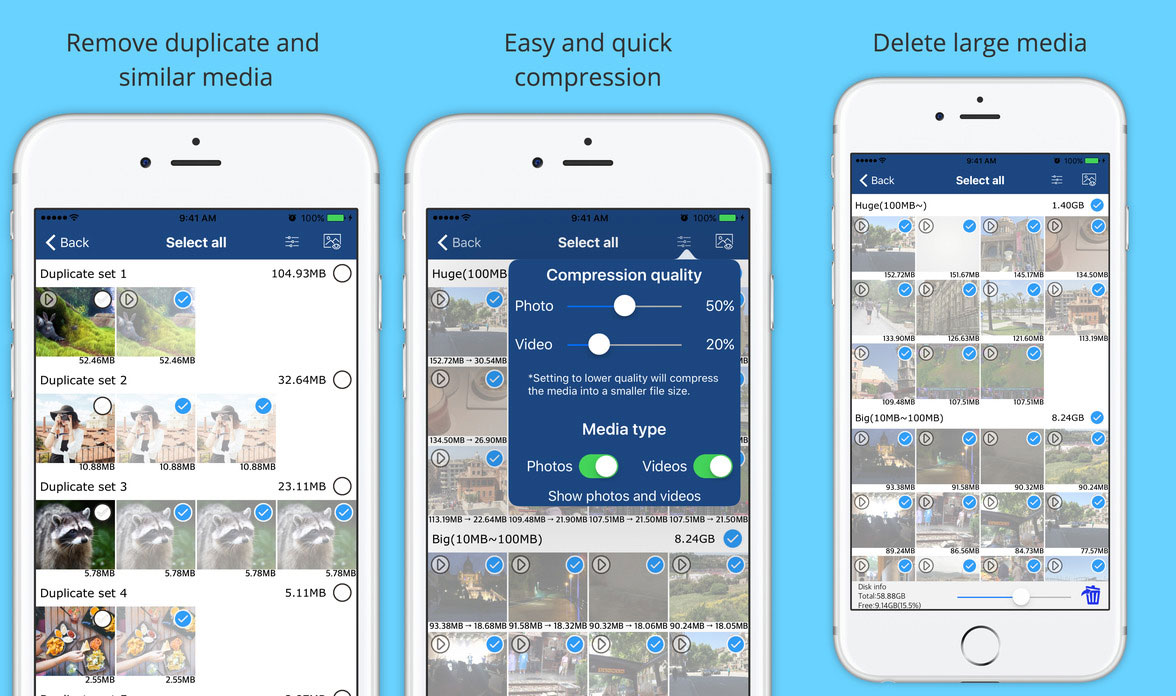 To remove duplicate contacts on iOS:
Cleanup Duplicate Contacts is a free duplicate contacts cleaner which available on your iOS devices to remove multiple duplicate contacts in your address book instantaneously. It also allows you to create a backup of your address book before cleaning, thus you can always restore accidentally deleted contacts from backup.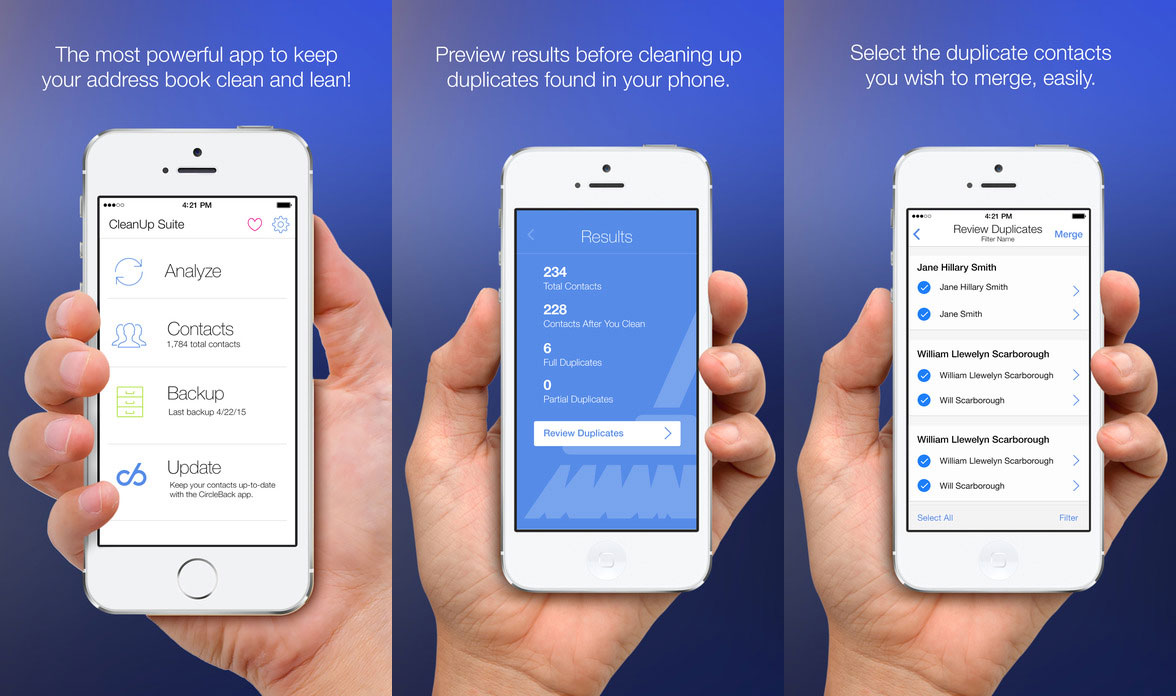 No matter what devices you are using, you can always find the duplicate cleaner you want. If you have any other duplicate removers to recommend, share them with us by leaving a comment below.