Clone Files Checker is one of the many software apps that are designed to find and remove duplicate files on computer. What features does it have? Is Clone Files Checker free to use? If not, how much does it cost? Are there any alternatives that can do an equally good, or even better job?
The Best Clone Files Checker Alternative
Find duplicate photos, audios, videos, docs, packages, archives, etc.
Work with computer, external HD, SD card, Google Drive, etc.
Also find similar images, with adjustable similarity level
Remove duplicates from Music, iTunes, Photos and iPhoto.
Let you exclude certain files, folders or file types from scanning
Provide 3 preview modes, allowing side-by-side comparison
Auto-select duplicate files for you to delete with 1-click
Also provides 8 selection rules to help you mass select
Make it easy & customizable to find and remove duplicate files
Available for both Windows and Mac

Free Download

Free Download
Clone Files Checker review
How much space do duplicate files occupy on your computer? It can be a lot of gigabytes, especially if you've not cleaned your computer since long! To take you out of this mess, Clone Files Checker comes to rescue.
1. What is Clone Files Checker?
Launched by Sorcim Technologies, it is a duplicate file finder that can detect and delete duplicate photos, audios, videos, documents and other types of files. The version 1.0 was released in 2014. As of 2023, the latest version for PC is version 6.1.
2. Does it have a Mac version?
Yes. Clone File Checker was only available for Windows until the end of 2018. You can now download Clone Files Checker for Mac version 2.0 on its official website. It is compatible with Mac OS X 10.10 and later.
3. Is Clone Files Checker safe to use?
It's safe to install and use this app as long as you download it from reliable sources such as the official website and trustworthy software download sites.
4. Is Clone Files Checker free?
It is not free, but it does provide a free trial version for users to test and evaluate. The trial version allows you to scan for duplicates and delete up to ten duplicate groups. To access the full version with all features, you need to buy and register your copy of Clone Files Checker.
It's a bit expensive especially when compared with other duplicate file finders. There are alternatives that do an equally great job but cost much less.
5. What features does it have?
Find duplicates
Clone Files Checker is a powerful duplicate finder that helps remove many types of duplicate files from computer, Google Drive, Dropbox and more. It allows users to customize the scan. Under the "Include to scan" box on the main window, you can add the entire drive to scan, or specific folders from your computer. It also enables you to right-click a drive/folder to scan for duplicates.
The "Exclude from scan" feature enables users to exclude specific folders from scanning. If you are sure that certain folders do not contain duplicate files, you can exclude them from the scan to improve the scan efficiency. To filter certain extensions, go to Settings > Filter Settings. Then remove this extension from the list.
To meet users' different needs, Clone Files Checker provides 3 scan modes: File Search, Music Search and iTunes Search. In the Music Search and iTunes search modes, duplicates are identified based on music tags, including title, artist, album, track, duration and bit rate. It also compares file contents if music tags are missing.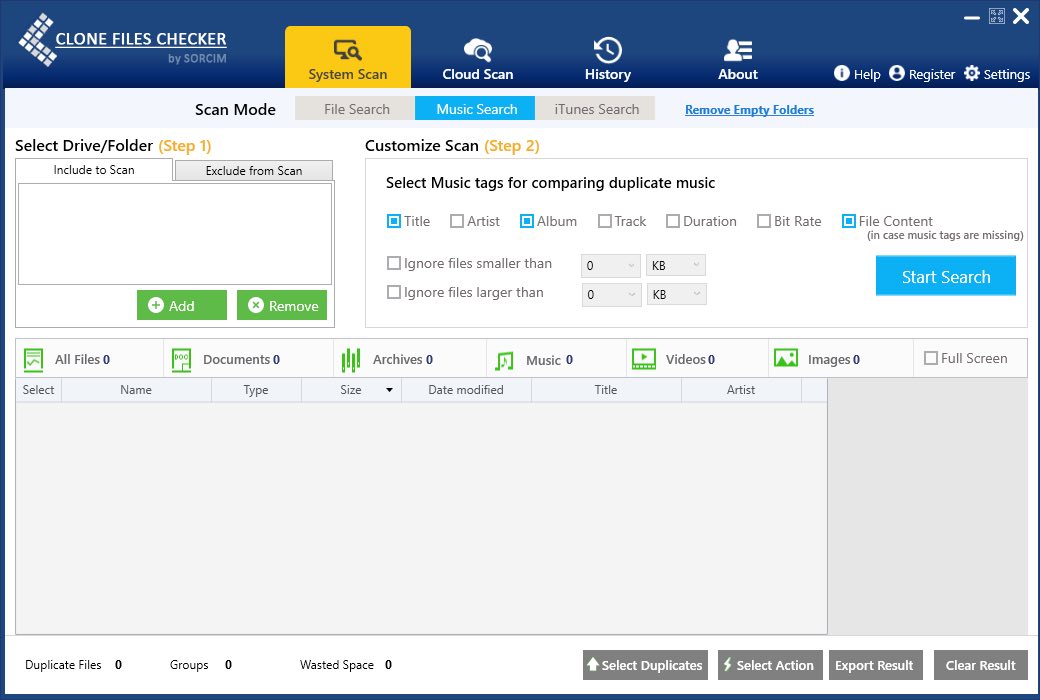 Preview duplicates
After scanning, the found duplicates will be displayed by categories, which is convenient for users to view.
Not all types of files can be previewed in Clone Files Checker. You can only view duplicate images and videos with its built-in preview feature. For documents, music and other files, you can view their file names, modified date, or file path to decide which one to remove.

You can save the scan results by clicking the "Export Result" button on the bottom right corner. Choose a save path and name the file. Currently Clone Files Checker only supports exporting to CSV format in Windows version.
Remove duplicates
Multiple selection options
The "Select Duplicates" button at the bottom of the window helps to bulk select duplicate files for removal, including retain the newest/oldest file in each group, retain the most/least modified file in each group and select by file locations.
Clone Files Checker offers free deletion of up to 10 duplicate file groups. To clean up more duplicates, you must upgrade to its Pro version. And there're 2 removal options for you to choose: Permanent Delete or Move to Folder. If you find yourself accidentally removed an important file, don't worry. Go to the History tab and the record of your last scan. Click on Restore.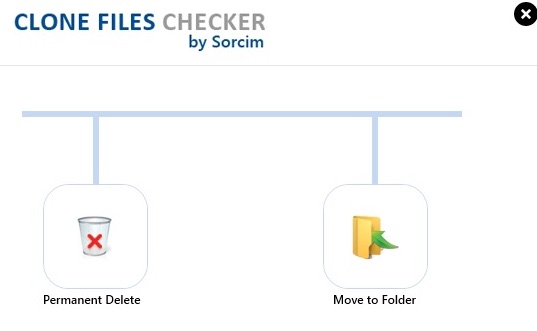 6. The differences between Clone Files Checker Windows & Mac version
Clone Files Checker is now available for both Windows and macOS. However, not all features of the Windows version are available for the Mac one. For example: Users can only preview duplicate images on the Mac version, while the Windows version supports not only images but also videos. Clone Files Checker for Mac has only one scan mode. In addition, the feature of restoring the deleted duplicate files with 1-click is only available on Windows.
7. Cons of Clone Files Checker
Not configurable enough so that cause program crash when scan too many files.
Can't drag and drop drive, folder or subfolder to scan.
8. Is it easy to use?
On the whole, this app is easy to use. Almost all the features are displayed on the interface.
Tutorial: How to use Clone Files Checker to find and eliminate duplicate files
This part will show you how to use this app. Let's take the Windows version as an example.
1. Download and install Clone File Checker on your PC. Launch it. Select from System Scan or Cloud Scan according to your need.
2. Click the Add button to select hard drive(s) or folder(s) to scan. You can also exclude some folders from scanning.
3. Use Search Options to filter files for scanning. You can choose file size range to scan. Click the Start Search button.
4. Once the scan is finished, the app will list the detected duplicates and tell you how much space they have taken. From the selection options, select the one you prefer.
5. Click the Select Action button. You can choose to move the duplicate files to a specific folder or permanently delete them.
The best Clone Files Checker alternative
All in all, Clone Files Checker is a powerful duplicate file cleaner. It supports a variety of files types and formats and provides a number of options and filters for users to facilitate and customize the process. This app can help free up storage space and keep files more organized. However, it is a bit expensive. Also, for Mac users, the current version lacks a few features. There are alternatives for you to consider.
Clone Files Checker alternative for Windows PC and Mac
Cisdem Duplicate Finder can quickly and accurately find and remove duplicate files including photos, videos, audios, documents, archives, etc. on a Windows or Mac computer. Using MD5 value checksum algorithm and byte-by-byte checking, this Clone Files Checker alternative can find true duplicate files with different names but same content. Below are its main features.
Support all file types and formats
Find and clean up duplicates on computer and external storage devices such as external HD, SD card, etc.
Also detect and remove similar images
Can scan multiple disks, folders, subfolders or combination of these simultaneously
Remove duplicate items from Mac's Photos (iPhoto)
Fast and accurate scanning for duplicates via advanced algorithms
Convenient sorting options and side-by-side preview feature
Auto-select duplicates for you to delete with just one click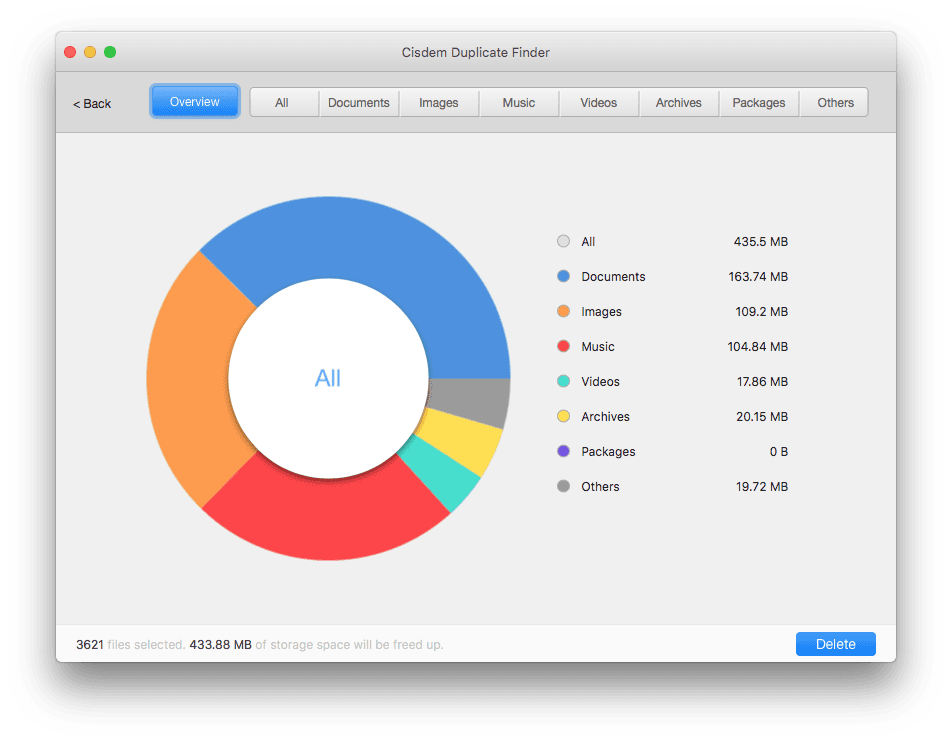 1. Download and install this alternative app to Clone Files Checker. Open it.
2. Drag hard drives or folders into this app. Click Scan.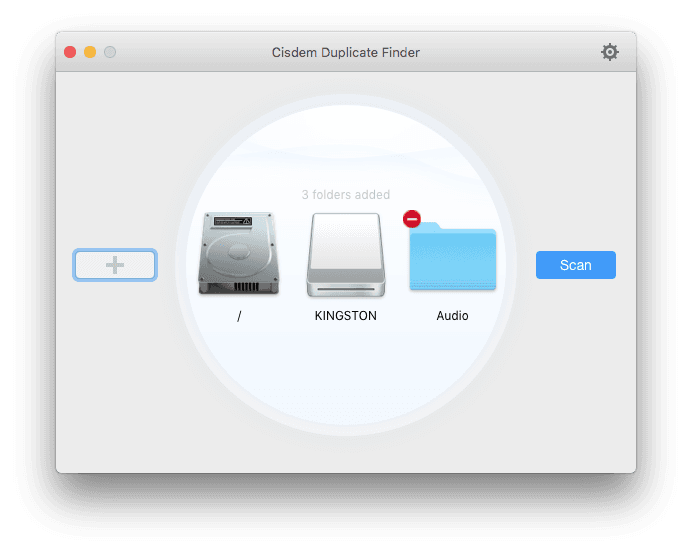 3. After the scan is finished, you can find a complete list of duplicate files under the All tab. You can view each type of duplicates (such as Images and Music) under its tab.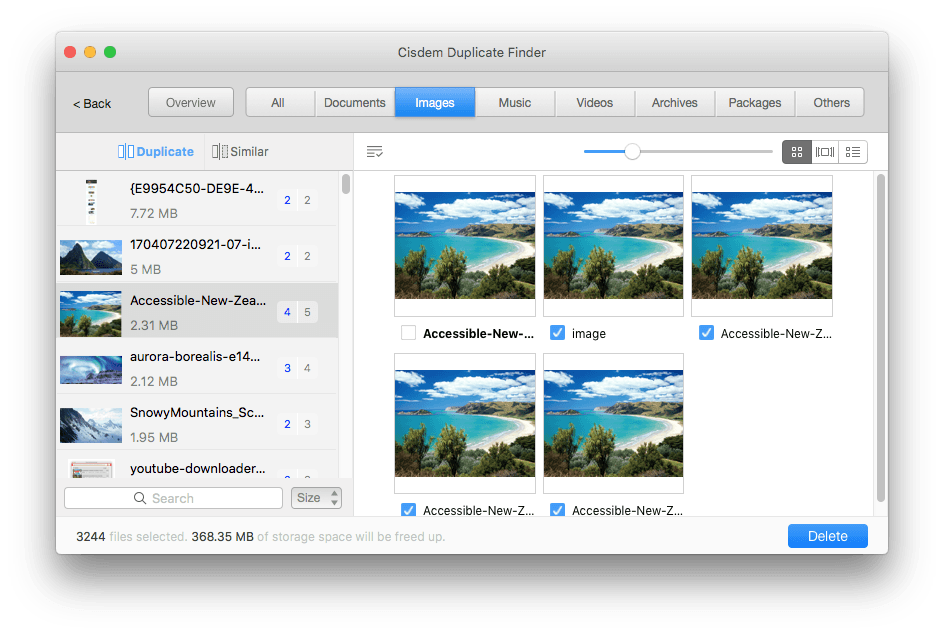 4. The Smart Select feature will automatically select the duplicates. You only need to click the Delete button.
Cisdem Duplicate Finder vs Clone Files Checker
Conclusion
Clone Files Checker has not been updated for long, and we expect more features and improvements in the future versions. Cisdem Duplicate Finder can be a good choice due to its powerful ability to finding duplicates and attractive price tag. Do you find this review useful? Do you want to recommend other software to remove duplicates? Just leave a comment below.