Want to sell your old iPhone or iPad? If you intend to buy a new iPhone like iPhone X or iPhone 8, you may consider disposing your old iPhone. Before you sell, give away or release your used iPhone to others, the first thing you should do is to erase iPhone data to keep your personal information safe. In this article, we will show you how to wipe an iPhone and iPad completely, and other things you can do manually before selling your iPhone or iPad.

How to Erase iPhone or iPad Directly with Your Device
If you still have your iPhone or iPad in your hands, you can erase iPhone or iPad by removing all contents and settings from your device with several steps. Before you wipe iPhone or iPad, you should backup your iOS device to iCloud or iTunes first and you shouldn't manually delete your contents or any other iCloud data while you're signed in to iCloud with your Apple ID.
On your iOS device, tap Settings > iCloud. Scroll down and tap Sign Out. In iOS 7 or earlier, tap Delete Account.
Tap "Settings" > "General" > "Reset" > "Erase all Content and Settings" on your iOS device. Then tap "Erase [device]" to confirm, if you are asked to enter your Apple password or device passcode, just enter it.
tips: This will completely wipe an iPad and iPhone data, including any credit or debit cards you added for Apple Pay and any photos, contacts, music, or apps. It will also turn off iCloud, iMessage, FaceTime, Game Center, and other services.
How to Erase iPhone and iPad using iTunes
Make sure that you have the latest version of iTunes and you can then set up your device as new, or restore from a backup. Follow below guidance to wipe an iPhone or iPad and set up your device as new.
Connect your iPhone or iPad to your computer and launch iTunes.
Select the iPhone or iPad when it is found by iTunes.
In the "Summary" tab, backup your iPhone with either iTunes or iCloud using the "Backup Now" button if you want to restore the iPhone again.
When the backup is finished. Click the "Restore iPhone…" button in the same panel and then click "Restore" again to confirm that you want to restore your device to factory settings and delete all data and content. After your device is restored to factory settings, it will restart. And iTunes will ask if you want to restore from backup. Choose "Set up as a new iPhone" to start fresh with factory settings.

How to Erase iPhone and iPad Remotely with iCloud
If you have turned on Find My iPhone, you can track and locate your device using iCloud. And if you don't have your iOS device in your hands or sometimes you forget your iPhone passcode, you can also use iCloud to erase iPhone and iPad to protect your personal data and information.
Sign in to iCloud on any web browser with your Apple ID and password. Then click Find My iPhone icon.
Click "All Devices", then select the device you want to erase. In the device's Info window, click Erase [device]. Click "Erase" in the pop-up window and enter your Apple ID password to wipe all date on your device.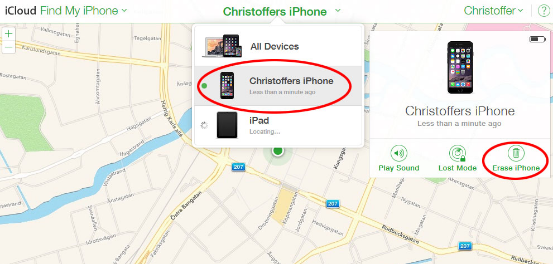 tips: After erasing iPhone or iPad, you cannot use "Find My iPhone" to locate it any more. So if your device is lost or stolen, you'd better locate it or play a sound on it before you decide to erase it remotely.
Wipe an iPhone or iPad Data Completely using Third-party Data Eraser
It's highly recommended to use third-party app to wipe an iPhone or iPad data before selling. Factory resets are simply not enough to remove your data but using a professional data cleaner ensures that your information is safe regardless of whose hands it falls into. You can also use some third-party iOS data eraser like iPhone Cleaner to safely delete all iPhone or iPad contents. Back up your iPhone or iPad data that you don't want to lose before erasing the iDevice using iOS data eraser. If you erase some files that you haven't backed up yet, you have to use an iOS data recovery to get them back.

Free Download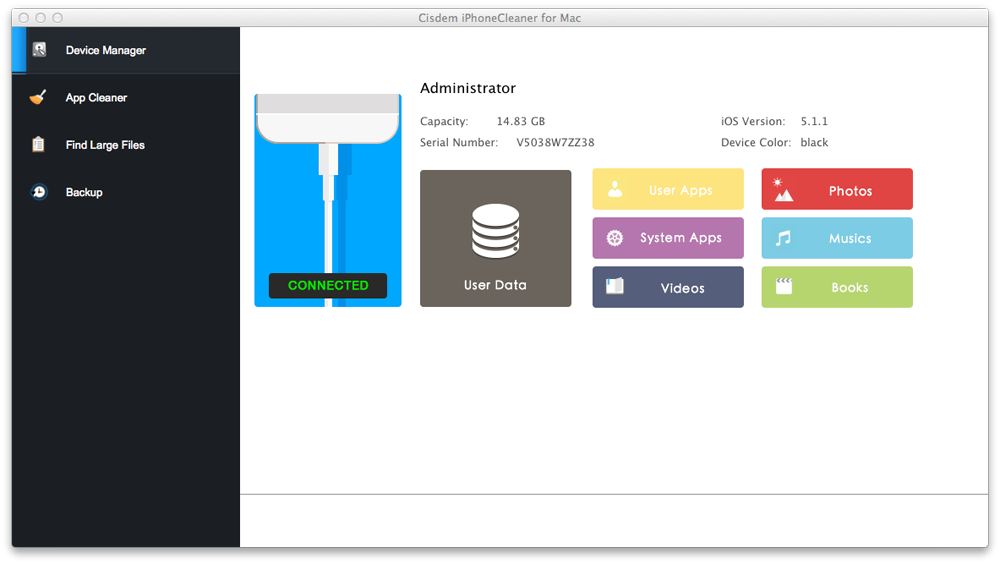 Other Things You Can Do Manually After Erasing iPhone or iPad
Remove your SIM card. On some devices, contacts and call logs can be stored on your SIM card, so it's really important that you remove it before selling your iPhone. Locate the SIM tray on the side of your iPhone and insert a paperclip or a SIM-eject tool into the hole beside the tray. Then remove your SIM card.
Disable your iCloud account. Open the Settings app > iCloud > tap "Delete Account" to delete the account from the device.
Log out of your Apple ID. Open the Settings app > iTunes & App Stores > tap Apple ID and sign out.
Turn off Find My iPhone. Having Find My iPhone activated can sometimes block activation by a new owner, so you'll need to turn if off before giving or selling your device. Go to Settings > iCloud > Find My iPhone and slide it to off.
Unlink your iPhone. Unregister your iPhone from Apple's website so that it's no longer linked to your Apple ID. Just go to Apple Support, log in with your Apple ID and click Edit Products on the top right. Click "unregister" and confirm to unlink your iPhone.
Find some iPhone recycling websites. If you are planning to sell your old iPhone, you can go to some cellphone recycling websites like Apple Reuse and Recycling program, eBay, Gazelle,etc.

Peter has always had great enthusiasm for writing, programming and web development. He likes writing about software and technology, his works are featured on some tech blogs or forums like Tom's Hardware, CNET, etc.