Most of us choose to scan a document and send or save as PDF for either type of following 2 reasons:
It cuts the cost to print paper files, which is environmental-friendly;
It save our work to hand out paper files, or update a paper file. We just need to scan to digitized PDF file, then send or edit the PDF file for team collaboration.
But how do you scan a document and save as PDF, even OCR to searchable PDF on Windows or MacOS? The solution you should pick will depend on if you have a scanner or not.
Turn Scans to Searchable PDF Mac
OCR scans in Image or PDF to searchable PDF
OCR scans in Image or PDF to Word, Excel, PPT, Keynote, Pages, ePub, Text, etc.
Save and merge all scans to one PDF
Compress and protect the scanned PDF
Convert native and protected PDF or images to 16 formats
Batch conversion
Accurate result

Free Download
If You Have A Scanner
In the case you have connected your computer to a scanner, the task to scan a document to PDF will be quite easier, you just need to start the program and get the scanned PDF. But if you want to scan a document, then edit the file for further use, you will not only need a scanner, but also a PDF editor. Here we will introduce the details to scan a document to PDF.
#1 Scan to PDF with a Scanner
In this workaround, items you need to scan to PDF are a computer and a scanner.
First of all, you need to prepare a scanner or a printer with scanning feature, here is a list of recommended scanner brand for your choice.
Fujitsu
Cannon
Epson
Brother
Dell
HP
Steps to Scan a Paper Document to PDF with a Scanner
Connect the scanner with your computer and install the driver program as guided;
Feed the paper file into the scanner;
Open the scanner program on your computer and tweak the scanning settings. Meanwhile, choose PDF as output;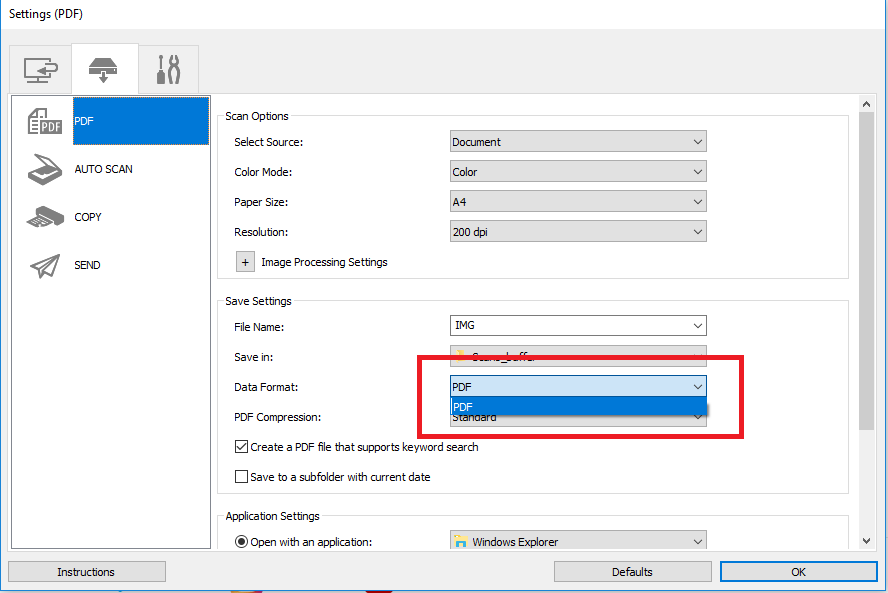 Click "Scan" to PDF and find the PDF in output folder.
Notes: Basically, all the scanners are workable on different operating systems. So, no matter you are using Windows or MacOS, a scanner will still work. In the case you want to scan business cards, here is a list of top business card scanner for your choice.
#2 Scan to PDF with Adobe+Scanner
As we all know, the output processed by a scanner is a scanned file, which means you cannot directly edit or modify without OCR. If you want to scan a document to PDF, and still edit the file, you will need a PDF tool with OCR. Here Adobe Acrobat is on the top of our pick list.
Adobe Acrobat, is the super powerful tool to manage PDFs, including viewing, creating, editing, filling & signing, protecting and redacting PDF, etc. Any toolbar you want to utilize to deal with a PDF is built in this program. Also, there are different versions for Mac users and Windows users.
Steps to Scan a Document to PDF with Adobe
Connect the scanner to your computer and feed the paper file to the scanner;
Launch Adobe Acrobat on your computer;
Go to Tools>Create PDF>Scanner, you can choose the setting icon to adjust your scanning preference.
Click "Scan" to save paper files as scanned PDF;
Once the scanned PDF is displayed in Adobe, select Recognize Text>In This File to perform Adobe OCR on scanned PDF. Also, you can choose the language in the drop-down menu.
If You Don't Have a Scanner
Luckily, even though you don't have a scanner, you can still scan a paper file to PDF, even to make a searchable PDF. What you need to do is, capturing the paper file as clearly as possible, then performing OCR on the image file. But you will need a PDF converter with OCR capability. Here, basing on the fact that most of our users are either Mac users or Windows users, we will demonstrate how to scan to PDF in following 2 parts.
#3 Scan Document to PDF on Windows
For Windows users who want to scan documents to PDF, Readiris 16 for Windows will be a good choice. It can convert any PDF and image files into 10+ formats, including searchable PDF, Word, Excel, HTML, TXT, PowerPoint, ODT, ePub, Audio and image, with original file quality well preserved in the output. It supports recognizing 130+ languages, basically covers all the common-used language for users from any areas.
How to Scan Document to PDF on Windows?
Capture a picture of your paper files, make it clear and flat;
Insert the image capture of your paper file into Readiris 16 by clicking "Insert".
Select the language for your file. Also, choose the output as PDF to make your scanned files in searchable PDF format.
Finally save the file and open PDF in your defaulted viewer.
#4 Scan Document to PDF on Mac
For Mac users who want to scan to PDF, PDF Converter OCR will be the best pick. Here are 2 reasons convincing users into this tool:
In one hand, you only need to capture the paper file, then import the image to the program and convert it to an image PDF; that means, all the paper files you captured with your camera can be converted to scanned PDF with this program;
In the other hand, you can recognize text from these image files, making them editable in PDF, Word, Excel, or any other common-used formats.
As you may have noticed, PDF Converter OCR is a mac PDF program designed to create and convert PDFs. You can create PDF files from paper file captures, from Microsoft Office files, CHM, HTML, ePub, Text, Rtfd, etc. Also, you can convert any PDFs, native or scanned ones into 16 formats, including Microsoft Office, Text, iWork Keynote, Pages, Rtfd, ePub, HTML, JPG, etc., with original file quality high retained. Even, it supports batch conversion and understand 200+ languages.
How to Scan Document to PDF on Mac?
Download the free trial of PDF Converter OCR, install and run on your mac.
Free Download
Capture an image of your paper files with Mac Camera, make it clear and flat;
Drag and drop files into the program.
It supports batch conversion. If you want to make the paper image in PDF format, go to "Creator"; if you want to convert the capture into searchable PDF or other formats, go to step 3.
Choose the file language and output as needed. Also, you can fill page range to convert specified pages.
Click "Convert" to make the scanned files in preferred format. You can find the output by clicking the folder icon.
Notes:
For more accurate OCR results, you can click the "Settings" icon. Check if all OCR applied zone is marked correctly, if not or improperly, manually adjust. For example, if you want to output a part as table, remove the mark box in this zone, click on "Mark Tables" in the OCR applied zone, then drag a mark box to select those contents you want to mark as Tables. This is done to make sure all the parts are recognized properly and will be outputed with good formatting.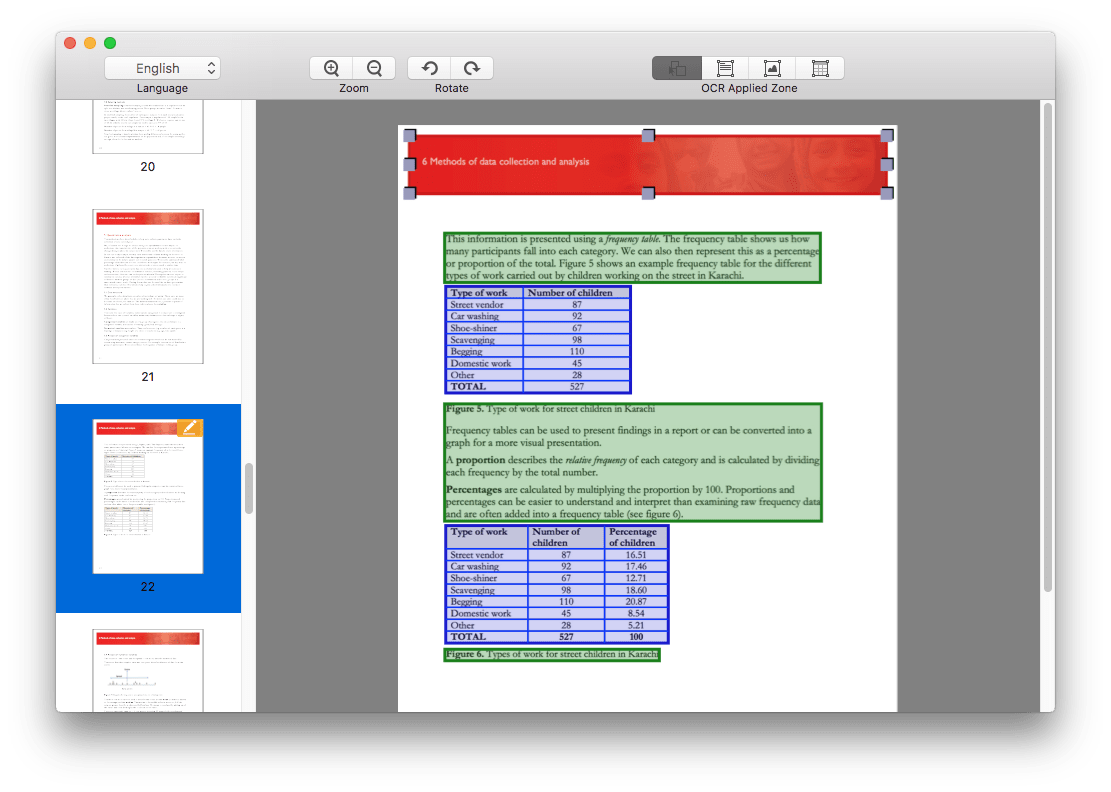 Final Thoughts
In fact, you don't have to buy a scanner to scan to PDF. As technology develops, we can fully use our mobile devices and cameras to output high-resolution images and scan paper files. While a PDF Converter OCR, will help to save your scanned files as PDF, also convert them into different editable formats, which we need to cope with in our daily work. So, buy you an affordable PDF program to solve as many desk-bound problems as possible, instead of investing a lot of money on a scanner.