In the case that you have scanned a paper document to JPG or taken a screenshot/picture of a paper document for convenient saving or sharing, you may need to convert this JPG document to Word format for editing purposes. As you may have noticed, to convert a JPG to Word format, you need to apply the OCR technology, the solution to recognize characters from non-searchable and non-editable image-based file.
To convert JPG to Word, you can utilize online free OCR services or professional JPG to Word OCR software. In this article, solutions on "How to Convert JPG to Word" will be classified into following 2 parts:
Convert JPG to Word Online Free
As you may have searched in Google, there are abundant online JPG to Word Converter for your choices, we pick 4 outstanding online JPG to Word Converter for you to save JPG as Word format for free.
If you work on file conversion very often, you should be familiar with this online free OCR tool, converting JPG to Word is one of its various free services. If you want to convert video, audio, eBook, image or CAD, Zamzar will offer you a free solution.
Convert JPG to Word with Zamzar
Step 1. Upload JPG to Zamzar for JPG-Word Conversion
Step 2. Choose DOC or DOCX as output format
Step 3. Enter email address to get Word file converted from JPG document
Step 4. Download Word file according to download link sent to your email box

Pros: Batch Conversion is supported
Cons: Email address is required (Risk of Receiving Spam)
It supports to convert any document into Docx. You can upload JPG file in 3 ways: directly import from computer, enter url, upload from cloud services.
Step 1. Upload jpg according to instructions for JPG to Word conversion
Step 2. Click "Convert" to start JPG-to-Word conversion
Step 3.The converted Word file will be downloaded automatically after conversion, save it on your computer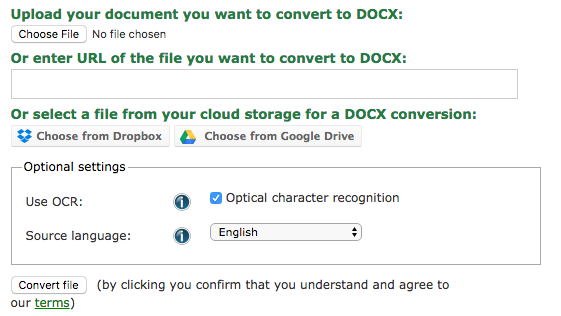 Pros: Multiple Ways to upload file for JPG-to-Word conversion
Cons: File quality is lost to some extent
It supports performing OCR on PDF and image files, export them into Docx, Text and XLSL.
Step 1. Upload JPG file for JPg-to-Word Conversion
Step 2. Select language and output format for the JPG-to-Word Conversion
Step 3. Convert JPG to Word

Pros: Preview before downloading the converted file
Cons: File limit is 5mb
File quality is lost to some extent
Things you need to know when converting JPG to Word online
Don't upload highly-private JPG file to get risk of information leakage
Don't upload large size JPG for conversion due to slow uploading and conversion process
Don't forget to check converted Word file and manually adjust errors
Utilize Offline Professional JPG to Word Converter for Accurate Results
If you require high on the conversion quality, you are recommended to utilize a professional offline JPG to Word Converter, they will pay each cent you invest back with highly accurate results and good file quality as original.
Cisdem PDF Converter OCR, the best PDF OCR Software to convert image and PDF to Word, Excel, HTML, PowerPoint, and other editable formats (total 15+ formats) with original file quality retained. With this program, you can:
Convert JPG, PNG and other images, even scanned files into Word, searchable PDF, Excel, Keynote, Pages, ePub, etc;
Perform conversions between different images, JPG to PNG, JPG to Gif, BMP to JPG, etc;
Create PDF file from JPG, PNG, Word, PowerPoint, CHM, ePub, etc;
Merge PDF when creating PDF files with this app;
Retain everything exactly the same as original files;
Batch process to save much time;
Follow the steps to convert JPG to Word on mac or windows now!
Add JPG files to PDF Converter OCR for JPG to Word Conversion.
Go to "Converter", just drag and drop JPG file into the program, or click "+" to import JPG.
Prepare for JPG to Word Conversion on Mac.
The JPG file will be under OCR mode once imported. If needed, select the language and page range. Also choose the output as Word Docx or Doc.For more accurate OCR results, you can click the "Settings" icon beside the language menu. A new interface will appear, with each part of the OCR applied zone marked as Texts, Images or Tables in different colorful boxes. You can check if all the contents are marked correctly, if not, manually adjust. For example, if you want a part recognized as Table, remove the defaulted mark box, click on "Mark Tables" under OCR Applied Zone toolbars, then drag a mark box to select the contents you want to recognize as Tables.
Convert JPG to Word on Mac.
Click "Convert" to start OCR to Word conversion. Find the Word file in output folder and edit as you want to.
Also, you can check the video tutorial.
So, which method do you choose to convert JPG to Word Online or Offline? Leave us your comments below!

Connie has been writing for Mac productivity and utility apps since 2009. Each review and solution is based on her practical tests, she is aways energetic and trustworthy in this field.