Have you ever deleted or lost some audio files that are extremely meaningful to you from your iPods and mobile phones, from MP3/MP4 player or from any other storage devices like SD Cards, external hard drives? Have you ever tried your best to find a way to recover lost audio files on Mac? This article comes to offer you a complete solution for audio file recovery on Mac.
Factors caused audio file loss
More and more users prefer to enjoy music or record important information in voice instead of typing words on computer or mobile phones. However, data loss is a common phenomenon in our daily life. And your precious audio files can be easily lost due to various factors as below:
Accidentally delete audio files on your iPod, MP3 or MP4 player.
Hard drive damaged when copying audio files from memory card to Mac.
All audio files on your storage devices like memory cards, hard drives are gone because of formatting.
Audio files lost when transferring from memory card to Mac.
Move out the memory card when your device is still working.
Delete audio files permanently on your Mac.
When audio files are deleted, formatted or lost, it's impossible for you to access and play them. However, the binary information of lost audios will still exist on the original device or hard disk unless new data overwrite them. This means that the lost audio files are recoverable if you perform audio recovery in time. So it is important NOT to use your device, until you find a solution. Keeping that simple rule in mind will increase the recovery probability of your lost file.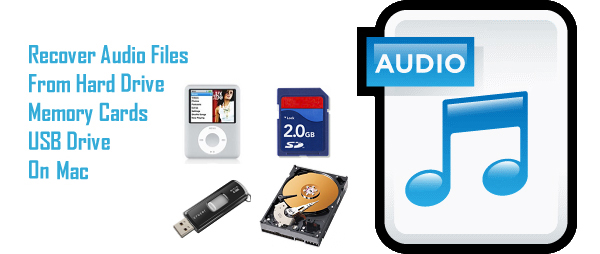 The best audio file recovery software
If you are on your own way to recover deleted audio files on Mac, you may wonder how. That's why Cisdem Data Recovery comes in. Cisdem Data Recovery for Mac is a professional data recovery software perfectly designed for Mac users to recover their lost data including audio files from hard drive or external storage devices.
Features of Cisdem Data Recovery for Mac:
Recover audio files due to format, lost, deletion and inaccessibility
Recover audio files from Mac, iPods, external hard drives, USB drives and other storage devices like memory cards, MP3/MP4 players, mobile phones (except iPhone)
Recover various audio file formats like mp3, ogg, flac, 1cd, aif, ape, itu, shn, rns, ra, all, caf, au, ds2, dss, mid, sib, mus, xm, wv, rx2, ptf, it, xfs, amr, gpx, vdj, tg, etc in their original quality
Also allow you to recover photos, videos, documents, archives, packages, etc on Mac
Repair damaged videos
Only read and recover data, no leaking, modifying or things like that
100% safe and easiest data recovery
Preview files before recovery
Quickly search files with keyword, file size, date created, date modified
Recover files to local drive or to cloud
It is very easy to use and requires no professional skill or data recovery experience. You can download free trial of Cisdem Data Recovery for Mac and follow detailed steps to recover audio files from any storage devices on Mac.

Free Download
Steps to recover lost audio files from devices on Mac
Connect your external devices like external hard drive, memory card, MP3 player to your Mac.
Go to Disk Data Recovery, choose the location where your audio files are stored.
Also Read: Get Back All Deleted Voice Memos from iPhone (iPhone 7 Included)
Click "Search for lost files" to go on the process. Go to Type>Audio, double click on the audio file to listen to it.
Select those audio files you want to retrieve and click "Recover" to selectively get them back on your Mac.
Always enable Time Machine and backup them on external devices. In case your Mac gets stolen, you'll be able to restore your whole data on a new one. And the most secure method is to backup on cloud regularly. No matter what happens to your device, or if you lose back-up devices you can still have access to your data. Check article 2016 Top 7 Best Free Cloud Storage Providers or Services for Backing up Files to find a suitable cloud storage service.
Extended information about audio file formats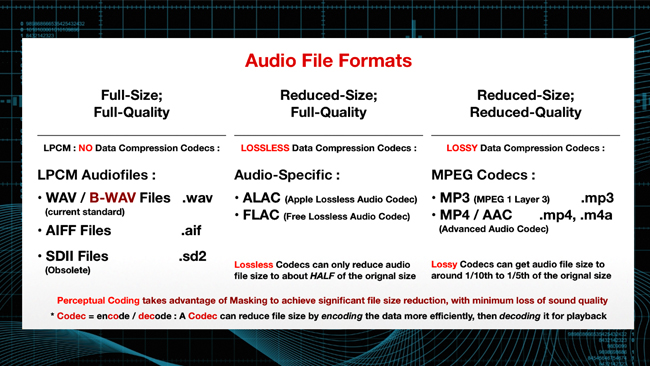 An audio file format is a file format for storing digital audio data on a computer system. There are many formats of audio and codecs, but they can be divided in three basic groups:
Uncompressed audio formats: WAV, AIFF, AU or raw header-less PCM, etc
Formats with lossless compression: require more processing for the same time recorded, but would be more efficient in terms of disk space used, and include FLAC, Monkey's Audio (filename extension .ape), WavPack (filename extension .wv), TTA, ATRAC Advanced Lossless, ALAC (filename extension .m4a), MPEG-4 SLS, MPEG-4 ALS, MPEG-4 DST, Windows Media Audio Lossless (WMA Lossless), and Shorten (SHN).
Formats with lossy compression: are the most used audio formats in today's computers and other multimedia equipment and includes Opus, MP3, Vorbis, Musepack, AAC, ATRAC and Windows Media Audio Lossy (WMA lossy), etc

Connie has been writing for Mac productivity and utility apps since 2009. Each review and solution is based on her practical tests, she is aways energetic and trustworthy in this field.