Receipt is indeed a great tool for us to keep track of our expense systematically, however, almost all the receipts we get are a printed-paper or in scanned digital copy, which is not easy to file and track. Therefore, we need perform receipt ocr on these files, to make the receipt copyable, searchable and file into editable format for easy tracking.
To do receipt OCR, we need professional OCR tools, here we list 6 best receipt OCR tools, including high-quality receipt OCR software that work on a Mac or Windows PC and receipt OCR app that manage your receipt on Android or iPhone. For sure, there includes the free receipt ocr solutions.
Best Receipt OCR Software 2023
There are plentiful OCR tools available on the market and it is not easy to pick up the best one. So, we tested and collected feedbacks from a lot of OCR users, finally Cisdem PDF Converter OCR is proved to be the best option, it is worth a try.
Cisdem PDF Converter OCR is a mac&windows program to convert and create PDF from other documents, also with its OCR feature, users are allowed to convert scanned PDFs and images, like your receipt, invoice, signed contract to various editable formats (Word, Excel, PowerPoint, Text, etc.), so you can manage these files easily on your mac or windows.
What's more, to deal with a bunch of receipt or scanned files in the same time, Cisdem support batch OCR, which is helpful to save your time on a receipt OCR task.
Try the Best/Easiest Receipt OCR
OCR receipts, invoice, contracts and other printed/scanned files
OCR both scanned/protected PDF and images
Batch OCR receipts and other files in the same time
Advance OCR settings for accurate result
Export PDF and images to 15+ formats: searchable PDF, Word, Excel, PowerPoint, Keynote, Pages, Text
Create PDF from receipt or other files
Merge receipts to PDF

Free Download

Free Download
How to Perform Receipt OCR on Mac or Windows with Cisdem?
Step 1

Download and install Cisdem PDF Converter on your mac/windows
Step 2

Import receipt files for OCR.

You can drag and drop your PDF receipt or image receipt to the program.

If you just have paper receipts in hand, you can go to the end of this post to learn how to scan your receipt to digital copy on computer.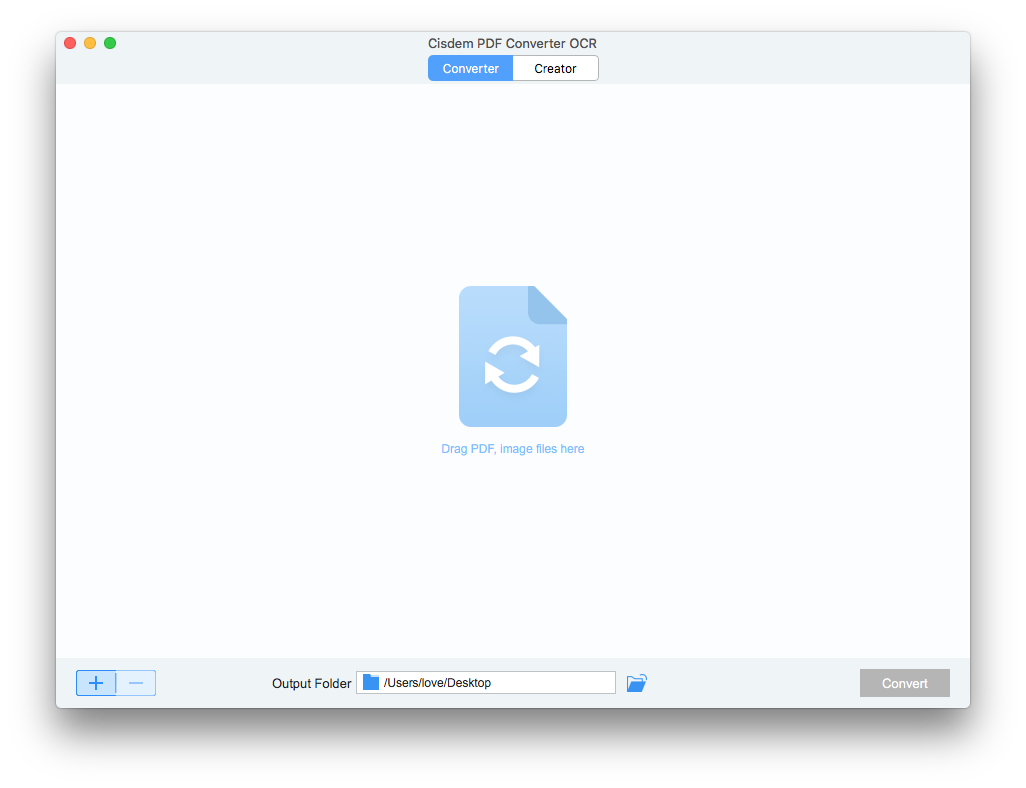 Step 2

Download the OCR module.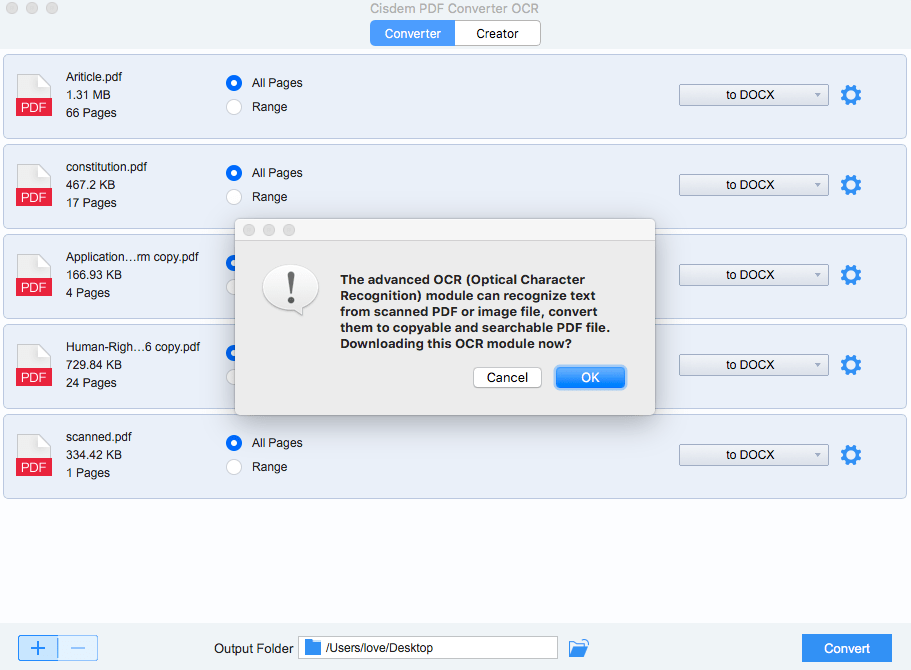 Step 3

Prepare for PDF receipt OCR or image receipt OCR.

For PDF receipts, then choose file language, page range and select output as Excel, Text or other editable formats;

For Image receipts, choose file language, output and image settings as needed.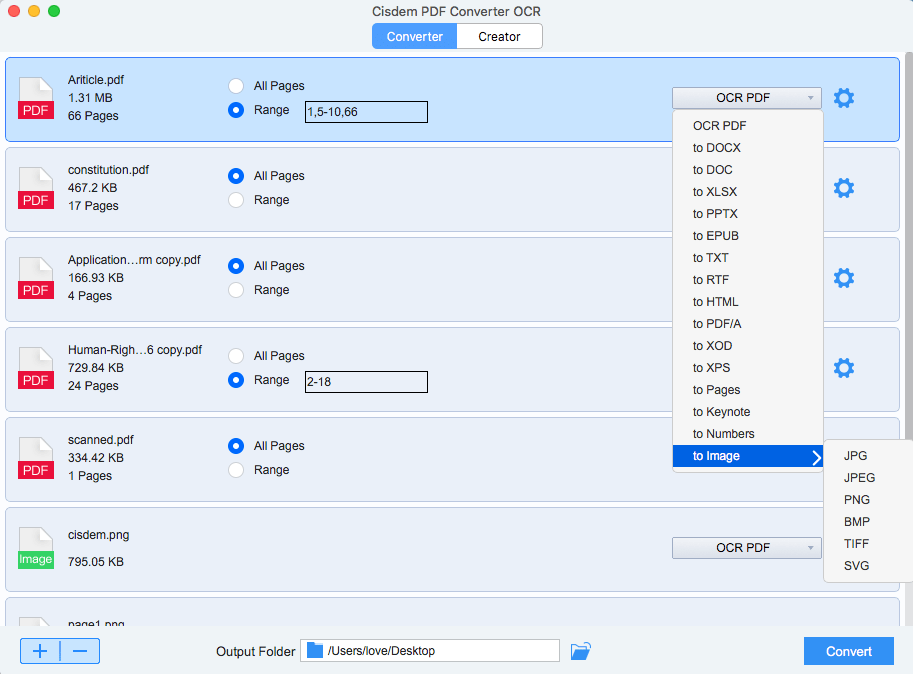 Step 4

Perform receipt OCR on mac or windows.

Then click "Convert" to start the receipt OCR progress on your mac or Windows.
How to Perform Receipt OCR Online Free
If you want to do OCR on receipts online free without installing any 3rd party OCR software, you cannot miss out Google Docs and online2pdf, these 2 are my favorite solutions, they are free and able to get your OCR job done.
Receipt OCR Online Free with Google Docs
For users once searched online free solutions to manage and share documents, Google Docs won't sound unfamiliar to them. Google Docs is one of the most online free platforms to manage and edit documents, offered by Google, also, it offers Google OCR feature for scanned PDF and images.
How to Do Receipt OCR Online Free with Google Docs?
Login into your Google Account.
Go to Google Drive, drag and drop your receipt files for uploading, or click "+ New" to import.
Right click on the receipt file, open with Google Docs and the receipt OCR will start automatically.
Edit the receipt file if needed. Once the receipt is displayed in Google Docs, it is ready for editing, you can modify in Google Docs with its editing tools.
Save the receipt as other format in Google Docs.Go to File>Download, choose an output for your receipt file.
Advantages:
Free to use
Allow editing
Support OCR PDF and image receipt
Disadvantages:
Formatting will miss
No batch OCR
Take time to finish an OCR task
Receipt OCR Online Free with online2pdf
Online2pdf is an online PDF tool to convert, create, merge, split, protect, compress and unlock PDF for free. Its PDF converter support batch OCR PDF or image files, while allowing users to customize the output file to some extent. Though it has a limit on file size, file quantity and file language, it can basically meet users' need to OCR several receipts.
How to Perform Receipt OCR Online Free with online2pdf?
Go to online2pdf.
Drag and drop PDF or image receipt files to the program.
Choose output and select file language.
Go to Preferences, customize before OCR starts.
Click "Convert" to do receipt OCR online.
Once the OCR finishes, download the output to your computer.
Advantages:
Free to use
Support PDF and image OCR
Support batch OCR
Allow exporting as various output
Disadvantages:
Limit on file size and quality
File quality is lost to some extent, need manually adjust
Best Receipt OCR App for Android and iPhone
Also, you can file and track your receipts on a mobile phone instead of spending time to work on a Mac or Windows PC. Still, the best receipt OCR app is listed as following respectively for Android users and iPhone users.
Best Receipt OCR App for Android Phone
Text Scanner [OCR] from Peace is one of the most popular OCR app to copy text from images and scans. It processes the OCR fast and accurately, supporting more than 50 different languages, even working on handwriting notes. More importantly, Text Scanner provides practically useful ways to operate the recognized text, you can dial the extracted phone numbers, copy text to clipboard, email, Google Drive, Google Keep, share to other cloud-based service…
How to Do Receipt OCR on Android Phone?
1. Go to Google Play, download and install Text Scanner to your Android phone or tablet.
2. Import receipt files by taking a picture of the receipt with your camera, or upload from your album.
3. Then operate the recognized text after receipt OCR, copy, share or send according to your needs.
Best Receipt OCR App for iPhone
CamScanner is a highly recommended application to perform OCR on iOS device, it scores high in Mac Appstore and is under active development, with the latest version released on Feb 27th. This app offers a lost of features to manage your paper or scanned files, like scan directly with your camera, optimize scan quality, sign on files, annotate and add watermark to files, extract/share recognized text from images, even protect your files. Its premium version allows you to edit the OCR results and other advanced features to work on PDF/images efficiently.
How to Do Receipt OCR in iPhone?
1. Go to App Store, download and install CamScanner to your iPhone.
2. Import receipt files by taking a picture of the receipt with your camera.
3. (Optional) Crop and enhance the receipt scans to look clear and sharp.
4. After the receipt OCR, copy or share the recognized text as needed.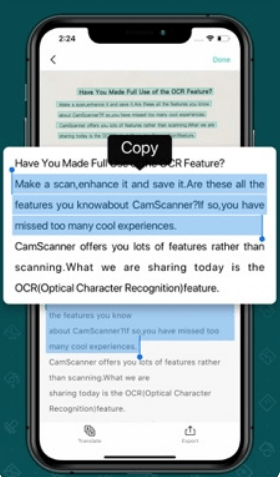 Extended: How Do I Scan A Receipt to My Computer
For sure, most of the receipts are papers, when how to scan a receipt to computer? There are 3 ways:
Way #1
Take a picture of the paper receipt with your mobile phone camera, and save to your photo library, then import to OCR app for recognization.
Way #2
Take a picture of the paper receipt with your mac/windows camera, then sync the receipt images to your mobile phone via Dropbox or other transfer tools.
Way #3
Connect a scanner to your Mac or Windows PC, place the paper receipts in the scanner, then run the scanning program on your computer, start the scanning and save paper receipts as PDF or image format.
Conclusion
It is not difficult to perform receipt OCR, as long as you have found the right OCR software or applications to recognize text from your receipts on Mac, Windows, even mobile phone.