When you're handing a business PDF file, you'll sometimes need to split a large PDF to separate PDF files. For example, you can separate a PDF into multiple individual PDF files and then deliver each file to different person to handle it. By doing so, you can get certain persons handle specific part, and keep your files safe. This article will introduce 3 ways to split PDF files on Mac.
Way 1. Split PDF on Mac with Preview
Every Mac comes installed with Apple's simple and useful application, Preview. To deal with one single PDF document, you can use Preview to split PDF document into several PDF files on Mac OS(Sierra Included). Follow the steps below for splitting PDF files on Mac: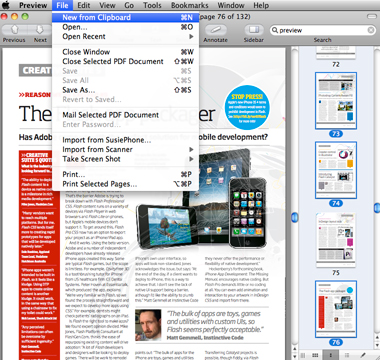 Open the PDF file in Preview.
Select the pages you want to split into smaller PDF documents.
Drag and drop the selected PDF pages to your desktop or to a Finder window. It will then copy the selected PDF pages to its own PDF documents.
Note: This way is easy-to-use if you need to split only a few PDF as separate files. However, it must be time-consuming and tedious to split many PDFs with copying and pasting manually.
Way 2. Split PDF on Mac Using a Free Online Service
Find a free PDF splitter online. You'll be able to use an online service to split a PDF file into one or more pieces. Find a reliable and free website, such as "splitpdf.com."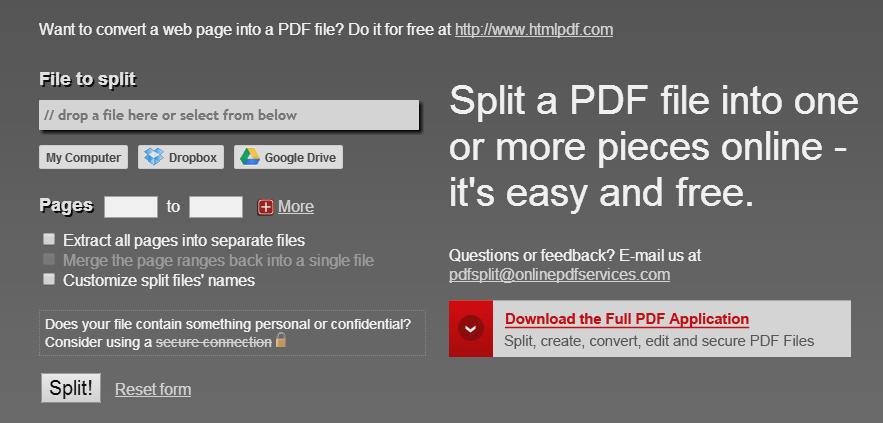 Select and add your PDF files from your computer, Dropbox or Google Drive.
After adding your PDF files, you can set the pages to split.
Type your email address if it's required. Many free online PDF splitters will ask for your email address so they can email the finished product to you; others will simply allow you access the finished product online.
Way 3. Split PDF on Mac with A PDF Editor
If you have Cisdem PDFMaster installed, its Split function can split multiple PDF files as separate PDF conveniently and quickly with only a few clicks.
Cisdem PDFMaster can work as a PDF Splitter for Mac to help you quickly extract special pages or page ranges from large PDF files by splitting. What's more, as a all-in-one PDF editor, it also lets you easily view, edit, create, annotate, merge, compress, protect, decrypt, export PDFs into editable formats without losing quality.

Free Download
Download and install Cisdem PDFMaster to your Mac. Run it.
Go to PDF Split;
Then drag and drop PDF files into the program for PDF splitting.
Tweak the settings, select page numbers and output folder.
Click the "Convert" button to split your PDF files on Mac.

Rosa Reyes


Rosa has worked in Mac software industry for more than eight years. She believes that the purpose of software is to make life better and work more productively. In addition to writing, Rosa is also an avid runner.