Tiff or Tif, abbreviation of Tagged Image File Format, is widely used to store raster graphics images. It is also deemed as a popular format for deep-color images coming after JPG and PNG.
And today, most of the files that we deal with frequently in our work and life are saved in PDF format, since PDF plays as a standard file format to store and share files due to its flexibility and versatility. That's no wonder we will need to convert Tiff to PDF from time to time. Here in this article, we will share free or professional solutions to batch convert Tiff to PDF with ease.
Batch Convert Tiff to PDF Free
You may have searched online for free solutions to convert tiff to PDF as many other users do. Here we list 2 website to batch convert tiff to PDF with image quality not badly harmed for you.
online2pdf allows you to convert tiff to pdf easily, also offers several features to merge, edit, convert to others and unlock pdf.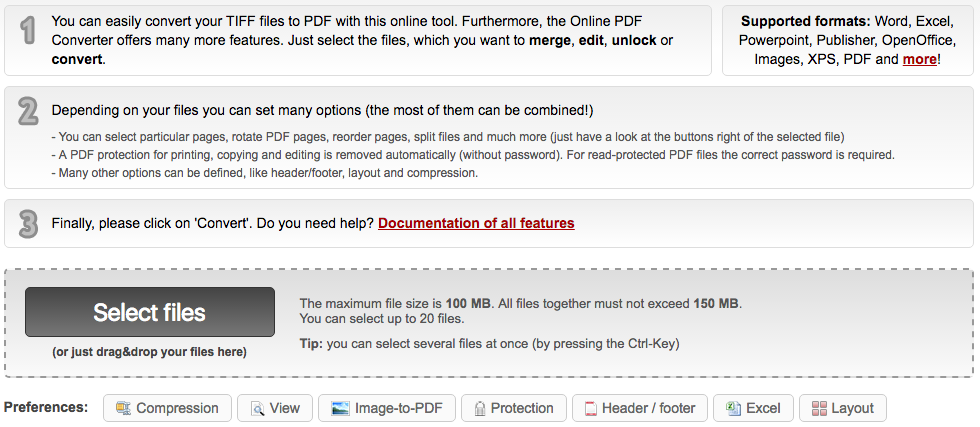 You will just need to follow the instructions on the web, it is quite easy.
tifftopdf enables users to merge multiple Tiff files into one PDF, also automatically manage(rotate, optimize, compress pdf) files with original tiff resolution retained.

Just follow the guide on the webpage, don't forget to merge all these tiff files to one PDF if you want to.
Batch Convert Tiff to PDF on Mac
The point online tiff to pdf converter disappoint you may be the conversion quality. So, if you demand high on conversion quality or requires 100% security to process files, you need the help of a dedicated PDF creator, to convert Tiff to PDF on mac with high quality.
Cisdem PDFMaster, is such a tool to convert multiple file formats into PDF and create PDF files in the same format, layout or image quality as the original file. Its supported input format includes HTML to PDF, Word to PDF, Powerpoint, Text, ePub, Rtfd, CHM, JPG, PNG, etc. What's more, it can merge all imported files into one PDF without any error. Besides, it offers additional features: convert, edit, compress, merge, split, encrypt and decrypt PDFs.

Free Download
Import Tiff Files for Batch Converting to PDF on Mac.
After you have installed the Cisdem PDFMaster on mac and launched it, go to PDF Create, click "+" or drag&drop the tiff files into the program, batch conversion is supported.
Adjust Setting for Tiff to PDF Conversion on Mac.
You can change the output name as you want to, or turn the Merge button ON to combine all these imported files into one PDF.
Process Tiff to PDF Conversion within One-Click on Mac.
Click to change Tiff to PDF on mac, and then choose the output folder.
Batch Convert Tiff to PDF on Windows
If you are a Windows user, you can try a PDF creator for Windows, such as the free one, pdfforge PDFCreator, a tool converting various files to PDF by printing files as PDF with a virtual printer.
Install and run PDFForge PDF Creator on Windows
Choose output format and folder under Profile Setting
Go to Profile Setting>Actions, check the box before "Print Document"
Go to Application Setting and add the printer under "Printers"
Open your Tiff file with the image viewer on Windows, go to File> Print, choose the added printer of PDFForge to print Tiff as PDF.
Final Words
Definitely, there are more options to convert tiff to PDF, but if you are working with highly private files, or need to convert tiff to PDF clearly, offline tools are more recommendable, as they can eradicate the quality issue no matter how you are picky on this point.

Connie has been writing for Mac productivity and utility apps since 2009. Each review and solution is based on her practical tests, she is aways energetic and trustworthy in this field.