Sometimes, we need to combine 2, 3 or more PDF files into one so that we can get all the wanted pages in one file. But you may find that It's not immediately obvious on how to combine PDF files on Mac.
Luckily, Preview, the build in Mac PDF viewer offers super simple and free way to reorder pages, organize and combine PDF files. However, while preview works perfectly fine, it isn't efficient when you've to merge a lot of PDFs.
So, here in this tutorial we list everything and tool you need to know about PDF combining, from simple merging with Mac built-in apps to digging deep with efficient desktop PDF programs.
Method 1. Combine PDFs with Mac Preview
Apple's Preview is a very useful utility on Mac. it comes pre-installed and is absolutely free to use. With Mac Preview you can reorder PDF pages, rotate and combine PDF files or combine pdf pages.
Note: Preview saves changes automatically. So, If you want to keep your original PDFs intact, please make sure to duplicate and make a copy of your PDFs before combining.
Here's how to combine two PDF files into one:
Right-click and choose to open your PDF files with Preview.
Go to View > Thumbnails. Then it will start to show page thumbnails in the left sidebar.

Select thumbnail of the page where you want to insert the other PDF file. then click Edit > Insert > Page from File

Finally, Choose File > Export as PDF to save.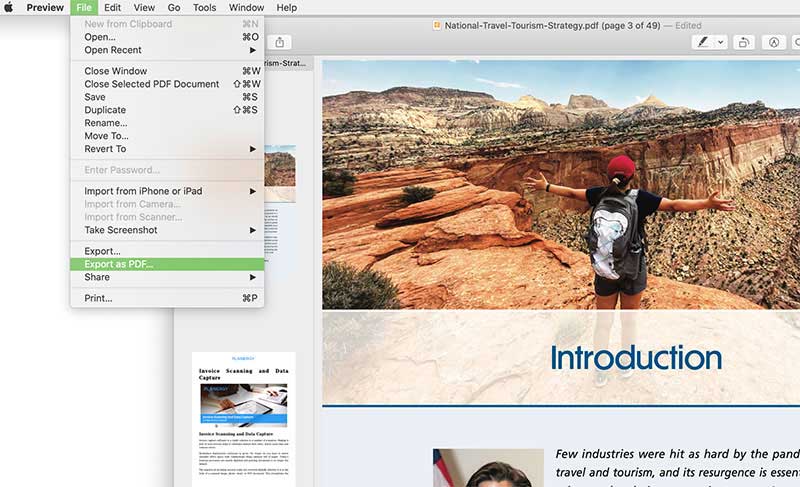 And here's how to combine parts of one PDF with another PDF:
Open both of the PDFs you want to combine in Preview.
Press and hold the Command key, and select the page thumbnails that you want to merge. and Let go of the Command key.
Drag the selected thumbnails to the sidebar of the other PDF.
With preview you can also rotate, delete and reorder pages before the combining.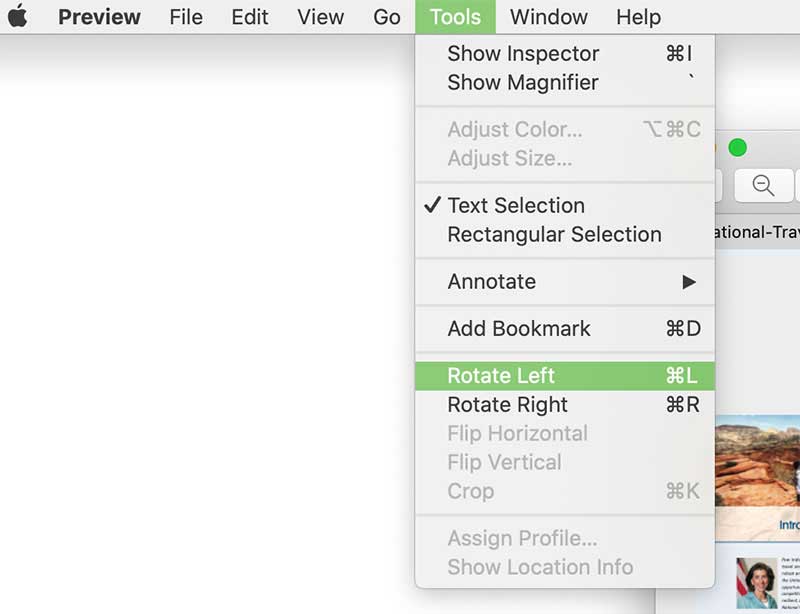 Preview Won't Combine PDFs? Fix It!
Preview is undoubtedly an excellent productivity tool on Mac, you can count on this app most of the times. But there may be some times that it has poor performance or becomes completely unusable for users, this is particularly frustrating when Preview won't combine PDFs.
The reasons why Preview won't combine PDFs can be many, either technical problems or human errors. Here we will list several solutions for you to fix this.
Fix 1. Restart Preview
Quit Preview app, or click on Apple icon>Force Quit to exit Preview.
Then restart the Preview app and repeat the combining process as we list above.
Fix 2. Drag the thumbnails to the right place
Don't just drag the thumbnails into the thumbnails sidebar, try to drop them directly on top of another thumbnail.
Method 2: Using Adobe Acrobat's Free Online Tool to Combine PDFs
We all know we can combine PDFs with Adobe Acrobat, but that software will cost you $13 a month. Luckily, we can still use Adobe Acrobat's free online tool to combine PDFs, and result is very good.
Combining PDF files with Adobe Acrobat's Free online tool
The online site is very straight forward you just need to add your PDF files into the main "Merge PDFs" at the center of the page.

Once you've uploaded your PDF files, it will start uploading and showing your PDF files, just select the files you need to combine and click "Merge"

The site will process and start combining PDF files, after the process it will ask you to download the merged PDF file.

Method 3. Combine 2, 3 or Multiple PDF Files with Finder
Besides Preview, macOS has other built-in apps to help users combine 2, 3 or multiple PDFs into one for free.
Finder
Select all the PDF files that you want to combine
Right click them and choose Quick Actions>Create PDF.
A combined PDF will be created under the same location of the original PDFs.
Notes: Finder app can only combine PDF files in the same folder, and you cannot reorder the pages when combining.
Automator
Go to Applications, find the Automator app and launch it.
Select Workflow>Choose.
Select Files & Folders >Ask for Finder Items, drag it to the right panel, tick the box before Allow Multiple Selection.
Select PDFs>Combine PDF Pages, drag it to the right panel.
Select Files & Folders>Move Finder Items, drag it to the right panel, choose the output location where you want to save the merged PDF.
Click on Run button and load the PDF documents that you want to combine.
Check the merged PDF in output folder. Quit Automator app, then save the workflow to combine your PDFs next time. You just need to open the workflow and load PDFs for auto PDF merging on Mac.
Method 4. Combine PDF Files on Mac with Smallpdf
Online PDF combiner also can help you to combine PDF files on Mac, and it is totally for free. If you are interested in online free PDF combiner, I recommend Smallpdf most, you can click the hyperlink to visit its website.
How to merge PDF files on Mac online free with Smallpdf?
Go to smallpdf.
Drop the PDFs you want to merge to the online program, or you can select from your computer, Dropbox or Google Drive. You may need to wait since it will take some time to upload your PDFs.
Choose to Merge Files or Merge Pages, the second option requires paying for the premium version.
Click Add More to upload all the PDF files you want to combine on your Mac, then click on Merge PDF.
Wait for the combining, then click Download button to save the merged PDF to your Mac.
Notes: the uploading and combining process may be long, wait patiently and the status bar will indicate a successful process.
Method 5. Combine PDF Files on Mac Using Adobe Acrobat
For those who have installed Adobe Acrobat on Mac already, they can combine PDF files with Adobe Acrobat directly.
How to combine PDF files on Mac with Adobe Acrobat?
Launch Adobe Acrobat on your Mac.
Go to Tools>Combine Files.
Then "Combine Files" window will pop up, you can click "Add Files" to select the PDFs you want to combine.
Next, click "Combine" to merge all files into one PDF in Adobe Acrobat.
Method 6. Combine and Edit PDFs on Mac
While free websites and tools can help you merge PDF files, reorder pages, If you want better visual cues when combining PDF files, or there are levels of editing required after combining pdf file. you need a commercial app that lets you see the combined PDF files before you save it to disk and also do all the editing you need to handle the merged PDF file.
We tested a lot of PDF editors on Mac, and found a solid option - Cisdem PDF Master. it is all-in-one PDF tool for Mac users, which facilitates you to edit PDF files, create, convert, sign, split, combine, compress, comment, protect, decrypt, collaborate and organize your PDFs.
Here's how to merge PDFs with this app:
Download and install PDFMaster. And then you need to launch this powerful PDF merger on your Mac.


Free Download

macOS 10.11 or later

Open the app, and choose PDF Create in the main interface.

A window will pop up and you can drag and drop PDF files you need to merge to the program. you can add batches of PDF files to the program and then click merge.
You can set page ranges for combining and set the output folder for the merged PDF file then click Create to start combining PDF files on Mac.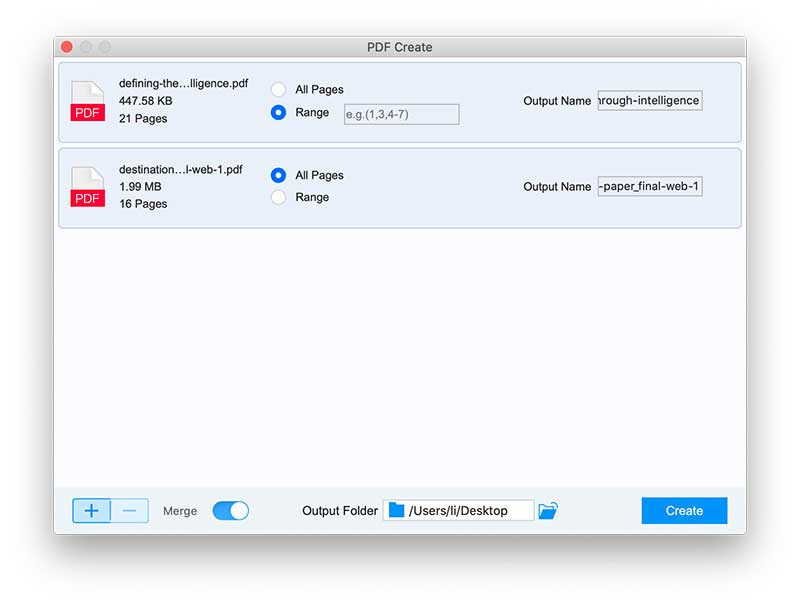 What You Can Do with Your Combined PDF File?
Now that you've mastered combining all of your PDFs, you can edit the PDF texts, update the page orders, delete any pages you do not need, and more.
Edit text and images in PDF files
This the very feature that most of the free tools can't do, with this app you can directly edit text in PDF files. Add and delete text, images.
Locate and add the merged PDF file to the program.
Go to Edit and double click text in PDF files to edit text in PDF files, this is all that easy.

For editing images you can select the image and delete it or click Add image to add images to the PDF file
Manage PDF pages
You can manage the pages of your PDF documents easily with this app.
Go to Pages and you can easily rotate, extract, split, replace, rearrange, insert, and remove pages.

Make annotation to PDF files
If you use the PDF to communicate with your team member you can easily annotate PDF files.
Go to Comment, and here you can easily highlight, underline, cross-out, add notes, draw, add stamp, text or signature to PDF files.

Compress PDF file size
If you PDF file is large you can also compress PDF files to a smaller size.
Go to Tool and choose Compress Files, you can choose a compress rate that suites you needs.

Protect PDF files for safe sharing
If you need to share the PDF with others you can also password-protected the PDF to prevent unauthorized access and modification.
Go to Protect and you can set password, Redact sensitive information or add digital signature.

So, what's your best PDF tool to combine PDFs on mac efficiently?