This article mainly talks about how to effortlessly password protect Mac Mail. It also offers useful tips.
I want to use Mail on my Mac for my Gmail account, but I don't want everyone who uses the Mac to have access to my inbox, and I don't want to set up multiple user accounts for the computer because the Mac is constantly running iTunes so my Apple TV can access its library and it would be annoying to have to log in and out each time I leave the computer idle. Is there a way to prompt for a password when Mail is launched? - A question from a MacRumors forum
Apple Mail, officially called Mail, is an email client included with macOS, iOS, iPadOS and watchOS. Mail on Mac allows you easily send digitally signed and encrypted emails with the best email encryption. But it provides no way to protect itself. If Mac Mail is your only or primary email client, then it's particularly important to keep it away from prying eyes. The article will show you how to put a password on Apple Mail on MacBook Pro, MacBook Air, iMac, etc.
The Best App to Password Protect Mail App on Mac
Protect Mail and any other apps on Mac with password
Record failed attempts to open your protected apps
Offer a feature to automatically lock unlocked apps after a period of inactivity
Also block access to websites and pages with password
Let you lock apps and block sites permanently or during certain times
Help protect your privacy
Help with privacy protection, productivity and parental controls
Easy to use
Hard to bypass
Support macOS 10.12 or later

Free Download
How to password protect Mac Mail app
You can easily put a password on Apple Mail on Mac using Cisdem AppCrypt, the best app locker and website blocker for Mac.
Download Cisdem AppCrypt and install it.
When you open it for the first time, set a password when asked.

Click the app's icon in the menu bar and choose Open Main Window.
Enter the password and you are in the main window. Under the App Lock tab, click the plus icon +.
To lock Mail on Mac, select the Mail app and click Open.
In step 5, you can also select other apps that you want to lock.
Now the Mail app on your Mac is protected with password. When one tries to open it, the app won't open, and a dialog box will show up asking for password.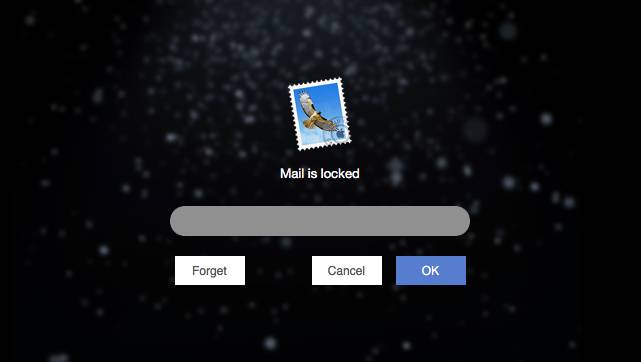 If the password entered is correct, Mail will be unlocked. If the password entered is wrong, Mail will remain protected, and AppCrypt will record the failed attempt, providing information like the time, date and a photo of the intruder.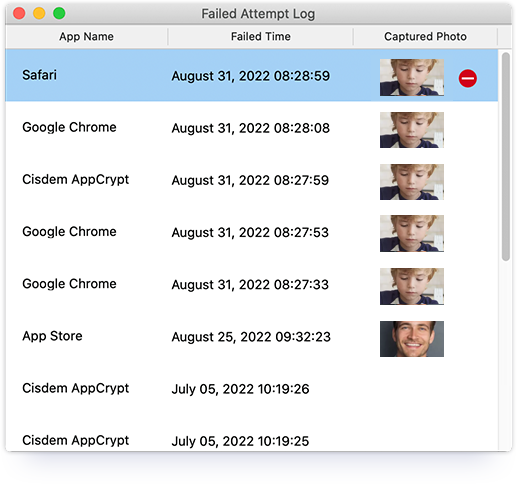 How to remove the password protection? Just select Mail under the Lock App tab and press the Delete key.
Tip 1. Turn on the Auto Lock feature
When turned on, the Auto Lock feature will automatically lock your unlocked Mail app after it is not active for a while, making the protection more effective.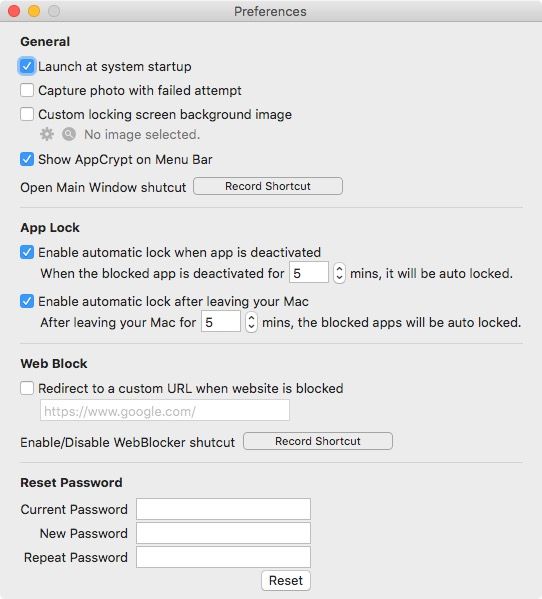 Tip 2. Enable the Launch at system startup option
If it's enabled, AppCrypt will automatically open and start protecting Mail (and other apps) upon Mac startup.
How to password protect Mac Mail folder
Some users on a MacRumors forum mentioned the possibility to password protect Mail on Mac with the help of Disk Utility, a pre-installed app to perform disk related tasks. Does it help? Let's find out.
There are two facts.
It's possible to use Disk Utility to put a password on a third-part app on Mac. However, Mac Mail is a built-in app.
You can use Disk Utility to encrypt the Mail folder on your computer.
Below is how.
On your Mac, open Disk Utility.
From the menu bar, choose File > New Image > Image from Folder.
Select the Mail folder in the Library folder. Click Choose.
Click the Encryption dropdown menu and choose 128-bit AES encryption (recommended).
Set a password.
Click the Image Format dropdown menu and choose read/write.
Click Save.
Wait for Disk Utility to create a DMG file.
Go to the Library folder and delete the Mail folder.
Now the Mail folder is an encrypted DMG file.
Someone thought that encrypting the Mail folder would prevent Mac Mail app from being opened. It's not true. You can still launch the app as usual. And opening the Mac Mail app will automatically create a new Mail folder in the Library folder. If your email account is logged in, one can easily view your emails in the opened Mail app.
If your purpose is to back up and encrypt your Mac Mail database, then the steps above can help. Just use Disk Utility to password protect the Mail folder.
Tips to restrict access to Mac Mail
In addition to the methods to password protect Mac Mail, there are also tips that may be helpful.
Sign out of your email account(s)
In the Mail app on your Mac, from the top menu bar, select Mail > Accounts.
In the Internet Accounts window, select your email account and click the minus icon in the bottom left corner.
In the dialog box that appears, click OK to sign out of your email account. This will also wipe out all its data from Mail.
If there are multiple accounts, just repeat the last two steps. One has to sign out each time one leaves the computer idle. It's not efficient at all.
Create a guest account for other users
To prevent other people from accessing your Mail and its data, you can password protect Apple Mail. You can also create a guest account for other users of your Mac.
If someone wants to use your computer, you can let him or her log in as a guest user. This way, other users can user your Mac with no access at all to your stuff including your Mail app data. In scenarios where other people need to access your files, the best solution is to password protect Mac Mail (and other important apps).
Go to System Preferences > Users & Groups.
Click the lock icon in the bottom left corner, which will bring up a new window. Enter your password.
Click Login Options. Select the checkbox before Show fast user switching menu, which will allow you to easily switch accounts.
Click Guest User in the left panel. Select the checkbox next to Allow guests to log in to this computer.
Conclusion
Apple does a good job of letting users send encrypted emails. But when it comes to preventing the Mail app from being accessed by other people, there isn't a built-in solution.
There are quite a few reasons to password protect Mac Mail and other applications.
You can protect apps from unwanted viewers, to keep your private information secure.
You can go for a coffee break without worrying that your colleagues are reading your emails.
You can share your Mac with other users, and don't need to worry that anybody will intrude the locked apps, such as Mail app.
Parents can restrict their kids' access to violent games, browsers or making costly purchases.
Maybe you don't want your friends to play your games and take advantage of your progress.
AppCrypt for Mac makes it super easy to password protect apps with utmost safety and reliability. If you are looking for how to lock Mail on Mac, this article will help you out.

Peter William


Peter has always had great enthusiasm for writing, programming and web development. He likes writing about software and technology, his works are featured on some tech blogs or forums like Tom's Hardware, CNET, etc.