8 Encryption Apps
The data on your Mac, which is often private or important, can be vulnerable to prying eyes, malicious hackers or other threats. Luckily, encryption software is here to help. Encryption is a good way to protect your data. This article talks about the best encryption software for Mac to protect your apps, emails, disks, folders, files and some other important or sensitive data. There's even free Mac encryption software, which is also covered in the article.
Effectively Encrypt Apps on Mac
Encrypt any apps with password, like Photos, Messages, Mail, Quicken, etc.
Record failed attempts to open encrypted apps, with date, time and photo of intruder
Offer an option to automatically re-encrypt an app after it's inactive for a while
Block specific websites, categories of sites, and URLs with a certain word
Also let you block all websites except a few
Let you encrypt apps and block websites permanently or at certain times
Easy to use
Hard to bypass
Require password to quit/uninstall AppCrypt, change settings, etc.
Help with privacy protection, parental controls and productivity

Free Download
macOS 10.11 or later
Why do we encrypt?
You may keep private or confidential information, personal or work related, on your Mac, such as personal photos, bank information, business documents, etc. If the device is lost or stolen, the leak of information could potentially lead to fraud, blackmail, identity theft or other threats. Encryption makes your information inaccessible or unreadable by an unauthorized third party. That's why Mac encryption apps can be helpful, if not necessary.
8 best encryption software for Mac 2023
#1 Cisdem AppCrypt - the best app encryption software for Mac
You may want to encrypt certain apps (like Photos) when others can access your Mac so as to protect privacy. Cisdem AppCrypt is the best encryption software when it comes to keeping apps safe from others, due to its high ease of use and effectiveness.
AppCrypt helps you easily and safely lock apps without modification on any system or application files. You just need to set a strong password to protect your apps from unapproved access and usage. If someone tries to open an encrypted app and enters a wrong password, the software will record the failed attempt and take a photo of the intruder.
Steps to encrypt apps on Mac with the software
1. Download and install AppCrypt.

Free Download macOS 10.11 or later
2. When you open it for the first time, set a password. It is recommended to select the Launch at System Startup checkbox.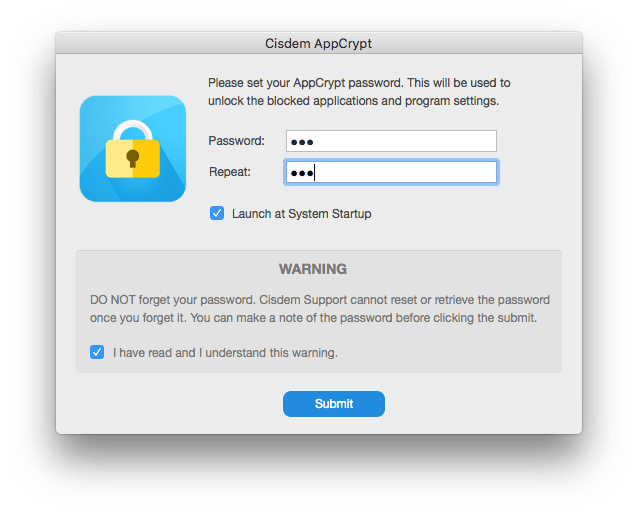 3. Click the lock icon in the menu bar and choose Open Main Window.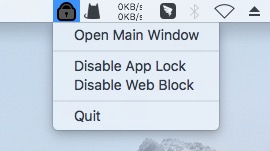 4. Enter the password to access the main window.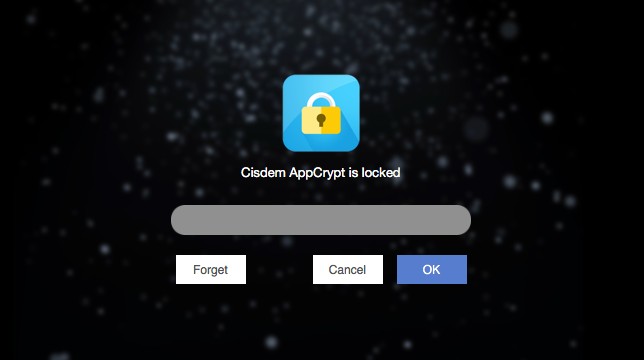 5. In the main window, under the App Lock tab, click the big Add button

. Select the apps that you want to encrypt and click Open. Alternatively, you can use drag and drop.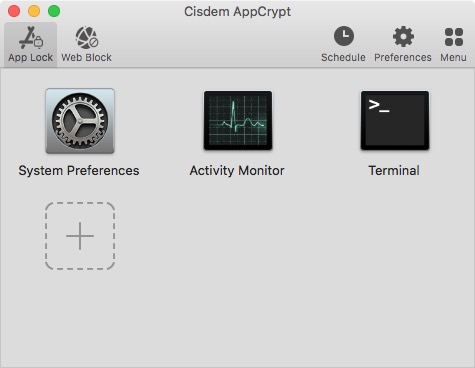 Now the selected Mac apps are protected by password and become inaccessible. When one tries to open an encrypted app, the app won't open, and a password field will appear.
To decrypt the app, one needs to enter the password. To remove encryption, go to App Lock tab (which requires the password), choose the app and press the Delete key.
Pros
Password protect any apps on your Mac effectively
Record unauthorized attempts to access the protected apps
Also block websites and pages with password
Easy to use with intuitive interface
#2 GNU Privacy Guard - the best email encryption software for Mac
GNU Privacy Guard (also known as GPG or GnuPG) is the best free software for email encryption. In addition to macOS, it's available for Windows, Linux and more.
GPG, which is PGP-based, uses two forms of encryption: symmetric-key cryptography and public-key cryptography, bringing good speed and security. It can encrypt both email messages and attached files such as PDF documents and images. Once an email is encrypted by it, only the sender and recipient are able to see the content.
Note that this piece of email encryption software can encrypt only the content of your email but not its subject line. If it's a confidential email, make sure that the subject line doesn't give away anything.
Steps to encrypt email on Mac with the software
1. Go to gpgtools.org to download GPG Suite, which is compatible with macOS 10.15 or later. If your Mac is running an earlier version, then go to releases.gpgtools.org/oldies. Install the software.
2. Open GPG Keychain. Click New in the toolbar. In the Generate new key pair window that appears, enter your name and email address. Set a strong password. Click Generate Key.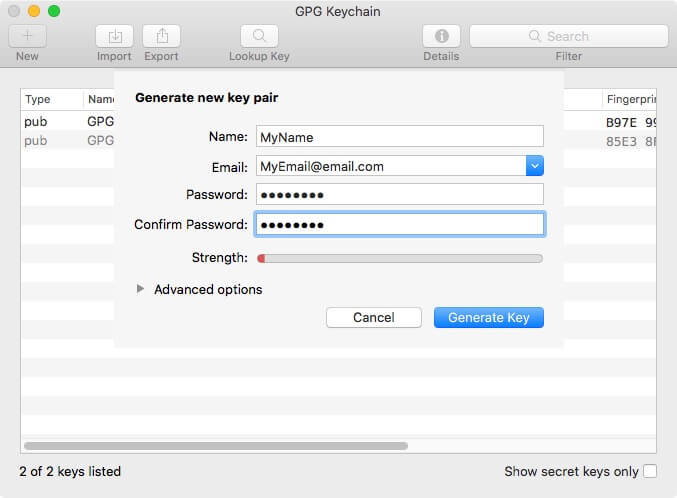 3. In the Your key was created successfully message, it is recommended to click Upload Public Key.
4. Now you can start encrypting your email message. Open the Mail app on your Mac. Click the New Message button.
5. In the top right corner of the new message window, you will see a green OpenPGP button.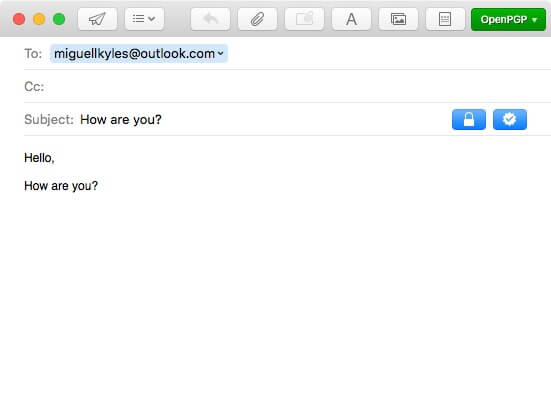 6. Enter the recipient's email address and the subject and add your content. After that, click the black lock icon in the subject field to encrypt your email, which will make the lock icon turn blue.
7. Click the Send button.
To successfully send an encrypted your email, please make sure the email address used to create your key is the same one that is used to send the email in the Mail app.
Pros
Free Mac encryption software for Mac
Support expiring signatures and paired keys
Encrypt emails and other data
Support multiple algorithms
Easy to use
Cross-platform
Cons
Can't encrypt email subject lines
#3 FileVault - the best disk encryption software for Mac
Included with the Mac operating system since Mac OS X 10.3 Panther, FileVault provides a disk level encryption. Once turned on, it encrypts your Mac's internal disk, preventing unauthorized access to all the data on this disk. It uses XTS-AES-128 encryption, which provides enough security.
This piece of Mac encryption software is effective and easy to use. You just need to turn it on. With it turned on, every time you start up your Mac, you need to enter your login password to unlock the disk so that your computer can properly start up. You are also allowed to unlock using your iCloud account or a recovery key you've created in case you forget the login password.
Steps to encrypt disk on Mac with the software
1. Go to System Settings or System Preferences in earlier macOS versions.
2. Choose Security & Privacy > FileVault.
3. Click Turn On. In an earlier macOS version, you will need to click the lock icon in the bottom left corner and enter your login password before you are able to click Turn On FileVault.
4. This step is optional. In the dialog that appears, you will be asked to choose an alternative way to unlock your disk. You can use your iCloud account or create a recovery key.
If you want to decrypt your disk, just turn off FileVault.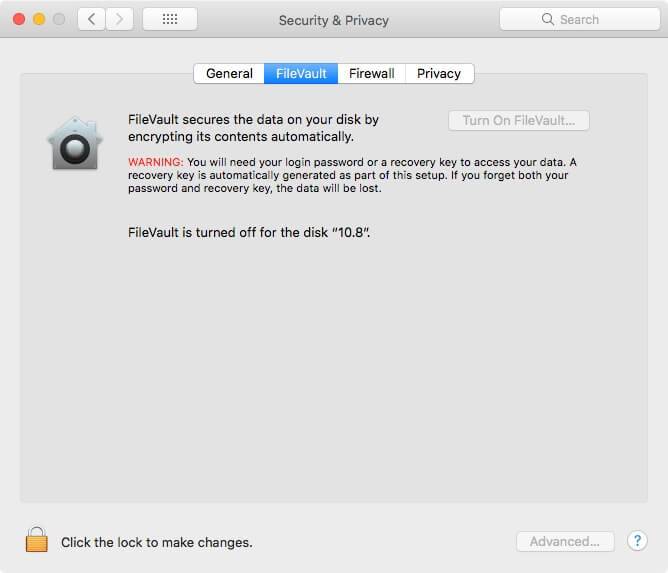 Pros
Mac's built-in encryption software
Provide a high level of security
Easy to use
Allow you to keep unwanted visitors away
Cons
Sometimes not as flexible as file level or folder level encryption
#4 VeraCrypt - the best file encryption software for Mac
VeraCrypt, open-source file encryption software, is used for on-the-fly encryption. It can create a virtual encrypted disk or container within a file or encrypt a partition or the entire storage device. The software is available for macOS, Windows and Linux.
The software is a fork of the TrueCrypt project (which is discontinued). There have been many improvements and optimizations since its initial release in 2013.
VeraCrypt supports AES, Twofish, Serpent and some other well-known encryption ciphers. It supports the creation of hidden, encrypted volumes within other volumes.
Steps to encrypt files on Mac with the software
1. Download and install the file encrypt software on your Mac. Open it.
2. Select a slot and click Create Volume.
3. Choose to create an encrypted file container and set it to be a standard volume. Specify a location on your computer.
4. Choose a desired encryption algorithm and set the volume size.
5. Now set a volume password.
6. Once the encrypted volume is created, you can use it to encrypt the files on your Mac.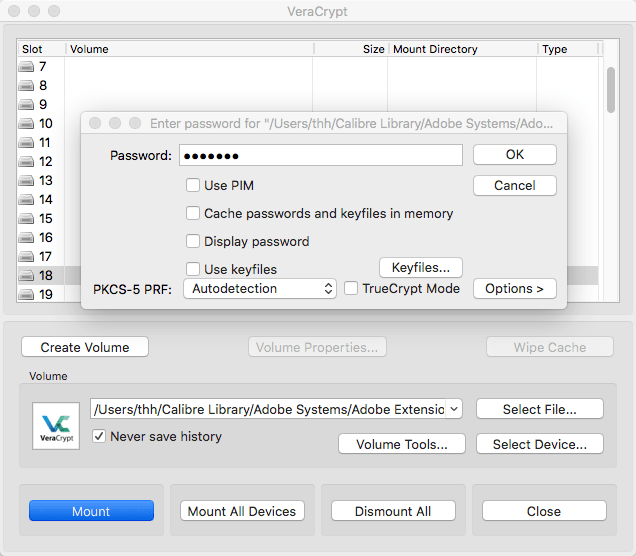 Pros
Free and open-source
On-the-fly encryption
Excel at encrypting Mac files
Help prevent data leaks and theft
Cross-platform
Cons
A bit complex and time-consuming to set up
#5 Disk Utility - the best Mac software for folder encryption
Included with macOS, Disk Utility allows users to effortlessly and effectively encrypt folders, which makes it the best free folder encryption software for Mac.
It offers two types of encryption: 128-bit AES encryption and 256-bit AES encryption. The former should be enough for most users. If you want an even higher level of security, you can choose the latter.
There are to ways to do the encryption: directly encrypting an existing Mac folder (via the Image from Folder option) or creating an encrypted container or more precisely disk image for folders (via the Blank Image option).
Steps to encrypt folders on Mac with the software
1. On your MacBook Pro, MacBook Air or iMac, etc., open Disk Utility.
2. From the menu bar, select File > New Image > Image from Folder.
3. Select the folder that you want to encrypt and click Choose.
4. Choose a location to store the encrypted folder. Select a desired type of encryption and set a password.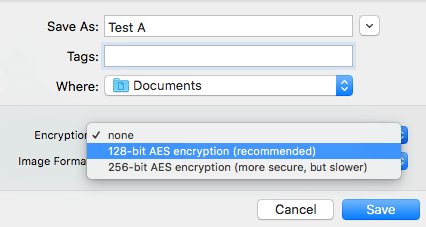 5. Select an Image Format. Here I choose read/write so that I can add files to this encrypted Mac folder.
6. Click Save. And the software will start encrypting.
Pros
Built-in to Mac and free to use
Easy to encrypt and decrypt
Give users enough options
#6 Finder - the best Mac software for USB encryption
Since macOS Mojave, you can encrypt and decrypt USB flash drives (aka thumb drives) or USB-connected hard drives via Finder without erasing data. It's a piece of free encryption software for Mac that inherits the same XTS-AES encryption as FileVault 2. Once you encrypt data on your removable drives, this Mac encryption software won't let you access them without a correct passphrase.
Steps to encrypt USB drive on Mac with the software
1. Plug USB flash drive into your Mac computer.
2. Launch the Finder app.
3. Control-click the disk icon in the left sidebar.
4. Click Encrypt (name of your USB) in the dropdown menu.
5. Enter a password and encrypt the drive.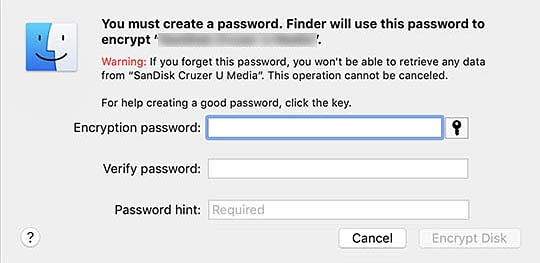 Pros
Built-in to Mac, requiring no installation
Easy to use
Cons
Won't see the encryption option if you haven't formatted the USB flash drive through GUID partition map before
#7 Unarchiver - the best Mac software for ZIP file encryption
Unarchiver is a compression and decompression program. Also, it can be used as the best compression program to encrypt files. The software creates password protected zipped files on Mac in one click and makes working with three formats of compressed files easy.
You can pack all your important files in an encrypted, password protected archive by compressing your file and selecting a password to protect your archived file.
Steps to encrypt ZIP file on Mac with the software
1. Download and install the Zip encryption software on Mac.
2. Click on the iPack icon.
3. Add the files to the new pop up dialog.
4. Click on the Compress icon.
5. It will ask you to rename the ZIP file, and from this dialog, you can also set a password to protect your files.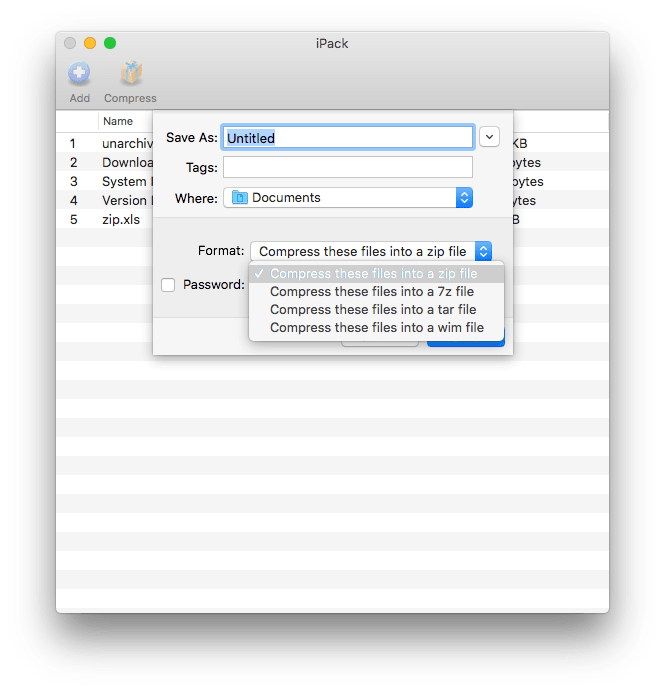 Pros
Zip and unzip files on Mac
Open RAR, Zip, 7-zip, ISO, TAR and CHM files etc.
Offer solid encryption for archives
#8 CloudMounter - the best Mac software for online data encryption
CloudMounter is designed to organize various cloud servers and connecting to web servers. It keeps your online data protected without unauthorized access and supports services like Dropbox, OneDrive, Google Drive and Amazon S3 etc.
Steps to encrypt online data on Mac with the software
1. Choose Encrypt from the context menu.
2. Type a password and verify it.
3. Tick the optional boxes and click on the Encrypt button.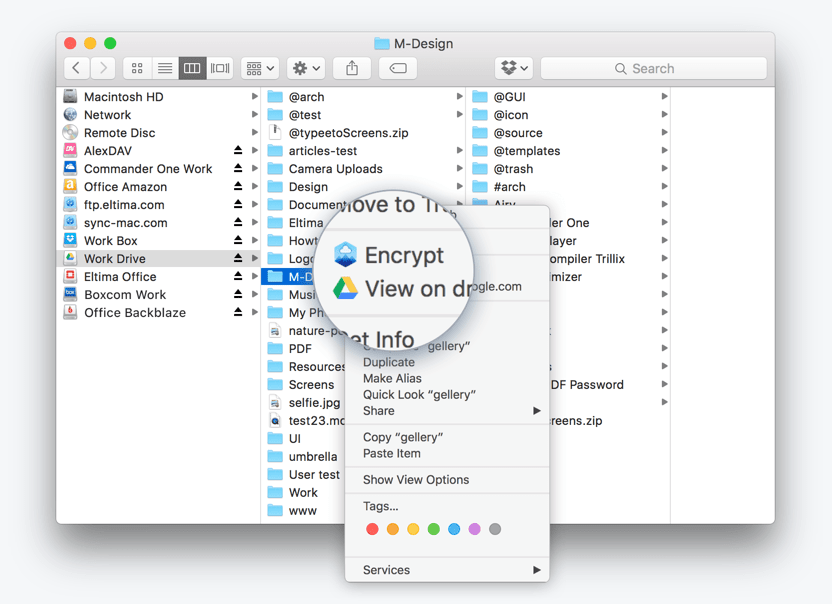 Pros
Mount the big cloud services
Reliably encrypt and protect cloud files
Cons
Need Internet to access the cloud files
Also, I'd like to briefly talk about keystroke encryption software for Mac. Such software is supposed to protect users against keyloggers (which are often used to steal information like passwords). There's actually no perfect software for this. Using this type of software isn't a very effective way to protect against keyloggers. The more effective practice is to avoid keylogging malware in the first place.
Factors to consider when choosing the best encryption software for Mac
The type of encryption you need Some encryption apps such as AppCrypt are good at protect your apps, some excel at protecting files and folders, and some have a reputation for email encryption. It depends on your needs.
The level of security There are various encryption algorithms. Different apps may use different algorithms. Some are weak (but still helpful enough for many), and some are stronger. Certain Mac encryption apps with stronger security may be a bit hard to set up and use for inexperienced users.
Encryption speed The speed is a factor that many people would consider. When it comes to encrypting large files or even entire drives, the speed is particularly important.
Ease of use Encryption software that is too complex can be overwhelming to a novice. An intuitive and user-friendly one is better.
Open-source software or not There are some free encryption software for you to choose, but free things are not necessarily good, similarly, encryption programs you need to pay are not always good, but you always get choices to try the applications for free before you pay for it.
Final words
The above are the top 8 Mac encryption apps. All of them have their own features, advantages, and disadvantages. Before deciding which one to use, you'd better tested them to better understand the functions, speed, and compatibility. If the key feature satisfies your demands, you can first try the encryption software for Mac to lock your apps, emails, files, folders, USB drives, or other items.