Blocking websites is a good way to stop you from being distracted when working on digital devices. As for the best free website blocker, we have tested, used and compared dozens of candidates, and we finally pick Cold Turkey Blocker App.
Cold Turkey Blocker Not Working? Try This
Block certain websites or webpages easily
Block websites by categories, such as porn sites, gambling, etc.
Block websites using keywords in URLs
Temporarily block websites with time schedule
Block apps with password to protect your privacy
One click to enable/disable Web Block, App Lock
Capture photos when failed attempts occur

Free Download
macOS 10.12 or later

Free Download
Windows 11/10/8/7
What is Cold Turkey Blocker App for?
If you haven't started your free trial on Cold Turkey Blocker App yet, you may be wondering what is this app for. Here we sort out its functionality and display in the following list, for you to have a general understanding what you can get from Cold Turkey Blocker app:
Block websites (the whole website or specific page)
Lock apps
Schedule the blocks (create a weekly routine)
Set blocking timing
Set password
Completely lock users away from using computer
However, if you want to utilize all these features, you will need to pay for its Cold Turkey Pro version.
In fact, Cold Turkey offers 2 versions, one is Basic and the other one is Pro. The Basic version is often referred as the Cold Turkey Free. It offers limited features. Both these 2 versions can be downloaded and installed on macOS and Window. In the following parts, a review of Cold Turkey Blocker App and explanations on when to upgrade to Cold Turkey Pro are included, for our users to choose the one matching their real needs. If Cold Turkey Blocker not working, there're also alternatives for you to choose.
Review of Cold Turkey Blocker App
Advantages:
Easy to use
Support creating multiple block lists
Block websites and apps with schedule
Enable you to lock block lists
Offer statistics to keep track online activities
Disadvantages:
Problems appear when block website on Google Chrome
A bit troublesome to add block extensions to browsers
Some important features only reserved for pro users.
Hard to uninstall
Installation
You can download the free Cold Turkey on its official website. The package is 7.8MB and it will take a capacity of 23 MB on your Mac or Windows PC.
The installation process is quite easy, you just need to follow the wizard and click "continue" after each step.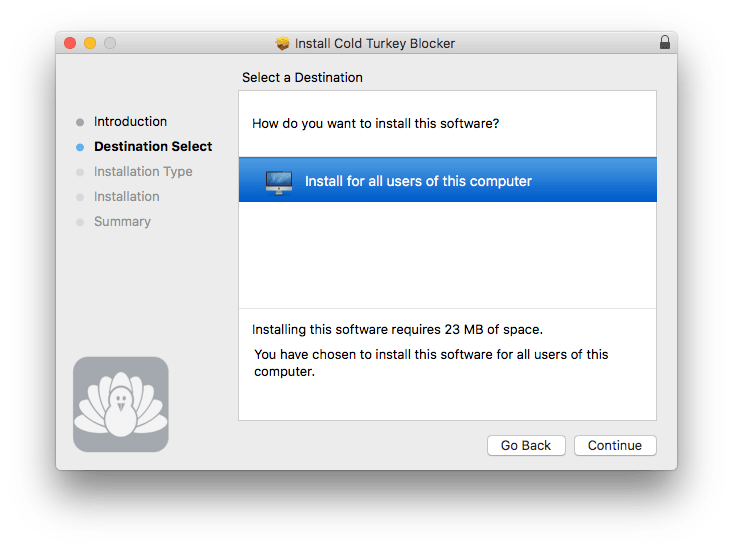 Once the installation finishes, the program will be launched and you will be required to install browser extensions. This app requires adding browser extensions to block websites. You need to click the "Install" button, then a webpage with detailed instructions appears, follow the steps and make sure all the extensions be installed for its 4 supported web browsers.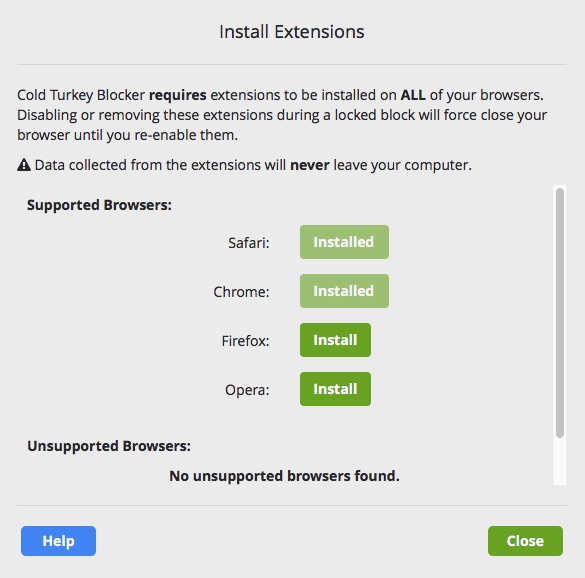 As you can see, Cold Turkey Blocker supports mainstream web browsers. Though it takes some times to install all the extensions, it helps block websites in an efficient way.
Interface
Cold Turkey App free uses a simple and neat interface. In the left panel, there are 4 toolbars to enable or customize each feature.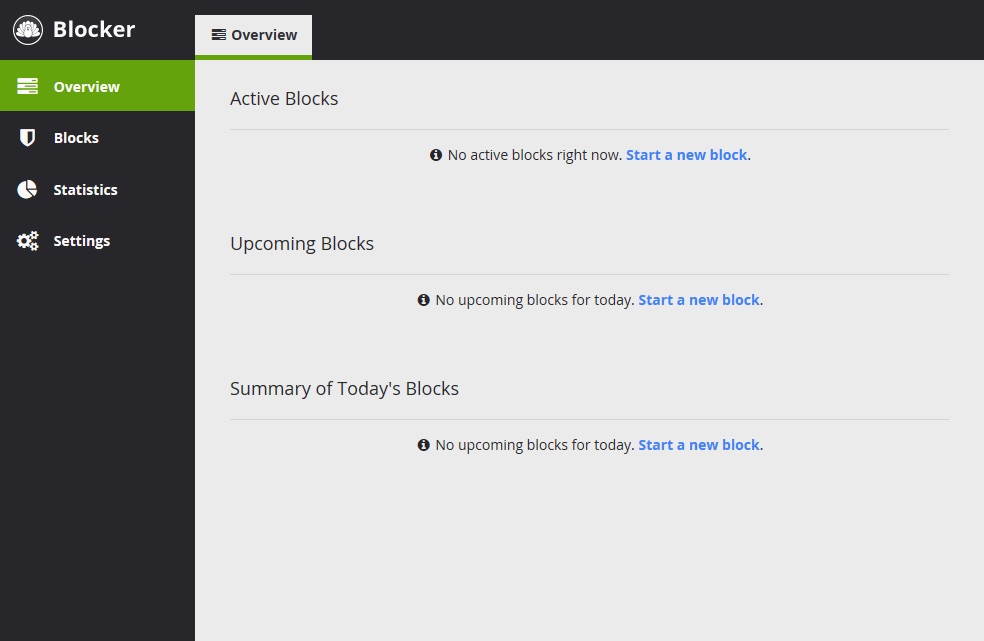 In the "Overview", all your settings to block websites with Cold Turkey app is displayed, if you find something wrong or improper, you can go to Settings.
One thing that enables Cold Turkey to win good feelings from users is its ad-free. In most cases, which a free program is offered, there is always an ad comes with the bundle, but Cold Turkey doesn't do so. It advertises the Pro version by offering an "upgrade" page, which users can choose to review this page or not.
Blocks
Cold Turkey allows users to block websites and apps, but in free version, users can only block the whole website, rather than a specific page from a website. In addition, the app locker feature only provided for pro users too.
#1 Block Lists
There is an example list provided, called Cold Turkey "Distractions" list, which includes 25 popular websites that are frequently used as distractions. You can remove a website from the list, import a ready-made adult or proxy website list to the existing distraction list, also you can select all or unselect all websites for blocking. But if a website is locked under a locked timer or schedule, you are not allowed to delete the website from Distractions list.
You can click on "Add a new block" below Distractions list to create a new block list. In the Websites box, just copy and paste the website URL to create your own website list for further blocking. If you want to directly block a category of websites, click on "Import" then choose a websites categories to import in bulk.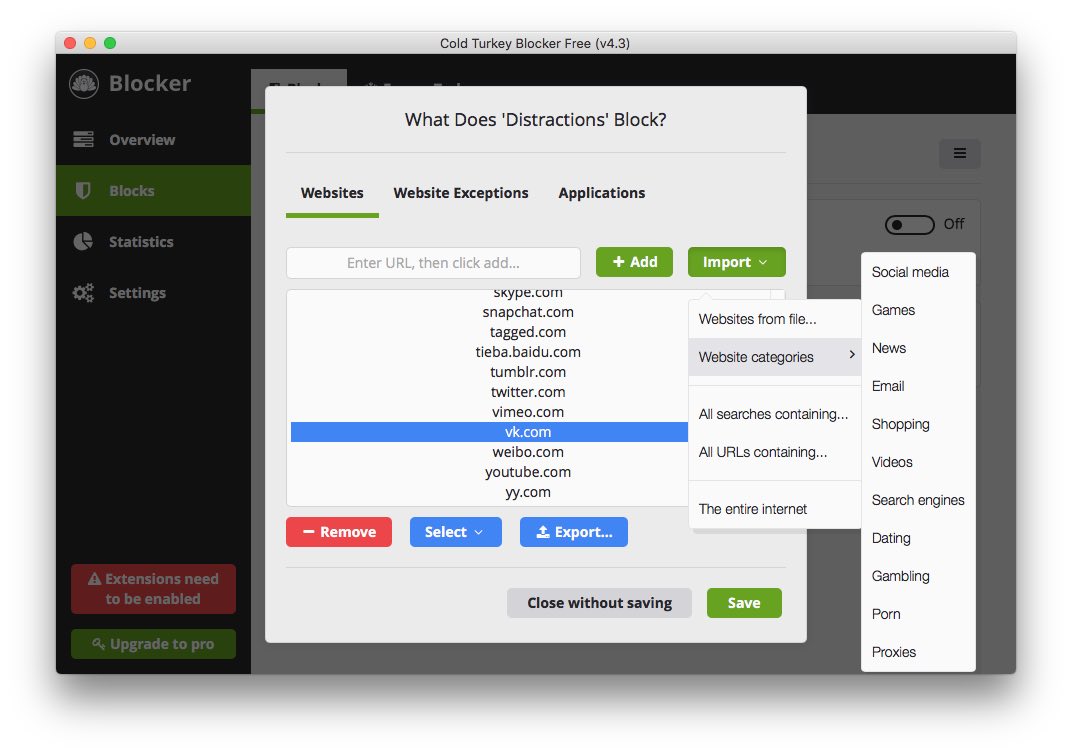 The application block feature is not available under Cold Turkey Free. In Cold Turkey Blocker App Pro, users can block distractions offline, range from game apps to email client apps. Particularly, this feature works perfect on Windows PC, it is designed to block most Windows apps.
#2 Lock the Block
This feature allows you to lock your block lists. This can prevent other users from changing your settings, or yourself disabling the block. 5 ways are provided for you to lock. For example, the Timer works to lock the block during the custom date and time. During this period, no one can cancel/end the website blocking.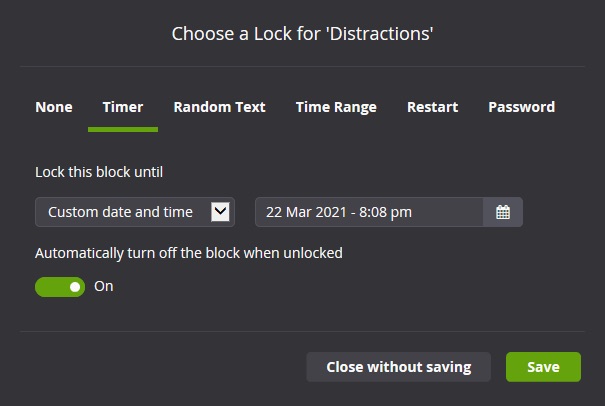 #3 Scheduling Blocks
First of all, this feature is not available for Cold Turkey Free, you need to upgrade to Pro version. However, this feature is useful, it helps to create a routine, allowing users to set a weekly schedule.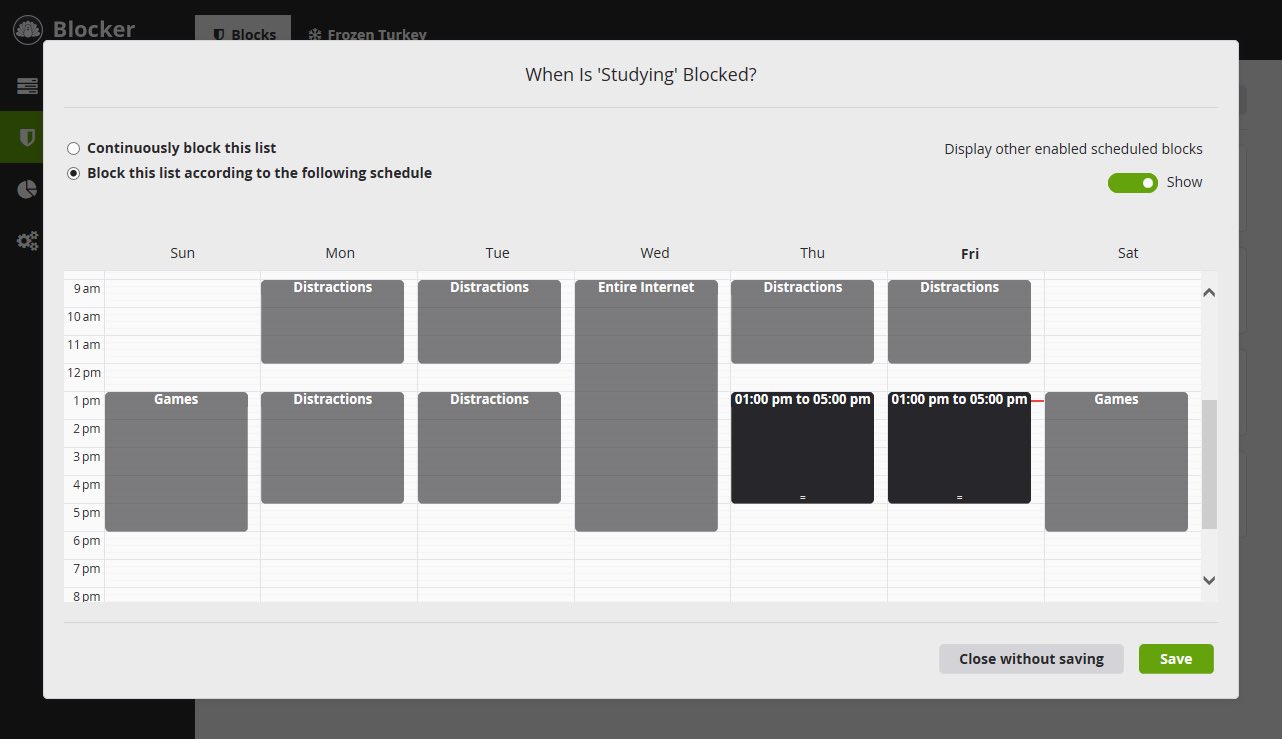 #4 Breaks
For Pro users, Cold Turkey app also provides a Breaks feature. This means you are able to add a break to a scheduled block. There're 2 types of breaks. The one is Pomodoro, which are frequently used by people who want to boost productivity while working. For example, you can set to block starts at 8:00 with 25 minutes then allow a 5 minutes break. The other is Allowance. This enables you to disable the block for the number of minutes your allowance is set to, such as 30 minutes.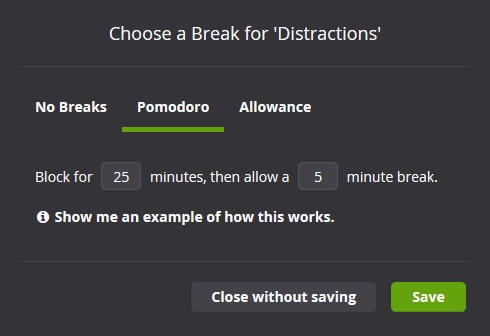 Statistics
Statistics is used to keep track of where you have spent the time, both for Applications and Websites. If you have no idea which website you should block before using this tool, you can check the statistics and schedule your blocks. Also you can check back the statistics for self-examination, make sure if there is anything else you can do to block distractions and boost productivity.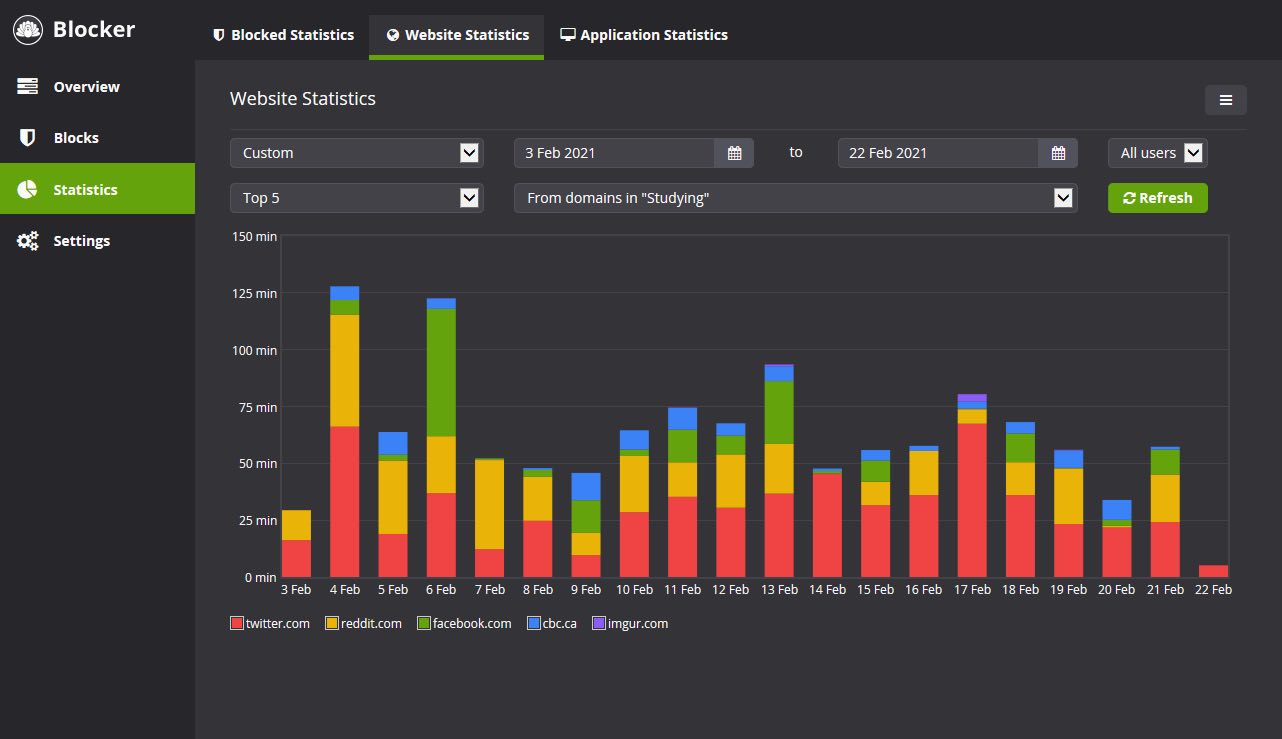 Quit Cold Turkey
As Cold Turkey app developer says, once you start a block on Cold Turkey Blocker, there is no turning back. That means, you can never quit the Cold Turkey Blocker until the block ends. For example, when you "Quit" Cold Turkey and the icon will disappear from Mac Dock, but when you launch the website, Cold Turkey still runs to block. Unless the block ends, the Cold Turkey will run behind.

When to Upgrade to Cold Turkey Pro?
As we can see, the Cold Turkey Blocker free version is feature limited, if you need to block app or customize the blocking for your good, you will have to upgrade to its Pro version. In the following table, you will find out when to such a service upgrading.
| | Cold Turkey Blocker Free | Cold Turkey Blocker Pro |
| --- | --- | --- |
| Block List | Yes | Yes |
| Website Blocking | Yes | Yes |
| Lock the Blocks | Yes | Yes |
| Statistics | Yes | Yes |
| App Blocking | No | Yes |
| Specific Webpage Blocking | No | Yes |
| Entire Internet Blocking | No | Yes |
| Break setting | No | Yes |
| Password | No | Yes |
For your information, the Cold Turkey Pro is priced at $25CAD for lifetime. Comparing with other top website blockers on the market, the price is quite competitive.
What if Cold Turkey Blocker Not Working?
I've installed Cold Turkey Blocker on my computer, it says that is has blocked the sites, however, all of them are still accessible.
Cold Turkey Blocker quit websites on Google Chrome automatically, I have installed the extensions for times by following the instruction. Now I am locked out from Google Chrome.
Well, it seems that "Cold Turkey Not Working" is not a rare case. If you run into such a problem, here are 3 ways to possibly get it solved.
Re-download and reinstall.
Remove Cold Turkey extensions, then re-add.
Ask help from Cold Turkey support.
If you have tried all above recommendations, and the issue still repeats, you will need to find an alternaitve to Cold Turkey.
Use Alternative to Cold Turkey When Cold Turkey Not Working
Cisdem AppCrypt is absolutely the best alternative to Cold Turkey, it supports both website blocking and app blocking. With only 1 password, you will be locked out from any distractions as scheduled. It helps:
Block website
Fast way to enable/disable web block
Block apps
Blacklist or Whitelist to block or unblock selected websites
Schedule blocking
Change password
Capture photos with failed attempt
Steps to Use Cold Turkey Blocker Alternative
1. Download and install Cisdem Appcryp.

Free Download macOS 10.12 or later

Free Download Windows 11/10/8/7
2. Setup the password (for first-time user).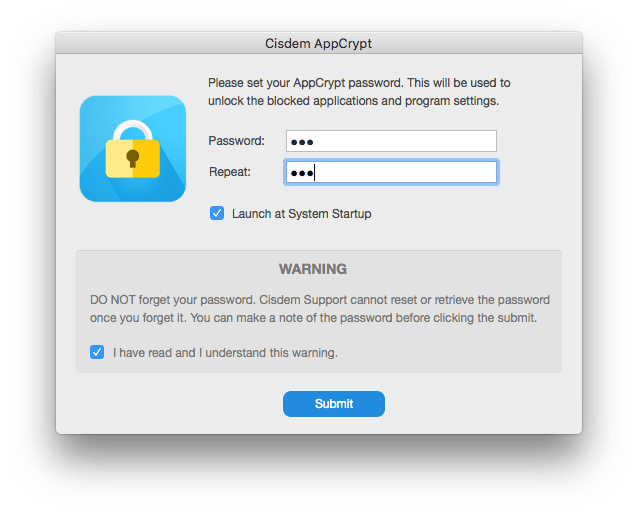 3. Click Web Block in the main window. Add website URLs to block. Also you can import websites to block by categories.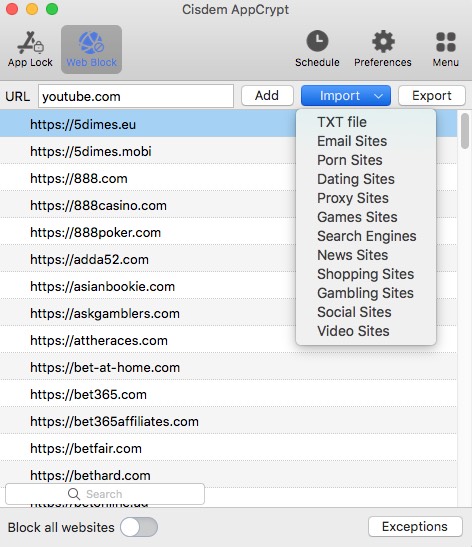 4. To lock apps with password, click App Lock. Then add certain apps you'd like to lock.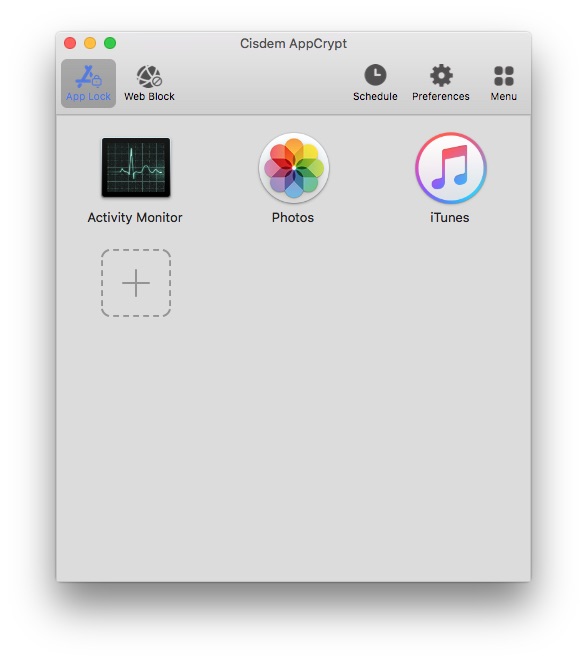 How to Uninstall Cold Turkey?
In the case that "Cold Turkey Not Working" issue repeats no matter what you have tried, then you can choose to uninstall the program.
In fact, Cold Turkey doesn't allow a direct uninstallation on Mac or Windows PC, since once the blocking starts, there is way turning back until the blocking ends.
Uninstall Cold Turkey on Mac
As you can see, the "Uninstall" button is grey, which cannot be manipulated. Even thought you try to uninstall the program by moving to trash, it doesn't work. Yet, it doesn't mean you cannot uninstall.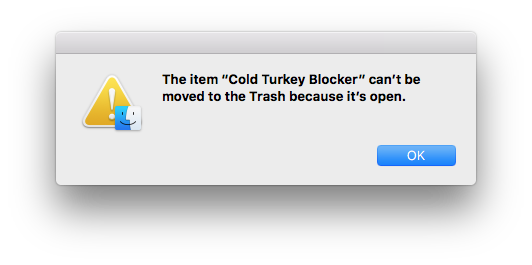 Steps to Uninstall Cold Turkey Blocker on Mac
Go to Applications. Find Cold Turkey.
Right click on Cold Turkey and choose "Show Package Contents".
Right click on the Package Contents. Choose to move to trash.
Restart the Mac.
Go to Applications, right click on Cold Turkey, choose move to trash. Now, the Cold Turkey is uninstalled.
Uninstall Cold Turkey on Windows
Open "Downloads" on your Windows PC, and find "Cold_Turkey_Installer", then run the installer. If you have deleted the installer, re-download.
Start the installation process.
Once the Setup Process begins, click "Cancel" and Cold Turkey is uninstalled.
Also, you can download an uninstaller program to remove Cold Turkey from your Windows PC.
Conclusion
Today, lots of us indulge ourselves in the virtual world. Internet exposes us to a bigger and innovative world, but in the other hand, getting us closer to various distractions and temptations. While a distraction blocker, such as Cold Turkey Blocker and Cisdem Appcrypt is now trying to make us more focused and finally maximize productivity.