MKV can be played on many major media players, but is not accepted by nearly all portable devices. Its files are larger in size and easily cause uploading problems.
AVI maintains a good balance between video quality and file size. It is also the most supported format on video hosting platforms.
If you get lots of MKV files that you need to upload to video-sharing sites, you can convert your MKV files to AVI first. Here we will walk through to show how to convert MKV to AVI on Mac, free and online methods included.
How to Convert MKV to AVI on Mac Individually or in Bulk?
#1 Use a professional app – Cisdem Video Converter
Cisdem Video Converter is currently our best program for converting MKV to AVI on Mac. Thanks to its simple, no-frills interface and impressive features, you can easily turn MKV into 500+ formats (including AVI) in original quality.
What makes Cisdem MKV to AVI converter for Mac stand out:
Support 720p MKV, 1080p MKV, 4k MKV, H265 MKV, H264 MKV, etc.
Transcode to XviD AVI, MPEG4 AVI, MsMPEG4v2 AVI, 1080p AVI, etc.
Convert multiple MKV files to AVI format at once
Change MKV to MP4, AVI, MP3, iOS-based devices, smart TV, Android phones, etc.
Merge more than 2 MKV video clips into single AVI
Compress over-sized MKV to smaller video via HEVC
Add subtitles, effects, and (image, text, or copyright) watermark to your video
Trim or split, crop and rotate the video
Extract audio track or video from DVD and save it to any format
Download your favorite songs and movies from 1000+ sites in up to 8k
Built-in player to view converted or downloaded content
Lightning speed & NO input size limit

Free Download
Steps to batch convert MKV to AVI on Mac without losing quality:
Step 1. Import multiple MKV clips
Once you open up Cisdem Video Converter, drag your MKV files from the Mac computer and drop them into the interface.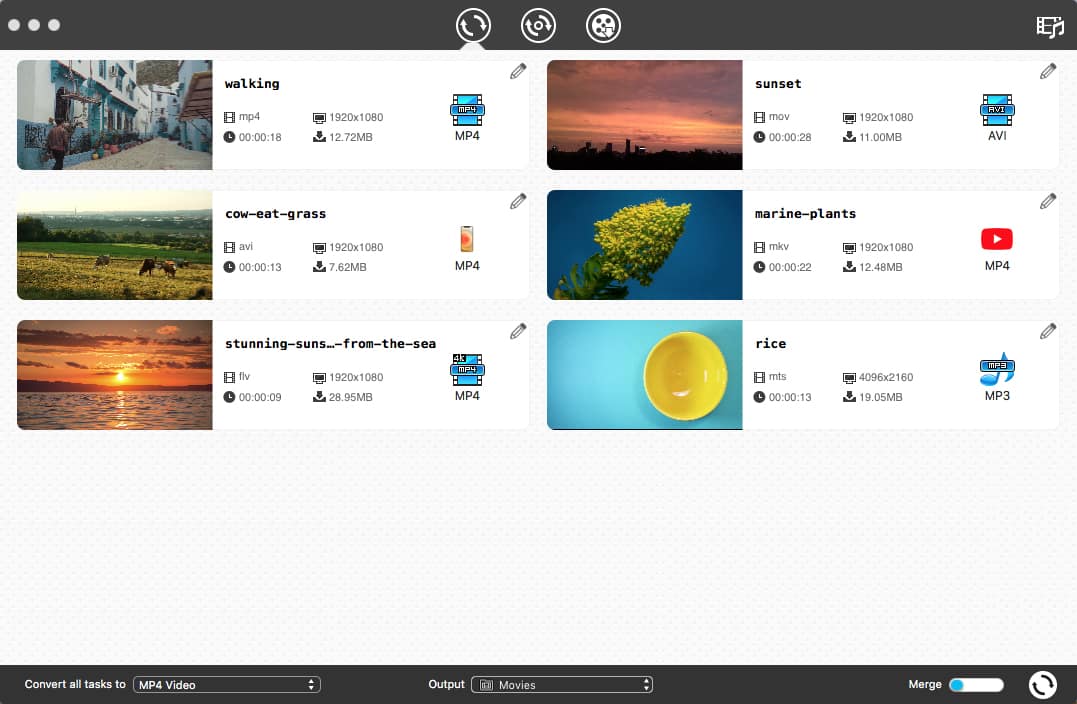 Step 2. Select output format – AVI
Click the format button to open a drop-down and interactive panel. From the "General Video" category, choose the option – "AVI Video" or "AVI HD Video".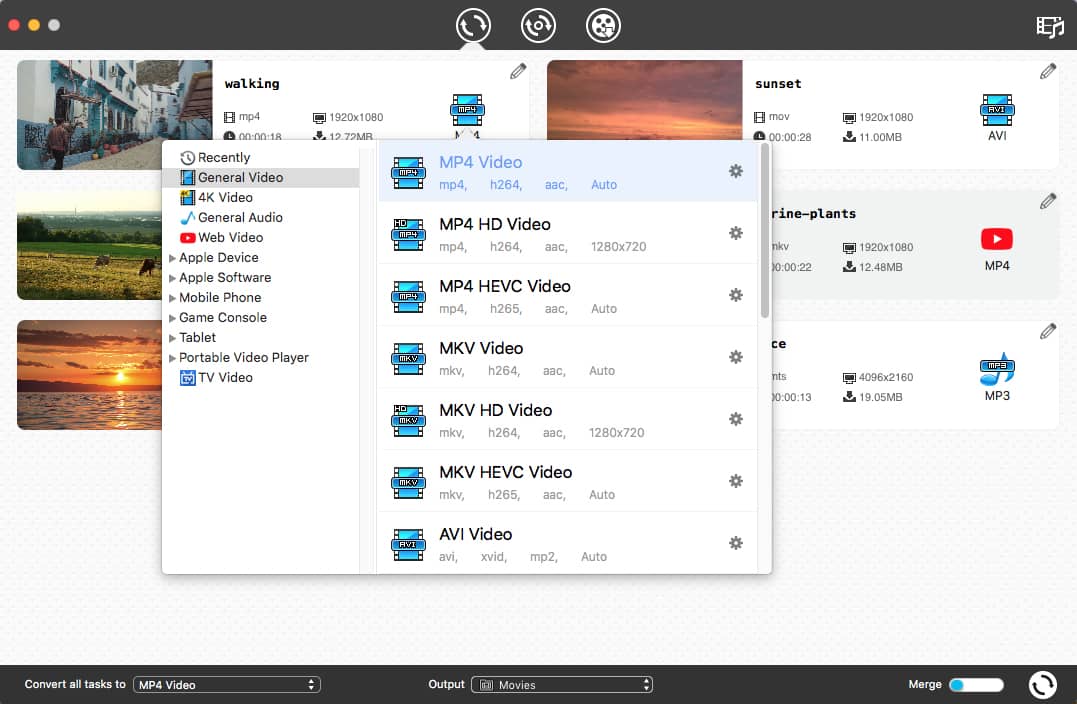 To adjust specific parameters of the output format, go to "Advanced Settings" by clicking the gear icon, and a new window like the one beneath appears.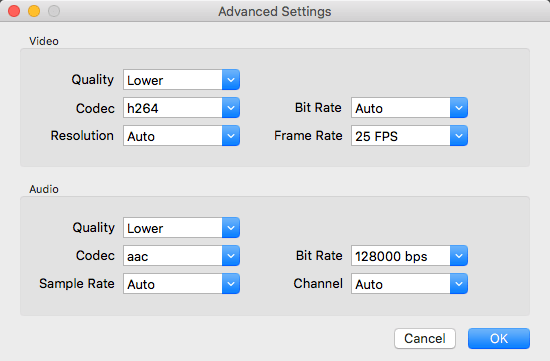 Step 3. Edit MKV videos (optional)
There is an editing suite to take care of your video personalization needs. Click on the pencil icon to call up the video editor and make changes.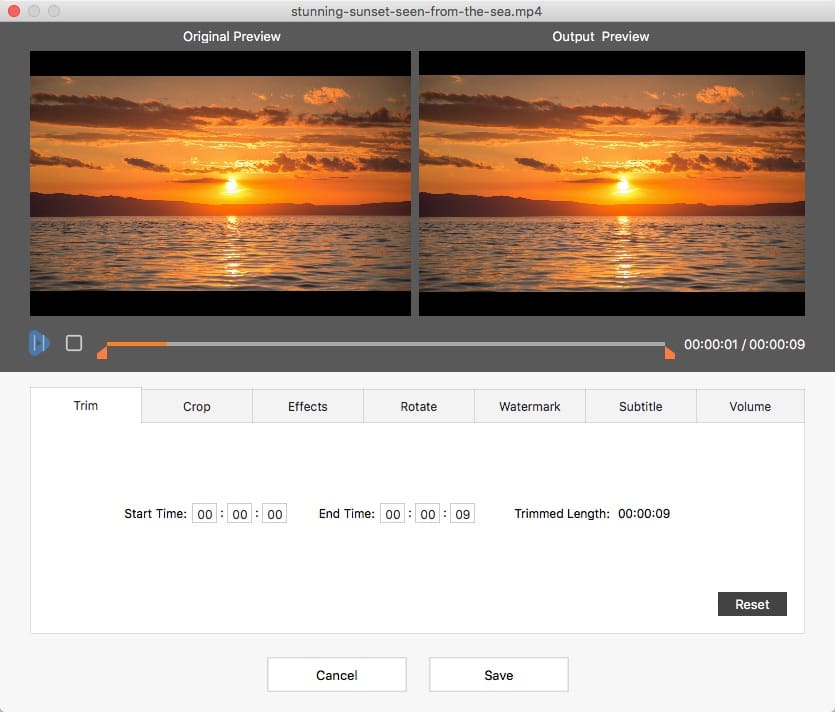 Step 4. Convert MKV to AVI on Mac
At the "Output tab" location, select a directory to save your converted AVI on Mac, and then click the "Convert" icon in the bottom right.

Free Download
#2 Use freeware – VLC
VLC is an open source MKV to AVI converter that works on Mac and various platforms. It helps you transcode media files from one format to another. Only one MKV file can be converted at a time, batch processing is not supported.
It's also a lightweight video player with no hardware requirements. Not just video files, it's able to view DVDs, VCDs, and streaming protocols as well.
Steps to convert MKV to AVI on Mac with VLC:
Click on the "File" menu in VLC, and choose the option - "Convert/Stream".
Drag-n-drop an MKV file to the "Open media" area.
Click 'Customize" to bring a window, from which you should set encapsulation as "AVI", select the video & audio codec, and tick the checkbox for keeping original track.
Hit "Save as new Profile", enter the name, save and apply it.
Click "Save as File" and "Browse" to pick a destination folder.
Start video transcoding.
But VLC is not as friendly to novices as Cisdem Video Converter. The latter has already set the best audio and video codec suitable for AVI, while the former needs to be manually selected, as not all codecs can be wrapped in AVI.
In addition, the AVI converted by VLC may have no sound or be somewhat broken. You need to repair AVI files through its inbuilt tool in the preferences.
#3 Use online converter – Online-converting.com
It's a decent online MKV to AVI converter for Mac with the ability to change MKV into 14 video formats like AVI, M4V, M2TS, etc. without watermarks.
Although its page says, "The size of the video file is 1GB", in fact, as long as you add over 300MB, the video will always remain in the uploading state. And don't add too many MKV files to the website, or it gets slow and won't work properly.
Steps to convert MKV to AVI online:
Visit https://online-converting.com/video/ in your web browser.
Scroll down. Set the target format as AVI.
Tweak video size, bitrate audio, and frame rate.
Fine-tuning start and end points to cut clip durations.
When all settings are finished, scroll up, and drop an MKV file to the designated box.
After uploading, your MKV video will be converted to AVI format online. Just download it.
In spite of convenience, online converters have a size limit for uploading videos. Most of them can't convert videos larger than 200MB. But MKV video is famous for its high quality and large size. Generally, a full MKV movie should exceed 5GB, and online MKV converters don't support it at all.
How to Remux MKV to AVI on Mac without Re-encoding?
To convert MKV dual audio to AVI on Mac, the only way is to remux videos without encoding. Remuxing puts video and audio streams from MKV to AVI container while preserving the actual encoding untouched.
#1 Try command-line utility - FFmpeg
FFmpeg is unable to automatically map all tracks. When using a common command line like ffmpeg -i input.mkv -c copy -copyts output.avi, the converted AVI file will merely map one video, one audio, and one subtitle track. You should add the command - "-map 0" to cover all tracks.
But the results are not always satisfactory. In our tests, the final dual audio AVI played either sound only (black screen) or video only (no sound).
Run the application – Terminal.
Type the command line: ffmpeg -i input.mkv -c copy -map 0 output.avi.
If FFmpeg has already been installed on your Mac system, directly enter the command. If not, input the path where FFmpeg is located, such as mine is /Users/thh/Downloads/ffmpeg.
Press "Enter" to turn MKV into AVI on Mac.
#2 Try freeware – Avidemux
Avidemux is an open-source software designed for simple editing and transcoding tasks. It can remux dual audio MKV to AVI, FLV, MP4, and WebM on Mac. Besides remuxing, you can also change the output codecs to re-encode your media files.
There are still issues to convert MKV with two audio tracks through Avidemux. According to tests, the output AVI contains dual audio, but the higher-quality audio will be accelerated and ended early.
Initiate Avidemux on Mac and directly drag MKV videos into it.
Choose the "Copy" option for the audio and video.
Change output format to "AVI Muxer".
Go to the "File" menu and click on "Save" to export AVI with multiple tracks.
The video format battles: MKV vs. AVI
FAQs
Can HandBrake convert MKV to AVI on Mac?
No, Handbrake can't do it. The app supports a plethora of input formats, so it allows you to convert AVI to MKV. However, converting MKV files to AVI doesn't work the other way around, as Handbrake merely includes 2 outputs - MKV and MP4 (some new versions may add WebM).

Is possible to transcode MKV into AVI on Mac via MKVToolNix?
No. MKVToolNix is a set of tools (mkvmerge, mkvextract, etc.) to create, split, join, and mux MKV files. You can only extract videos from AVI or any format to MKV. There is no AVI output option.