MKV is a very popular high-quality video format that can store video, audio, image, or subtitle tracks in one file. But, you can't view it on Apple devices and most of the video editors like iMovie don't support MKV video format.
In this condition, most people want to convert MKV to MP4 on Mac. and there are many online sites and guides on how to do this, but most of the instructions are a bit confusing indeed. They listing many tools without saying which tools suited on what situation.
In fact, both MKV and MP4 are containers. most of the time you can just remux MKV to MP4. namely, only change the container format from MKV to MP4 without converting or changing anything else.
#1 Remux MKV to MP4 on Mac with OBS - Fast with No Quality Loss
I guess some people searching for MKV to MP4 actually get the MKV file from OBS. But do you know that you can convert MKV to MP4 through OBS. And actually instead of converting MKV to MP4. OBS just extract the MP4 file in the MKV container. which also means, if you convert MKV to MP4 with OBS you'll expect to get the MP4 at the same quality as the original file. But at the same time the file size will be larger than you use other software. Here is how to convert MKV to MP4 with OBS on Mac.
1. Install and launce OBS Studio. Add the MKV file to OBS.
2. Click "Settings" >> Output and set the recording format to MP4.

3. In the menu bar choose "File" > "Remux Recordings".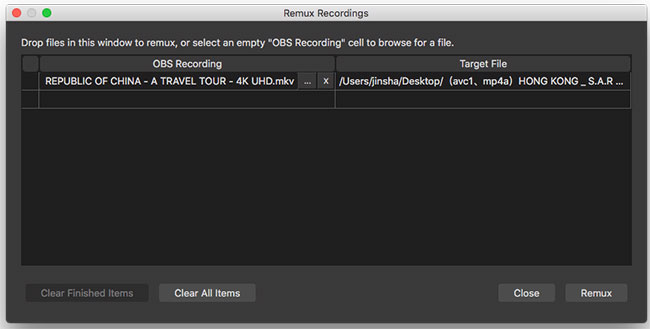 4. Click Remux to start converting MKV to MP4 on Mac.
The speed is quick, and the quality is as the same. Be noted that for some videos OBS will convert the MKV to MP4 with no audio. in this case you need to convert the file with Cisdem Video Converter we recommend below.
For MKV files with Constant Frame Rate
For users who have MKV video which has constant frame rate. if you try to remux it with OBS or FFMPEG you'll find that you'll get an MP4 with messing frame rate or time code. To solve this problem, you can first remux from MKV to AVI with OBS, then from AVI to MP4.
#2 Remux don't work? Convert MKV to MP4 on Mac Lossless with Cisdem
Use the above method, you'll find even if you rewrapped mp4 from MKV, it still won't import to the program you need. This is because, MKV or MP4 are multimedia container formats. They can incorporate video, audio, and subtitles in one single file. The video or audio content stored in them could be in with a variety of different codecs and standards. Sometimes even if the format is supported, something inside will flagging the video as un-importable. In this situation you need a video converter that can convert MKV to MP4 on Mac without quality loss.
#1 Cisdem Video Converter for Mac
When it comes to converting MKV file to MP4 on Mac, Cisdem Video Converter will be an ideal choice. Unlike other software that have limit on file size or file number. This video converting apps assists you to effortlessly convert video & audio files in any format with high quality, including MKV to MP4 Mac. You can customize your videos by merging, trimming, cropping, inserting watermarks/subtitles as well as putting effects to MKV videos for brilliant visual enjoyment. The software also lets you download online videos from YouTube, Break, Metacafe, Bing, Flickr, AOL, etc.
Features of the Best MKV to MP4 Converter for Mac:
Convert MKV to MOV, MP4, AVI, MP3, iPhone, iPod, PSP, etc.
Support more than 300 audio & video codecs
Edit and touch up the media files before conversion
Merge multiple MKV videos and convert them to a single file
Inbuilt video player to preview converted MKV
Download 1080p/4k videos from 1000+ video sharing sites
Rip movie DVDs to MKV, MP4, or other formats
Batch processing and super fast speed

Free Download
Steps to Convert MKV to MP4 on Mac with Cisdem Video Converter:
Step 1

Add MKV files to the program
Download and install Cisdem Video Converter on Mac.
After installation, double-click the software to run it. Then import MKV files by dragging and dropping. The application supports bulk conversion, so you can load multiple files into it.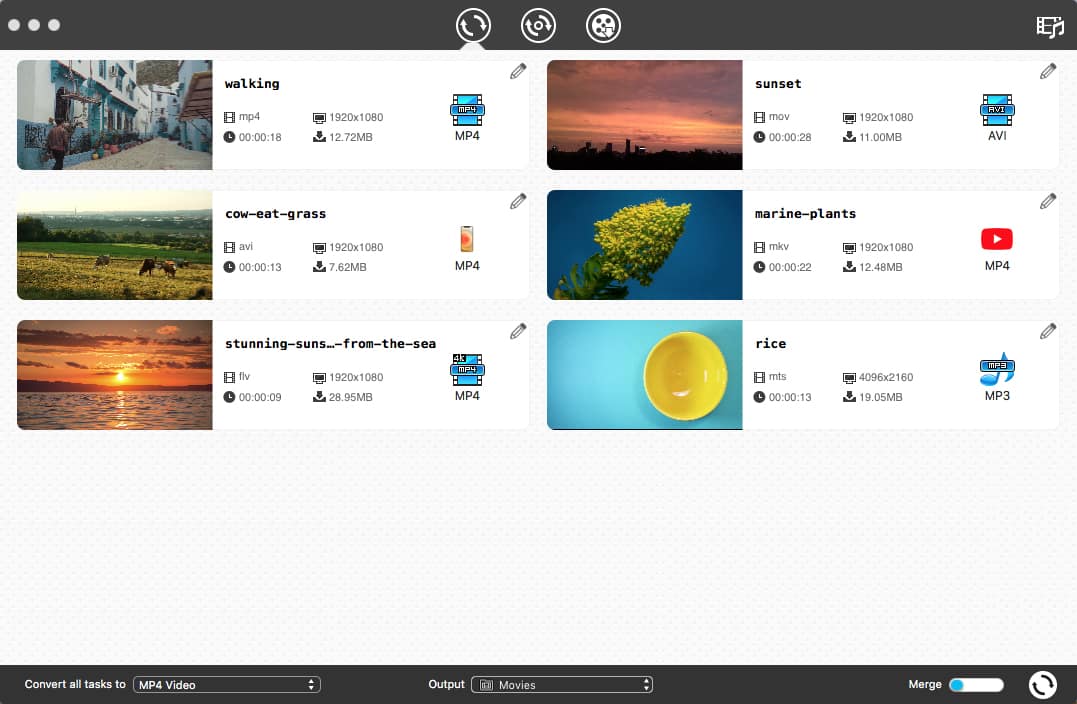 Step 2

Select MP4 as output format
Click the format icon, and choose the target format as MP4. There are many devices that can be selected. If you want to convert MKV to MP4 for your iPad device, you can navigate to "Apple Device" > "iPad".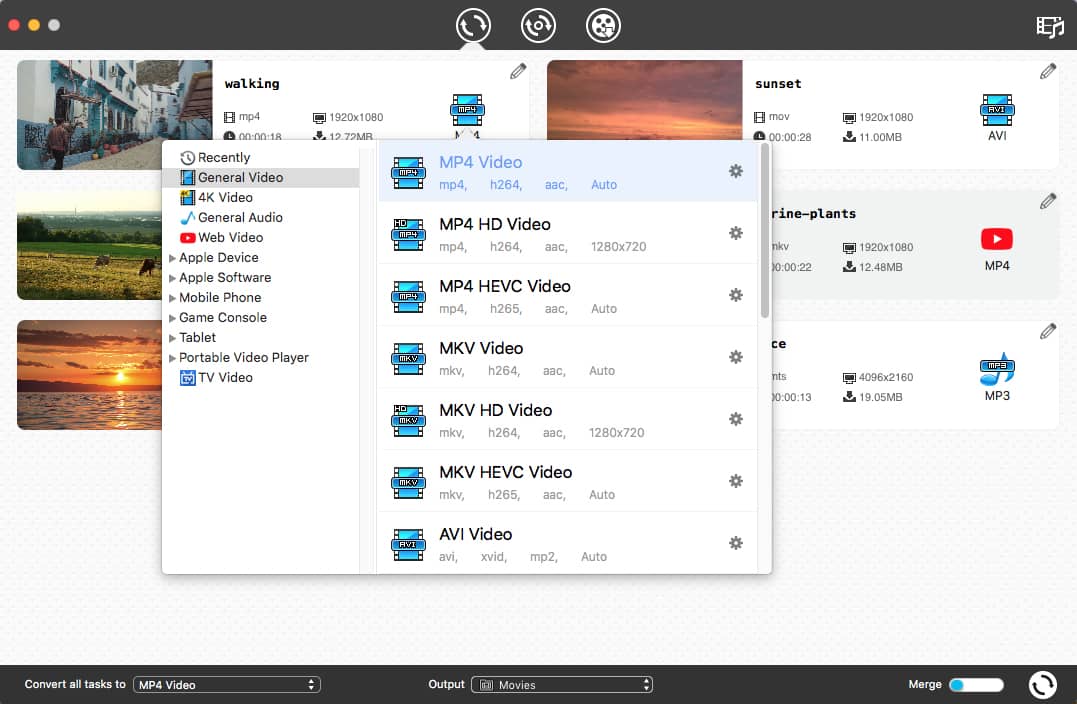 For experienced users, you can manually change encoding parameters such as video codec, bit rate, frame rate, audio codec, etc. in the "Advanced Settings" window. To open it, click the "gear" button next to the output format you choose.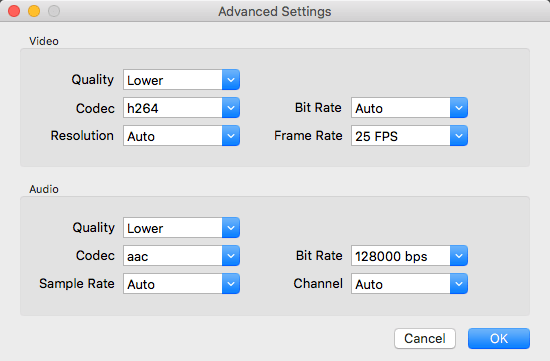 Step 3

Edit MKV files if you want (Optional)
In this step, you can click the

icon to edit your MKV files freely with the feature of cropping, deinterlacing, contrast, watermark inserts, and much more. The application also empowers you to set the 3D types and depths.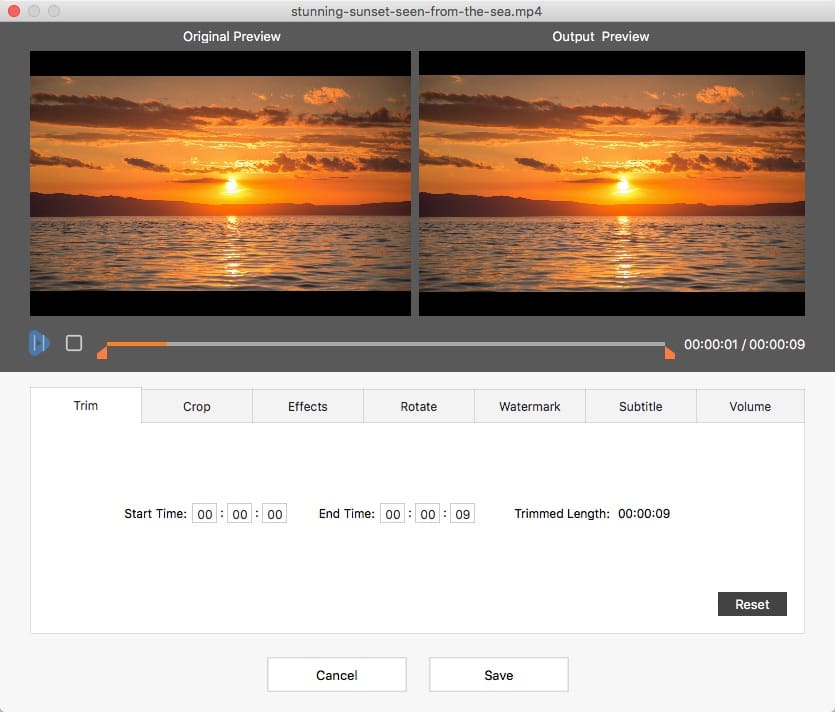 If you want to add subtitles to the MKV file you can click subtitle here and add the subtitle to the output MP4 file.
Step 4

Convert MKV to MP4 Mac
Once the editing process is finished, click

to start a conversion on your Mac. That how much time the conversion process takes depends on the size of the video files you have added.

Free Download
Advantages:
Intuitive and responsive interface
High-quality output, and fast converting speed
Compatible with 300+ formats and presets
Support video downloading & editing, DVD ripping, etc. features
Disadvantages:
Only work on Mac
#3 Convert MKV to MP4 on Mac for free with VLC?
VLC Media Player is a decent video player & converter made by VideoLAN, and it now has been used by thousands of people around the globe. It's a cross-platform program, not only for Mac but also for Windows and Linux. Plus, VLC and convert MKV to MP4 on Mac totally free. You can easily obtain its DMG file from the official websites.
Steps to Free Convert MKV to MP4 on Mac with VLC:
Step 1. Run VLC Media Player on Mac.
Step 2. On the menu bar, click "File"> "Convert/Stream".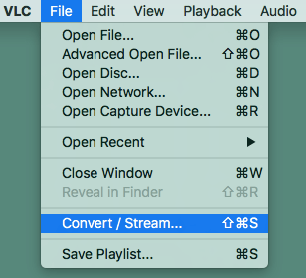 Step 3. Import the local MKV file to the UI by either dragging the media file or choosing the "Open media" option.
Step 4. Select the profile option- "H.264 + MP3 (MP4)".
Step 5. Click on "Save as File". Choose the output location, and enter the name of the file.
Step 6. Save the output file.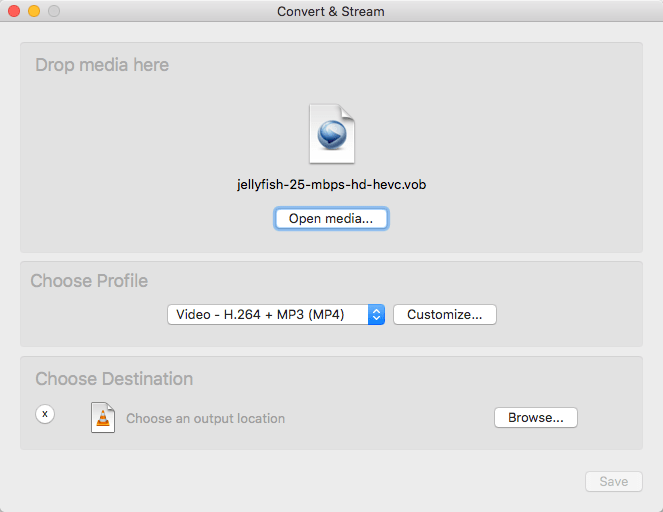 Advantages:
Combine playback and transcoder features
Keep upgrading
Disadvantages:
Can't batch convert MKV files
Make beginners confused when setting customized formats
If the file are larger than 2GB, it will failed to convert the files most of the time.
For some MKV videos the converted MP4 will lose the audio. which is really upsetting.
#4 Use Handbrake to Convert MKV to MP4 on Mac with Subtitle
Handbrake is one of the best free MKV to MP4 converter on Mac. Windows and Linux platforms can be used as well. It has been around for 10 years and remains the best possible way for converting MKV file to MP4 on Mac. Handbrake contains lots of features as well, such as adding subtitles, live video preview, an integrated bitrate calculator, picture cropping & scaling and so on.
Steps to Convert MKV to MP4 Mac Using Handbrake:
Step 1. Install and launch Handbrake.
Step 2. Click "Source" > "Open File" and browse your file system to where the MKV files are located.
Step 3. Select all the MKV files that need to be converted to MP4 format from the Mac folder, and then click "Open".
Step 4. Under the "Summary" tab, Choose "MP4 File". And you can customize filters, dimensions, chapters, encoder, and more.
Step 5. Click "Browser" to choose the file destination.
Step 6. Go back to the main window and click the "Start" button.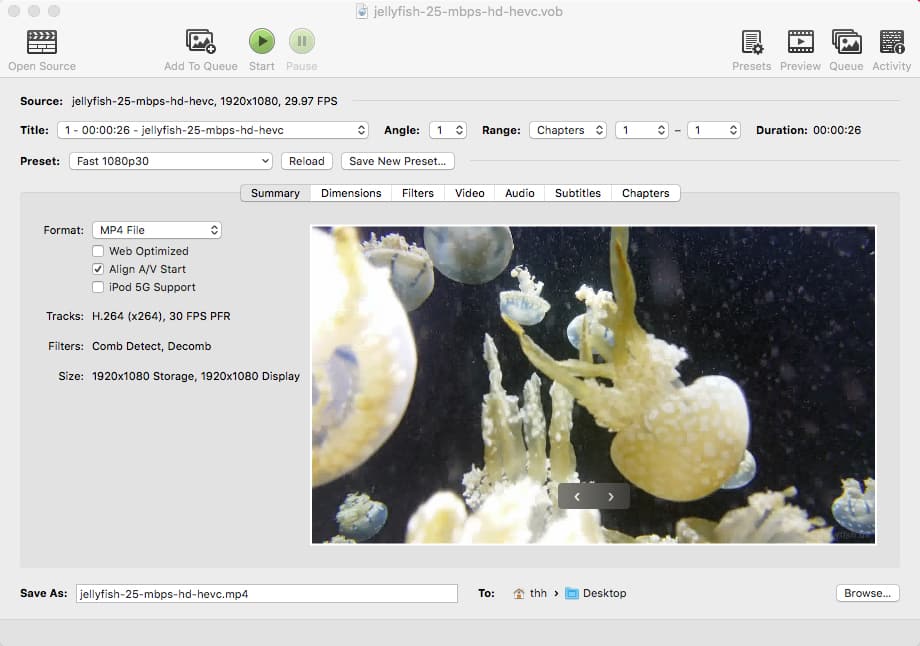 Advantages:
Rip a DVD or Blu-ray
Add subtitle to a movie file
Can process files in batches
No limit on file size.
Disadvantages:
Can't perform audio conversion
Except for MKV and MP4 format, others can't be supported by Handbrake
#5 Use Remux
There is a long list of video converters available that takes care of your MKV to MP4 conversion on Mac. In particular, worth recommending is Remux, said this is the FFmpeg-based MKV to MP4 converter for macOS users. With the software, you can also create MKV, M4V, AVI, TS, or VOB video files. It adds new aac_at presets encoded with Apple AAC, but you need to remove the plist file to see them.
Steps to Convert MKV to MP4 on Mac via Remux:
Step 1. Install and run Remux.
Step 2. There are two tabs: "Single" and "Batch processing". To convert multiple MKV files, switch to the second one.
Step 3. Drag-n-drop MKV videos to the interface.
Step 4. Select MP4 as output format.
Step 5. Click "Go".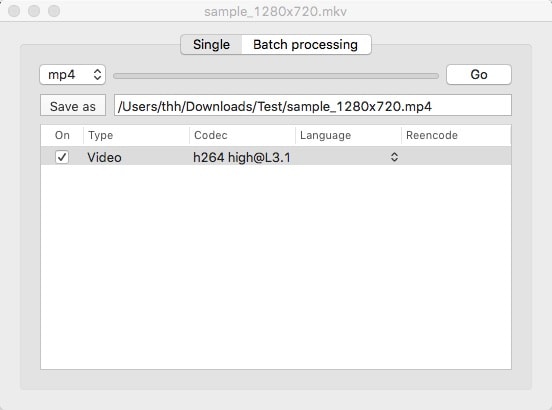 Advantages:
Easy to use
Batch conversion
Disadvantages:
Can't add subtitle tracks to movie files
Always crash
How to Convert MKV to MP4 Online
If you want to convert MKV to MP4 on Mac without software, you can convert MKV to MP4 online. There are many websites support converting between video formats, Aconvert.com is such an online MKV to MP4 converter for Mac. It's not difficult to use this free online tool. Only go with few clicks, the MP4 files you need will be generated immediately. Here we go:
Steps to Convert MKV to MP4 Mac Online:
Step 1. Simply select a file to convert from your device or enter its URL.
Step 2. Choose the output format as MP4.
Step 3. (Optional) Click "Change size, bitrate or frame rate", then the option for customizing video size, bitrate, rate, and aspect will show up. Pick your favorite parameters.
Step 4. When everything is ready, click the "Convert Now!" button.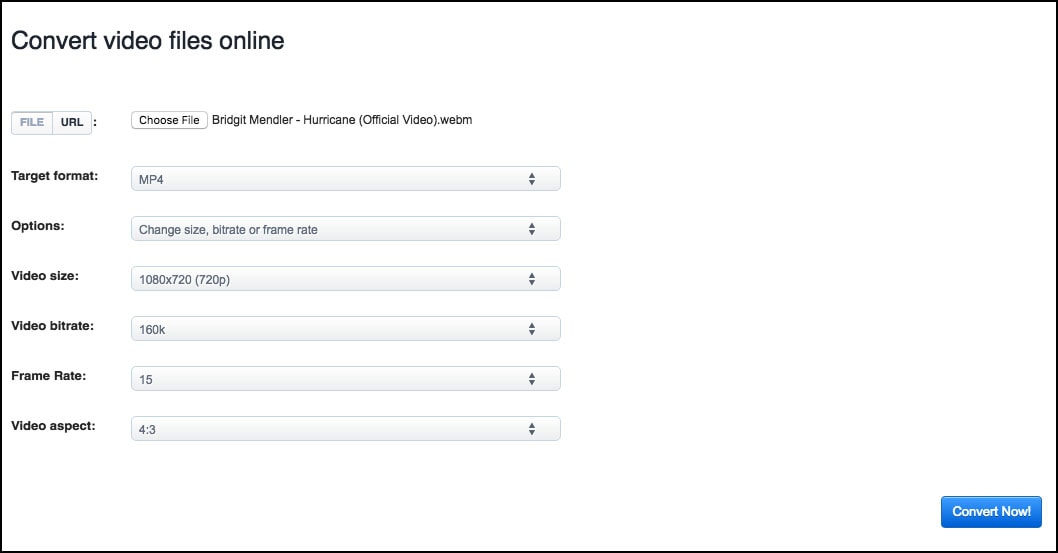 Advantages:
No charge
No need to download and install
Disadvantages:
Can't be used offline
The input or output formats are limited
The conversion comes with bad quality
Can't edit MKV videos before conversion
MKV Overview
MKV is a container format that is capable of holding different video, audio, image, or subtitle tracks in one file. It's a free container format, thus you can download plenty of MKV files online for free without any fuss. MKV file is generally larger than the MP4 equivalent.
Format: MKV
Support: Needs players like VLC
Bit-depth: 8bit, 10bit
MP4 Overview
MP4 stands for MPEG-4 Part 14, it is one of the most popular video formats, and it can be played by almost all media players. Just like MKV, MP4 is also a container format that stores video, audio, images, subtitles, and more. MP4 format always gives lower file sizes, this makes it perfect for video streaming or compressing.
Format: MP4
Support: Works on all major platforms
Bit-depth: 8bit, 10bit
How to Play MKV Files on Mac
Unfortunately, QuickTime doesn't support MKV files on Mac. VLC media player is the best way to play MKV files on Mac. You can also use Cisdem Video Player, DivX Player, etc. They all can be used on Mac and Windows.
Is MKV Better Quality than MP4?
MKV and MP4 are both container formats. they can contain streams of video, audio, subtitles or metadata. It's hard to say which one has a better quality. In fact, when you use the same codec for both formats, there will be little or no difference between the two formats.
Closing Words
You've seen 6 ways to convert MKV to MP4 on Mac, all have their own pros either in speed or quality. Compared with the online tool, desktop apps are more effective and safe. If you get the MKV from OBS, just use the same software to convert MKV to MP4 on Mac. and if you have large demand on video size, quality and speed, or you have a need to add subtitle, convert and get just a part of the video, I highly recommend you use Cisdem Video Converter to do the job. As you can see, its advantages are obvious. Well, you might have different opinions. Every program can find its user, and the user can select the best one which actually fits him.