Here's the scenario. You have two Google accounts. And you want to merge Google contacts from the two accounts. Do you have to retype everything? Luckily no. This article will show you three easy methods to do the merge.
The Best Contact Management App for Mac
Let you merge contacts from 2 Gmail accounts with a drag-and-drop
Make it easy to transfer contacts between accounts/sources
Require only 1 click to backup/restore contacts
Find and merge/delete duplicate contacts in supported sources
Allow you to view, search, edit, add, share, tag and group contacts
Easy to use

Free Download
Method 1. How to merge Google contacts from two accounts via export and import
Although Google doesn't provide a direct option to merge contacts between accounts, Google Contacts, which is Google's contact management tool, actually comes with a native solution for this task.
For the sake of convenience, I will call one Google account A and another account B in the instructions below.
Open your web browser. Sign in to Google using account A.
Go to https://contacts.google.com/.
On the left, click Export.
Choose to export all or selected contacts, depending on your need. Choose Google CSV as the export format. Click Export. The contacts will be automatically downloaded as a CSV file.
Sign in to Google using account B and visit https://contacts.google.com/.
This step is optional. On the left, click Export and export all the contacts in account B as a backup.
On the left, click Import.
Click Select file, choose the CSV file exported in Step 4 and click Open.
Now, the contacts from one Google account are copied to another. Go to Contacts under Create contact, and you will find that the contacts are merged.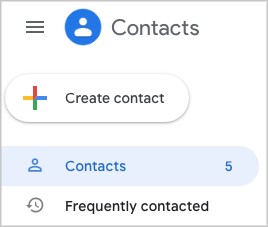 It's recommended to make a backup of the contacts in account B before the merge.
Method 2. How to merge Google contacts from two accounts with a drag-and-drop
Note that this method only applies to Mac computers.
Mac users can effortlessly merge contacts from different Google accounts using Cisdem ContactsMate, the best contact manager app for Mac.
ContactsMate can work with contacts from sources such as Mac, Gmail, iCloud, Exchange, Facebook, Yahoo and more. With ContactsMate, you can easily manage all your contacts in one place and transfer contacts between accounts or services.

Free Download
Download Cisdem ContactsMate and install it. When you open the app for the first time, click OK to allow access.
Click Add Account.
Select Google.
Sign in with Google account A and then check the box next to Contacts. Click Done.
Click the plus icon + in the corner. And repeat Step 3 and Step 4 with Google account B.
Click the button next to the Updated contacts detected message. Now you should find the two Google accounts in the left sidebar.
Select account A in the sidebar, mass select all its contacts and then drag them into account B in the sidebar.
Now the contacts from the two Gmail accounts are combined.
If duplicate contacts are generated due to the merge, you can also use ContactsMate to easily find and get rid of them, and here are the detailed instructions.
Method 3. How to sync Google contacts between two accounts to merge
You can also combine contacts from two Gmail accounts by syncing. And there are a few tools available out there. The tool I use is PieSync.
Note: To be able to use the tool, you need to allow it to access your Google accounts. If you are not sure whether to trust this third-party tool or not, you can checking out its privacy policies.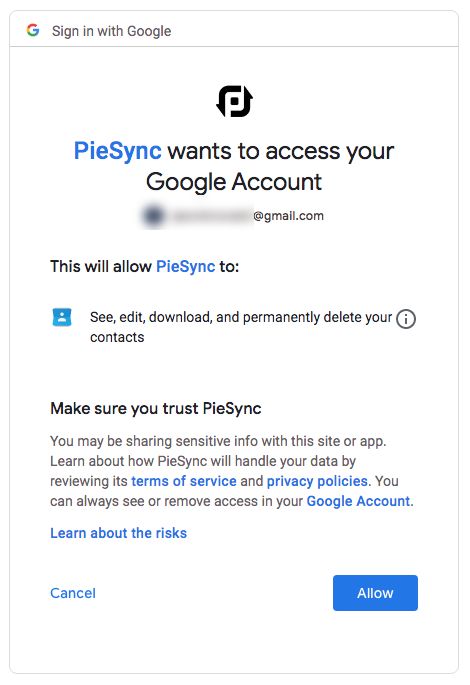 Open your web browser. Go to https://app.piesync.com/.
Sign up for PieSync.
Choose Google Contacts from the services lists there. Choose Google Contacts again.
Add the two Gmail accounts of yours. Note that you need to allow the tool to access your accounts.
Click Configure the Sync between your Google Contacts accounts.
Set the sync direction. It can be a one-way or two-way sync.
Configure the connection rules if needed.
Check if the default connection settings meet your needs. If not, you can make changes.
Click Start Syncing Now in the bottom right corner of the page.
Read the Start your sync message and click Start Syncing.
You will be taken to a new page where you can check the sync status and activities.
If the sync doesn't work as you expect, you can go check your sync configuration. Also, you can go to the Help Center for help.
Once the contacts in one Google account are successfully synced to another account, the contacts from the two accounts are merged.
Conclusion
There is more than one way to merge Google contacts from two accounts. The three methods described above are easy to follow. You can do it via a manual export and import. Or, you can use professional contact management software like ContactsMate for Mac. With this app, merging contacts is as easy as dragging and dropping.

Rosa has worked in Mac software industry for more than eight years. She believes that the purpose of software is to make life better and work more productively. In addition to writing, Rosa is also an avid runner.