Google's Gmail is one of the most popular email services. You can save and manage your Gmail contacts in Google Contacts, Google's contact management tool. Sometimes, you may need to export contacts from Gmail and then import them to other services such as iCloud. This article will show you how to easily import Gmail contacts to iCloud.
The Best Tool to Import Gmail Contacts to iCloud on Mac
Support various contacts sources: Gmail, iCloud, Mac, Exchange, etc.
Move contacts between Gmail and iCloud with a drag-and-drop
Export/convert contacts to 8 formats: CSV, Excel, vCard, TXT, etc.
Import contacts from CSV and vCard files
Help you effortlessly transfer contacts between sources
Help you effortlessly convert contacts between formats
Let you view, search, add, edit, tag, group, share, print and sync contacts
Find and delete/merge duplicate contacts
Let you backup/restore contacts with a click
Easy to use
Only available for Mac computers

Free Download
macOS 10.11 or later
Method 1. Import Gmail contacts to iCloud with a drag-and-drop
This method applies to Mac computers. If you are using a Windows PC or a phone, you can check out the second method.
Mac users can use Cisdem ContactsMate to easily transfer contacts between different services such as Gmail and iCloud.
It allows you to:
Transfer all Gmail contacts to iCloud with a simple drag and drop.
Transfer selected Gmail contacts to iCloud.
Move contacts from Gmail group to iCloud group.
Move contacts from Gmail to iCloud without duplicates.
Delete/merge duplicate contacts in Gmail and iCloud.
Backup your contacts before transferring and merging.
Before getting started, download and install ContactsMate.

Free Download macOS 10.11 or later
When you open this contact manager for the first time, click "OK" to allow access to your contacts.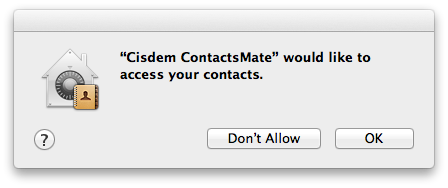 Click Add Account in the toolbar. This will open the Internet Accounts window.
On the right, choose Google. Sign in to it.
Make sure that the Contacts checkbox is selected. Click Done.
Click the plus icon + in the bottom left corner.
On the right, choose iCloud. Sign in to it. Select the Contacts checkbox.
In the sidebar on the left, click the refresh icon next to the Updated contacts detected message. Now Google and iCloud will appear in the sidebar.
In the sidebar, choose Google. Select all the contacts in it and drag the selected contacts into iCloud.
If you go to https://www.icloud.com/contacts, you will find that all Gmail contacts are imported to your iCloud. It's that easy.
In a similar way, you can effortlessly and quickly migrate contacts between other services.
If you only want to transfer certain contacts (instead of all contacts) from Gmail to iCloud, here's how. In step 7, select "Google" in the sidebar and then select specific Gmail contacts. Now drag them into "iCloud".
Tip: If some contacts exist in both your iCloud and Gmail, there will be duplicate contacts after you transfer contacts from Gmail to iCloud. In such a case, ContactsMate can help you find and remove the duplicates. You can choose to delete those exactly duplicate contacts, or merge the data from several contacts cards into one.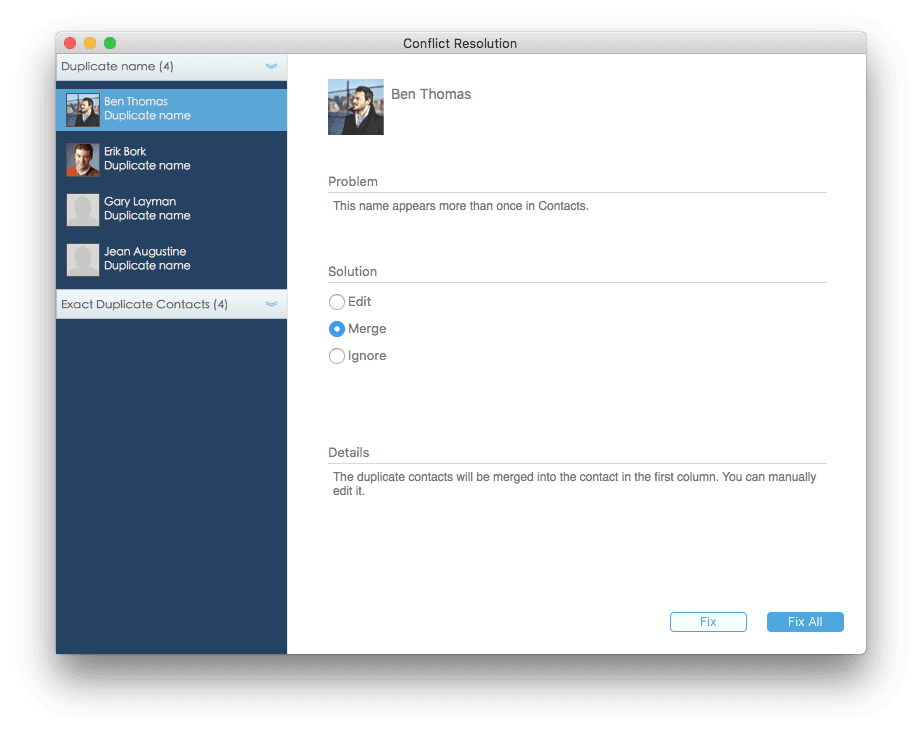 Method 2. Transfer Gmail contacts to iCloud via exporting and importing
Google Contacts provides helpful features for you to manage your Gmail contacts. It allows you to export Gmail contacts to different formats. One of the formats is vCard, which is fortunately supported by iCloud. Therefore, the transfer of contacts will become easy if you export your Gmail contacts to a vCard.
1. To import Gmail contacts to iCloud, open your web browser. Sign in to Google using your Google account.
2. Go to https://contacts.google.com/.
3. Tick the boxes next to the contacts you want to transfer to iCloud. You can choose all your Gmail contacts, or selected contacts, or a contact group (label).
4. Click the 3-dot icon in the upper left part of the page. Click Export.
5. To export Gmail contacts to iCloud, select the vCard (for iOS Contacts) option in the Export as section. Click Export.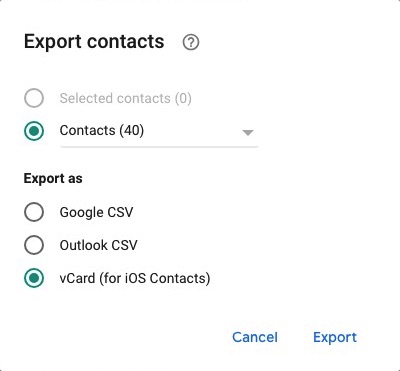 6. Once the export is done, you can find the exported vCard file (with the extension of .vcf) on your computer.
7. Sign in to iCloud and go to https://www.icloud.com/contacts/.
8. Click the gear icon in the bottom left corner.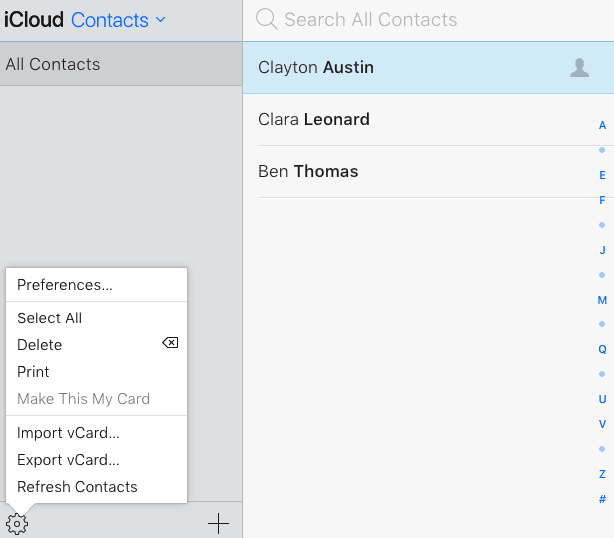 9. Choose Import vCard to import the vCard containing your Gmail contacts.
It's recommended to do the above steps on a computer because it will be easier to operate. That being said, you can use this method on an iPhone or Android phone without problems.
Some users like using Gmail app on mobile phone. To view and export Gmail contacts from the Gmail app, open the app and make sure you're logged in. Tap your profile picture on the upper right corner. Select "Manage your Google account". Go to the "People & sharing" tab and select "Contacts". Then you can view your Gmail contacts list and export them to vCard.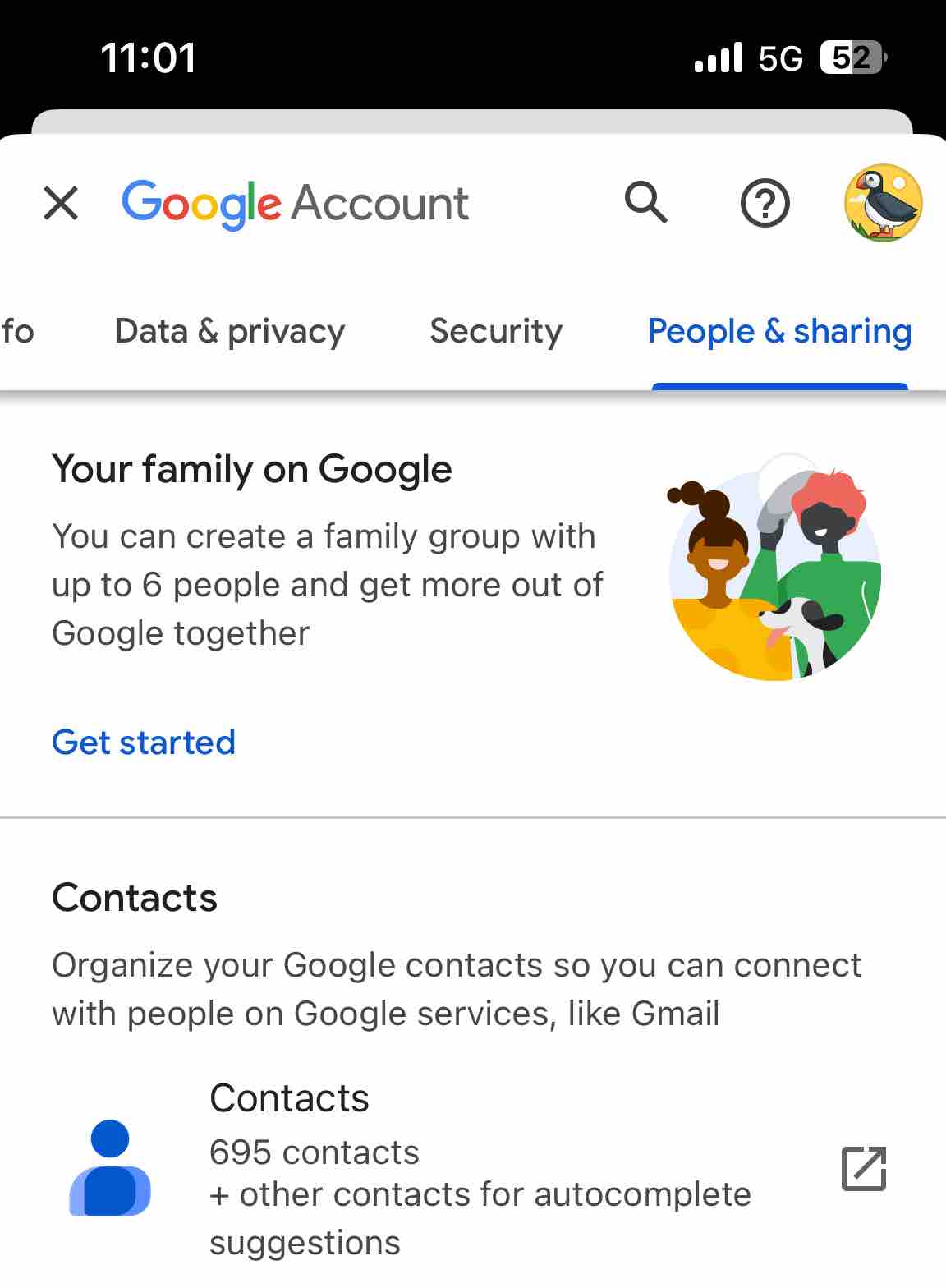 Method 3. Import contacts from Gmail account to iCloud on iOS
This method is only available for iOS devices. Some people have multiple email address such as iCloud, Gmail, Exchange, etc. iOS's built-in Contacts app supports importing contacts from other accounts. But it will sync all your current contacts in Gmail, which may result in many duplicate contacts. If you don't mind this, follow these a few steps to transfer contacts from Gmail to iCloud via this Contacts app.
1. Go to Settings on your iPhone.
2. Click on Contacts > Account > Add account.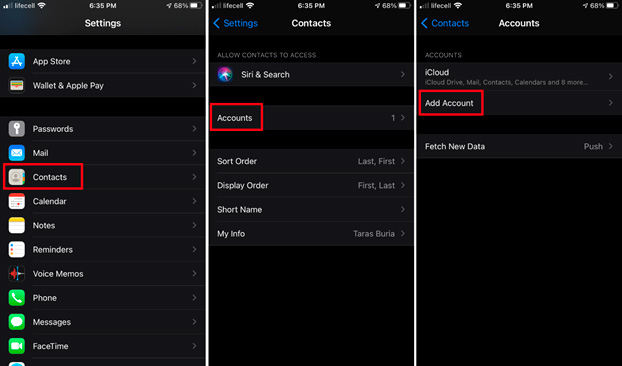 3. Choose Google and log in to your Gmail account. Switch on the toggle bar next to Contacts. Click on Save on the top right.
4. Go back to Settings. Click on your Apple ID on the top. Tap on iCloud and switch on the toggle bar next to Contacts.
After that, all your Gmail contacts will be synced to iCloud.
Note that this method does not keep your contacts in iCloud and Gmail in sync. They still remain independent of each other. This means, you can add/delete/edit a contact in your iCloud or Gmail account without affecting each other.
Tips
How to keep Gmail and iCloud contacts in sync
If you want to sync gmail contacts to icloud instead of making a one-time transfer of contacts, there are third-party apps that can help. Contacts Sync for Google Gmail is one of them, but note that this app is only available for iPhone and iPad. And you can get it from the App Store.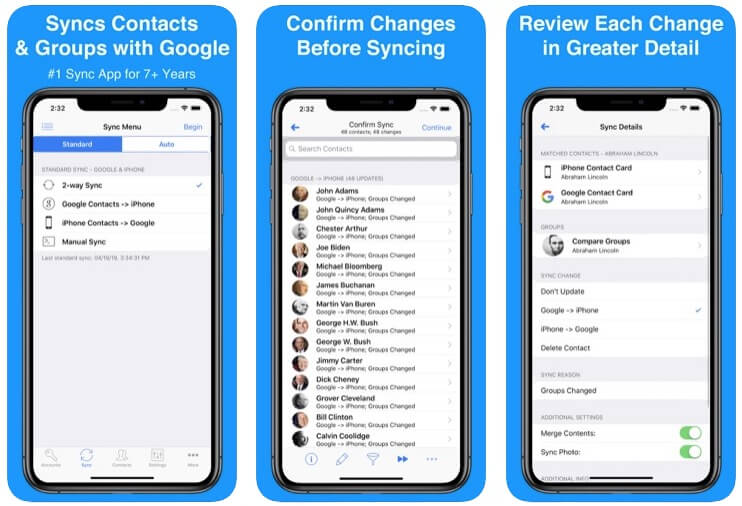 Primarily designed to sync Gmail and iPhone contacts, this app can be used in a number of ways, such as syncing your Gmail contacts with iCloud. Any changes made in one service will be synced to the other instantly and automatically. In addition, you can customize the synchronization. For example, you can choose to sync all fields or selected fields (e.g. name and phone number etc.) in your contact entries.
Merge Gmail contacts to iCloud and avoid duplicates
After you import Gmail contacts to iCloud, it's a recommended practice to find duplicate contacts and merge duplicates (if any). Duplicate entries of the same contacts could cause inconvenience or confusion. The most common way to handle this situation is to merge duplicate entries. Before you do the merging, you can backup your contacts first.
Conclusion
There is more than one way to import Gmail contacts to iCloud. You can also choose to sync contacts between them. Regardless of the method you use, it won't be difficult or time-consuming. Once the transfer is finished, it will also become readily easy to copy Gmail contacts to iPhone if you want to. Do you find this article helpful? Which method do you prefer?