The Contacts app, which is the address book app included with macOS, allows you to easily store and manage contacts on Mac. It can export contacts to a vCard file (with the extension .vcf) or an archive file (with the extension .abbu).
What if you want to export your contacts on Mac to an Excel spreadsheet file (.xlsx)? Well, Mac doesn't offer a built-in option for that. Luckily, there are three easy methods available. This article will show you how to export Mac contacts to Excel with a step-by-step guide.
The Best Contacts to Excel App for Mac
Support contacts from sources such as Mac, iCloud, Gmail, Exchange and more
Export contacts from Mac and other supported sources to 8 formats
8 export formats: Excel, CSV, vCard, DOCX, TXT, Numbers, Pages and HTML
Let you view, search, edit, create, tag, group, share, print and sync contacts
Provide an easy, quick backup and restore solution
Find and fix duplicate contacts in supported sources
Easy to use
Compatible with macOS 10.11 or later

Free Download
Method 1. How to export Mac contacts to Excel directly (only 4 steps)
For Mac users, the easiest way to export Mac contacts to Excel is to use Cisdem ContactsMate. It is the best contact manager app for Mac. In addition to exporting Mac contacts to Excel directly, it can also export contacts stores on your Mac to CSV, TXT, Numbers, HTML and various other formats.
4 easy steps to export Mac contacts to Excel directly
Download ContactsMate and run it on your MacBook Pro, MacBook Air or iMac, etc.

Free Download
The first time you open it, click OK to grant access to your contacts from Mac.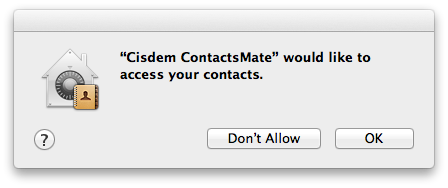 In the sidebar, control-click On My Mac and choose Export.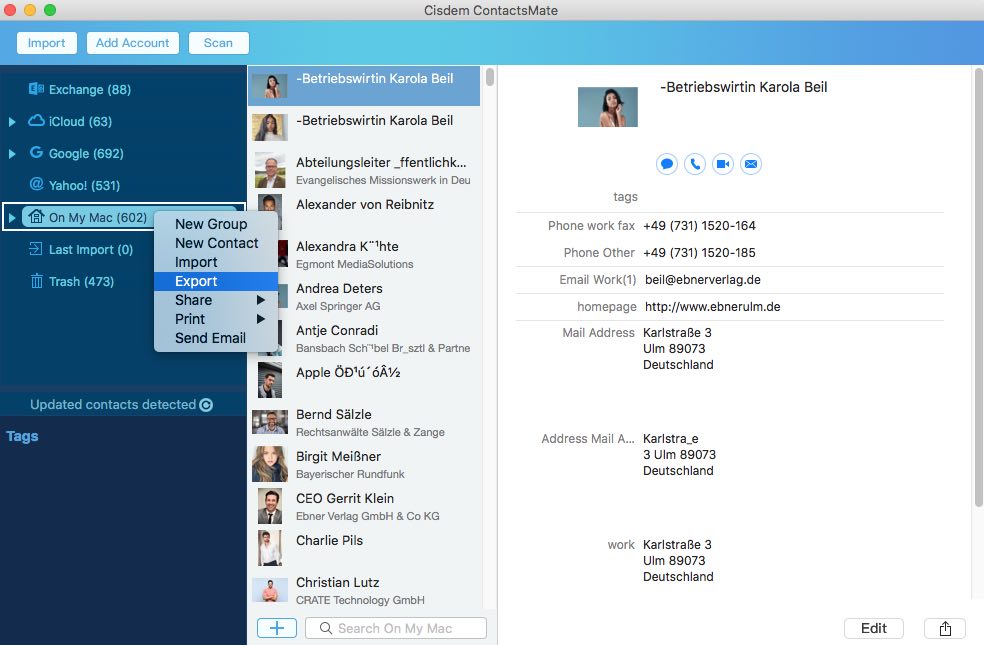 In the Save As field, enter a name for the Excel file that's going to be exported.
To export Mac contacts to Excel, click the Format dropdown list and choose Excel. Then click Save.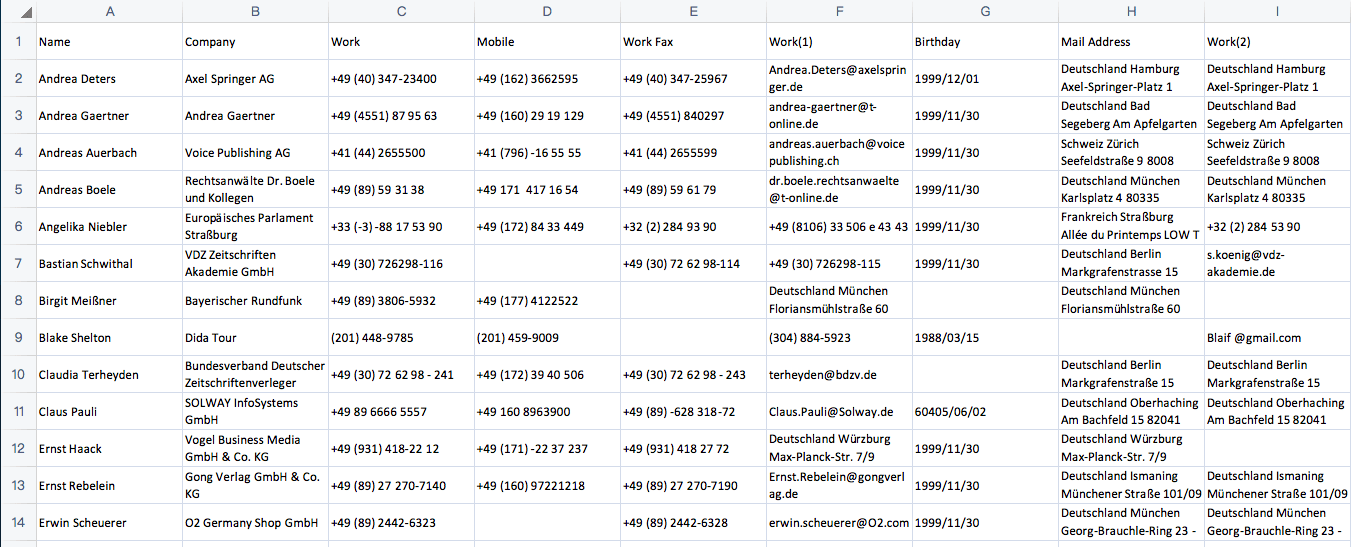 After these four easy steps, contacts in Mac address book are exported to an Excel sheet with well-formatted layout.
Pro tips to export contacts from Mac to Excel
Pro tip 1. Export selected contacts or a contact group to Excel from Apple's Contacts app
Above is how to export all your Mac contacts to Excel. Here's how to export selected contacts or groups to Excel (rather than the entire address book).
In Step 2, choose On My Mac in the left sidebar, select the specific Mac contacts one by one, control-click, and then choose Export.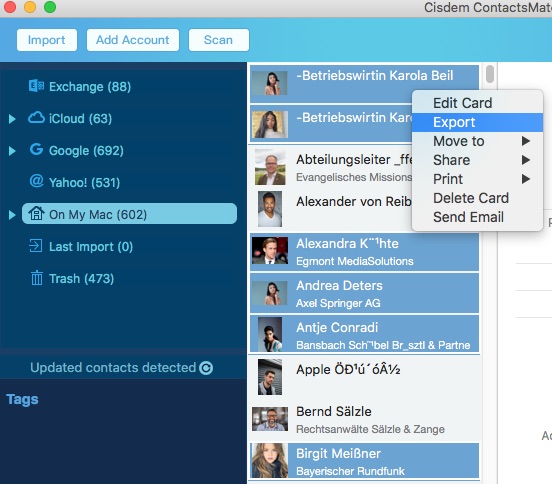 To export a group, click the triangle icon next to On My Mac, and control-click the group that you want to export to spreadsheet.
Pro tip 2. Choose which fields you want to export from Mac Contacts app
By default, this app only exports valid fields. If you want to export all fields, select All Fields from the Field dropdown list.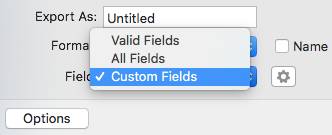 Also, you can choose which fields to export. From the Field dropdown list, choose Custom Fields. Click the gear icon that appears and start customizing.
For example, to include name, birthday, company and email etc. when you export contacts, add these fields to the Selected Fields list. This way, the Excel spreadsheet will only contain the fields (contact information) that you need.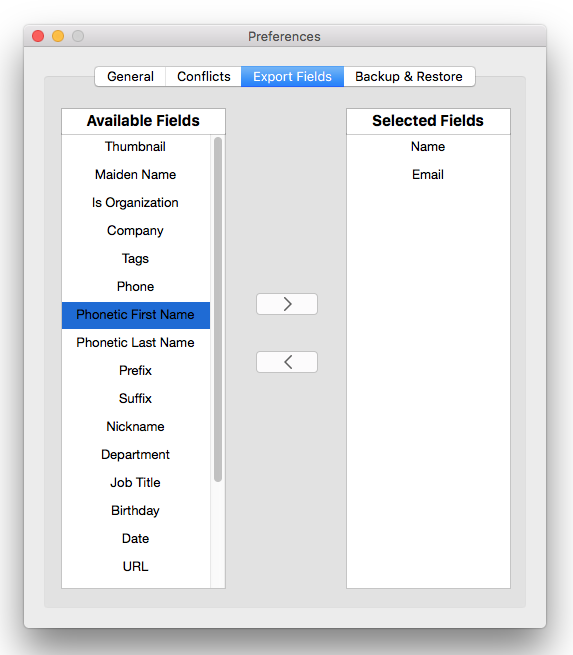 Pro rip 3. Export contacts to Excel from other sources like iPhone, iCloud, Gmail, Outlook and more
ContactsMate helps you export Apple contacts to Excel with great ease. This outstanding application also works with other address books such as the ones from iPhone, iCloud, Google, Facebook and Twitter. Here are the detailed instructions to export iCloud contacts to Excel.
Method 2. How to export Mac contacts to Excel by converting vCard to Excel
The Apple Contacts app for Mac is easy to use and powerful, but it doesn't help when you want to export contacts to Excel. If you'd rather not install an application, there's actually a workaround available.
This alternative method contains mainly two major processes: export Apple contacts to vCard and convert vCard to Excel. Contacts app on Mac can export contacts to vCard, then, you need to do a few extra steps to get an Excel sheet.
The following steps are about how to export Mac contacts to Excel spreadsheet via conversion.
1. On your Mac, open the Contacts app.
2. In the sidebar, select All Contacts (under On My Mac).
3. Go to the menu bar. Choose File > Export > Export vCard.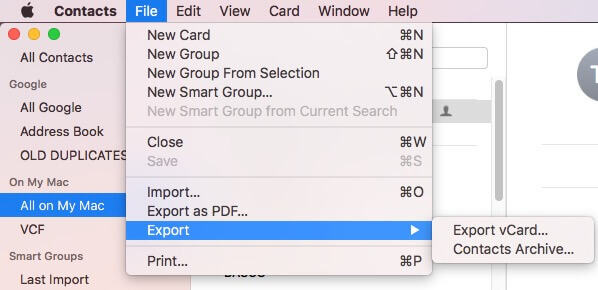 4. Click Save.
5. Now the Mac contacts are in vCard format. The next thing you need to do is to use an online converter to convert the vCard file to an Excel file.
6. Open your web browser and go to www.aconvert.com/document/vcf-to-xls/. This is an online tool for converting vCard (also VCF) to Excel (.xls).
Note: It also works on iPhone users. To export iPhone contacts to Excel, sync all your contacts to iCloud first. Then perform the export and conversion.
7. Click Choose Files to upload the vCard file containing your Mac contacts.
8. From the Target format dropdown list, choose XLS (or XLSX).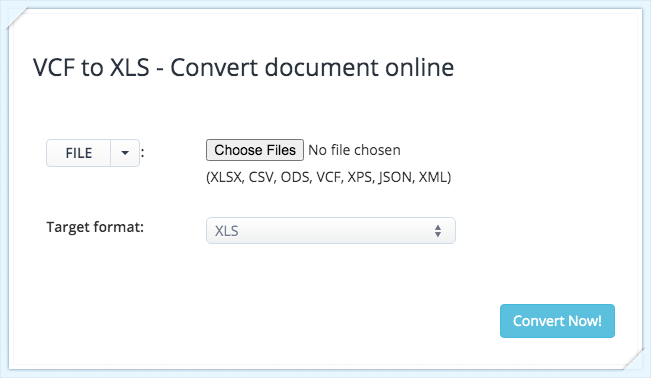 9. Click Convert Now to export Mac contacts to Excel.
10. Once the conversion is done, click the download icon in in the Conversion Results section.
11. Click the File URL to download the XLSX file.
12. Now, You can open the spreadsheet containing your Mac contacts with apps like Microsoft Excel 365, Apple Numbers, Libre Office and Google Sheets.
Tip
Here's how to export selected Mac contacts using this method. In Step 2 and Step 3, select multiple Mac contacts from the contacts list, control-click on them and choose Export vCard. The rest of the process is the same.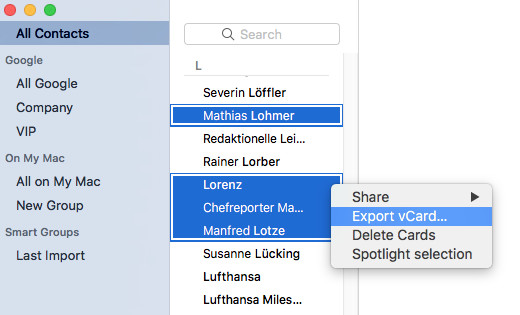 Method 3. Export contacts from Mac to Excel using Numbers app
Numbers is a spreadsheet app developed by Apple Inc. It allows you import contacts from Mac Contacts app directly with drag and drop, and export your spreadsheet to Excel, CSV, etc. Below are easy steps to export Apple contacts to Excel via Numbers app:
1. Run Numbers app. Create a new spreadsheet.
2. Open Mac Contacts app. Select contacts you want to export.
3. Drag and drop selected contacts into the table.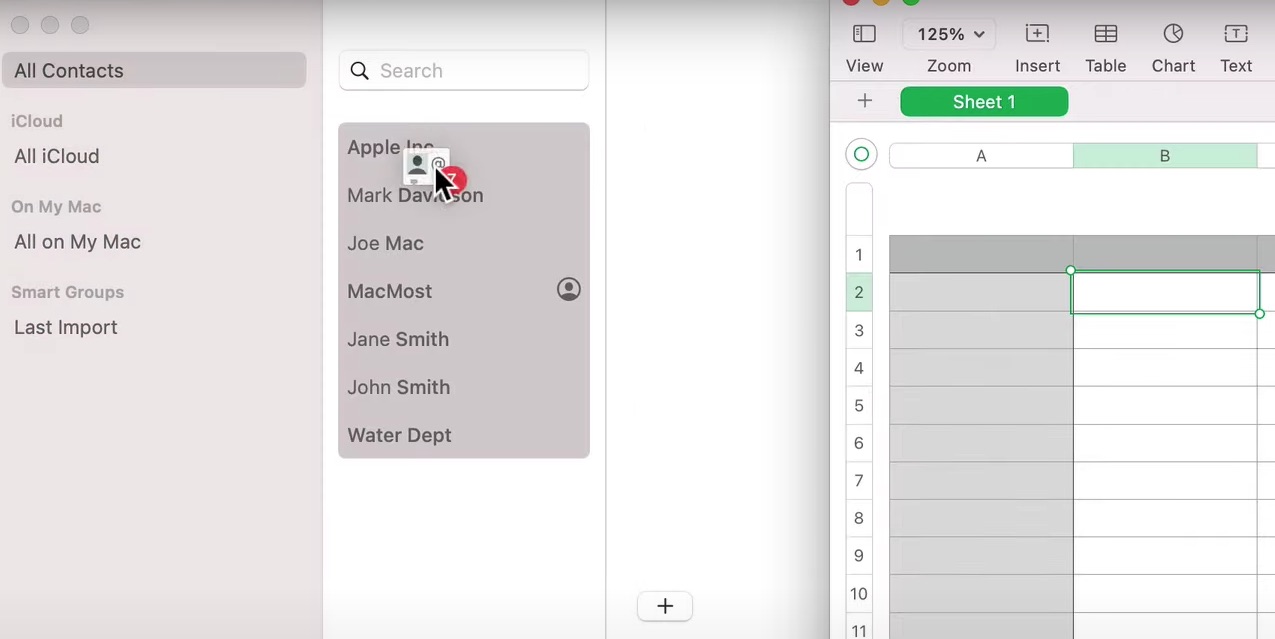 4. Delete some unnecessary columns that you don't want.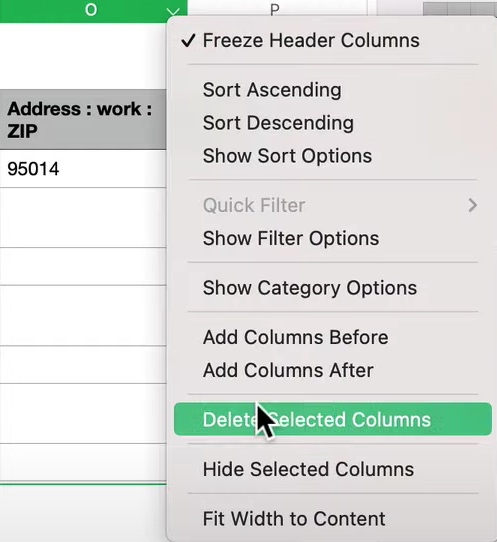 5. Click on File on the top left. Then select Export to > Excel.
Tip
This method only works on macOS 12 or later. Since when your try to install the Numbers app on an older Mac computer, you will get this message: Numbers can't be installed because macOS version 12 or later is required.
Conclusion
The Apple Contacts app for Mac only allows users to export contacts to vCard or ABBU format. vCard is a standard and popular file format for storing contacts information, but sometimes you need to export Mac contacts to Excel spreadsheet. The address books of many popular services of apps don't accept vCard but support Excel (or CSV).
I hope the three methods described above can help you to export contacts from Mac to an Excel sheet quickly. Cisdem ContactsMate, the best contacts manager, is worth a try. It only needs four easy steps to save Mac contacts to Excel. And if you have other personal or business contacts to manage, you can also try ContactsMate, which provides a number of useful contact management solutions.

Free Download