This article will show you how to easily find and remove or merge Gmail duplicate contacts in different ways.
Developed by Google, Gmail is one of the most popular and widely used email services in the world. Simply having a Gmail account makes many Google products available, such as Google Contacts, Google Calendar and more. With the old Gmail interface, users could access Gmail contacts by clicking the dropdown menu in the top left corner of the interface. Something changed due to the 2018 redesign. Now, to access Gmail contacts, you need to click the Google apps icon and choose Contacts.
Google Contacts is an easy-to-use tool to store and manage your Gmail contacts. It has a web version and an Android app version. As with any contact management tool or system, there could be duplicate contacts in Gmail. How to get rid of them? There are 3 common ways.
The Best Gmail Contacts Duplicate Remover for Mac
Support contacts from sources like Gmail, Mac, iCloud, Exchange, etc.
Find duplicate contacts in Gmail and other supported sources
Display the list of the found duplicate contacts, letting you view and fix them
Offer multiple options to fix: Delete, Merge, Edit and more
Let you view, search, create, edit, tag, group, print, share and sync contacts
Allow you to backup or restore contacts with 1 click
Easy to use
Mac-only
Compatible with macOS 10.11 or later

Free Download
Note: Before you make changes to your Gmail contacts, it's recommended to back them up first.
Method 1. How to manually identify and delete Gmail duplicate contacts
If there aren't many contacts in your Gmail account, then it may be feasible to find and eliminate them by hand.
Open a web browser on your computer. Go to Google.
Sign in using your Gmail account.
Click the Google apps icon (the nine squares) and choose Contacts.
Click Contacts (under the Create contact button) in the sidebar. Now you can see all your Gmail contacts. They are sorted by the first name by default.
Go through them. If you find two (or more) listings for the same contact, hover your mouse over one of the listing and select the box that appears.
Make sure that you select the duplicate contacts that you want to get rid of. Click the three-dot icon and choose Delete.
Click Delete to confirm the deletion of duplicate Gmail contacts. An Undo option is offered, but it will disappear in seconds.
If you have accidentally deleted a contact that you actually need, you can restore it from Bin. Click Bin (or Trash) in the sidebar, select the contact and click Recover.
You can do the same on a mobile browser on your Android or iPhone. If you use an Android phone, you can also manually do the deletion in the Contacts app.
Method 2. How to find and merge Gmail duplicate contacts with the Merge and fix feature
If you have a long list of Gmail contacts, the manual method will be tedious and time-consuming. Luckily, Google Contacts offers a built-in solution, which is available for both the web version and Android app version.
Open your web browser. Sign into Google.
Go to https://contacts.google.com/.
Click Merge and fix in the sidebar. And Google will start looking for duplicate contacts.
Once it's done, you can merge Gmail duplicate contacts.
There are two options. You can do it one by one. Click Merge under a pair of duplicate listings to merge them. You can also ignore them by clicking Dismiss. Or, you can click Merge all to merge all the duplicate contacts in Gmail.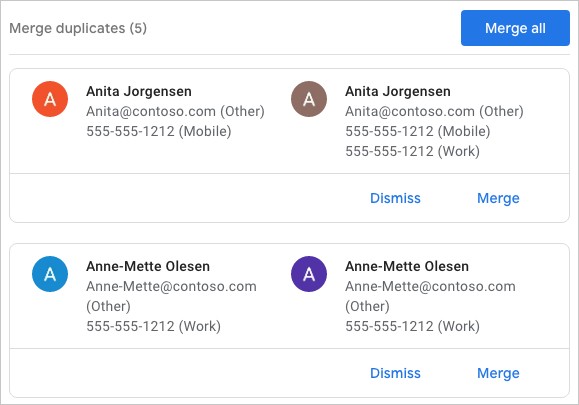 To separate merged contacts, you can click the Undo option. Or, you can do it by going to Bin.
If there aren't any duplicate duplicates, when you click Merge and fix, it will display "Good work. No new suggestions".
Yes, Google Contacts (web browser) offers me to merge and fix duplicates. I then have to go thru them all one by one as some duplicates are not entirely duplicates and should stay as 'duplicates'. - From a post in the Gmail Help community
As you can see, the process of finding and removing duplicate Gmail contacts is almost automatic. But it's not that flexible. And there is a possible risk of deleting the contacts you actually need if you simply click the Merge all button.
Note that this method is for Mac computers only.
Mac users can easily and effectively get rid of duplicate contacts in Gmail and other places (e.g. Mac, iCloud, Exchange) using Cisdem ContactsMate, the best contact management app for Mac.
ContactsMate can accurately and quickly find duplicate contacts. It will display a list of the exact duplicate files and allow you to remove them with one click. It will also list all the partial duplicates, let you preview and compare them, and provide multiple solutions such as editing, merging, etc.

Free Download
Download ContactsMate and install it.
The first time you open it, click OK to grant access.
Click Add Account.
Select Google and sign in with your Gmail account.
Select the box next to Contacts. Click Done.
Click the button next to the Updated contacts detected message. Now you should see Google in the sidebar.
Select Google in the sidebar and click Scan.
Select a contact in the Exact duplicate contacts section. Choose Delete duplicate contacts as the solution and click Fix All.
As for other types of duplicate Gmail contacts, select a contact in the sidebar, choose Edit as the solution and click Fix. It lets you easily compare duplicate side by side. You can edit, delete or merge.
Gmail will automatically detect and sync the changes. If you go to https://contacts.google.com/ or open the Contacts app on Android, you will find that the duplicates are gone.
In ContactsMate, the removed contacts are moved to Trash. To get them back, you can click Trash, select specific contact(s), perform a control-click and choose Put Back.
As you can see, this Gmail contacts duplicate remover offers more flexibility and reliability. Useful solutions are available for different types of duplicate contacts. You also have control over how it identifies Gmail duplicate contacts. Before you click the Scan button (in Step 7), go to the Conflicts tab and adjust according to your preferences.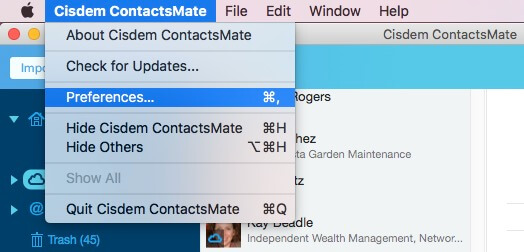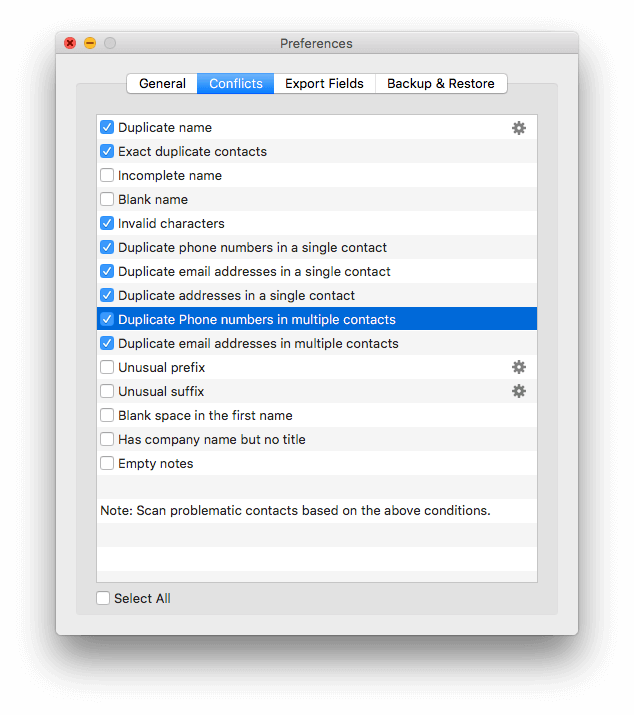 Conclusion
Duplicate contacts are likely to appear when you import contacts from another source (e.g. an email client, a CSV or vCard file) to your Gmail account. Google itself provides an easy-to-use feature to find and merge Gmail duplicate contacts. If it doesn't work (well) for you, you can consider a third-party Gmail contacts duplicate remover.

Rosa has worked in Mac software industry for more than eight years. She believes that the purpose of software is to make life better and work more productively. In addition to writing, Rosa is also an avid runner.