Apple's iCloud is a cloud storage service. Contacts on iCloud.com, also known as iCloud Contacts, can help you manage and sync contacts. If your iCloud has duplicate contacts, don't worry. This article will show you how to effortlessly find and remove iCloud duplicate contacts. There are four easy methods.
Note: It is a good idea to backup your contacts before you make changes to them.
Delete/Merge iCloud Duplicate Contacts on Mac
Support contacts from iCloud, Mac, Gmail, Exchange and other sources
Find duplicate contacts in supported sources
Find exact duplicates and partial duplicates
Display the found duplicate contacts for you to view and fix
Provide multiple fixes: Merge, Delete and Edit etc.
Let you view, search, edit, add, group, tag, share, print and sync contacts
Export/convert contacts to 8 formats: Excel, CSV, vCard, etc.
Let you backup/restore contacts with a click
Easy to use
Compatible with macOS 10.11 or later

Free Download
A brief comparison
Here's a comparison of the four methods to remove duplicate contacts from iCloud.
Note: Method 3 doesn't let you view the duplicate contacts that have been found. It only provides the number of contacts to be merged.
Method 1. How to delete duplicate contacts in iCloud manually
Applies to: Mac, Windows PC
iCloud doesn't come with a feature or option for users to handle duplicate contacts. If there are only a few contacts in your iCloud account, then it's easy and practical to manually identify and eliminate them.
Open a web browser. Go to https://www.icloud.com/.
Sign in to iCloud with your Apple ID and password.
Click Contacts.
Manually find duplicate contacts and select the unwanted cards.
Click the settings icon in the bottom left corner and choose Delete to delete the selected cards.
Tips
You can set iCloud to sort contacts by the first or last name, which may help you find duplicates by name. To do this, click the settings icon and choose Preferences.
You can select and delete duplicate contact cards one by one. To improve efficiency, you can select multiple cards at a time. On a Mac, press and hold the Command key and click the cards. On a Windows PC, hold down the Ctrl key as you click.
Method 2. The easiest way to find and remove or merge iCloud duplicate contacts
Applies to: Mac
If your iCloud has a ton of contacts, it will be tedious and time-consuming to manually find and remove duplicates. In such a case, Cisdem ContactsMate can help. In addition to iCloud, ContactsMate can also find and delete duplicate contacts in other places such as Mac's Contacts app, Google Contacts, Exchange and Yahoo, etc.
Download Cisdem ContactsMate and install it.

Free Download
When you open the app for the first time, it will require access to your contacts. Click OK.
In the app, click Add Account in the toolbar.
Click iCloud and sign in to it.
Select the box next to Contacts.
Click the button next to the Updated contacts detected message. Now you should find iCloud in the sidebar. Select iCloud and click Scan in the toolbar.
In the Conflict Resolution window, the found iCloud duplicate contacts are listed, grouped by type. Select a contact in a type and choose a solution.
Click Fix or Fix All.
Once you finish deleting or merging duplicates, iCloud will automatically detect and sync the changes. The duplicate contacts in your iCloud will also be removed. To verity it, you can open (or reload) https://www.icloud.com/contacts/.
Tips
ContactsMate can find different types of duplicate contacts in iCloud and provides the best solutions to fix them. If two or more contact cards are exactly the same, they are identified as the Exact duplicate contacts type. Select a contact in the type, choose Delete duplicate contacts as the solution and click Fix All. All the duplicate contacts will be deleted at once, and the unique ones will be kept. When it comes to other types, you can choose Edit as the solution, which lets you view and edit contact information, merge contacts and do more, as shown in the screenshot below.
You can set the app to include or exclude specific types of duplicates. Here's how. From the top menu bar, choose Cisdem ContactsMate > Preferences. Choose the Conflicts tab and configure. Now choose iCloud in the sidebar and click Scan to start looking for duplicate contacts in iCloud.
Before you make changes (e.g. duplicates removal) to your iCloud contacts, it's recommended to back them up. Here's how. In Preferences window, go to the Backup & Restore tab, select iCloud and click the Backup button.
Applies to: Mac
Both iCloud and Mac's Contacts app are from Apple. It's possible and easy to get the job done using the app. You can use its Look for Duplicates feature to find and mass merge duplicate contacts in iCloud. However, there is a downside.
There is no way to check the duplicates before you allow them to be merged or select which ones you want to be merged. - From a Mac user
1. On your Mac, open the Contacts app.
2. In the menu bar at the top of the screen, select Contacts > Add Account.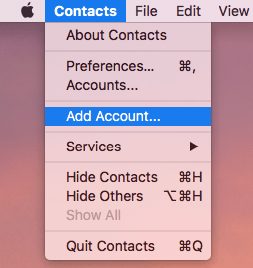 3. Select iCloud and click Continue.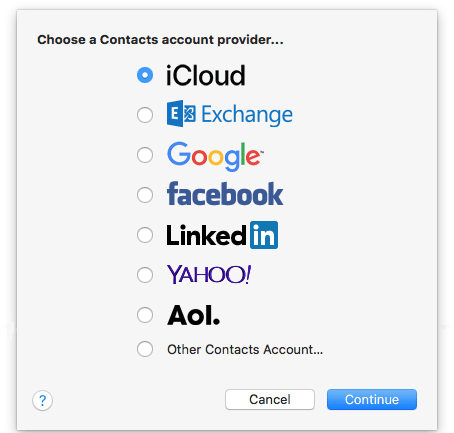 4. Sign in to iCloud.
5. Check the box before Contacts.
6. In the top menu bar, choose Card > Look for Duplicates.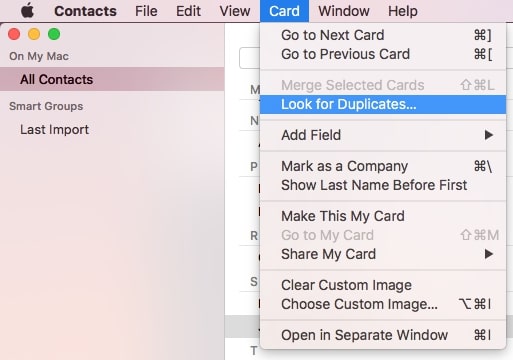 7. Click Merge.
8. Repeat the previous two steps until there aren't any duplicates.
The automatic merging is convenient. However, you have little control over it. Use caution with this method.
Applies to: iPhone (iOS 16)
The Look for Duplicates feature is not available for iOS devices. Fortunately, Apple updated a new function in its latest versions, which is similar to Mac's Look for Duplicates. You can use it to remove duplicate contacts in iCloud on your iPhone. The premise is that you need to upgrade your iPhone to iOS 16.
1. On your iPhone, go to Settings. Sign in to your iPhone with the Apple ID and password at the top of the screen.
2. Tap on iCloud. Enable Contacts.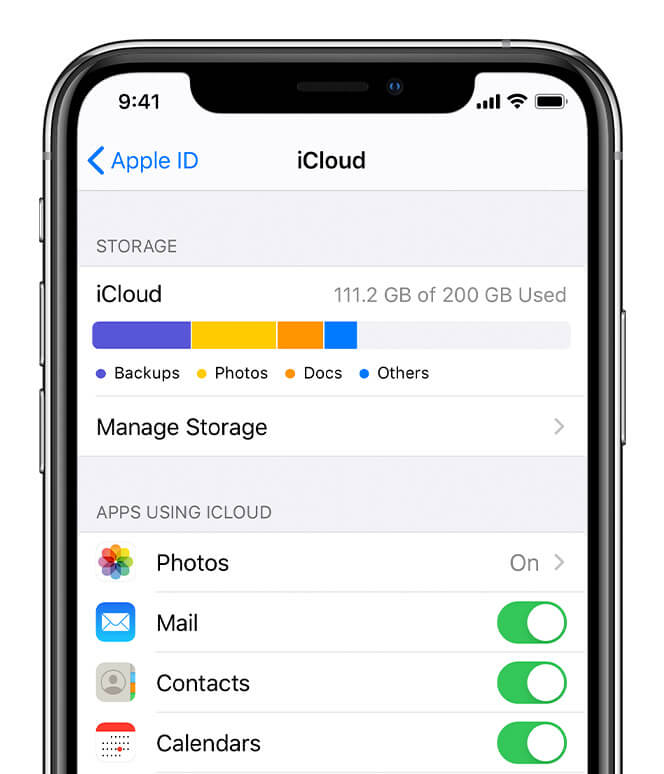 3. Go to the Contacts app.
4. Below My Card, tap on Duplicates Found.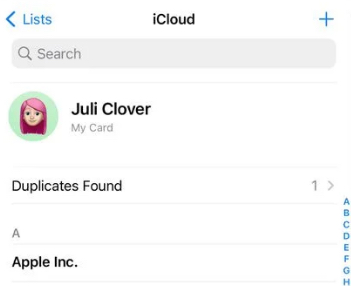 5. View the found duplicates. Click on Merge All > Merge Duplicates.
Compared to Mac Contacts' Look for Duplicates, iPhone's Duplicates Found feature in Contacts app can be more flexible.
Method 4. How to remove duplicate contacts from iCloud with Gmail
Applies to: Mac, Windows PC
If you have a Gmail account, then another method is available to merge iCloud Contacts duplicates.
1. On your computer, open a web browser. Go to iCloud Contacts.
2. Click the Show Actions Menu icon

and choose Select All.
3. Click the icon again and choose Export vCard. Now you get a vCard file containing all your iCloud contacts.
4. Go to https://contacts.google.com/.
5. Sign in using your Gmail account.
6. Now you are in Google Contacts. On the left, click Import.
7. Click Select file. Upload the vCard file. Click Import.
8. On the left, click Merge and fix, and it will start looking for the duplicates in all the contacts in Google Contacts, including the ones imported from iCloud.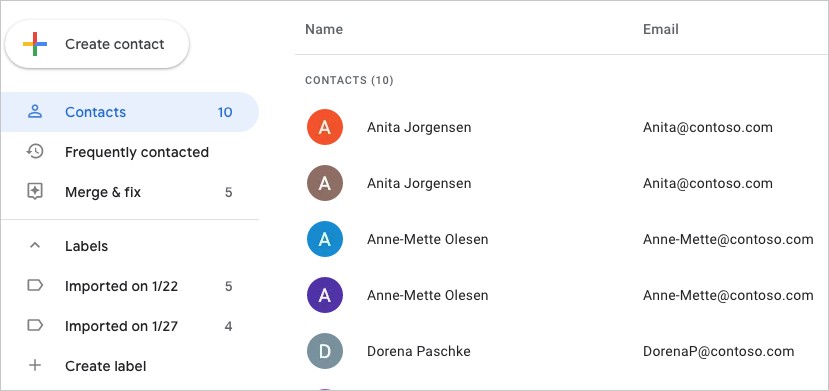 9. Click Merge all in the top right corner, and it will merge all duplicate contacts.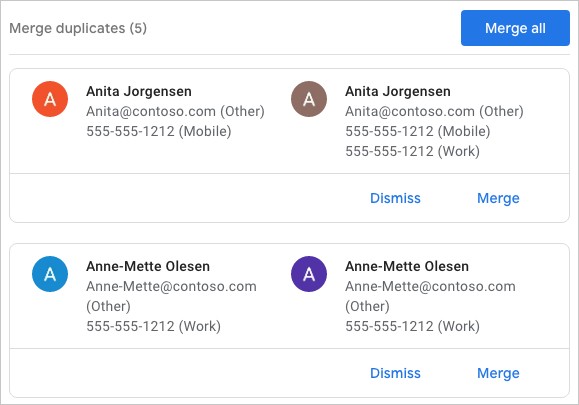 10. On the left, click Export.
11. From the Labels list, select the iCloud contacts.
12. From the Export as list, select vCard (for iOS Contacts). Click Export.
13. Go to iCloud Contacts. Delete all the iCloud duplicate contacts.
14. Import the now duplicate-free contacts to iCloud.
Frequently asked questions
How do I delete multiple duplicate contacts in iCloud?
With Method 1, you have to get rid of contact duplicates one by one. The other three methods allow you to remove multiple iCloud duplicate contacts. Consider these methods if you want efficiency.
Can I restore my deleted contacts in iCloud.com?
Yes. When you found yourself accidently deleted a contact on iCloud, or you think it is necessary to have some certain duplicates on iCloud, you can restore them in iCloud.com if you have previously set up backup contacts.
1. Go to icloud.com. Sign in with your Apple ID and password.
2. Go to Account Settings. Scroll down to find Advanced section.
3. Tap on Restore contacts.
4. Choose an archive of contacts you want to restore. They are listed by the date and time of the back up. Click on Restore at the right of it.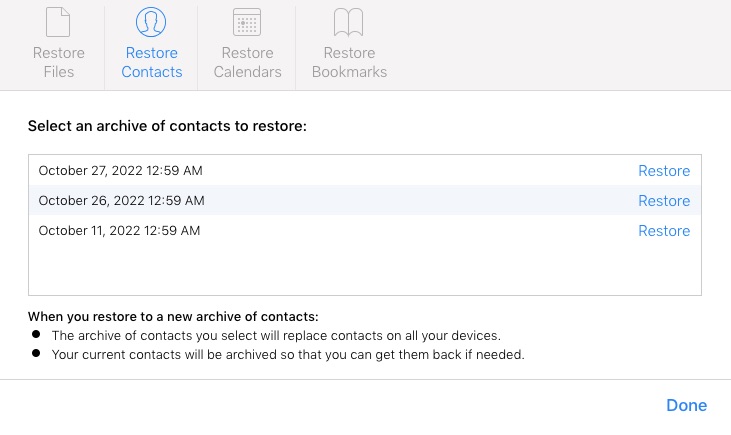 Conclusion
iCloud Contacts is a simple but useful online address book. However, it lacks some features such as a feature to handle duplicate contacts. Luckily, contact management software like ContactsMate can be used for the task. The app excels at detecting iCloud duplicate contacts and offers a number of useful solutions. It lists the detected duplicates, ensuring more reliability and accuracy. Once you get the duplicates removed, you can better manage your contacts.