Apple Notes is a great note-taking app developed by Apple for Mac, iPhone and iPad. You can use Notes on your Mac to jot down your random thoughts, keep a daily journal or even organize your financial information, etc. Some of your notes can be private and should be kept safe from prying eyes. This article shows you how to lock Notes on Mac easily and effectively.
The Best App Locker for Mac
Password protect Notes, Photos, Evernote and any other apps on Mac
Record failed attempts to open protected apps
Offer a useful schedule feature to lock apps at certain time
Also block access to specific websites and webpages
Provide 2 blocking modes: Allow list and Block list
Help guard privacy
Also help with productivity and parental controls

Free Download
How to lock Notes on Mac by locking individual notes
Apple Notes is designed with your privacy in mind and provides a Lock Note option. The option may or may not meet your needs.
Pros
Built-in to Mac
Easy to put or remove lock on notes
Cons
Lock only one note at a time
Can't lock notes containing videos, audios, PDFs and other unsupported files
Can't lock a shared note, Quick note, and note stored in an iCloud account that hasn't been upgraded.
If you want to lock all notes on Mac at once, the second method can help.
Steps to add a lock on notes on Mac with the built-in locker
1. In the Notes app on your Mac, control-click the note that you want to lock and choose Lock Note.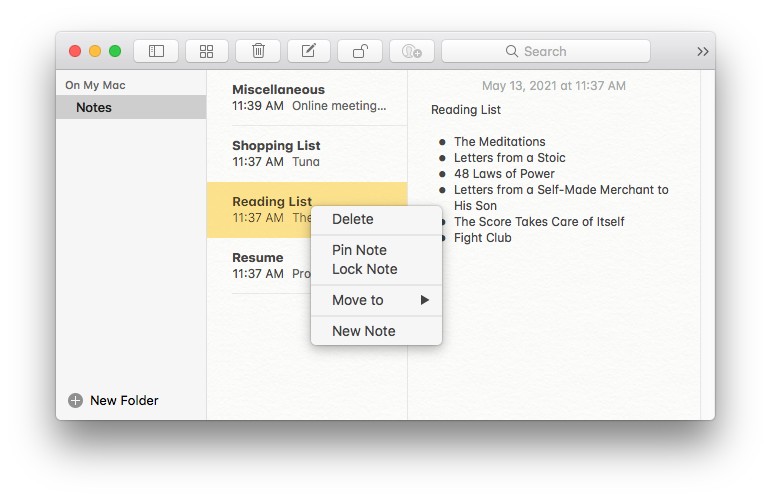 2. Create a password and verify it.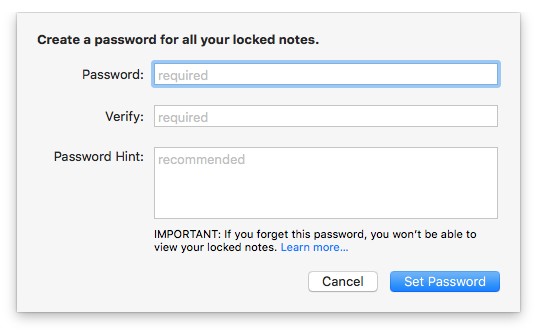 3. Add a password hint, which is optional and recommended.
4. Click Set Password. If your Mac supports Touch ID, enable Use Touch ID.
Now this note is locked and becomes a secure note. Its content and the file attached (if any) become inaccessible and hidden. You can continue locking more notes.
Here's how to unlock a note. Type your password in the Enter Password box. If your MacBook Pro, MacBook Air or iMac has Touch ID, you can also use it to unlock.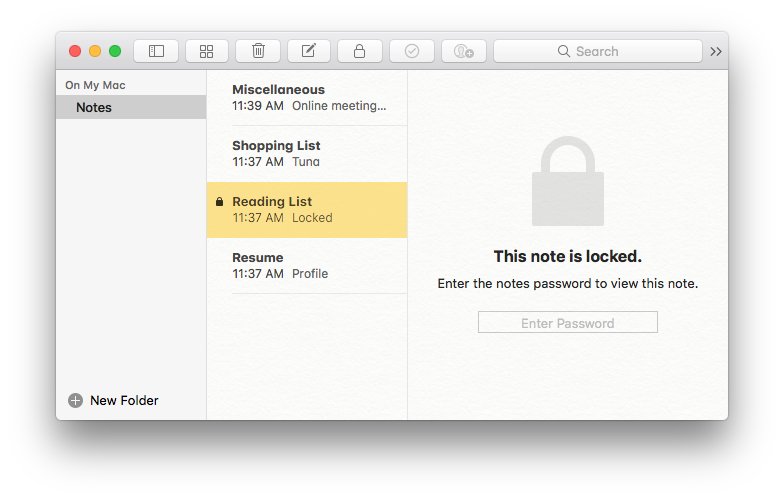 Note that the unlocking will start a secure session during which all your locked notes stay unlocked. You can manually close the session by clicking the lock icon in the toolbar and choosing Close All Locked Notes.
Here's how to remove lock on notes. Control-click a locked note, choose Remove Lock and enter your password. (Touch ID supports only unlocking but not removing the lock.)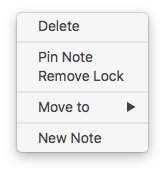 FAQs
Why can't I lock notes on Mac?
The built-in Lock Note option won't let you lock a shared note or a note with an unsupported file attachment, video, PDF etc. Supported files include images, drawings and a few more. If you have to lock such notes, you can lock Notes app instead.

How do I change Notes password on Mac?
It's very easy. Go to Preferences and click Change Password.
How do I remove lock on notes on my Mac if I forgot the password?
You are allowed to reset your password: choose Notes > Preferences > Reset Password. However, the new password will only work with your future notes. It's not easy to remove the lock on existing notes that are protected by the forgotten password. After entering the incorrect password for 3 times, the hint you set before will pop up. If you still cannot remember the password with hint's help, there's a possible fix. You can try to access them using your iPhone via Touch ID and then turn them into new notes by copying and pasting.
How to lock Notes on Mac completely by locking the Notes app
Not happy with the built-in solution? Have too many notes that you want to protect with password? If you want to lock all notes on Mac at once, the method below is for you.
You can password protect notes on Mac by locking the Notes app. The job can be effortlessly done with Cisdem AppCrypt, the best app locker and website blocker for Mac.
AppCrypt main features:
Lock any apps on Mac with password
Record failed attempts to access a locked app with date, time and a photo of the intruder
Also block websites and webpages on Safari, Chrome and other browsers with password
Provide a schedule feature to lock apps and block websites at certain times
Help protect privacy
Help block distractions and improve productivity
Help parents block inappropriate online content
Support macOS 10.12 or later, including macOS 14 Sonoma
Steps to lock Notes app on Mac to best protect all notes
1. Download AppCrypt and install it.

Free Download
2. The first time you open it, set a password. Read the warning message and then click Submit.
You can enable Launch at System Startup.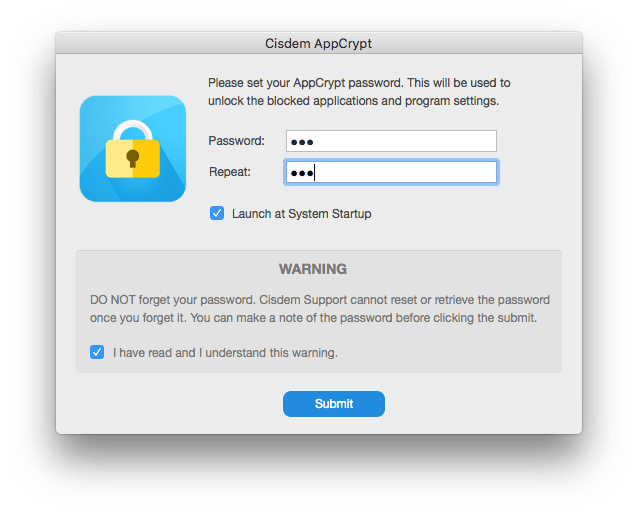 3. In the top menu bar, click the icon and choose Open Main Window.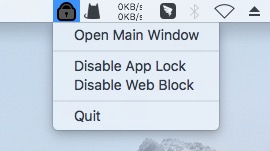 4. Enter your password. Click OK.
5. Now you are in the main window. There, click App Lock.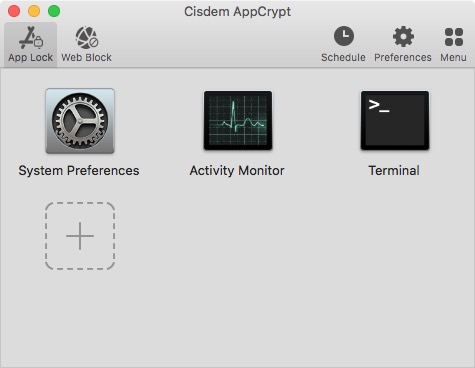 6. Click the plus icon. Select Mac's Notes app in the Applications folder and click Open.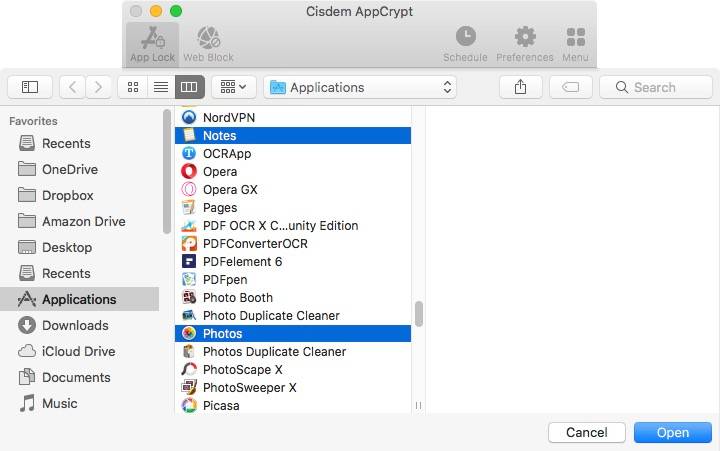 Now Notes on Mac is locked, and all notes are secured. When you or someone else tries to open it, it won't open. Instead, a window will pop up asking for password. If the password entered is correct, Notes will be unlocked and open as normal. If it's incorrect, Notes will remain locked.
In addition, AppCrypt will record the failed access attempt with information such as date and time and take a photo of the person who tries to break in. You can enable or disable this function as you like in Preference window.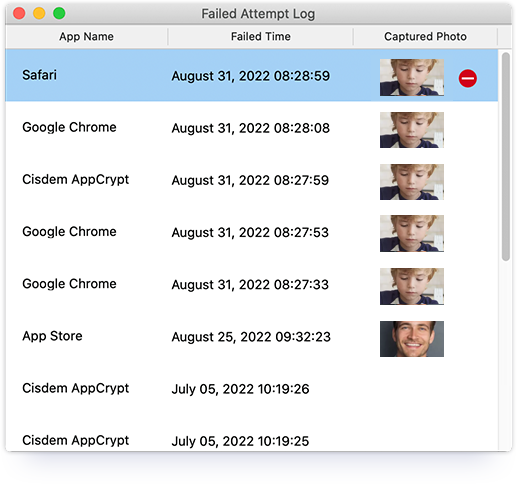 To remove the lock, go to the main window (which requires entering the password), select Notes under the App Lock tab and press the delete key.
AppCrypt itself, along with Notes (and other locked apps), is protected by password. Without knowing the password, one won't be able to quit/uninstall it. Therefore, the lock is effective and hard to bypass.
Conclusion
Some if not many of your notes on Mac may be private or personal. It's a good idea to keep them hidden from snooping eyes especially when you share your computer with other people. This article provides two methods on how to lock notes on Mac. I hope they are helpful. The second method shows you how to lock Notes app on Mac so as to add better protection.