Nowadays, we can't do without computers, smartphones and the Internet in work and life in general. They make things easier and more efficient. However, digital distractions such as distracting websites make us less focused at work or school. Thanks to website blockers, it's possible and easy to block distracting and other unwanted websites.
This article will talk about the best website blocker for Mac and how to use it to easily block access to websites.
The Best Mac Website Blocker
Block specific websites on Safari, Chrome and more with password
Block websites by category (gaming, social media, etc.) too
Also let you block all websites except a few
Offer a schedule feature to block sites and lock apps at certain times
Easy to use
Hard to bypass
Help increase productivity by blocking distracting sites
Help make Internet child-safe by blocking bad sites
Compatible with macOS 10.12 or later

Free Download
How to pick a website blocker
What is a website blocker? It's a piece of software or tool to help people prevent access to websites. There are 3 types of them.
Website blocking software/apps
Website blocking browser extensions
The website blocking function as part of certain (e.g., operating system or Internet) settings, not available independently
You may want to use a website blocker to block access to distracting sites, inappropriate sites or other unwanted sites, permanently or just for certain hours of the day.
When you choose a tool to block website access, you can ask the following questions.
Safety: Is it safe?
Capability: Does it meet my needs?
Effectiveness: Is it hard to bypass?
Ease of use: Is it easy to use?
With these criteria in mind, below is a list of the best tools to block websites on a Mac.
Top 5 website blockers for Mac
#1 Cisdem AppCrypt
To block access to websites on your MacBook Pro, MacBook Air, iMac, Mac mini or Mac Pro, you can use Cisdem AppCrypt, the best website blocker and app locker for macOS.
Pros
Block websites and pages with Chrome, Safari, etc. with password
Also block categories of websites
Let you allow only certain websites
Block websites permanently or during certain hours
Lock applications with password
Safe to use without touching or altering any system files or settings
Easy to use
Hard to get past
Help with productivity, parental controls, privacy protection, etc.
Support macOS 10.12 or later
How to use a website blocker for Mac to block websites
1. Download the site blocker and install it on your Mac.

Free Download
2. When you open it for the first time, set a password.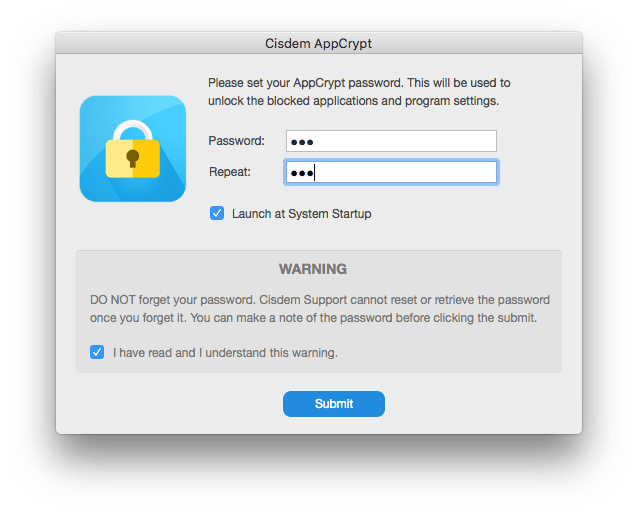 3. From the menu bar at the top of your screen, click the icon and choose Open Main Window. Enter the password when asked.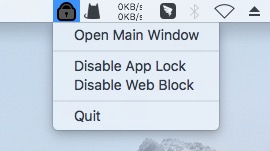 4. In the main window, click the Web Block tab.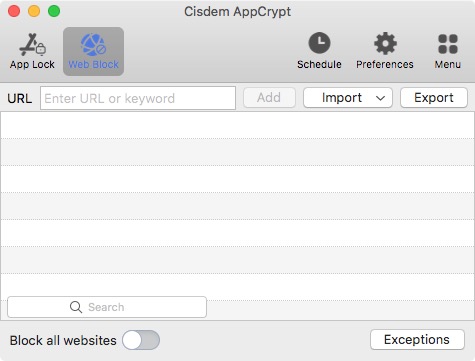 5. To block a specific website, enter the website URL and click the Add button. You can continue adding more unwanted websites to the Block list.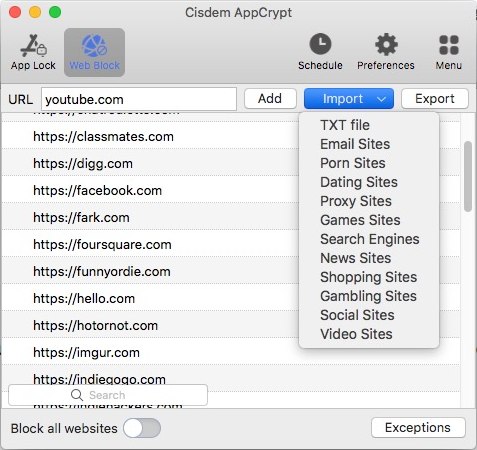 To block a category of websites, click the category. Also, you can import a list of websites to block.
Now the websites are blocked and not accessible on browsers such as Safari and Chrome on your Mac. The blocking applies to both the normal and incognito or private browsing modes. When you try to visit a blocked site, the site won't open, and you will see the following message.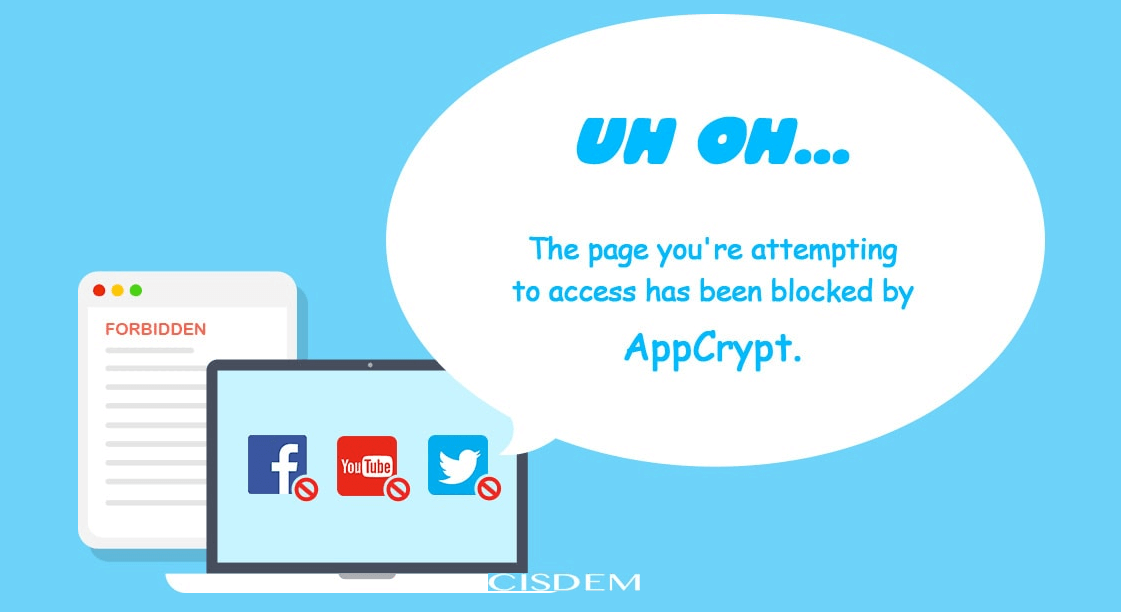 To unblock a blocked site (and do any other changes), one needs to access AppCrypt's main window, which requires the password. Also, AppCrypt itself can't be quit or deleted without password.
You can use this powerful app to easily block inappropriate websites permanently and block distracting or addictive websites during school hours or work hours etc.

Free Download
#2 Focus
Are you looking for a Mac website blocker for studying or productivity? The Focus app may be worth considering.
Pros
Block websites and apps during your planned focus time
Also let you block all websites except allowed ones
Let you plan focus time with the Pomodoro timer, by scheduling, etc.
Let you set a daily usage limit on websites and apps
Offer a Hardcore mode, preventing you from unblocking early
Offer a Password mode too
Give daily, weekly, monthly and more statistics on website and app usage
Easy to use
Compatible with macOS 10.12 or later

Free Download
Designed to help users get rid of digital distractions, boost focus and improve productivity, the Focus app blocks websites and apps during the focus time a user plans.
It can block specific websites and pages, URLs that contain certain words, and categories (such as Social and Games) of websites. It can also block access to all websites except the ones you need. One of the great things is that it allows you to create different block lists for different tasks.
There are a few options to plan your focus time, which offers a lot of flexibility. With the Block as Scheduled option, the app will block websites during the times of the day and days of the week that you specify. With the Pomodoro option, the app will block/unblock websites based on the Pomodoro Technique and remind you to take regular breaks.
During focus time, your Mac is distraction free because distracting websites (and apps) are blocked and unavailable. As a result, you can better focus on your study or work.
#3 SelfControl
Those who are in search for a free website blocker for Mac can check out an app called SelfControl. It's free and open source.
Pros
Free to use
Provide 2 blocking modes: Blocklist and Allowlist
Come with a preset list of common distracting sites
Not easy to bypass
Easy to configure with a very simple interface
Cons
Not working occasionally
Could lead to damaged system files
Not flexible enough
Like the Freedom app, SelfControl is also designed to help users reduce distractions and increase focus. It blocks certain websites during the one-time sessions that users create.
You need to add the specific websites you want to block to the app's Domain Blocklist. There is a customizable preset list of Common Distracting Sites containing YouTube, Facebook, Twitter, Netflix and more. There is also an Allowlist mode. You can block all websites excluding approved ones by enabling the Allowlist mode and manually adding sites to approve.
Create a session and start it, and this website blocker with timer will block the blacklisted websites on all browsers on your Mac until the session ends. The minimum session duration is 15 minutes, and the maximum duration 24 hours. Once a session starts, you can't undo it, not even by restarting your Mac or uninstalling SelfControl.

SelfControl blocks websites by interfering with system files such as the hosts file. Once you start using it, changes will be made. Even removing the app can't undo the changes. But this may not be a drawback for computer-savvy users.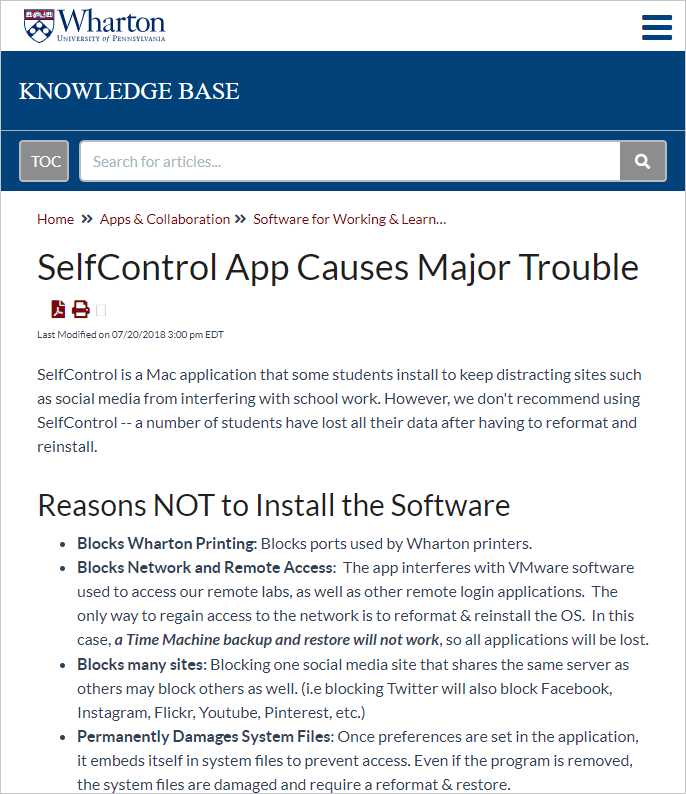 #4 BlockSite
Now let's talk about the second type of website blocking tools. Site blocking extensions are available for most Mac web browsers that support extensions, such as Safari, Google Chrome, Firefox and Opera.
BlockSite is a widely used and highly rated website blocker extension for Mac.
Pros
Easily available and installable
Block websites permanently or on schedule
Come with a blacklist mode and whitelist mode
Let you export and import the list of blocked sites
Also offer a pomodoro timer
Cons
Can be bypassed by removing the extension
A bit expensive
Available for Chrome, Firefox and Microsoft Edge, BlockSite is feature rich and versatile. But as with any browser extension, it can be easily uninstalled. Therefore, your child or yourself can get around blocked sites by removing the extension.
There are two easy ways to add unwanted websites to block. Open a site, click the extension's icon in your browser's toolbar and click Block this site. Or, manually add a site by entering its URL such as youtube.com. To also block websites in incognito mode, just allow the extension in incognito mode.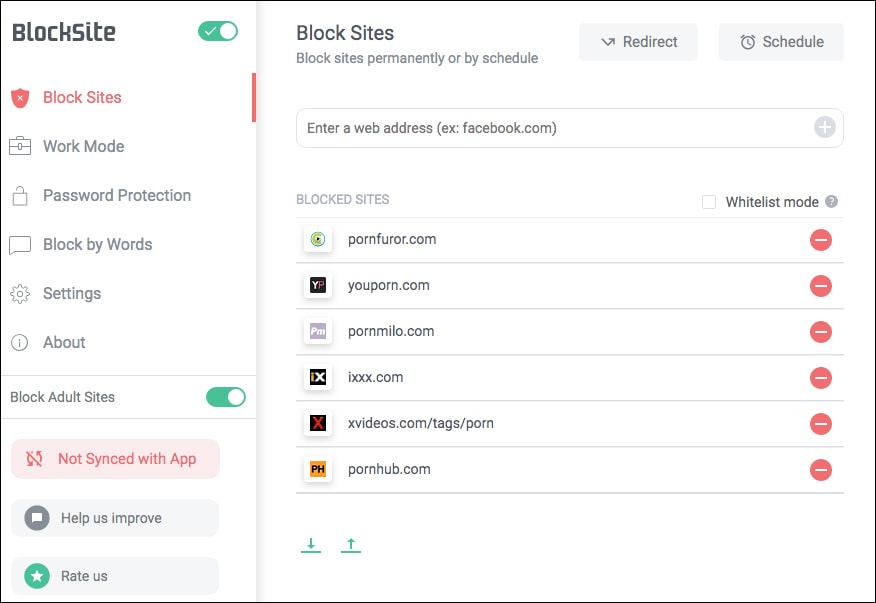 It allows you to block individual websites permanently or based on a schedule. Or, you can use the Focus Mode feature to set focus sessions. If so, the blocking will be applied during each focus session only. It's a great way to create a distraction-free work or study environment.
Note: Safari users can check out an extension called about:blank.
#5 Screen Time
Let's talk about the third type of macOS website blockers. Screen Time is one of them. Part of macOS System Preferences, Screen Time is a set of tools to help users monitor and limit device usage.
Pros
Built in to your Mac computer
Free to use
Automatically restrict access to adult websites
Let you manually add websites to block
Also come with a whitelist feature
Cons
Only available on macOS Catalina and later
Sometimes automatically block certain normal useful websites and webpages
Occasionally not working properly or working at all
If your Mac desktop or laptop is running macOS 10.15 or later, you should be able to find Screen Time in System Preferences.
In Screen Time, go to Content & Privacy, and you will find a number of options to help prevent web content. By default, you have unrestricted access to websites on your Mac. To turn on the website blocking function, you need to enable the option Limit Adult Websites. This is usually not enough.
Clicking the Customize button will give you full access to this built-in site blocker. Now you can manually add any distracting, bad or other unwanted websites to the Restricted list.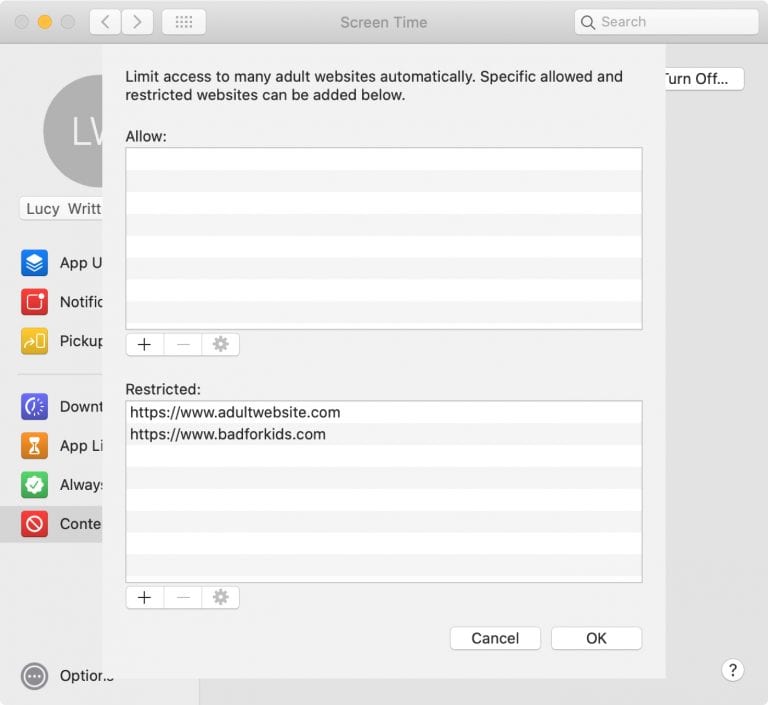 It's highly recommended to go to Screen Time's Options to set a passcode. This way, only people who know the correct passcode (such as parents) can access Screen Time settings. And it's impossible for children to remove the blocking.
Note: Screen Time is only available on macOS 10.15 Catalina or later. If your Mac is running macOS 10.14 Mojave or later, please use Mac's Parental Controls (can be found in System Preferences).
#6 Terminal
It's possible to block website access on a Mac by editing the hosts file in Terminal, which to some degree makes Terminal a site blocker. But don't try it if you are not familiar with command-line interfaces.
Pros
Block specific sites
Block sites on all browsers installed
Apply blocking to both regular and private browsing modes
Cons
Take a little time and effort to block/unblock websites
Require you to change a system file
Not for everyone
The hosts file on your Mac is an network-related system file. The file can be edited in Terminal, a command-line interface included with macOS. By editing the hosts file in a certain way, you can block any unwanted website.
In Terminal, type "sudo pico /etc/hosts" and enter the administrator password, which allows you to edit the hosts file. Now start a new line in Terminal. In the new line, type 127.0.0.1 and then type the domain of the website that you want to block. Save the edited hosts file.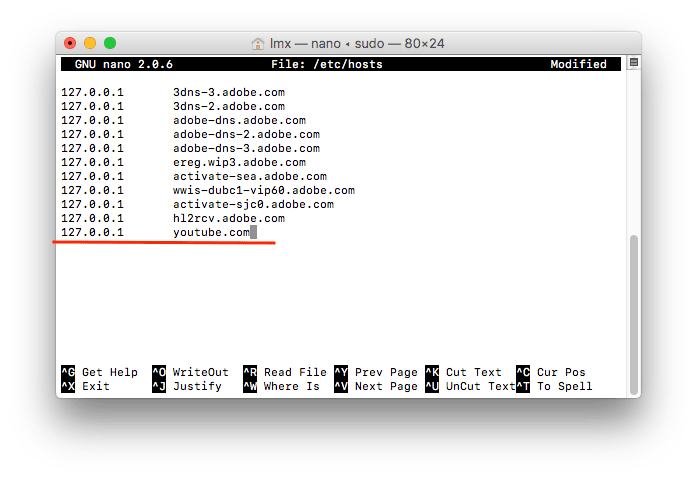 Comparison of the best macOS website blockers
Conclusion
They say that the Internet can be a double-edged sword. There are good (but distracting) and bad websites. We can benefit a lot from blocking certain websites on Mac. If you are seeking the best website blocker for Mac, I hope this article is helpful. The reviews can help you learn about the pros and cons of the most popular tools for website blocking.