With more than 28 million subscribers, Hulu is one of the leading video streaming services. Hulu has a huge streaming library, allowing subscribers to enjoy TV shows, movies, Hulu Originals and more. Popular streaming services such as Netflix offer parental controls or similar features to restrict children's access to certain content. Does Hulu have parental controls? How do you set up Hulu parental controls? Find the answers in this article.
Hulu Controls Not Working? Try This
Block any website such as Hulu, YouTube, Facebook, etc.
Block or allow websites by creating Blocklist or Allowlist
Compatible with Safari, Chrome and more
Password-lock any app such as Hulu, Photos, WhatsApp, Mail, etc.
Generate a report of failed attempts to access locked apps
Provide a schedule feature for permanent or temporarily block
Help protect children from inappropriate content online

Free Download
macOS 10.12 or later

Free Download
Windows 11/10/8/7
Does Hulu have parental controls?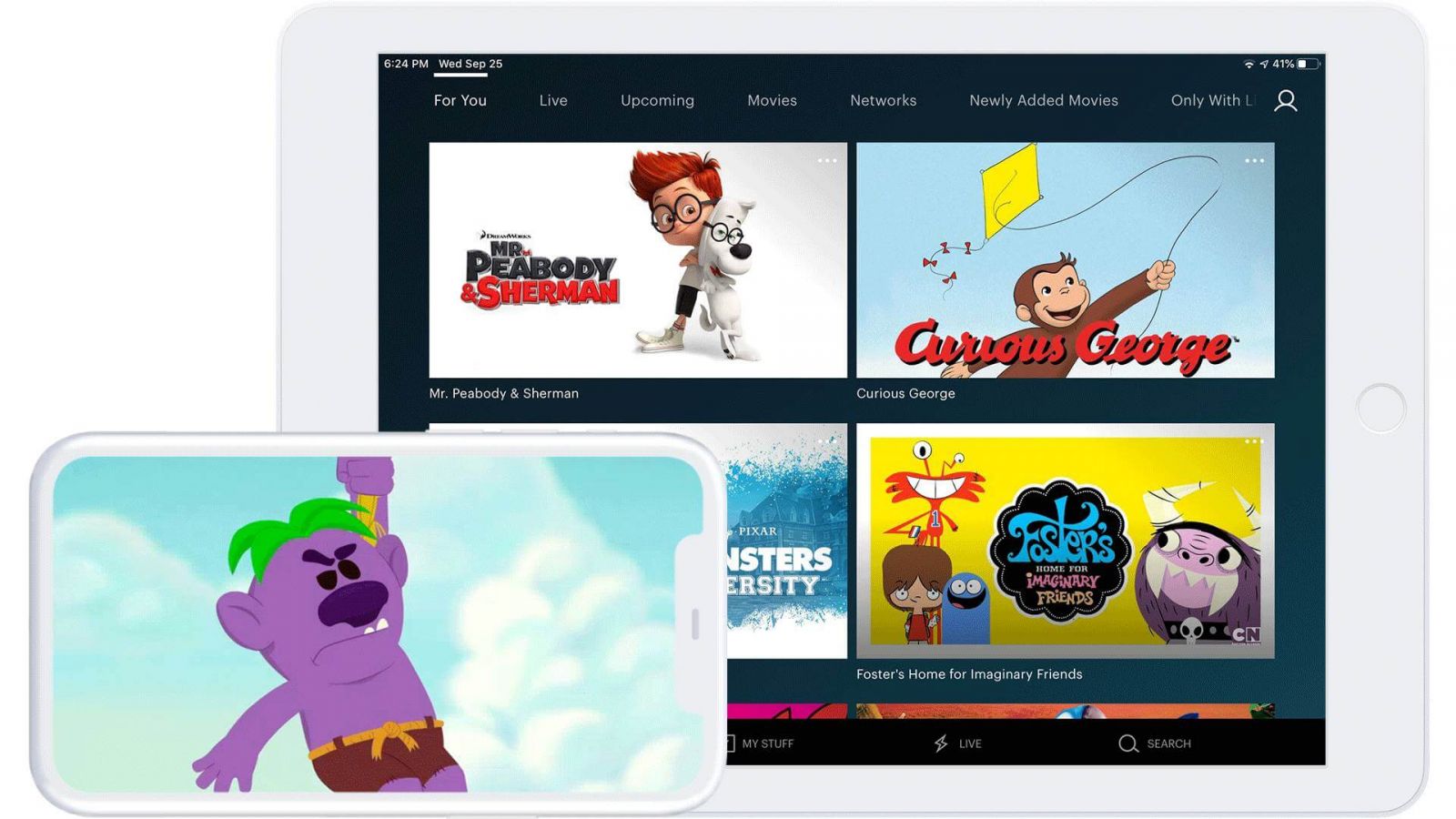 Does Hulu have a feature called Parental Controls? The answer is no. But Hulu does offer solutions for parents to restrict what their children can watch on Hulu.
One solution is to create a kids profile. It's for kids under the age of 13. This is nothing new. Netflix, for example, also lets users create individual profiles for kids.
The other is pretty straightforward. Hulu has age restrictions. One has to be at least 17 years old to view mature content on their service.
Below is a review of both solutions.
Hulu parental controls review
As mentioned above, Hulu allows you to control what your child can watch by creating a kids profile. Or, you need to let Hulu know that your child is under 17.
1. What is a kids profile?
Each Hulu customer can have up to 6 profiles. Hulu will use the information you used to sign up to create the primary profile for you. You are enabled to create up to 5 additional profiles. As a result, it's possible for each member in your family to have a customized streaming experience based on age, gender and interests.
Here's the important part. When you add a profile, you will be presented with the option to set it up as a kids profile. If the option is enabled, the user of this profile will only be able to access the movies, shows and other content in the Kids hub. There are videos for babies, little kids, older kids and tweens. It's that easy to make Hulu kid friendly using this Hulu parental controls option.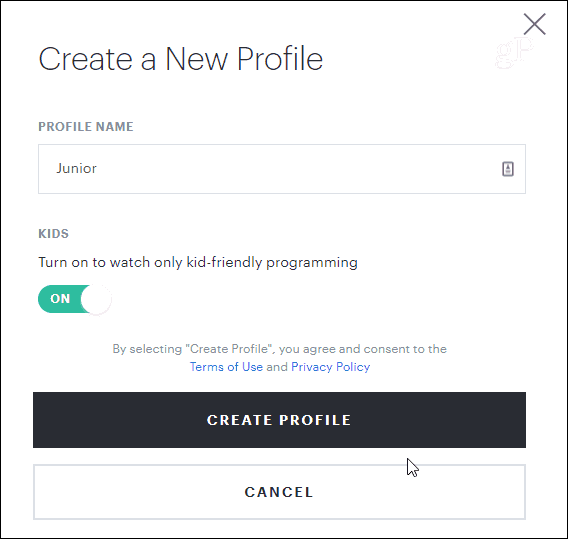 2. If your teen is under 17
Content in the Kids hub won't appeal to teens. When you create a profile for your teen (younger than 17), you only need to enter his or her date of birth. This way, your child can enjoy shows and movies on Hulu with mature content being unavailable.
According to user feedback, age restriction doesn't work properly sometimes.
I have a 16-year-old son, I made a profile for him (with his Birthdate) and it allows him to access all R rated movies. Why?? Your "parental Controls" say it's handled by birthday and profile. If this isn't fix I cannot continue with your programming.
Tip: Even after their children reach that age, parents can update the profile and change the age to under 17 to continue to block inappropriate content.
3. Are there other options for parental controls on Hulu?
Currently no. The aforementioned two solutions are far from enough. Hopefully Hulu will launch a robust set of parental control features in the future.
4. Users are asking for Hulu parental controls with a PIN
The fact is it doesn't require a PIN or password to switch between Hulu profiles. There is no such a thing as Hulu profile password. Your kids can easily switch from the kids profile to adult profiles and watch movies or shows without any restrictions. The kids-friendly profiles are of very limited use if there isn't a PIN feature. It can be a deal breaker for some people.
Some of Hulu's competitors offer PIN protection, as shown in the screenshot below.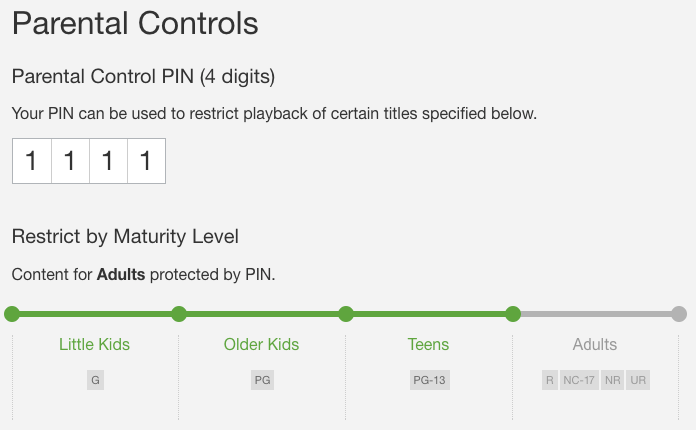 Summary
The current Hulu parental controls options are limited. Users have been asking for more options for years. At least, there should be a PIN feature. This alone can make many Hulu customers happy.
Pros
Easy to set up and update
Provide options for different age ranges such as kids and teens
Cons
No Hulu profile password
Children can easily bypass the restrictions
Age restriction doesn't work sometimes
How to set up parental controls on Hulu
Set up Hulu parental controls on mobile app for iOS or Android
Step 1. Open the Hulu app on your iPhone, iPad or Android device. Go to the bottom right corner of the screen, find the account icon and tap it.
Step 2. Tap your name at the top of the screen, which will lead you to the Switch Profile interface.
Step 3. Tap New Profile, and you will enter the New Profile interface. Enter the profile name. To create a kids profile, toggle the Kids switch on. If so, you won't need or be able to enter the date of birth or gender.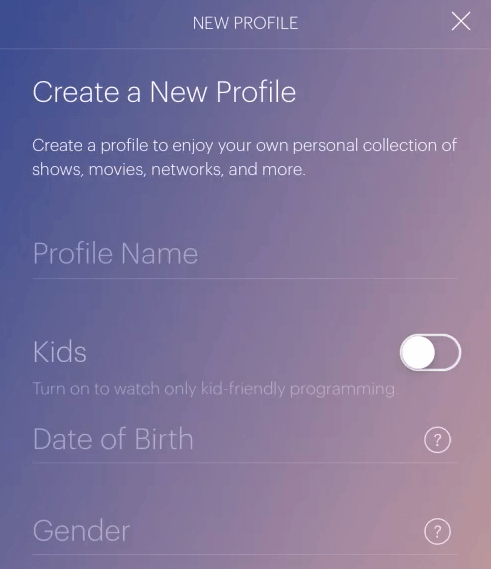 If your teen is younger than 17, skip the Kids option and enter the birth date and choose a gender.
Step 4. Tap Create Profile at the bottom of the screen.
Return to the Switch Profile interface, and you should find the new profile there.
Set up Hulu parental controls on Hulu.com
Step 1. Open Chrome, Safari or any other web browser of your choice. Go to https://www.hulu.com/. Sign in to Hulu with your account.
Step 2. In the top right corner of the page, hover your mouse over the account name, which will bring up a menu. Click Manage Profiles.
Step 3. You will enter the Manage Your Account page. Choose Profiles > Add Profile.
Step 4. The Create a New Profile window will pop up. Enter a profile name. Turn on the Kids option, and the user of this profile will only be able to watch kid-friendly programming on Hulu.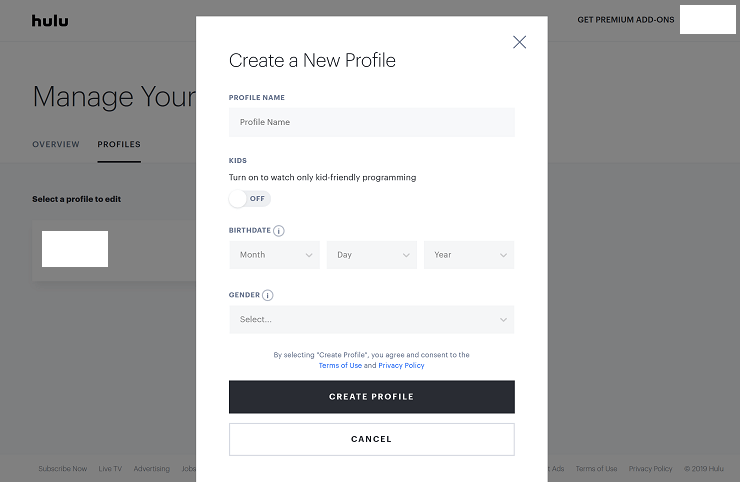 If you don't want to want to make the profile a kid-friendly one, just skip this option. Enter a birthdate and select a gender. Now Hulu is able to identify if the user is older than 17 or not. If he or she is under 17, Hulu parental controls will be applied.
Step 5. Click Create Profile.
Set up Hulu parental controls on Roku
Step 1. Open the Hulu app on Roku. Select the account icon in the upper left corner of the screen.
Step 2. In new interface that appears, select Profiles > New Profile.
Step 3. Enter a profile name. If you want to enable Hulu parental controls, turn on the Kids Mode.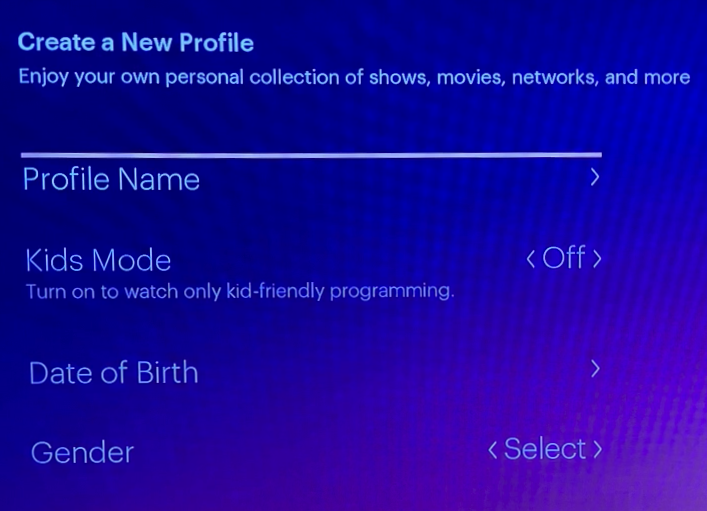 Or, skip the Kids Mode and go directly to the Date of Birth section. Enter a date of birth and then select a gender. Hulu will block mature content if the user associated with the profile is younger than 17 years old.
Step 4. Click Create Profile.
To turn off Hulu parental controls for a profile, you can:
Turn off the Kids mode.
Change the date of birth.
Or delete the profile and create a new one with parental control options disabled.
What to do if Hulu parental controls are not working or strong enough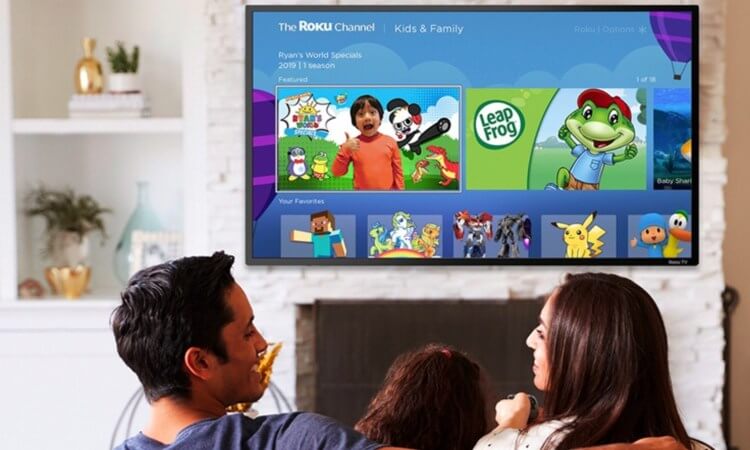 Hulu offers few solutions for parental controls. They are of limited use, if not useless, to many customers. In addition, such parental controls are not working properly sometimes. There are some solutions that you can consider.
Watch together with your kids the kid- or teen-friendly Hulu videos they like. Log out of Hulu on all or certain devices to make sure your kids don't have access to Hulu at all.
Go to the Hulu Community. Submit your feature request there. Let Hulu hear your voice.
Switch to other streaming services (like Netflix) with better parental controls features.
Use third-party parental controls apps to monitor and restrict your kids' smart device usage. This may help limit their access to Hulu, other apps and more.
Some of the most wanted Hulu parental control features
Hulu profile password or PIN, which will be required to switch between profiles
Ability to block or hide specific shows, movies or categories
Ability to control commercial content on children-friendly channels
"Real" parental controls
Bonus tip: How to block inappropriate websites and apps on computer
Parents can use AppCrypt to easily block any inappropriate site and app on Mac and Windows.
Block websites
Step 1. Download the official free trial of AppCrypt, the best website blocker and app locker.

Free Download macOS 10.12 or later

Free Download Windows 11/10/8/7
Step 2. For 1st time user, you need to set a password.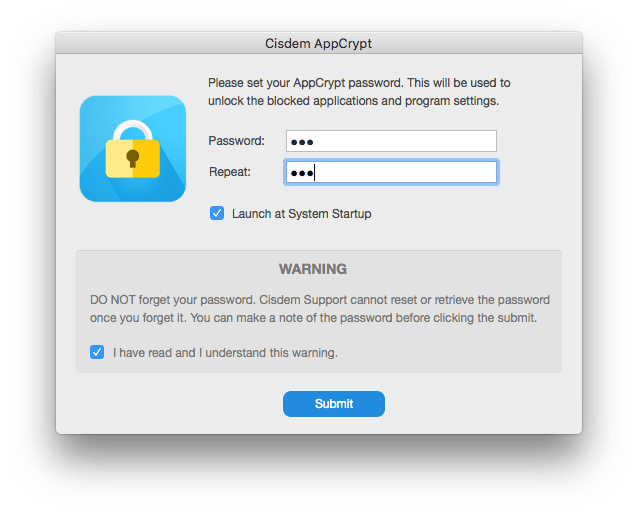 Step 3. Click the Web Block tab.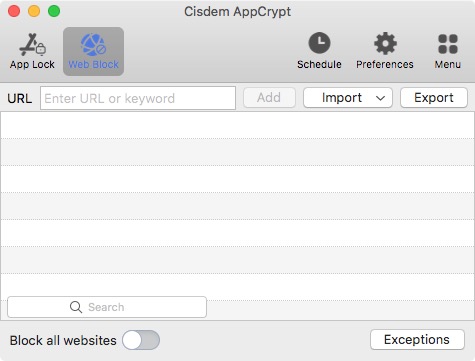 Step 4. Enter the domain name URL, say, hulu.com, and click the Add button. To unblock it, just remove the domain.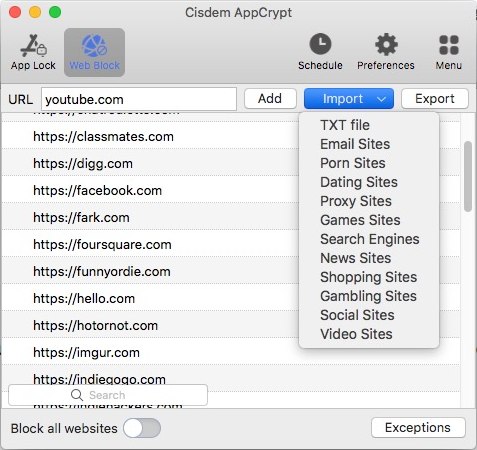 Lock apps
Step 1. Click the App Lock tab.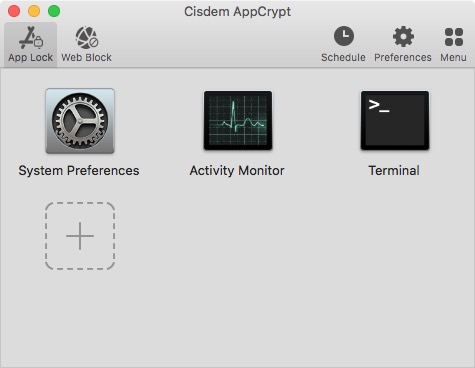 Step 2. Click the big plus icon to add one or multiple apps that you want to lock with password.
Conclusion
Hulu parental controls are easy to use. However, there are a few drawbacks. Hulu can make the current parental options instantly more useful by adding a PIN feature. It's very important for video streaming services to have strong parental controls because they have huge media libraries with movies and shows of different ratings. Many of them are not supposed to be accessible to children.