This article talks about how to password protect Evernote on Mac, Windows and mobile.
Evernote is one of the most popular note-taking apps, letting you take notes, record voice memos, clip web pages, create checklists and do other cool things. You can use it to take notes in class, plan trips, make business plans, organize work tasks and store information such as passwords.
Evernote enables you to sync content across Evernote desktop app, Evernote mobile app and Evernote Web. And your data stored on the Evernote server is kept private and secure thanks to AES-256 encryption. But what about those prying eyes? People who have access to your computer or smartphone can easily access your Evernote app and the content in it. To keep prying eyes out of your private stuff, you can put password on Evernote.
The Best Evernote Lock for Mac & Windows
Lock individual apps, like Evernote and Photos, with password
Offer an option to automatically relock apps after a period of inactivity
Record failed attempt to open locked apps
Also block websites and pages with password
Let you block specific sites, URLs with certain words, or all sites except a few
Let you lock apps and block websites permanently or at certain times
Easy to use
Hard to bypass
Help with privacy protection, productivity and parental controls
Support Mac and Windows PC

Free Download
macOS 10.12 or later

Free Download
Windows 11/10/8/7
Protect Evernote with the Encrypt Selected Text function
Applies to: Mac, Windows, Web
You can password protect Evernote on Mac and Windows PC using the built-in Encrypt Selected Text function. This function is also available in Evernote Web. But note that the encryption is not at the note level or notebook level. It only allows you to encrypt the selected text in an individual note.
Open the Evernote desktop app on your Mac or PC.
Open a note and highlight the text you want to encrypt.
Perform a right-click and choose Encrypt Selected Text.
Set a passphrase.
This step is optional. If needed, enable Remember passphrase until I quit Evernote.
Click Encrypt.
To view the password-protected text in Evernote, click it and select the Reveal encrypted content option that appears. Enter the passphrase. You can easily decrypt the content if you want to. The encrypted text content is still searchable.
To remove the encryption, just select the Decrypt permanently option.

You can prevent access to your Evernote by signing out of your account. However, since many users use Evernote on a daily or even hourly basis, it will be impractical to do so.
To make things easier, Evernote provides an option for you to set a passcode to lock your app. The option is only available for iOS and Android devices. What about desktop? Thanks to tools like Cisdem AppCrypt, Mac and Windows users can also effortlessly add password to Evernote desktop app.
How to password protect Evernote on Mac
You can lock Evernote on your Mac Cisdem AppCrypt, the best app locker and website blocker for Mac.
Download Cisdem AppCrypt and install it. When you open the tool for the first time, it will ask you to set a password.

Free Download macOS 10.12 or later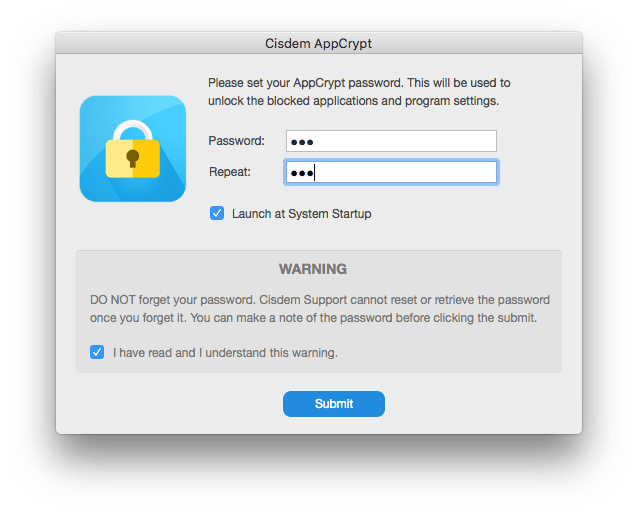 From the menu bar at the top of your screen, click the lock icon and choose Open Main Window.
Enter the password to access the main window.
Under the App Lock tab, click the Add icon.
In the Applications folder that appears, select Evernote and click Open.
Alternatively, you can use drag and drop in steps 3 and 4.
Now the Evernote desktop app on your Mac is protected by password. When one tries to launch it, it will ask for password.
When someone tries to access the locked Evernote and enters the wrong password, AppCrypt will record the failed attempt and capture a photo of the intruder.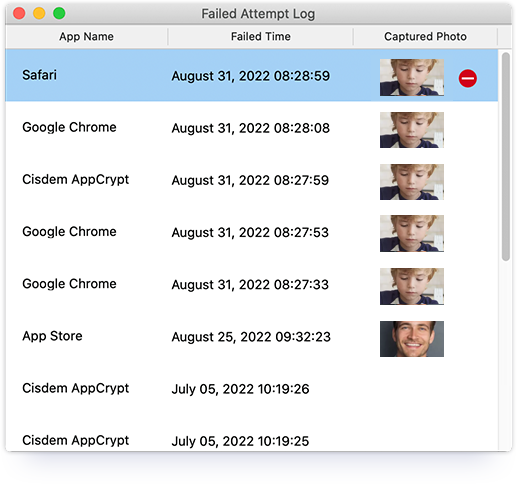 To remove the password protection, go to the App Lock tab (which requires the password), select Evernote and press the Delete key.
You can use the same tool and follow a similar process to protect other apps. You can select multiple apps in step 4.
How to encrypt Evernote on Windows
AppCrypt is also available for Windows, allowing you to password lock the Evernote app for Windows and other apps.

Free Download Windows 11/10/8/7
Download and install AppCrypt.
Set a password when you open it for the first time.
Click its icon on the taskbar. Or, right-click the icon, then choose Open Main Window.
Enter the password to access the main window.
Drag Evernote into the main window. Or, you can use the plus icon.
In step 5, you can simply drag the desktop shortcut of Evernote. (Evernote automatically creates the shortcut during installation.)
Now Evernote desktop is protected by the password set by you. If you want to open Evernote or remove the protection from it, you will be asked to enter the password.
Password protect Evernote on Android
Some Android devices come with the function to protect apps with pattern, password or fingerprint. In such a case, you can use the built-in function to readily protect your Evernote.
The note-taking app itself also provides a similar function. Below is how to use it.
Open Evernote for Android.
Tap My in the bottom right corner.
Tap Settings > Account Info > Set up passcode lock.
Set a 4-digit passcode. Confirm your passcode.
Set a time limit for how long before you are asked for your passcode again.
If your Android device supports fingerprint unlock, then you will be provided with the option Unlock with fingerprint. You can enable this option if needed.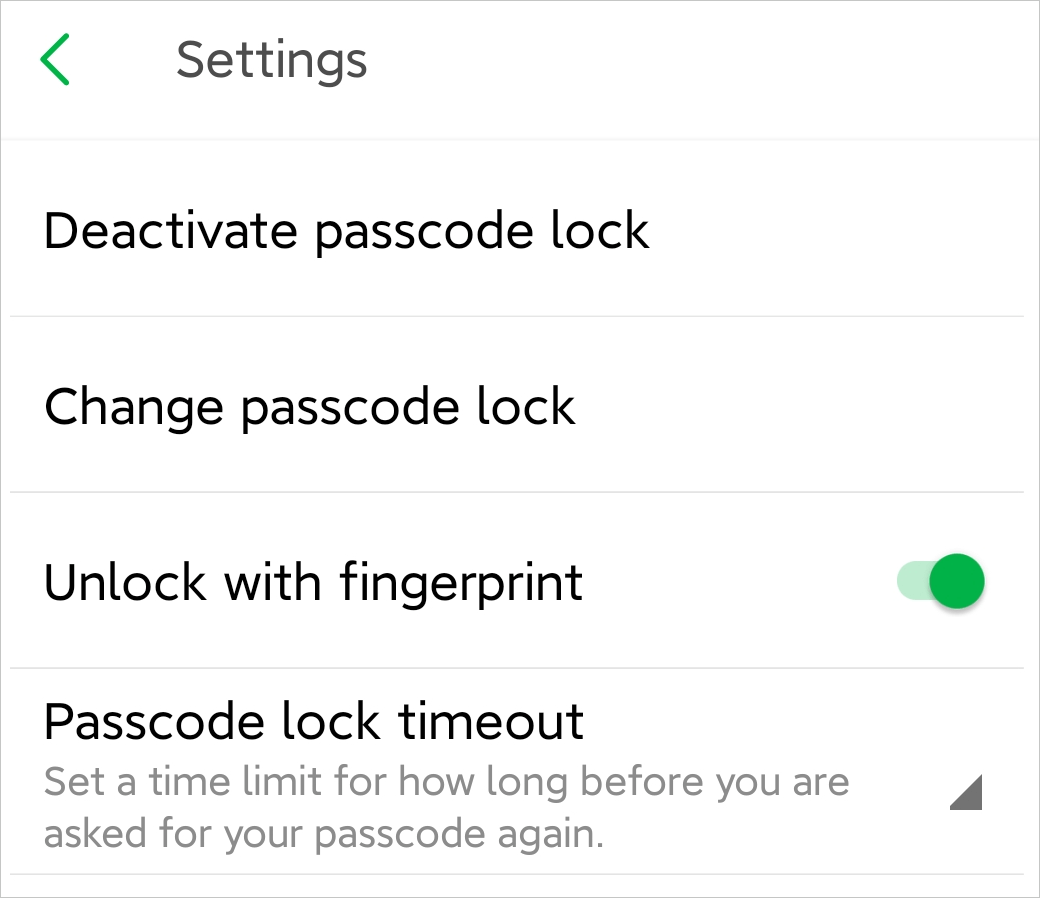 Protect Evernote with passcode on iOS
Open Evernote on your iPad or iPhone.
Tap the person icon in the bottom right corner.
Tap Settings > Passcode Lock.
Tap Turn Passcode On. Set a passcode.
Every time you leave Evernote, you will need to enter the passcode in order to access it again.
If your iPad or iPhone comes with Face ID or Touch ID, you can enable Unlock with Face ID or Unlock with Touch ID, which will be more convenient.
Can you password protect Evernote notebook?
You can password protect the sensitive stuff in your Evernote at the content level or app level. But you can't do it at the notebook level.
For years, Evernote users have been requesting a feature to password protect an entire notebook. Compared to encrypting selected text in a note or locking the entire app, password protecting a notebook or note is more useful and can offer more flexibility. However, such a feature is not offered yet. And so far there isn't a third-party solution available when it comes to locking the entire notebook.
Conclusion
Evernote is a powerful, easy-to-use app to take both personal and work related notes. To keep your personal journals, business projects and other sensitive content from prying eyes, you can password protect Evernote. If text encryption isn't enough, you can choose to lock the entire app. If you have tips on how to make Evernote more secure, you can share with us by leaving a comment.