This article will show you how to easily import CSV contacts to iCloud on Mac and Windows.
iCloud is a cloud storage service from Apple, enabling users to store data such as contacts, photos, documents and more. With Contacts on iCloud.com (or iCloud Contacts), you can keep your contacts organized and easily accessible. On iCloud, every contact appears on a vCard aka VCF.
The fact is that iCloud can only import vCards. In other words, it doesn't support importing contacts stored in a different format. Here's a scenario. You have exported contacts from Outlook to a CSV file and want to upload them to iCloud. You may ask, "How do I import contacts from CSV to iCloud?" There are 3 methods.
The Best Way to Import CSV Contacts to iCloud on Mac
Support sources such as Mac's Contacts app, iCloud, Gmail, Yahoo, etc.
Directly import CSV contacts to supported sources
Directly export contacts from supported sources to 8 formats
Let you effortlessly view, search, add, edit, tag, group, print, share, and sync contacts
Enable you to backup/restore contacts with 1 click
Find and delete/merge duplicate contacts
Easy to use and versatile
Compatible with macOS 10.11 or later

Free Download
Method 1. Import CSV contacts to iCloud directly
Applies to: Mac
Mac users can effortlessly upload contacts to iCloud from CSV using Cisdem ContactsMate, the best contact manager for Mac. With this app, the process is a snap.
1. Download and install ContactsMate on your Mac.

Free Download
2. As with all contact management software, when you first open the app, it will ask for access to your contacts. Click OK to give access.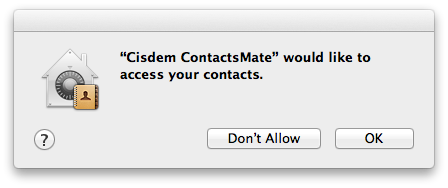 3. In the app, click Add Account from the toolbar.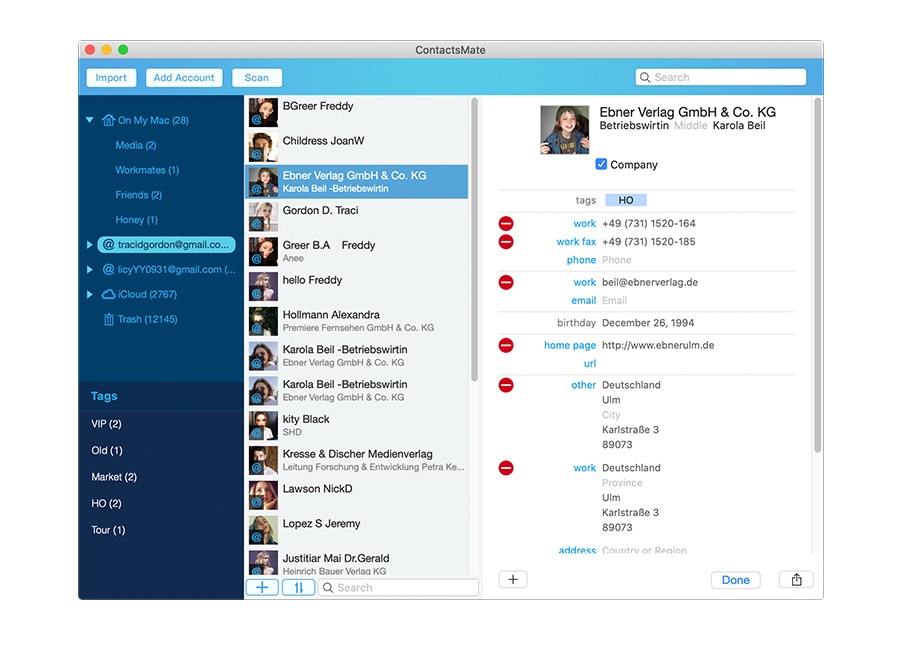 4. Select iCloud and sign in to it.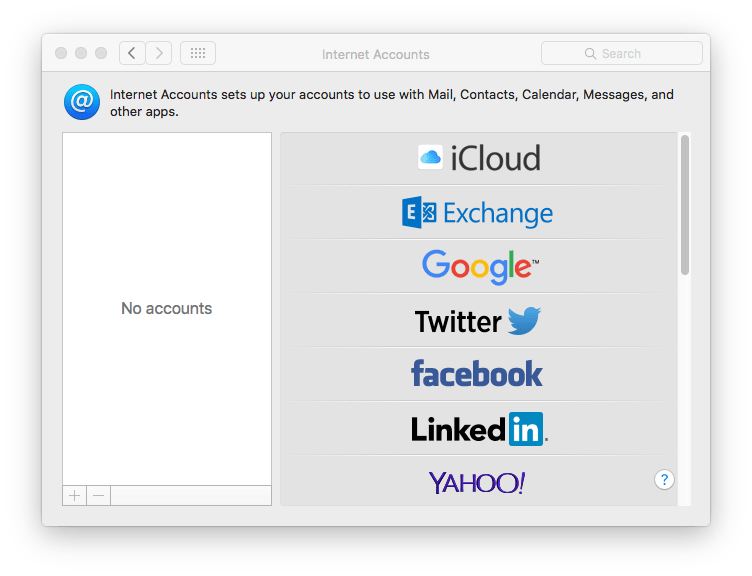 5. Make sure that you check the box next to Contacts.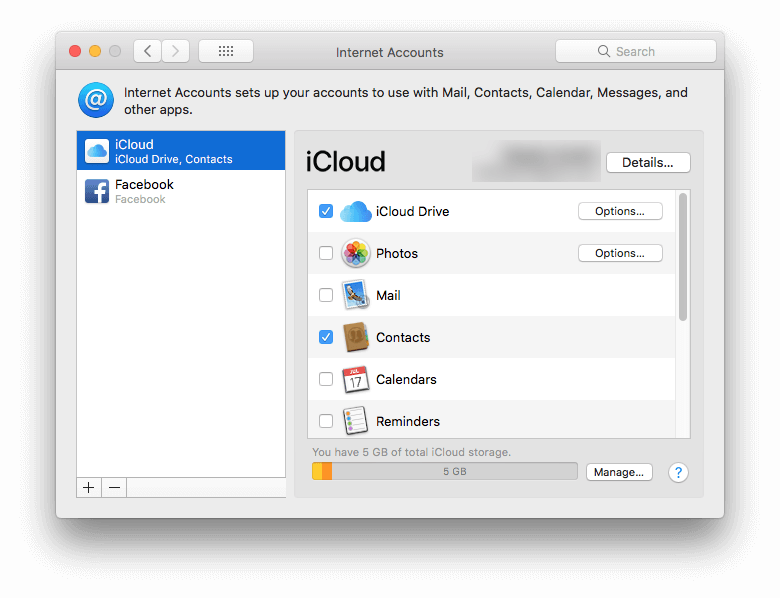 6. Click the
button next to the Updated contacts detected message. Now iCloud should appear in the sidebar.
7. To import CSV contacts to iCloud on Mac, click Import to import the CSV file containing contacts and then drag the imported contacts from Latest Import to iCloud.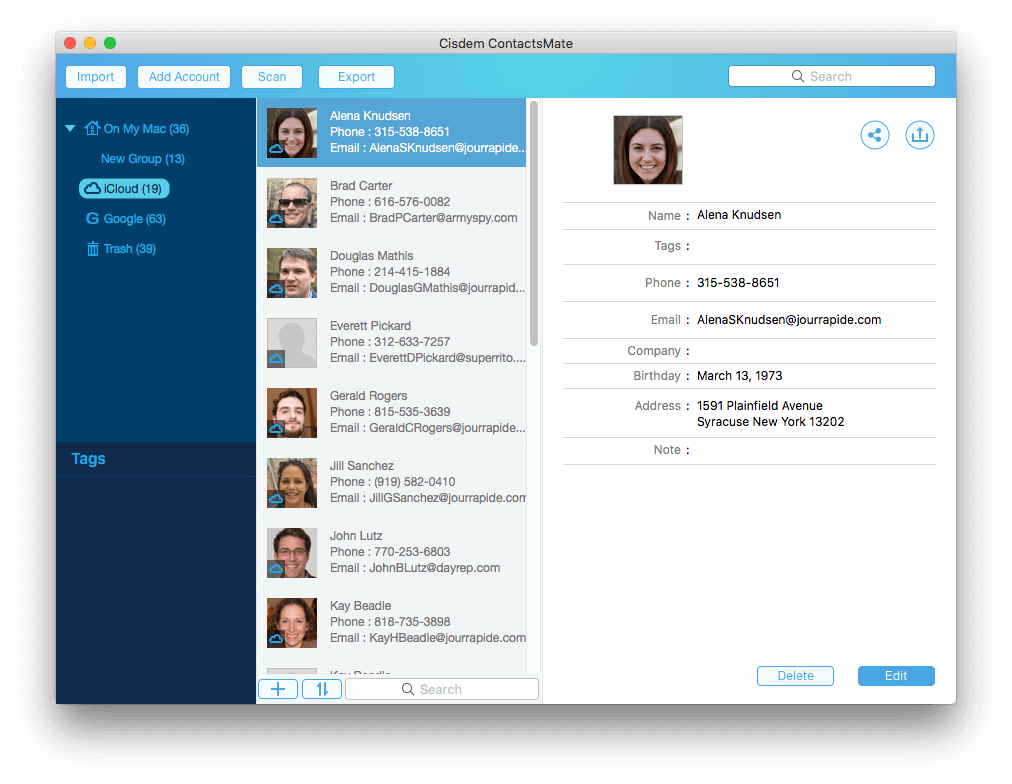 Alternatively, after step 6, select iCloud in the sidebar, click Import from the toolbar, select the CSV file and click Open.
The imported CSV contacts will be automatically detected and synced to iCloud. Now if you go to iCloud Contacts or reload the page if it's already open, you will find the newly added contacts there.
Other benefits of Cisdem ContactsMate
Find and delete/merge duplicate contacts. There's a chance that the same contact exists in both the CSV file and your iCloud before the import. In such a case, the import will result in duplicates. If so, you can use ContactsMate to find and delete or merge them. After the import, select iCloud in the sidebar and click Scan. Once the scan is done, you can start dealing with them.
Drag and drop contacts to iCloud. For instance, we want to convert CSV to vCard for iCloud since our exported contacts file from Outlook is CSV. That format is not supported by iCloud. In fact, there's a more efficient way to import Outlook or other platforms' contacts to iCloud directly via ContactsMate. Click Add account on the tool bar. Sync ContactsMate with other contacts systems. Then just drag and drop selected contacts to iCloud.
Export contacts to 8 formats. ContactsMate can export any number of contacts to CSV, vCard, Excel, TXT, Docx, HTML, Numbers and pages. This feature can also be used as a file converter. Right-click the contacts you want to export, or directly select the group on the side bar. Click on Export then choose a format.
Method 2. Import contacts to iCloud from CSV via Gmail
Applies to: Windows, Mac
This method requires you to have a Google account. There are two parts. You first need to convert CSV to vCard in Gmail. After that, import contacts to iCloud, which is very easy.
To import CSV contacts to iCloud, open a web browser on your computer. Sign in to Google.
Click the Google apps icon in the corner.
Click Contacts. If you can't find it, scroll down and click More from Google.
In Google Contacts, click Import. Click Select file and import the CSV file that stores your contacts.
Now click Export.
Click the arrow-down icon and choose the label "Imported on (the date of import)".
Under the Export as section, choose vCard (for iOS Contacts). Click Export.
Go to https://www.icloud.com/contacts/ and sign in to iCloud.
Click the gear icon in the bottom left corner of the page.
Choose Import vCard and upload the vCard file exported in step 7.
Method 3. Import CSV contacts to iCloud using Run command
Applies to: Windows
The Run command is used to directly open an app or folder on Windows PC. In this case, you can use it to access Windows Contacts. With Windows Contacts, Windows users can convert CSV to vCard for iCloud and get the import done.
Press and hold the Windows key and press R.
In the Run command box, type "wab.exe" and click OK.
Click Import from the toolbar.
In the Import to Windows Contacts box, choose CSV (Comma Separated Values).
Click Browse. Select the CSV file containing the contacts you want to import to iCloud. Click Open.
Click Next. Now map the fields you wish to import. Click Finish.
Once the import is done, close the Import to Windows Contacts box. As you can see, each imported contact now appears as a contact file.
From the toolbar, click New folder. Give the new folder a name.
Click Export from the toolbar.
In the Export Windows Contacts box that shows up, select vCards (folder of .vcf files).
Click Export.
In the Browser For Folder box, select the newly created folder. Click Make New Folder. Now click OK.
Now go to iCloud.com and import the contacts.
Frequently asked questions
Can I directly import CSV contacts into iCloud?
No. iCloud only supports importing contacts from a vCard file (with the extension .vcf). There is no direct way to import contacts to it from a comma-separated values file (.csv).
How do I import contacts to iCloud from Excel?
If the contacts you'd like to import to iCloud are stored in an Excel file instead of a CSV file. Convert Excel (.xlsx) to CSV (.csv) first and then use a method described above.
How do I import a CSV file into Apple Contacts?
Apple Contacts, or simply Contacts, is an address book app included with macOS, iOS and iPadOS. It integrates with the iCloud service. If you want to import CSV contacts to iPhone or iPad, you can first import them to iCloud and then sync iCloud contacts to iPhone or iPad. It's easy.
Conclusion
When you export your contacts from services such as Outlook, chances are great that they will be saved to a CSV file. If you want to upload them to iCloud, you will need to know how to import CSV contacts to iCloud. The three methods are easy to follow. You can choose the one that best suits your needs.