Christmas is one of the best times of the year! We get together with family members, put up decorations, exchange gifts, enjoy delicious food, and have a good time celebrating. It's a good idea to capture your wonderful Christmas moments with video.
iMovie, along with other video editing software, provides themes and templates for occasions like holidays, sports, news, scrapbook, etc. The best iMovie Christmas themes make your videos funny and attractive. This article will show you how to get more iMovie themes and iMovie trailer themes in 2021.
Burn DVD with Christmas Themes
Create DVD from any video formats, such as MP4, MKV, MOV, etc.
Make ISO from your Christmas or other videos
Provide various menu themes for different occasions and events
Choose a free template for Christmas, wedding, birthday, business, etc.
Rotate/crop videos and customize menu theme
Add downloaded external subtitles, watermarks, and effects
Burn videos with soft or hard subtitles and embed them in DVD videos
Adjust the brightness and contrast to enhance the video.
Import external background song or image for Christmas videos
Preview all effects and changes
Practical and easy to use

Free Download

Free Download
Basic Knowledge about iMovie and iMovie Themes
iMovie is a free, easy-to-use, and powerful video editing app for Mac and iOS. In iMovie, you can create Movie projects or Trailer projects. With the former, you are able to easily combine videos, photos, and audio to make your own movie. With the latter, you can follow a template to create a Hollywood-style movie trailer.
iMovie 10, iMovie '11, and the previous versions offer a number of themes that are suitable for videos of different topics. Version 10 covers 14 iMovie themes, including Bright, Bulletin Board, Comic Book, Filmstrip, Modern, Neon, News, Newscast, Photo Album, Playful, Scrapbook, Simple, Sports, and Travel.
How to Add iMovie Themes for Christmas Videos
Although there aren't iMovie themes dedicated to Christmas, some of the existing themes are actually suitable for Christmas and the holiday season. Among them, Playful can be the best iMovie Christmas theme. The theme Playful uses bright color schemes, beautiful transition scenes, and a happy tune as the theme music.
As mentioned above, iMovie is also available for iPhone and iPad with these great themes provided. When it comes to adding the iMovie Christmas theme on iPhone, the theme Playful can also be a good choice.
Steps to add iMovie Christmas theme to your project:
Launch iMovie on your Mac.
Click on the "Projects" button in the upper-left corner of the interface and then select the "Create New" > "Movie".
Drag one or more Christmas video clips into iMovie. Move them into the editing area.
Click on "Settings" in the upper-right corner of the timeline > click on "No Theme", which will bring up a "Change Theme" window.
Click the play button to preview iMovie themes, and apply one of them for your Christmas videos.
You can effortlessly change the theme in iMovie. To remove a theme, just select the option "No Theme" from the "Change Theme" window.
Tips: After an iMovie Christmas theme is applied, if the transition scenes don't show up, you can split the video into several parts.
How to Add iMovie Trailer Themes for Christmas Videos
iMovie trailer themes are very flexible, allowing you to easily customize your Christmas projects with professional-looking templates. There are 29 trailer themes/templates available for various types of videos, such as Action, Adventure, Holiday, Scary, Romantic Comedy, and Epic Drama. Among them, the "Holiday" genre is the most suitable iMovie trailer theme for Christmas.
Steps to add iMovie Christmas trailer theme to videos:
Open the iMovie app.

Head over to "Project" > "Create New" > "Trailer".
Scroll down and select the theme "Holiday". You are able to preview the iMovie trailer themes by clicking on the play button.
Click on the "Create" button.
Drag your Christmas clips into iMovie.
Under the Outline tab, edit movie name, release date, cast, credits, and other information.
Under the Storyboard tab, you can enter your Christmas clips by dragging and dropping. It tells you information like length, duration, and types of shots. You can also easily edit a selected clip by adjusting brightness, changing saturation, slowing down/up, etc.
Tip: After adding the iMovie trailer Christmas theme and finishing editing, you can choose to convert the trailer project to a movie project for further editing.
How to Get More iMovie Themes?
Way #1 New iMovie Themes Download
Although iMovie themes are free and versatile, it would be better if we could get more of them. The actual version of iMovie doesn't support third-party plugins. But you can buy and download iMovie Christmas themes from online sources, like:
https://videohive.net
https://www.videezy.com
https://elements.envato.com
Just import the downloaded Christmas templates to iMovie and then start to custom iMovie themes.
Way #2 Use Another Video Editing Software
If you already have Final Cut Pro, Adobe Premiere Pro, DaVinci app, etc. installed on your computer, you can switch to them for more Christmas themes.
Way #3 Burn iMovie Christmas Videos with Theme to DVD
After using the iMovie Christmas theme and other features to edit and make your own Christmas movie, you can save it on your hard drive and share it with others. It's a good idea to burn it to DVD. Not only can it create a reliable backup of your Christmas videos, but allow you to distribute Christmas videos to friends and relatives conveniently.
Meanwhile, most DVD burning software offers DVD themes and templates, so you will be able to get more themes for iMovie videos.
iDVD was discontinued and not around anymore, Mac users can use its best alternative - Cisdem DVD Burner for Mac to burn iMovie to DVD so that the DVD videos can be played on any DVD player. This app has the ability to turn your Christmas videos into a high-quality DVD disc, folder, or ISO file with a Christmas menu theme, subtitle, and music.
Steps to add DVD theme & burn iMovie Christmas videos:
Step 1

Install Cisdem DVD Burner on Mac
Download, install and launch Cisdem DVD Burner on your Mac.

Free Download
Then, insert a blank DVD into a DVD recorder drive.
Step 2

Import iMovie videos to the program
First, export the Christmas videos from iMovie. And then drag-n-drop the videos to the program.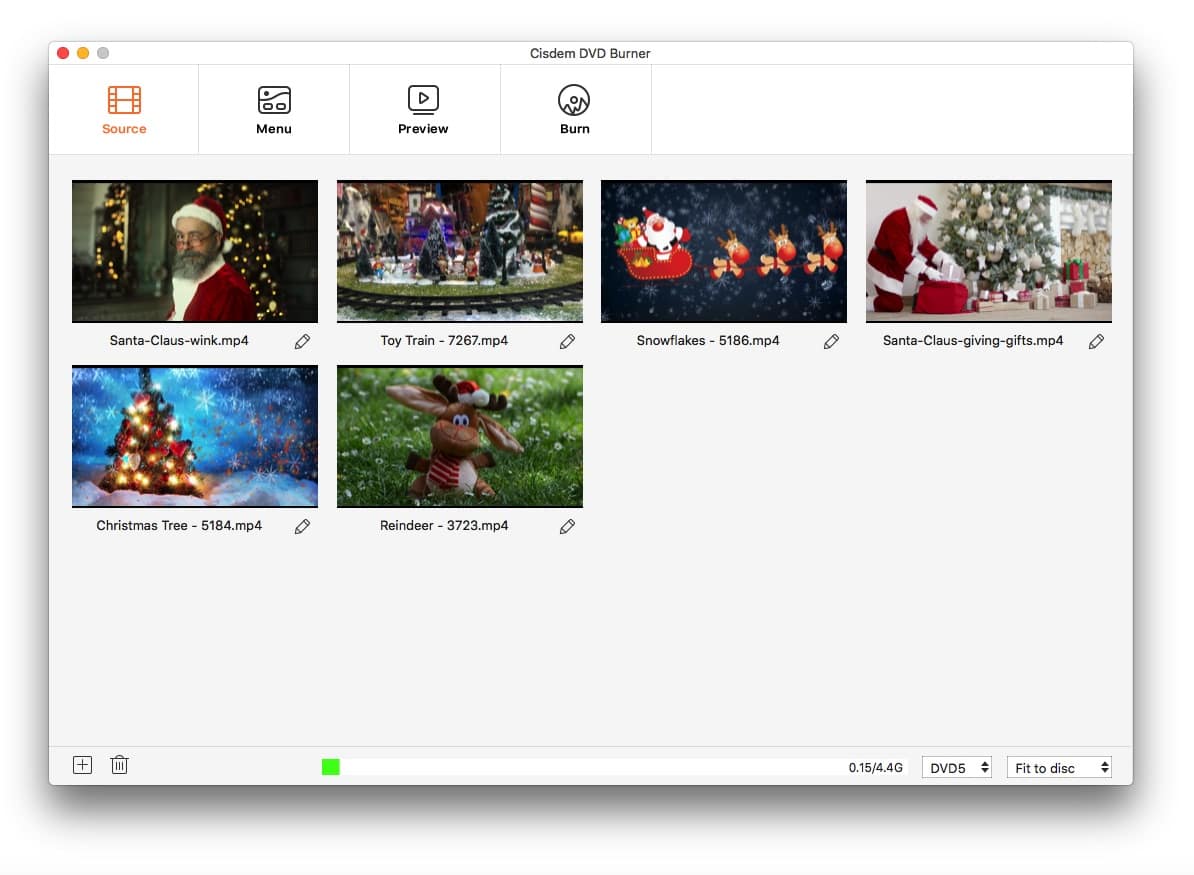 Step 3

Edit the iMovie videos (optional)
Click

(look like a pencil) under thumbnails to bring up the editing interface. Choose to crop/rotate your Christmas videos, create individual chapters, turn down/up the video volume, etc.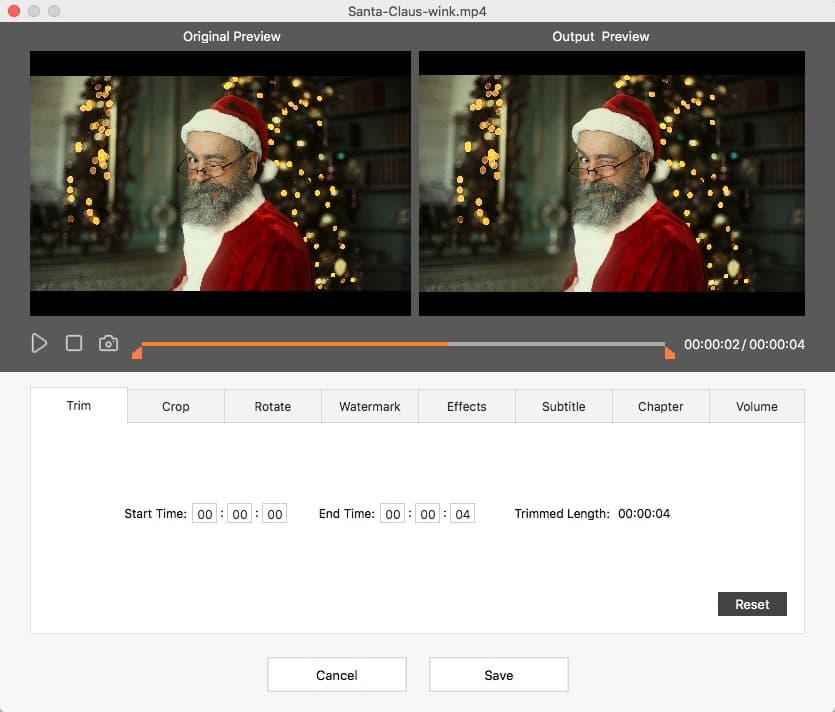 Step 4

Add Christmas theme to iMovie videos
Click the "Menu" button to go to the menu designing window. From the left panel, select Christmas iMovie templates. Besides Christmas Day, it also has rich templates for different topics, such as Halloween, Valentine's Day, Mother's Day, Thanksgiving, New Year, and so on.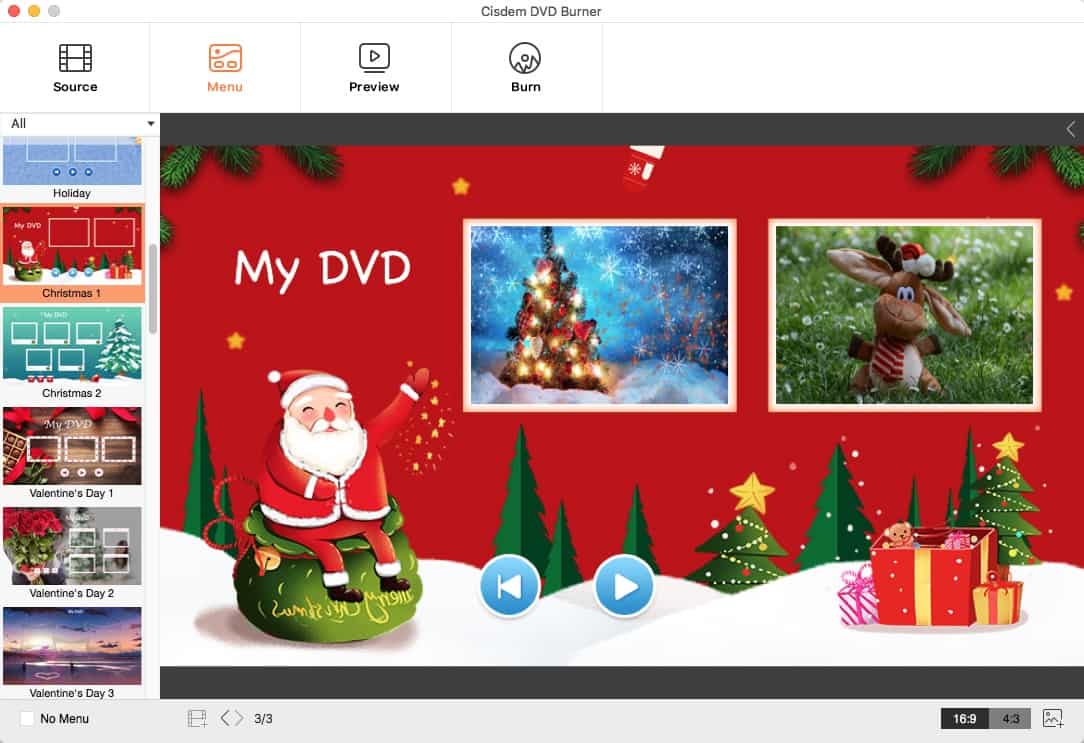 Christmas Template 1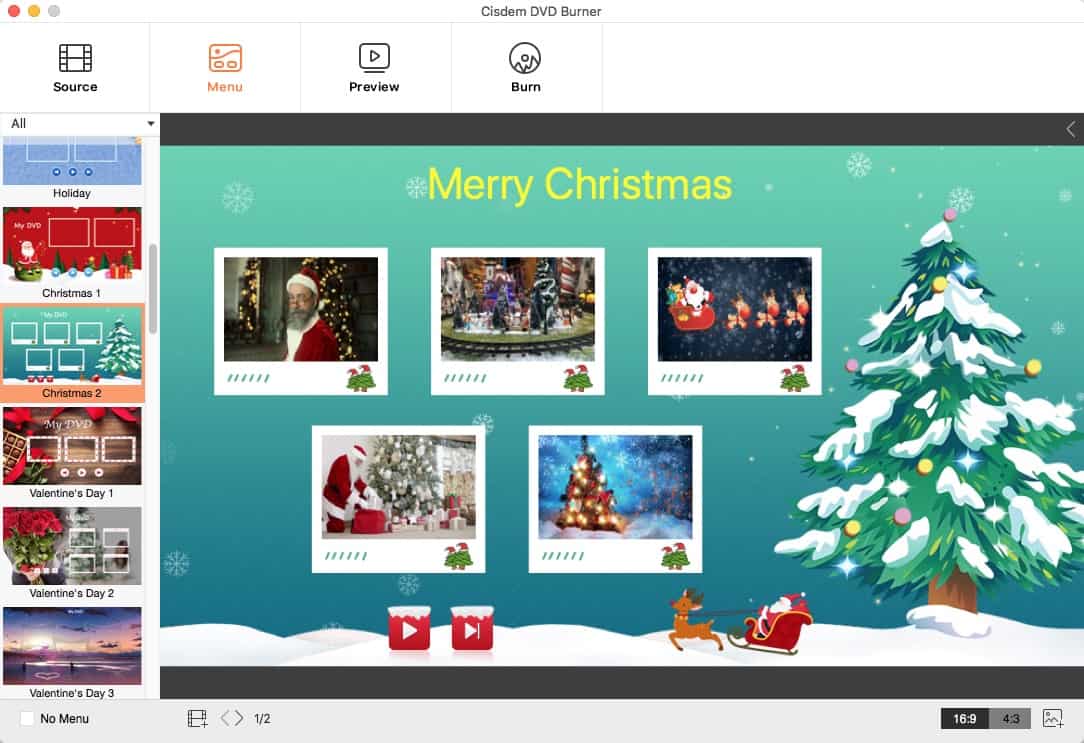 Christmas Template 2
Although the software only contains 2 free iMovie templates for Christmas, it lets you import any downloaded or your own picture as background. Click

at the bottom to add a new image. Below are two examples.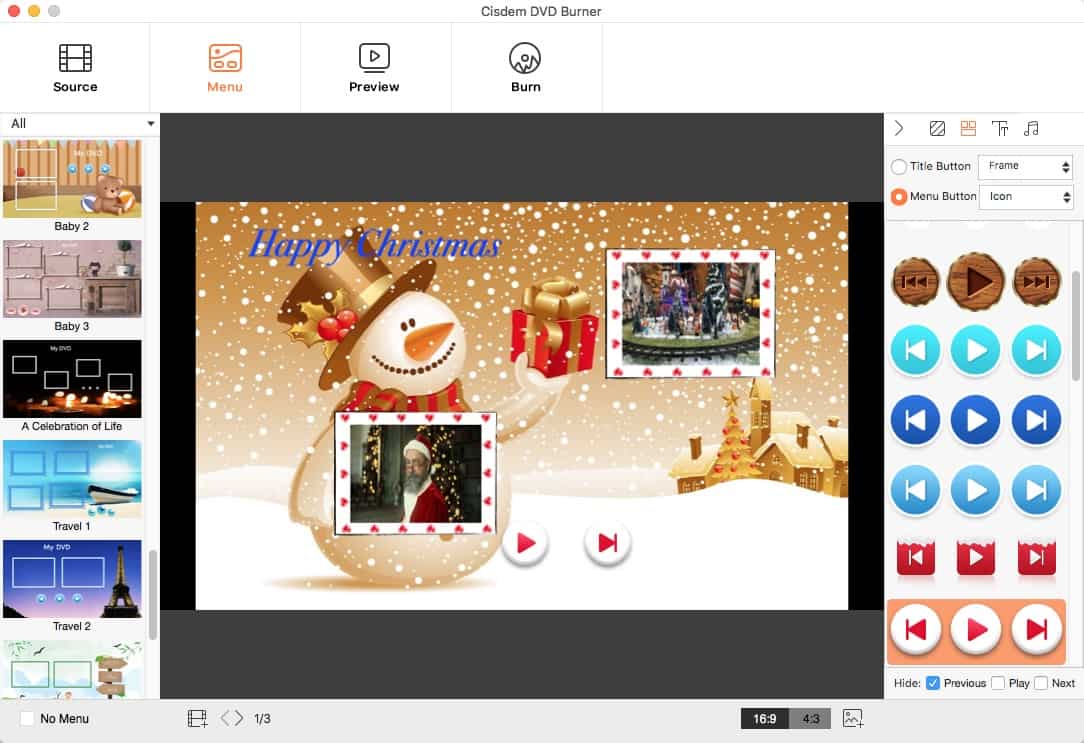 Background Image 1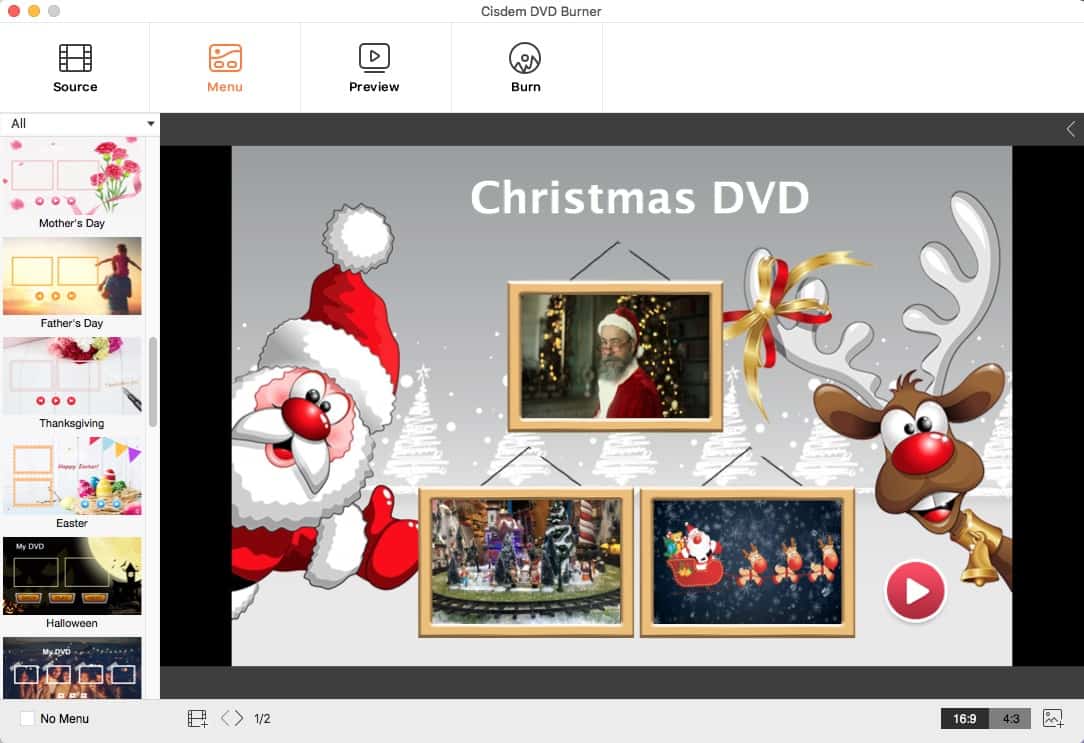 Background Image 2
Furthermore, click

to display more menu tools, which help you edit text, replace the button, add background music for Christmas videos, etc.
Step 5

Burn iMovie Christmas videos with theme
Come to the DVD output setting window > select "DVD Disc" as output format > preset output parameters > click on the "Burn" button.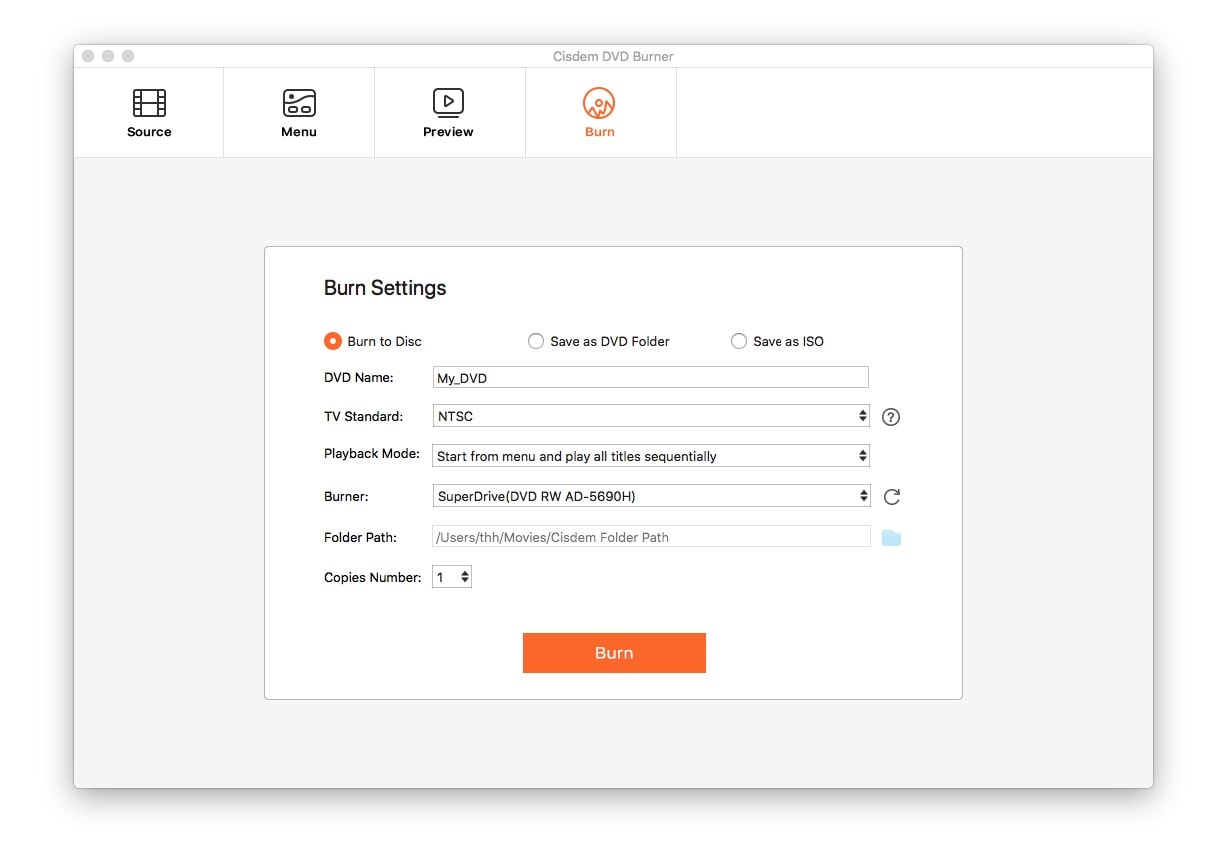 Export Christmas Videos from iMovie to YouTube, Facebook, etc.
iMovie Christmas themes for movie and trailer projects can help you make your own holiday movie. After finishing it, you can upload it to YouTube and Facebook directly from iMovie. You can also save the video on your computer and then upload it to other platforms such as Dailymotion or Instagram.
It's easy to do the exporting and uploading. You just need to click the export icon in the upper-right corner of iMovie main screen and select an export option.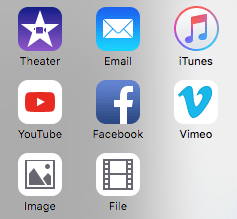 However, sometimes there can be problems. Each platform has its supported video upload formats among other requirements. If your iMovie video is in an incompatible format or is too big in size, you won't be able to upload it. This is when you need a video converter and compressor for Mac. Cisdem Video Converter can convert any video to the supported formats of YouTube, Instagram, Vimeo, and other sites. You can also use it to downsize your Christmas video for successful uploading.
Conclusion
In short, you are capable of making your own Christmas movie using iMovie themes, templates, and other features, and share the movie via Facebook, iCloud, and email. If you desire more iMovie Christmas themes, you can purchase and download them from online stores; alternatively, use another video editing software or DVD burning software to add new themes for iMovie videos.