PDF is a preferred file format used in business and other official environments, such as trading contracts, legal documents, recruitment forms, etc. These documents often contain important information that people don't want others to make adjustments. Therefore, it is critical to make them non editable to ensure their security.
This post will share several methods that helps you to make a PDF non-editable. You can choose to make your PDF file non-editable with password protection, or convert PDF as image-based PDF to make it more challenging to edit.
Secured Way to Make PDF Non-Editable on Mac and Windows
Make both regular PDF and fillable PDF non-editable with permission password.
Convert PDF to images, making it harder to edit.
Create a digital/electronic signature in PDF to prevent unauthorized edits.
Protect privacy by marking for redaction.
Batch PDF conversion, compression, encryption and decryption.
Edit and annotate PDF handily.
Create fillable PDF forms and fill out them.
Available on Mac and Windows.

Free Download
macOS 10.13 or later

Free Download
Windows 11/10/8/7
Can we know if a PDF is editable or not?
The answer is yes.
We can know if a PDF is non editable or not by checking its properties. Right click on the thumbnail of the PDF file, choose Properties from drop-down list. In the Properties dialog box, go to the Security tab, here you can see the permissions on this PDF file.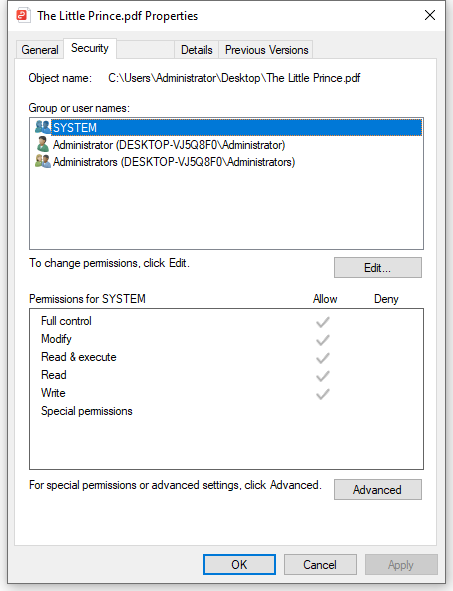 How to Make a PDF Non Editable on Mac and Windows
There are lots of methods to make a PDF non editable, if you have few requirements for file security, try the basic tools on your operating system. For Mac users, right click the PDF file, choose Get Info > Sharing & Permission, set access rights here.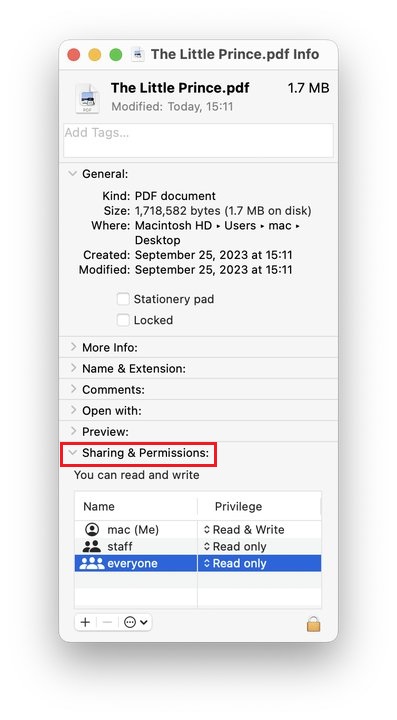 For Windows users, right click the PDF file > select Properties > tick Read-only in the Attribute column.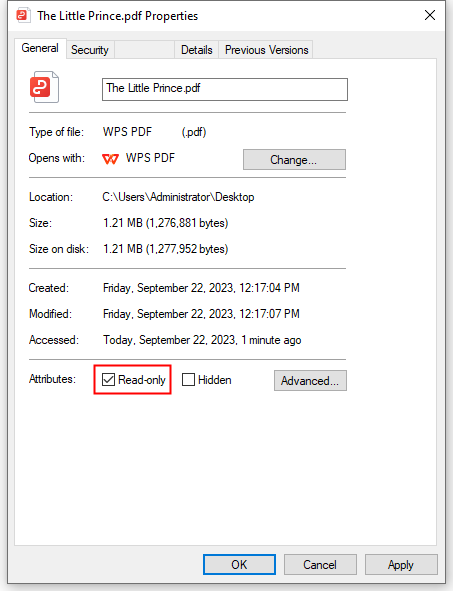 This method is quite easy but not workable all the time. People may change the read-only mode back to read-and-write.
If your PDF document involves valuable information and needs more protection, setting edit permissions on PDF documents with password is a more ideal solution. The following lists 3 reliable tools to help you make a PDF non-editable, both on Mac and Windows.
#1. Cisdem PDFMaster
Cisdem PDFMaster is a full-fledged PDF program that comes to solve all PDF problems in one place. It offers a safe way to make a regular PDF or fillable PDF form non-editable, through setting a permission password on the file, you can't copy, print, modify, fill out the form, etc. Here are 3 encryption levels you can choose from: 128bit AES, 256 bit AES, or 128 bit RC4. Even, you can set an open password to the PDF for a higher security, preventing PDF from unauthorized access.
Other Stunning Features Cisdem PDFMaster Provided:
Protect PDF by redacting sensitive information in PDF or creating a digital/electronic signature.
Convert PDF Files into images, making PDFs harder to edit.
Convert/Create PDF to/from multiple file formats, such as MS Office, Text, HTML and more.
Edit texts, images, links in PDF easily and fill out forms.
Make scanned PDFs searchable with OCR.
Remove password protection from PDF to make it editable if needed.
Manipulate PDF pages, compress PDF, compare PDF files, etc.
How to make a PDF non editable with password?
Download and install Cisdem PDFMaster on your Mac or Windows.


Free Download

macOS 10.13 or later

Free Download

Windows 11/10/8/7

Run the program and choose the PDF Encrypt feature.
Drag and drop your PDF files into the pop-up window.
Hit the Lock icon. In the Security settings dialogue box, type the permission password, choose the permissions you want to set on the PDF and select an encryption level.
If you want to set the same permissions on all imported PDF files, tick Apply to All, then click Save.
Choose an output folder and click Encrypt. Then you will find your non-editable PDF files in the output folder.
Tips: For those who are pursuing the highest level of security, we recommend you to create a digital signature in PDF, which can also be complemented in Cisdem PDFMaster. This method protects PDF from being forged and altered by wrong hands. Most importantly, it is hardly possible to remove a digital signature from PDF. If you are interested in it, refer to this article: https://www.cisdem.com/resource/create-a-signature-for-pdf.html.
#2. Adobe Acrobat Reader
Adobe Acrobat is a robust PDF application developed by Adobe company, which enables users to work on PDF files like a professional. It provides two versions, free version--Adobe Reader and paid version--Adobe Acrobat Pro. If you are looking to performing some advanced features on PDF files, such as, converting an editable PDF to non editable with password, then you will have to upgrade to Adobe Acrobat Pro (US$12.99-19.99/mo, annual).
How to make PDF non editable in Adobe Reader?
Upgrade Adobe Reader to Pro version.
Right click the PDF file on your device and open it with Adobe Acrobat.
Go to File at the top left and choose Properties from menu list.
In the Document Properties window, select Password Security from Security Method menu list under the Security tab.
Then Settings dialogue box will appear. Tweak the permissions settings as you need and enter the password.
Continue with OK and confirm your permissions password.
Don't forget to save your PDF to make this PDF non editable.
#3. Foxit PDF Editor
Foxit PDF Editor is a good alternative to Adobe Acrobat, helping users excel at PDF-related tasks. Besides basic features, such as editing, commenting, converting, it is also capable of making PDF non-editable with its protect feature.
How to make PDF non editable using Foxit PDF Editor?
Open the PDF file in Foxit by right -click.
Choose Protect feature, expand Security Document and choose Password Protect.
Check the Add Document Restriction box and type the password.
Click Permission, then a Permission Settings window pops up. Check "Restrict printing and editing of the document and its security settings".
Continue with OK to apply it.
Go to File > Save/Save as to store this non-editable PDF on your computer.
How to Make a PDF Non Editable on Mac Preview
For Mac users, they are looking to making a PDF non editable with the built-in application Preview. But the bad news is that Preview can only set permission passwords on PDF printing, copying and annotating, as well as manipulating pages. It fails to stop editing content in PDF from others. If you insist, try adding an open password in Preview, it could be a safe way to prevent opening of the PDF file, let alone editing it.
How to make PDF non editable in Preview?
Open PDF file with Preview on your Mac.
Go to File > Edit Permissions.
Set open password and permission password as needed.
Go ahead with Apply and save your PDF on Mac.
How to Make a PDF Non Editable Online Free
People may complain that their computers don't have enough memory to download too much software. Then some online PDF tools can be good alternatives to offline applications. Most of them are free to use with file and feature limits and require a stable internet connection.
For example, Online2PDF.com is a web-based platform mainly good at PDF conversions from/to other files. Different from other online PDF converters, it allows you to convert PDF to image-bases PDF directly and provides a protective feature to prevent the output PDF from editing, printing, copying and even opening.
How to make a PDF non editable online free?
Go to https://online2pdf.com/.
Click Select files to upload your PDF files, it up to 20 files at once.
Choose conversion mode, and select convert to as Image-PDF.
Choose Protection feature and check the boxes as you need.
Click Convert and wait for processing, the exported files will be saved in your download folder automatically.
Note: This type of conversion only allows maximum of 150 pages to be converted. Additionally, it may pose a privacy risk after uploading your PDF into online services.
Important Things to Keep in Mind When Making PDF Non-Editable
The above methods achieve the goal of making PDF non editable mostly by setting permission password, however, not all third party software will support these settings, so recipients using such products might be able to bypass some of the restrictions you have set.
When setting passwords, you should use different elements to make passwords strong and unique, like lower case, upper case, specific symbols. The more complex your password is, the harder is it for PDF unlockers to crack the password.
Converting a PDF to a image-based PDF (look like a scan) is an easy way to make PDF non editable, but many PDF programs available enable auto OCR scanned PDF files when opening it. So it's not recommended as the best option.
Choose Cisdem to Make PDF Non-Editable Securely
So far, this article has introduced 5 methods of making a PDF non editable. Considering features, affordability and security, Cisem PDFMaster is definitely the top priority to do this job. It offers a host of powerful features at a low cost and comes with an easy-to-use user interface. Moreover, for people longing for PDF security, this software provides an all-inclusive way, by adding passwords, creating digital signatures, redacting, etc. Why not give it a shot and work as a PDF master?


Free Download macOS 10.13 or later

Free Download Windows 11/10/8/7

Jose specializes in reviews, how-to guides, top lists, etc. on PDF, data recovery and multi-media. On his spare time, he likes to travel or challenge some extreme sports.